A 5-ingredient, easy Philadelphia cream cheese dip recipe with lots of garlic and that comes together in 5 minutes. This recipe never fails to please!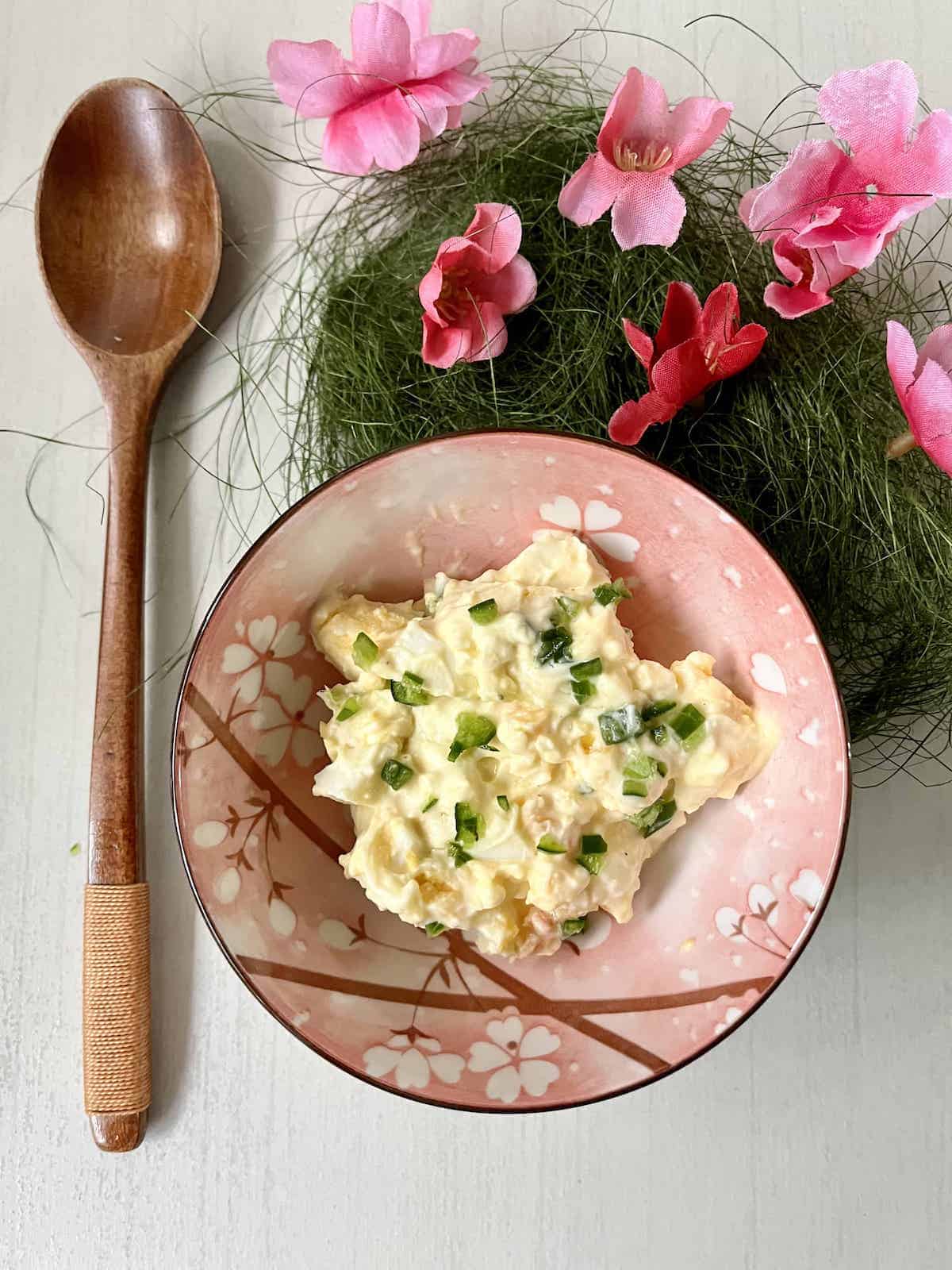 Jump to Recipe
Jump to:
Why make this
There are a gazillion cream cheese dips out there, but this recipe is a party favorite because:
It is super quick to make (5 minutes or so) and is the perfect appetizer to make for last minute guests
It only needs 5 simple ingredients 
It's super garlicky and delicious- Perfect for Game Day!
There's no need to turn on the stove top, making it a great recipe for hot summer days. (Jellies are also super cooling when the weather is blazing, if you have a sweet tooth.)
Variations
Chop up some hard boiled eggs and stir them into this easy dip
Note: I do NOT recommend mixing canned tuna with this easy garlic Philadelphia cream cheese dip recipe, as it doesn't improve the taste. If you really want to do so, don't forget to add the tuna, taste THEN salt if necessary. Most likely, you won't need to add extra salt as canned tuna is already very salty. You could also add a little cooked crab meat if you want to bulk it up- I personally prefer this as the texture is much smoother (I find canned tuna a little dry, even when it's canned in olive oil.)
Tips
If you're not eating this easy cream cheese dip right away, you need to store it in the fridge. Either let it warm up slightly before eating later OR if you're going to eat it fridge cold, you'll need to add more garlic to really taste it, as the cold dulls the flavours.
This is meant to be a very simple but tasty garlic cream cheese dip. If feeling adventurous, go beyond the basic ingredients and add other types of cheese -such as Mexican cheese or parmesan cheese- and other spices, such as onion powder, ranch dressing mix, taco seasoning, cayenne pepper, Worcestershire sauce, tabasco sauce etc- for variety. Just not all at once!
The chopped green chillies aren entirely optional. I usually make this without and it's still delicious. However, if I have guests I like to make it prettier. If you don't like spice, you can use chopped green onions, fresh parsley, chopped green bell peppers, or fresh chives instead.
How to Eat
This delicious and creamy dip recipe goes well with:
tortilla chips
potato chips
ritz crackers
graham crackers
pita chips
baguette slices- or try 1 of these types of Asian breads
it even makes fresh vegetables (crudités) seem like a delicious snack!
slices of fresh fruit
It can also be used as a buffalo chicken dip- the dairy will help to counter the spice!
As you can see, the possibilities for this great dip are endless!
How to Store
Keep any extra garlic dip in an airtight container in the fridge for up to 2 days.
How to Freeze
If you need to keep the cream cheese dip for longer, store it in an air tight container in the freezer, but note that the texture may change on thawing and may not look as appetising. (If prepping a big batch to freeze, I recommend not adding the garnishing till AFTER thawing this cream cheese and garlic dip.
Related Recipes
If you're prepping for the Big Game, here are some other recipes you may like:
FAQ
How long can cream cheese sit out?
Cream cheese is made from milk and goes bad easily. I'd recommend not leaving it out for more than 1-2 hours (if you're living somewhere hot, reduce the time accordingly as bacteria grows more quickly in hot weather) although some people say 4, it's best to be safe than sorry!
Is cream cheese vegetarian?
Yes, cream cheese is permitted on a dairy-friendly vegetarian diet (but obviously not vegan.) It's also very popular for those filling a keto regime, but is not allowed on a strict paleo one.
How long does opened cream cheese last?
An opened packet of cream cheese should be finished within 7-10 days. Use a clean spoon every time you scoop from it and toss it if the texture or colour changes. Some people say an unopened packet of cream cheese can las tup to 1 week past the date on the packaging, but use your senses and best judgment before consuming!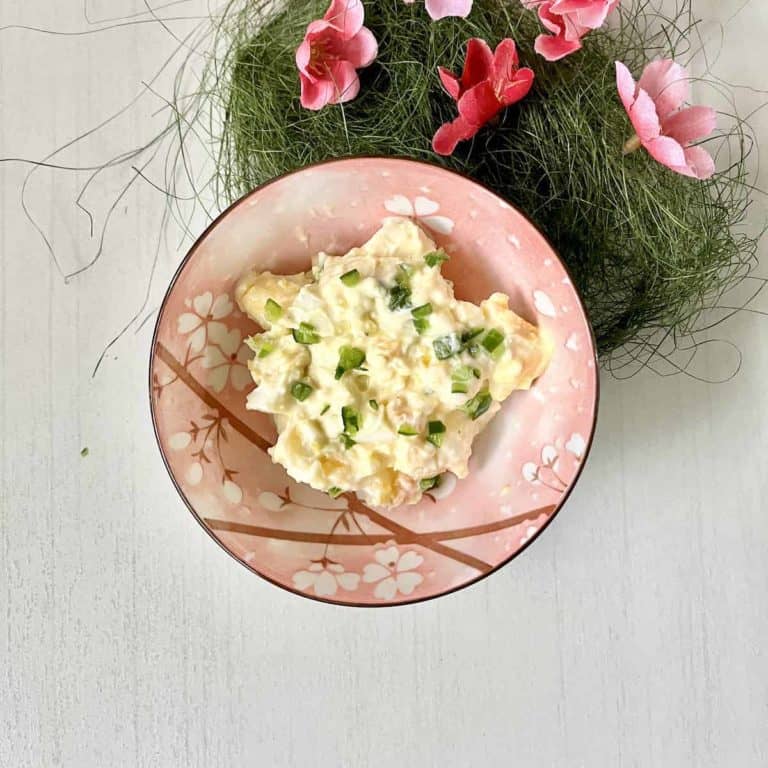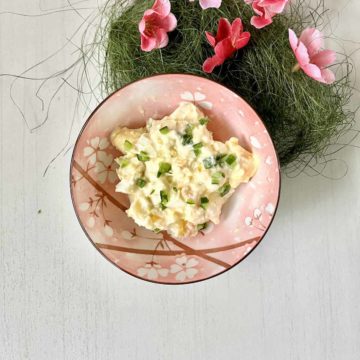 Easy Philadelphia cream cheese dip recipe (garlic and eggs)
A 5-ingredient, easy Philadelphia cream cheese dip recipe with lots of garlic and hard boiled eggs, and that comes together in 5 minutes. This recipe never fails to please!
Ingredients
1

tub

Philadelphia cream cheese (about 8 oz/ 250g)

Feel free to substitute with another brand if necessary.

Kewpie mayonnaise

After emptying the cream cheese into the mixing bowl, squeeze the Kewpie mayo into the (empty) cream cheese container till it's about ⅓-½ full. (I do this to save on the washing up!) Substitute: regular mayo

6

cloves

minced garlic

Substitute: garlic powder If refrigerating the dip then eating it, use more garlic, as the coldness will dull the flavour.

½

teaspoon

Salt

If adding canned tuna, add the tuna THEN salt as the tuna is already super salty.

Black pepper, few turns of the mill

Optional if you want to bulk up the dip: 5 hard boiled eggs, cut into small pieces

Optional: spring onions, minced green chillies, chives, parsley etc

Garnishing for colour
Instructions
Mix all the ingredients, except the garnishing, together in a mixing bowl,

Sprinkle the garnishing on top.

Serve immediately with crackers and what not. (See above for full list of serving ideas.) If refrigerating first, either let it warm up slightly or add more garlic before serving as the cold dulls the flavours.
Notes
If you don't have Kewpie mayonnaise, you can DIY your own by adding chicken bouillon powder and a pinch of sugar to regular mayonnaise. Any leftovers can be made into sambal mayonnaise.
What are some of your favorite dips? I love chilli so I'm a fan of this easy spicy tuna dip!