Chinese Tofu Recipes to help you recreate your favorite dishes at Chinese restaurants at home: from spicy Kung Bao tofu and creamy salted egg tofu to using it in fried rice and stir-fried veggies!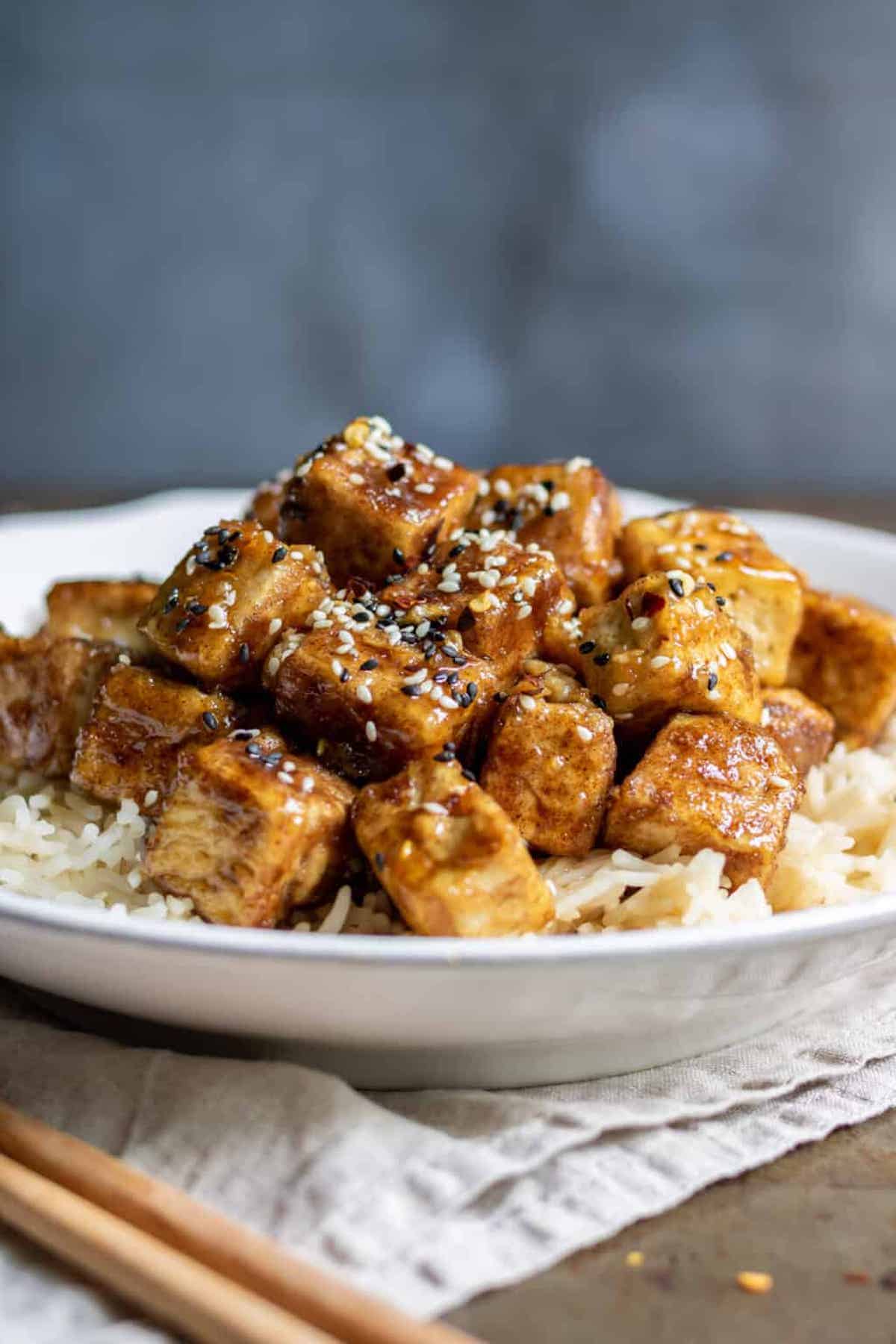 Jump to:
What is Tofu?
Tofu, also known as beancurd, is made from beancurd. It is used in many Chinese dishes but also in Japanese cooking and Korean cuisine. You can steam it with light soy sauce, saute it with hoisin sauce, stir fry in chili garlic sauce or braise it with Napa cabbage in oyster sauce chicken stock!
There are several varieties: Extra Firm, Firm, Soft/ Silken, Tau Kwa and Egg Tofu. Tofu is now such a common ingredient, you no longer need to head down to the Asian markets for it (unless you're looking for a special type, such as Tau Kwa or Stuffed Tofu.)
However, do note that not every type of tofu works in a recipe so make sure you buy the one that the instructions call for!
Expert Tips
Tip #1: You can make your own tofu using a tofu press!
Tip #2: if you're new to cooking tofu dishes, start with extra-firm tofu as it's easier to work with. Soft tofus can be a nightmare to stir-fry... for the best selection of various tofu, go to Asian grocery stores!
Tip #3: To get it extra crispy, press the whole block of tofu to remove excess water before pan frying.
🌶️ Spicy
Salted Egg Yolk Sauce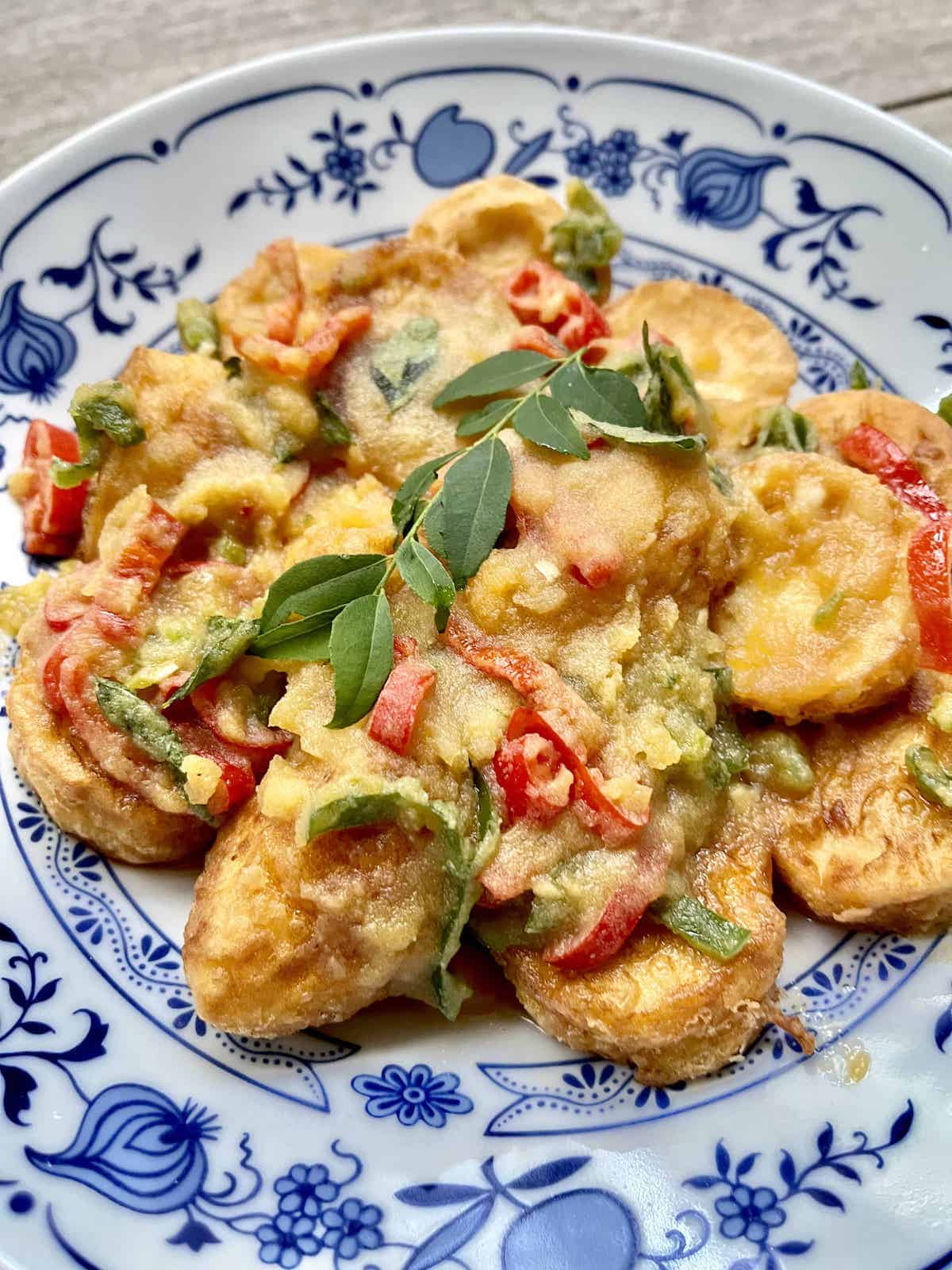 This umamilicious and creamy dish is my favorite way to eat tofu. The stir fry sauce is so good that you can have it with just a plain bowl of jasmine rice, brown rice or even cauliflower rice! (It also works well tossed with other ingredients, such as popcorn, crispy baked chicken.)
Tip: don't forget the paper towels to drain the oil off the golden brown, deep fried tofu, before sautéing them in the salted egg yolk sauce and curry leaves!
P.S. Homemade salted eggs are so much better than shop bought!
Salted Egg Tofu (Fried tofu & salted egg yolk sauce)
This salted egg tofu is an easy but delicious recipe- the fried tofu is crispy and smothered with a creamy and buttery salted egg yolk sauce that has hints of the citrusy curry leaf and the spice of the chilli. Yum!
Click here for the Chinese tofu recipe.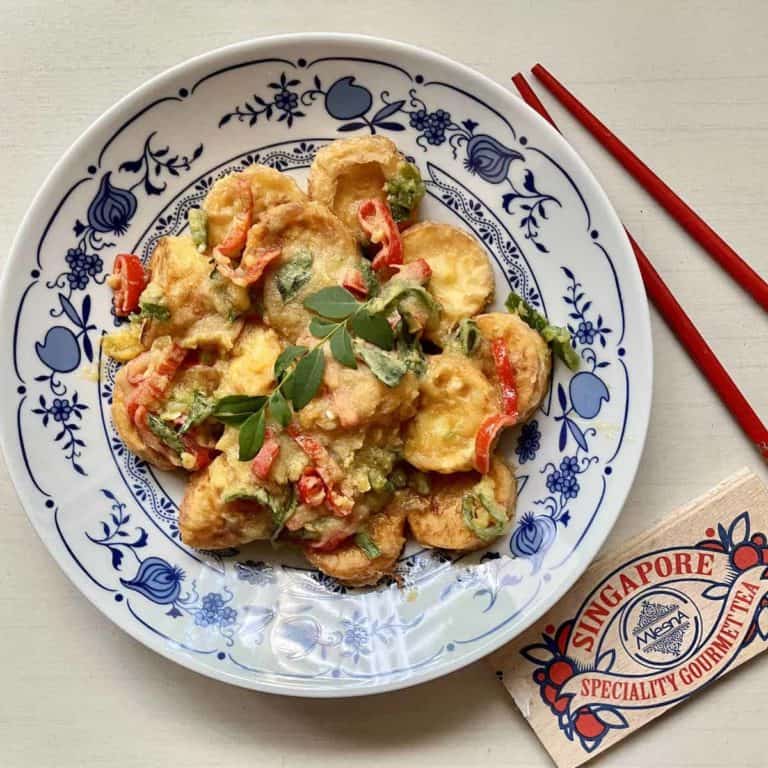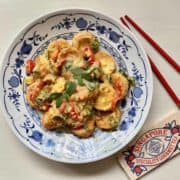 Mapo Tofu
Mapo tofu is classic Sichuan dish made with ground por and tofu, topped with a spicy sauce. The minced meat in this spicy tofu recipe contrasts delightfully with the softness of the beancurd.
Top with green onions and serve with white rice, fried rice or fried noodles!
5- ingredient Tofu
This tofu stir-fry only uses 5-ingredients but is sweet, spicy and a little tangy.
I love hard-working recipes, so for more 5-ingredient dishes that pack a punch, such as these so-good-they're-lifechanging braised pork ribs, click here!
Note: if you don't have rice vinegar, white wine vinegar or apple cider vinegar are a better substitute than lemon juice.
Kung Pao Tofu
This is a meatless version of Kung Pao Tofu, which is 1 of the most popular Chinese takeout recipes. This tofu stir fry is a spicy dish made with tofu, peanuts, and vegetables but you can use other types of nuts if you're allergic to peanuts!
Tip: you can also use the same sauce for chicken!
Sweet and Spicy
This stir-fried bok choy and beancurd recipe is boldly flavoured. Note that the Sichuan peppercorns have unique flavor that is all their own, which cannot be substituted by white pepper or black pepper!
🧈 No Sauce
For this who don't like too much gravy, try these recipes with no sauce that are still super savory!
Stir Fried
If you're not familiar with tofu, here are some tips on how to stir fry it!
Salt and Pepper
Crisp outside but soft inside, this salt and pepper tofu only needs under 10 ingredients- don't leave out the Sichuan peppercorns as it's a key ingredient!
🧄 Aromatic
Garlic Tofu
This family favorite tofu recipes is an easy weeknight dinner. If you've run out of sesame oil, try 1 of these alternatives! You can also add veg such as red bell pepper to bulk up the recipe.
Note: for those with gluten-intolerance, the recipe thoughtfully suggests coconut aminos to replace soy sauce in the crispy tofu sauce.
Sticky Tofu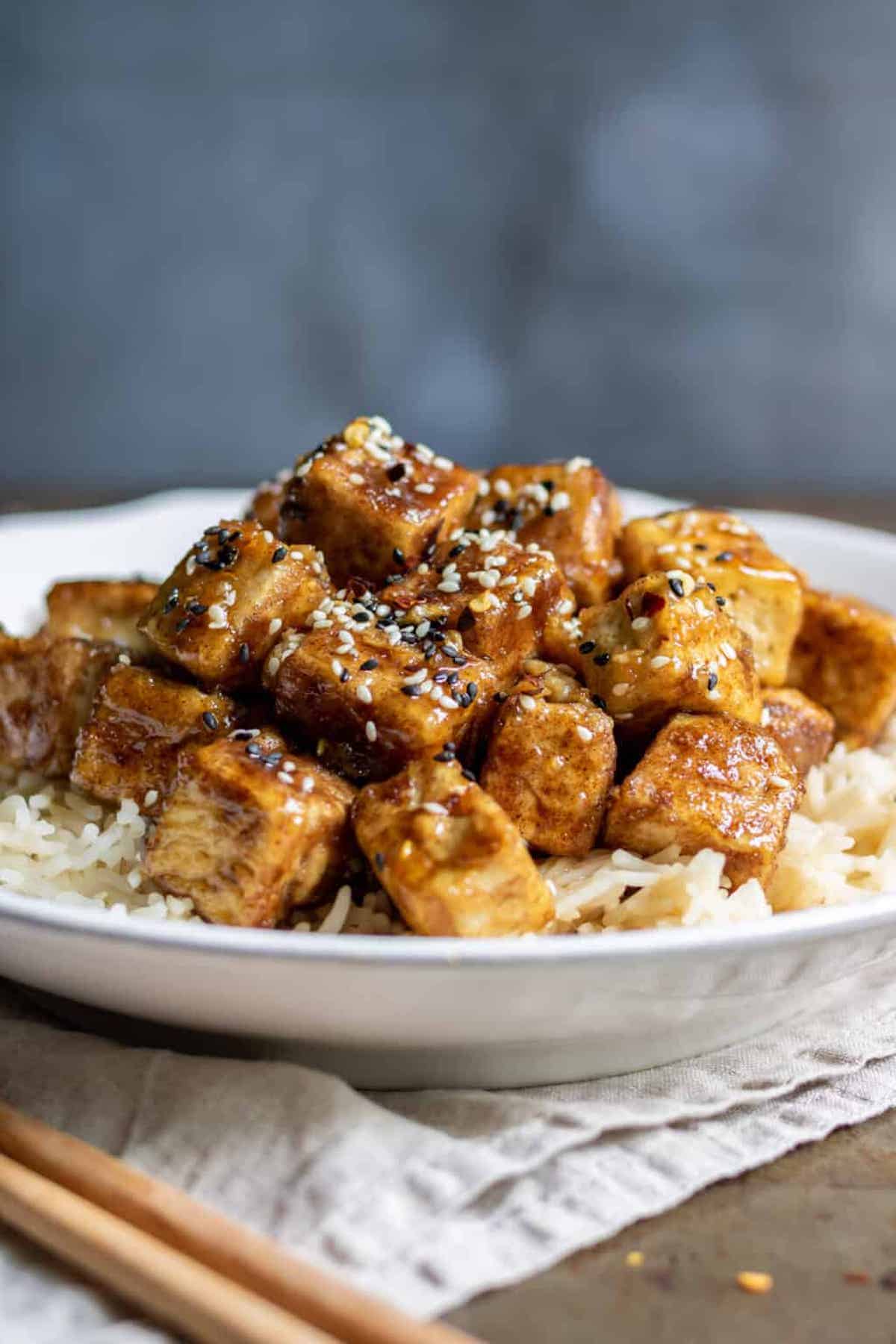 This tofu stir fry recipe has a delicious sauce that tastes great with plain white rice. Don't forget the lightly toasted white sesame seeds to add some texture!
Tip 1: add some shiitake mushrooms, green beans broccoli florets and/ or snow peas to make it more nutritious!
Tip 2: if you can't get potato starch, you can substitute with rice flour or corn starch for the coating.
Asian Tofu
This Sticky Tofu recipe is simple to follow and tastes incredible! Firm tofu is sautéed until crispy, then coated with an Asian-inspired sticky sauce. Serve over rice, veggies, or your favorite noodles for an easy and tasty meal!
Click here for the firm tofu recipe.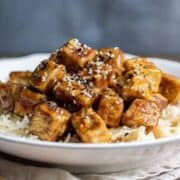 Black Pepper Tofu
Ottolenghi is 1 of my favorite chefs, although I seldom recreate his recipes at home as they require too many special ingredients!
Thankfully, this pepper tofu doesn't call for anything more special than sweet soy sauce and dark soy sauce- nothing a typical Asian pantry wouldn't stock! (Click through to learn to make your own or for easy substitutes!)
🥬 Vegan
Tofu is particularly good in vegan and Chinese vegetarian recipes, as it absorbs flavors wonderfully, and it can be found in many Asian Vegan Recipes.
Fried Rice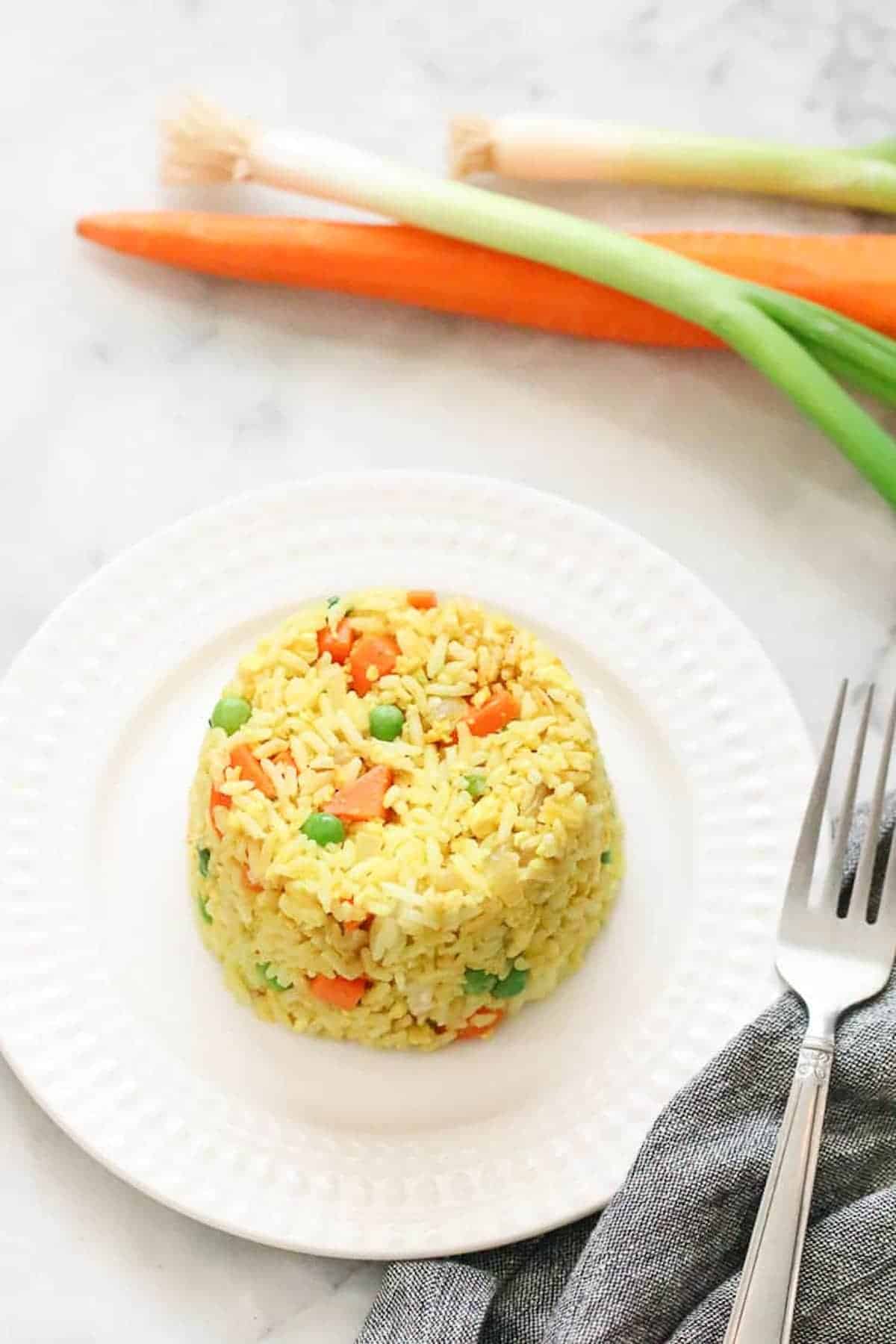 Rice can be super filling, even without these fried rice side dishes, so why not wash it down with some Chinese Plum Tea for digestion?
Tip: leftover rice is best for fried rice!
Fried rice
Homemade Chinese-style vegan fried rice is easy to make, tastes way better than take-out, and is also far healthier! You can make this recipe in one skillet, in 20 minutes or less, and the minimal oil is optional! Vegan fast food in your home kitchen! Don't forget the sesame oil and chilli for flavor!
Click here for the vegan rice recipe.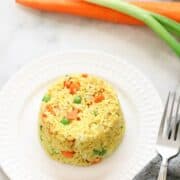 Plant-based Spam
Chinese people love luncheon meat, but if you're meat-free, marinated tofu slices are a great vegan substitute for Spam! (After that, you can turn them into luncheon meat fries, which is a great finger food for Super Bowl parties!)
Looking for tofu desserts? Click through the link!
If these Chinese tofu recipes were helpful, maybe you'd like to sign up for my newsletter?