12 easy and delicious Asian-inspired Sweet & Savory Nut Recipes that go beyond roasted spiced nuts.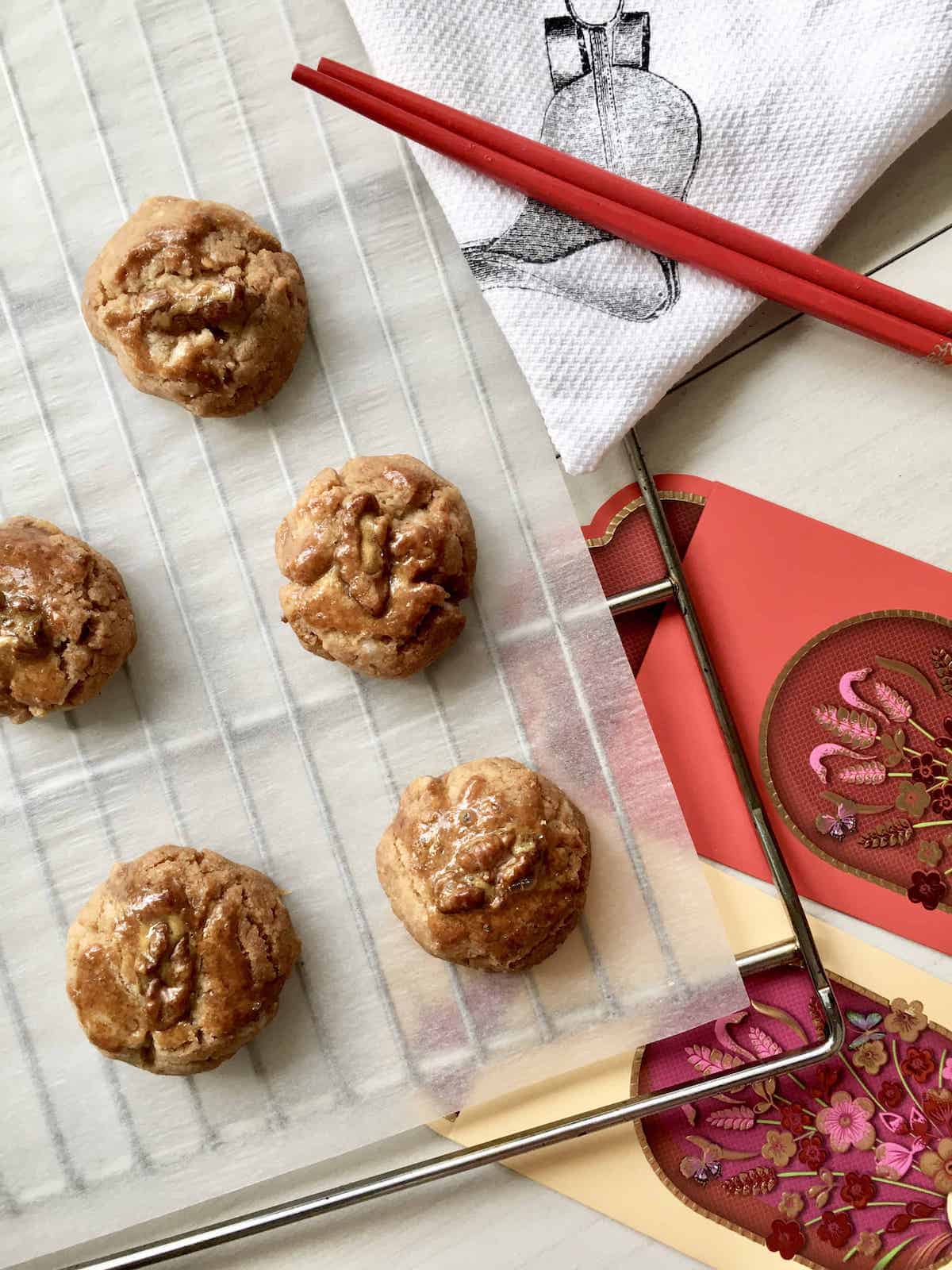 Jump to:
If you've a ton of nuts left over from making classic Chinese nut cookies- traditional peanut cookies, Chinese almond cookies, cashew cookies, old-school walnut cookies, sesame brittle and what not- here are some sweet and savory nut recipes to help you use up your stash!
History
Peanuts were introduced to China by Portuguese traders and they're locally known as: Changshengguo ("long-life fruit"), Didou (meaning "earth bean"), Qiansuizi (meaning "thousand-year-old offspring") etc... As you can see, many of their names are related to life!
At traditional Chinese weddings, nuts are usually included as the word "peanut" in Chinese 花生 is a homonym for giving birth and thus symbolise fertility. In the past, the wedding bed would have some nuts on it, but since it's 2022, why not feature some of these Asian sweet and savoury Nut recipes on the menu instead?
Warning
Nut allergies, in particular to peanuts, can lead to anaphylaxis and severe shock so always check guests' dietary requirements before preparing a nut dish! Symptoms of a nut allergy range from hives and swollen lips to nausea or a tight feeling in the throat.
Appetisers
Asian slaw with cashews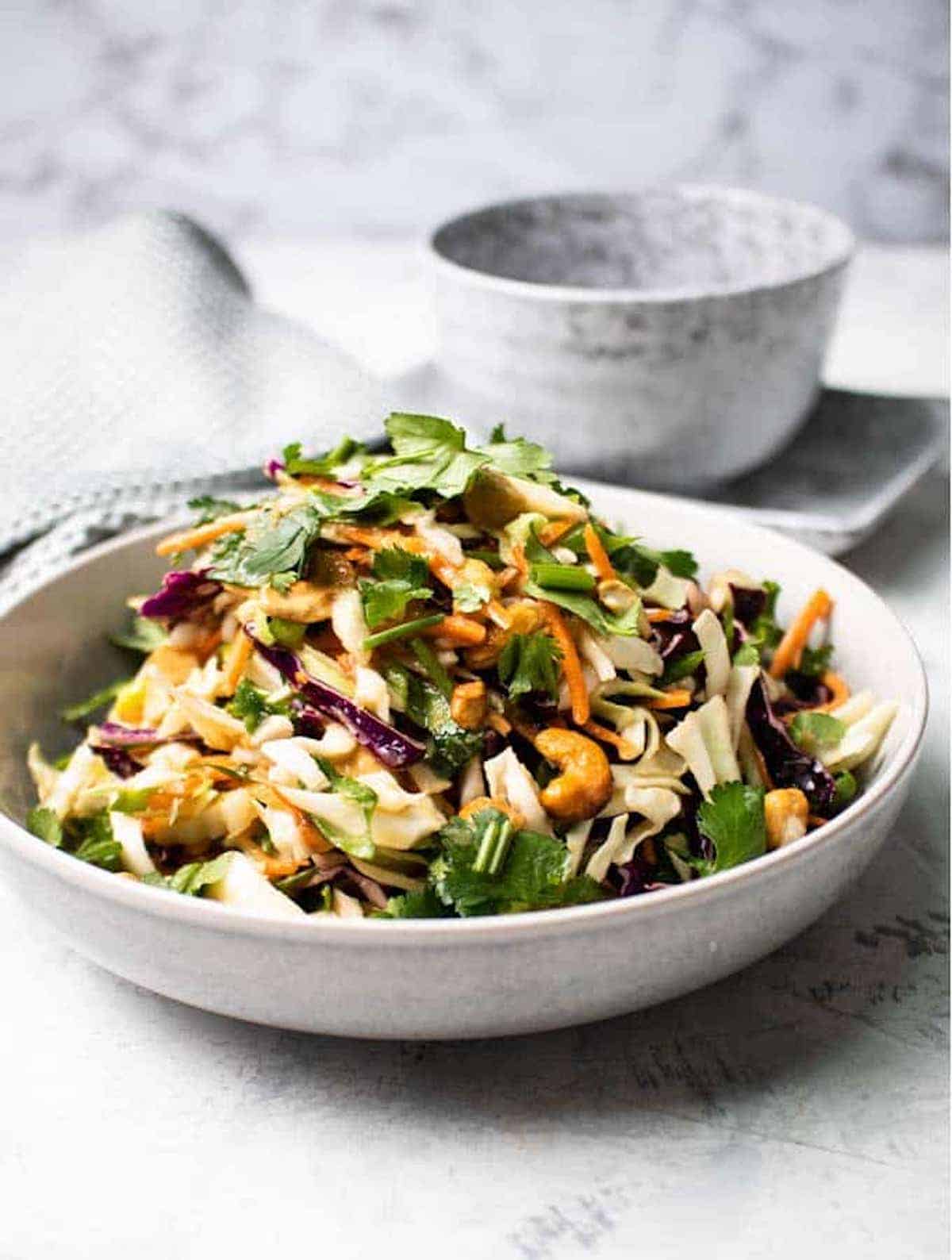 Asian slaw with cashews
Asian cuisine doesn't have a lot of traditional salad dishes, but Asian inspired sauces, using soy sauce, fish sauce and/ or chilli, go really well with some salads. My fave is mango, avocado and prawn tossed in nuoc cham (water-garlic-sugar-lime juice-fish sauce) but this Joyful Dumplings slaw is a close runner up!
Click here for the Asian coleslaw recipe.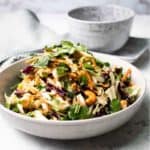 Ikan bilis and kacang goreng
Another easy peanut recipe would be to fry the nuts with ikan bilis (anchovies) and sliced garlic- this crunchy topping keeps for weeks at room temperature (in an airtight container) and is delicious with rice, noodles, porridge or on its own!
Just make sure the oil is hot enough before frying (there should be bubbles forming around your wooden chopsticks when you insert it into the oil) and fry the nuts before the ikan bilis, as they turn the oil black easily!
Chinese Braised peanuts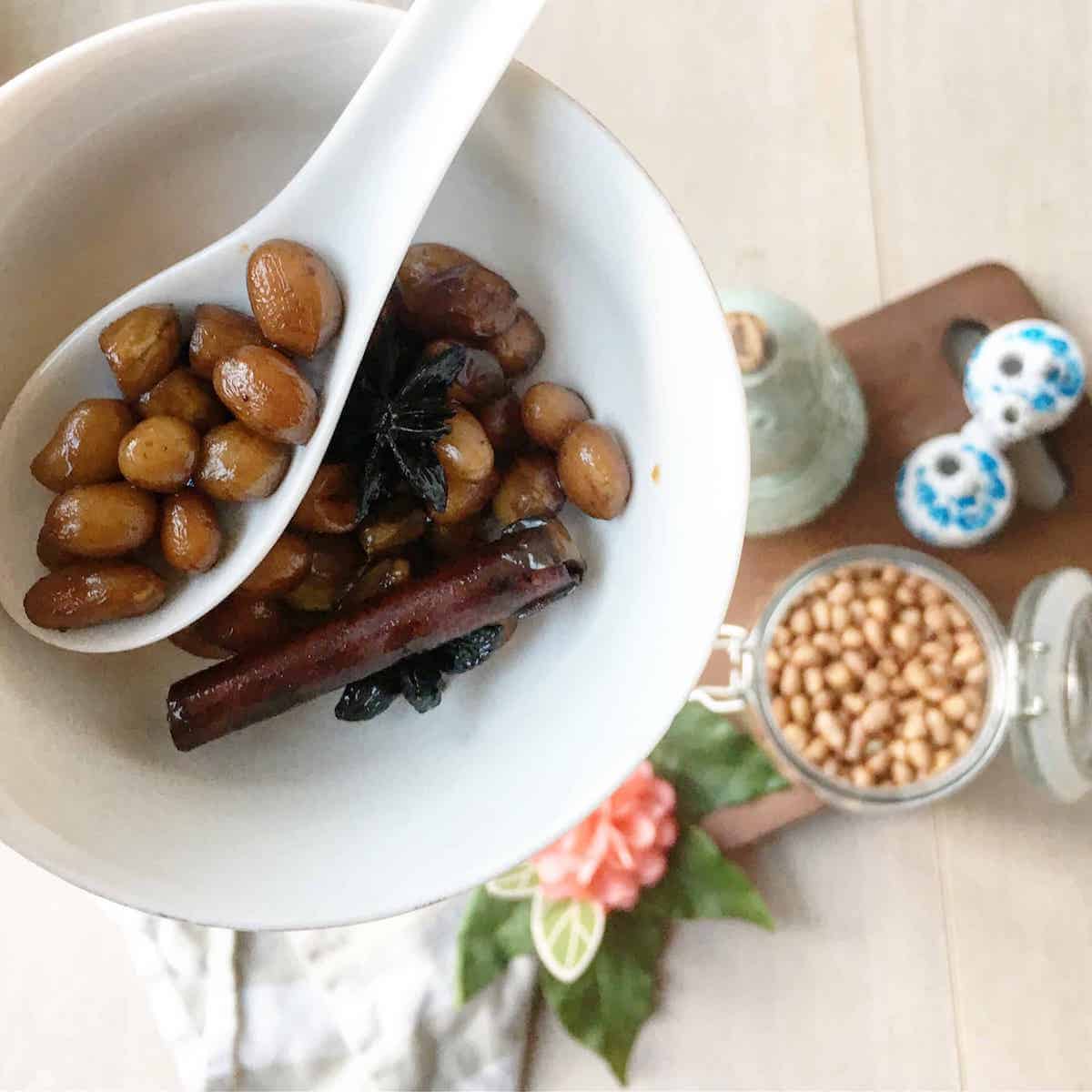 This is a peanut dish that you see at almost every bak kut teh restaurant. It's also a great side dish for Teochew porridge.
You will need large shelled peanuts. Put them in a pot with Chinese 5-spice powder, dark soy sauce, rock sugar and water. Braise till they are soft and melt in the mouth.
Tip: to get the peanuts as tender as possible, a slow cooker, pressure cooker or instant pot would be very handy!
Curries
You wouldn't be able to tell that many Singaporean curries contain nuts. They actually use candlenuts, or buah kemiri in the local language, as a binder for the curry sauce. If you can't get this, macadamias or 1 of the other substitutes in the link will do in a pinch!
Singaporean Tamarind Coconut Fish Curry
An 8-ingredient curry with flaky fish in a spiced, creamy curry sauce. The tamarind juice gives the flavorful Singapore Tamarind Coconut Fish Curry a delicious citrusy acidity (and makes sure there is no fishy flavor)- unusual for a curry, but makes for a super satisfying meal with white rice. (Dairy-free) (Stovetop)
Click here for the Singapore fish curry recipe.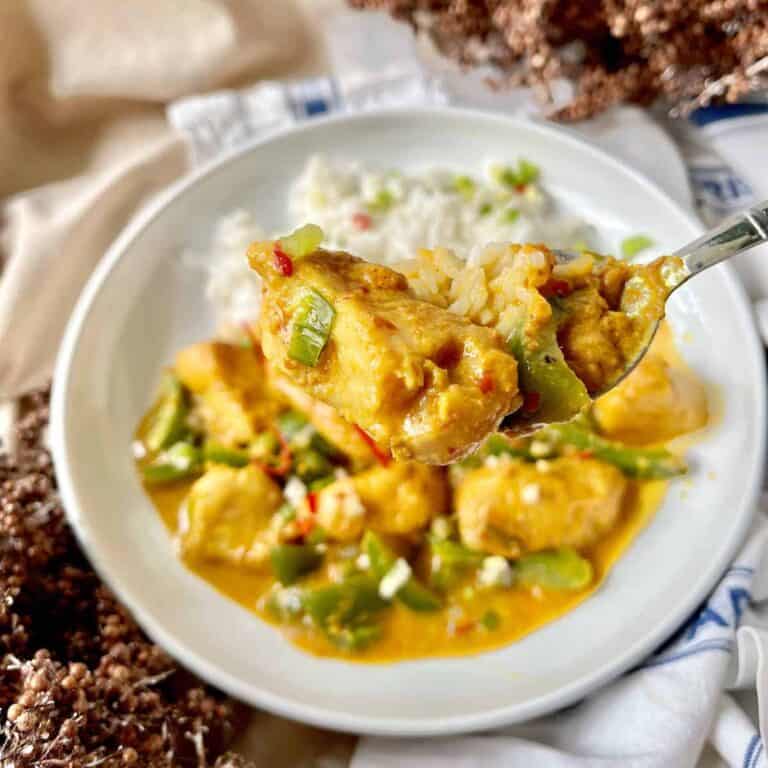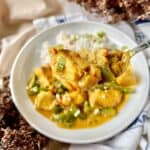 Noodles
Zucchini noodles with cashews
Zucchini noodles with cashews
If you've been overindulging lately but crave noodles, make them out of zucchini as shown in this Cooktoria recipe! (A spiralizer would come in handy here) Note: I have several nut noodle recipes on this list but the sauces are all different- try them to see which is your fave!
Click here for the zucchini noodles recipe.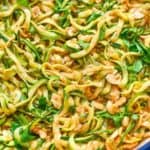 Spicy Thai Noodles
Spicy Thai peanut noodles
Like most Thai dishes, this is sweet, spicy and savoury- the only thing I'd change about this Recipe52 recipe is to use chicken legs instead of breast meat but that, of course, is a matter of personal preference!
Click here for the Peanut Noodles Recipe.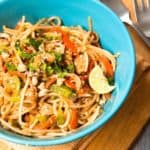 Vegan
Sweet potato curry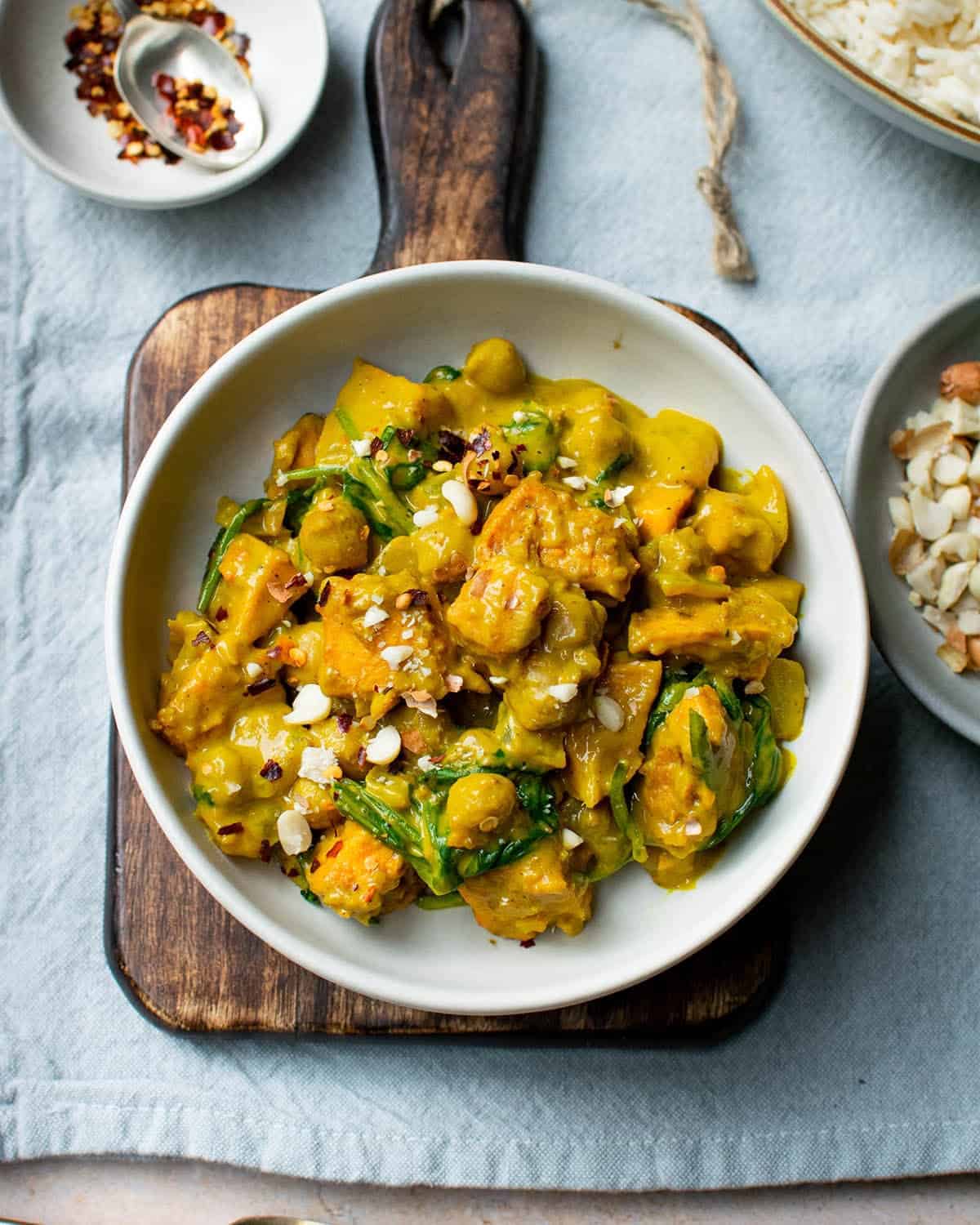 Using peanut butter to cook Asian food can be a little controversial as purists frown on it.
However, as long as you use pure peanut butter - the pricey one in the supermarkets LOL- with no shortening or other additives, it can make for very delicious yet easy to make Asian-inspired nut recipes!
Vegan Sweet potato curry with peanut butter
Chickpeas are super healthy, so I've always wanted to incorporate more in my diet but struggle to do so! VeganPunks had a genius idea to include them in this curry- the Indonesian flavours are delicious!
Click here for the Vegan Curry Recipe.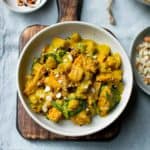 Peanut noodles
These noodles go really well with jasmine bubble tea!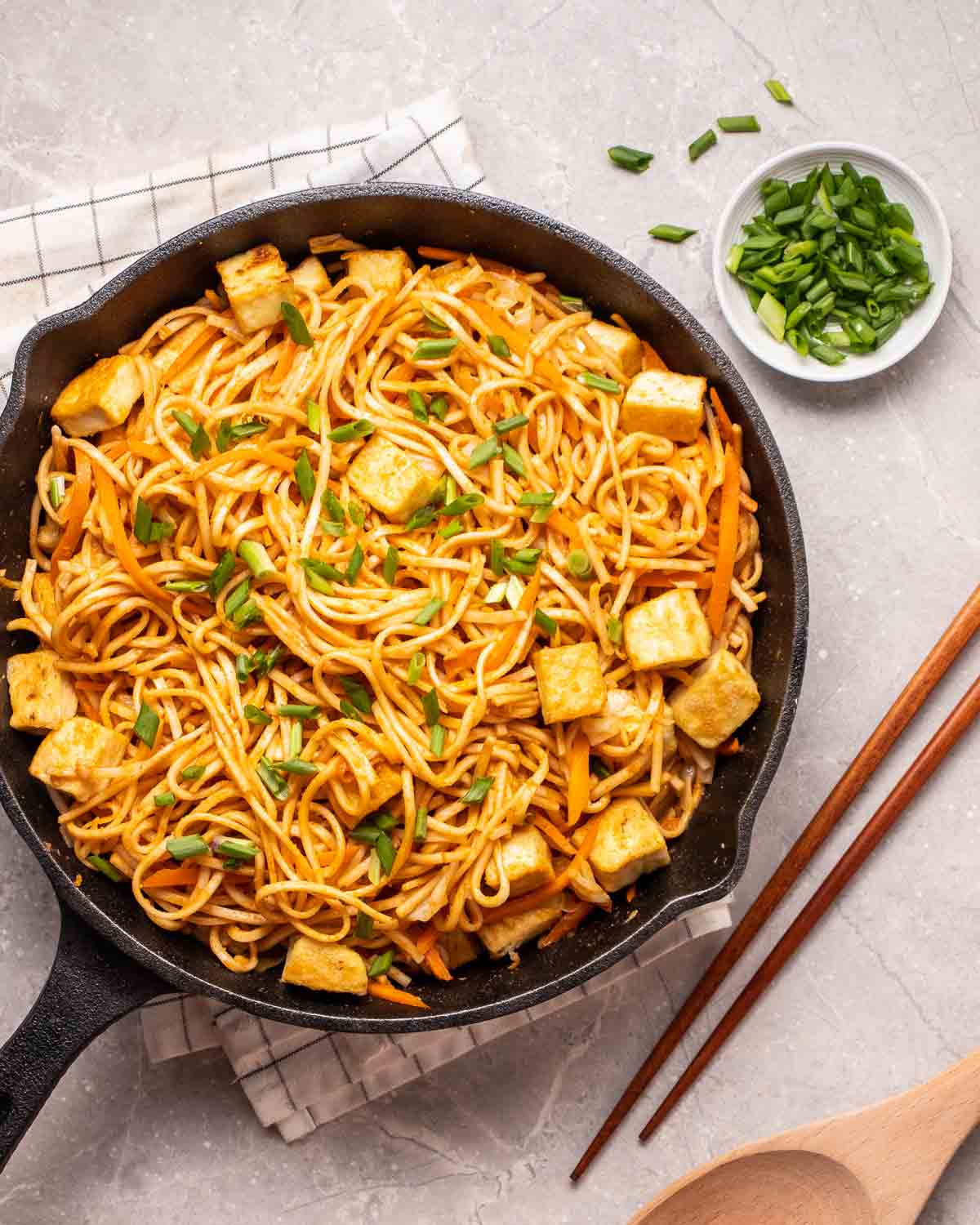 Vegan peanut noodles
Love this My Plantiful Cooking recipe for its super versatile sauce- if you don't feel like noodles, you can always use it to coat pan-fried tofu or, if you're not vegan, baked chicken!
Click here for the vegan tofu and noodle recipe.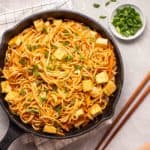 Cashew Garlic Sauce
And if you still have cashews left over after the Asian slaw, give it a whizz with garlic and a bit of water in the blender to get a creamy yet vegan garlic sauce!
Desserts
Korean sweet pancakes (hotteok)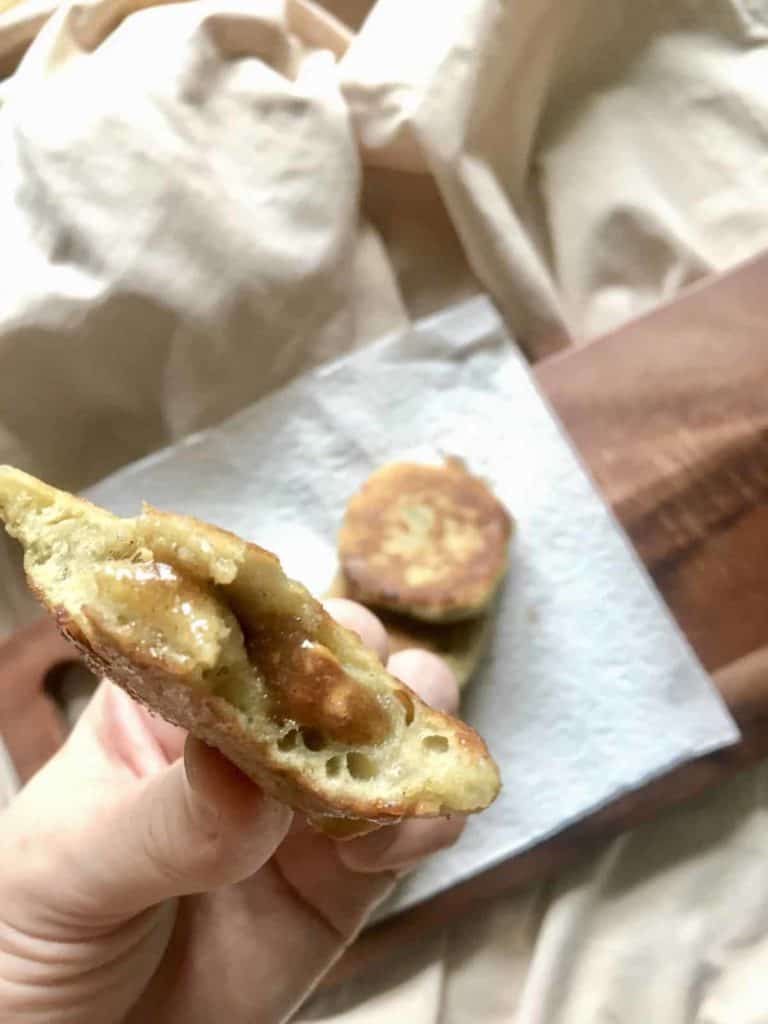 Another of my favourite nut recipes is Korean sweet pancakes, or hotteok. They're pretty much pan-fried bread filled with nuts, cinnamon and brown sugar. Heaven! The type of nut is pretty flexible and you can use walnuts, peanuts or even sunflower seeds!
How to use hotteok mix
Hotteok is a sweet Korean street food that is like a Cinnamon Roll in pancake form, but even better! Learn to make it using a box mix.
Click here for a hotteok mix recipe.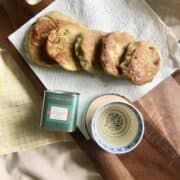 Traditional Singaporean muah chee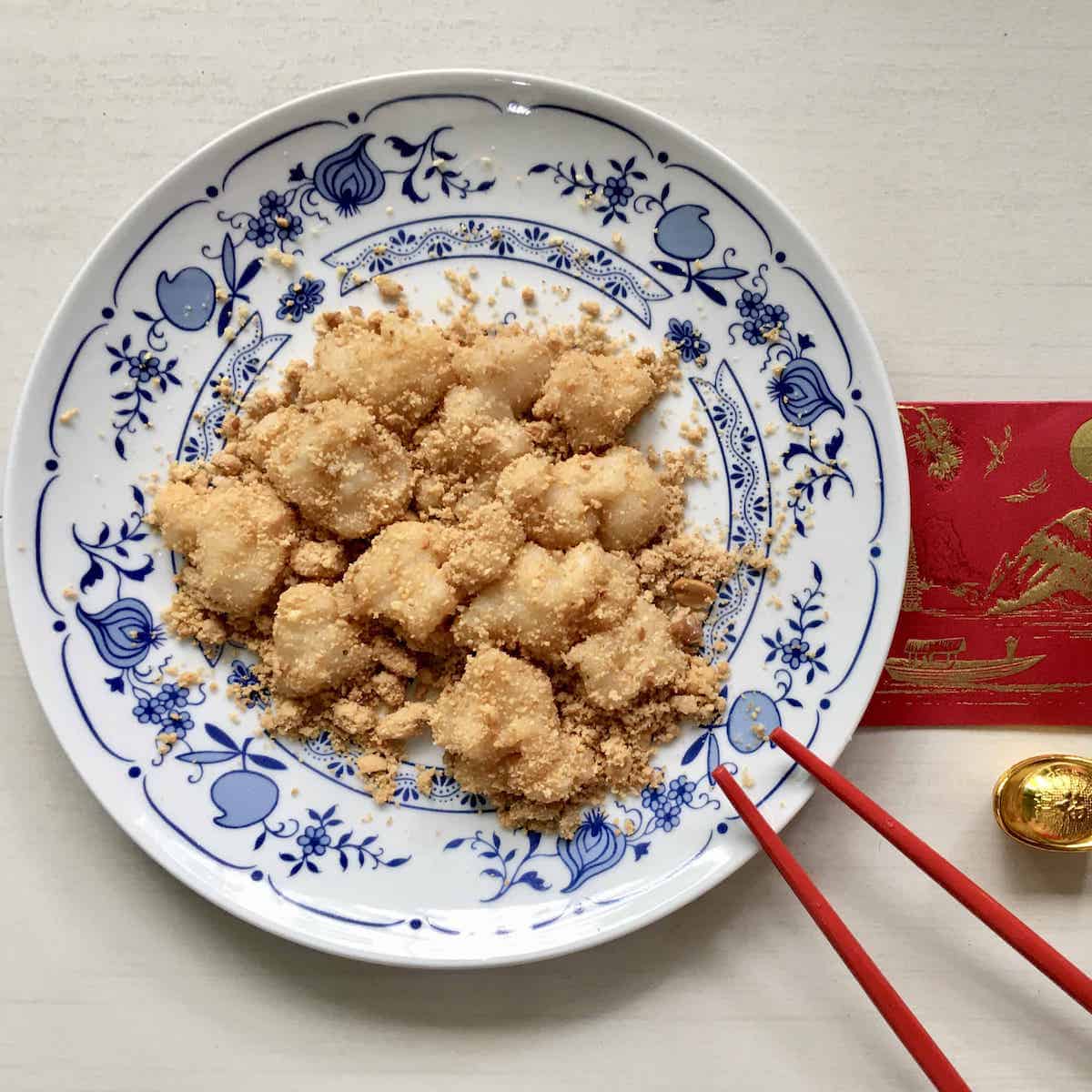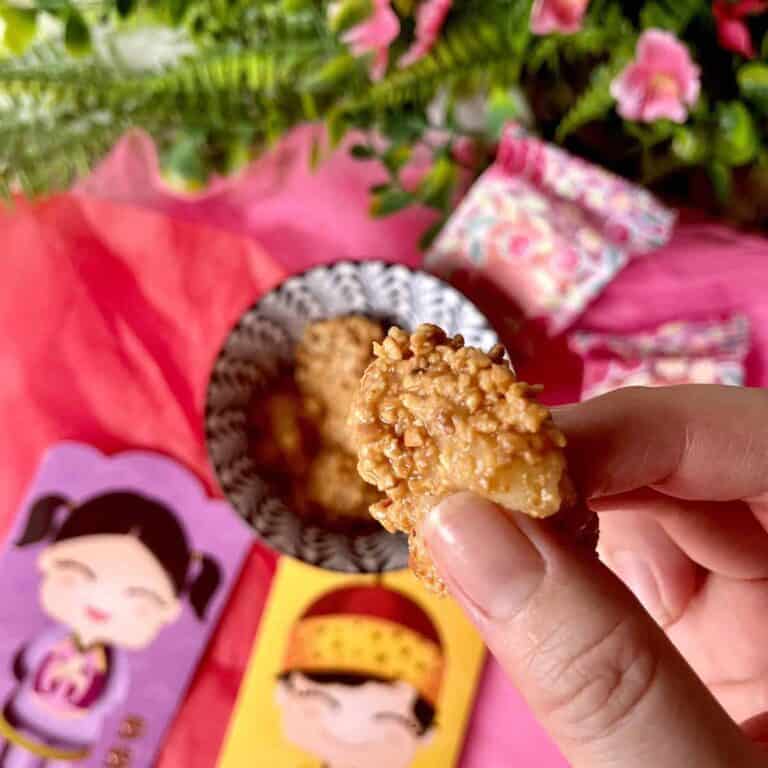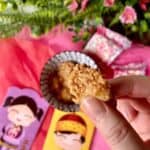 Vegetarian Hup Toh Soh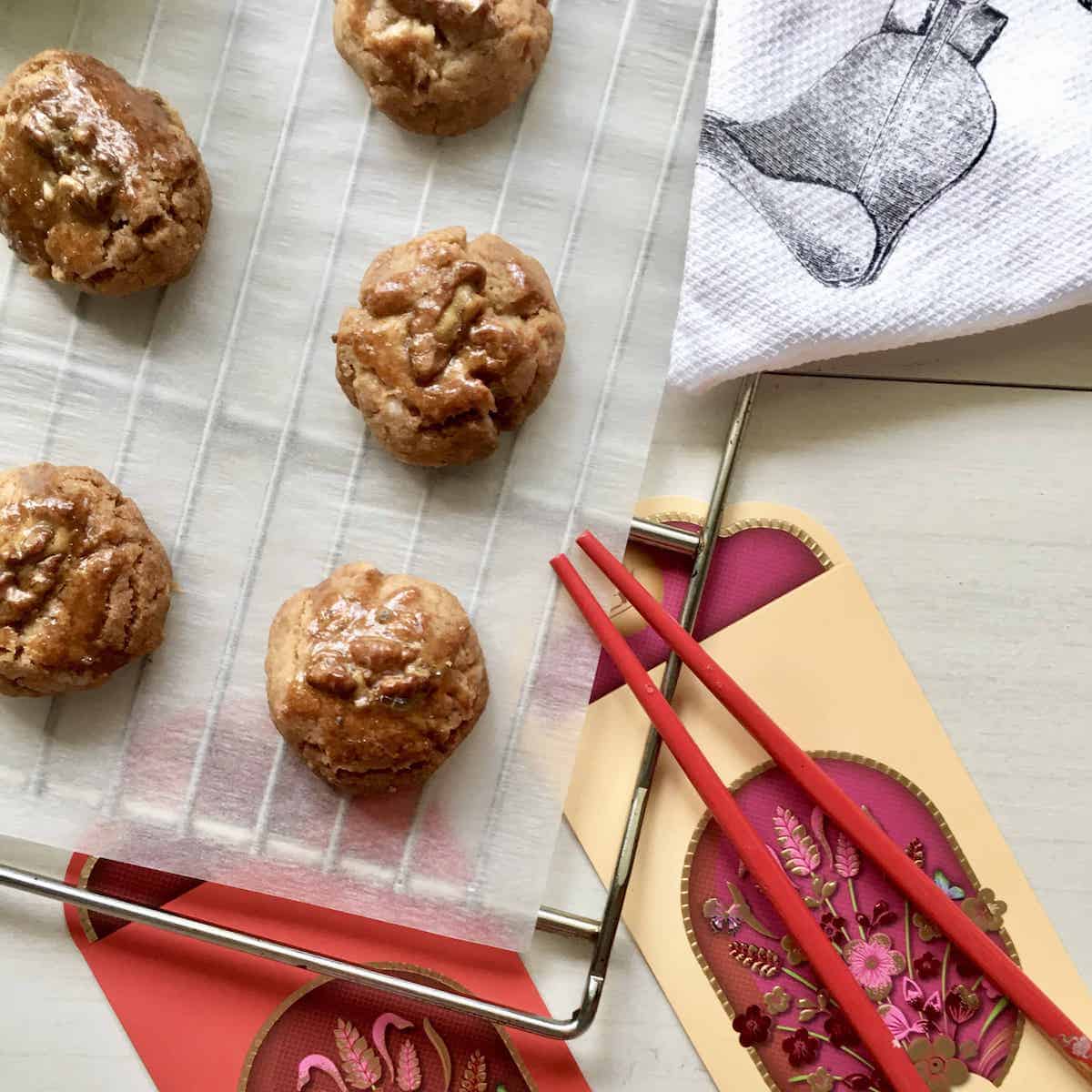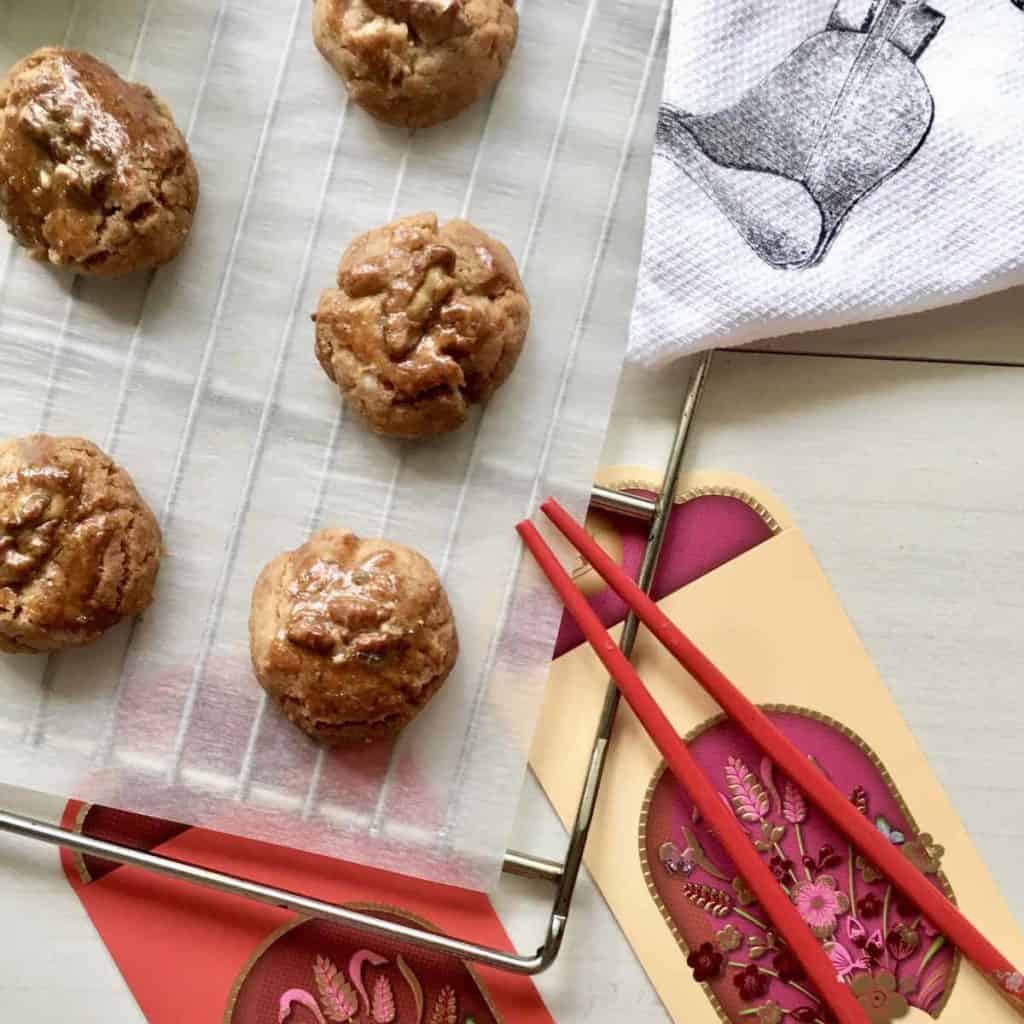 Chinese Walnut Cookies (Hup Toh Soh)
Also known as He Tao Su, these classic vegetarian cookies are easy to make at home, using store cupboard ingredients, and can be made vegan as well (info below). Crispy, crumbly and fragrant, they go well with coffee or milk tea!
Check out the Chinese Walnut Cookie here.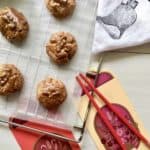 CNY Peanut cookies
Note: these addictive cookies are naturally vegan.
Traditional Chinese Peanut Cookies (CNY 2023)
The Best CNY peanut cookie recipe ever- developed after baking 2000 cookies, it's crunchy yet melts in the mouth! Someone once bought 20 jars of this from me at a go!
Check out this Chinese New Year peanut snack here.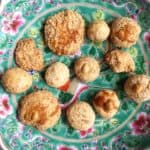 Butter Almond Cookies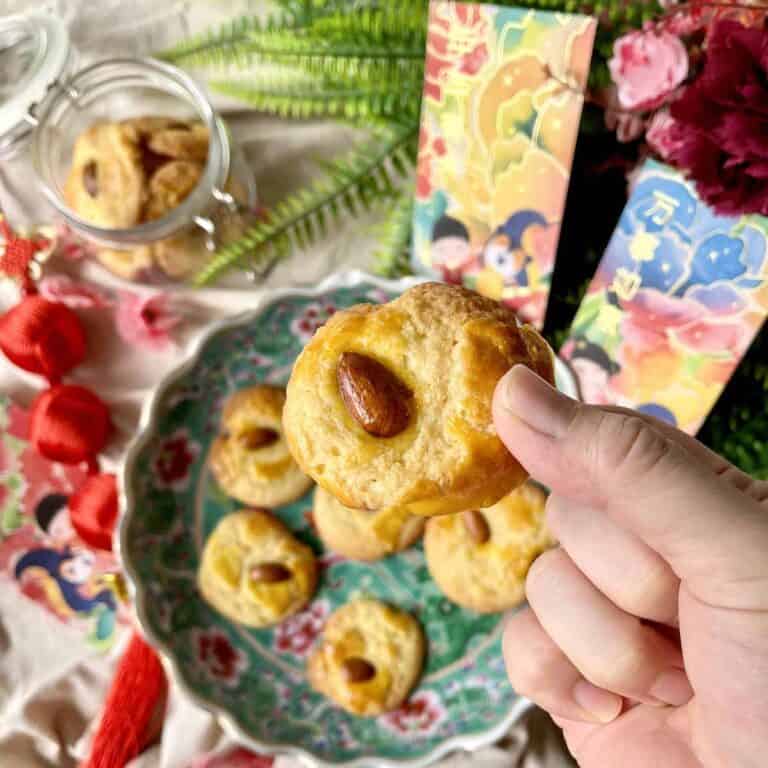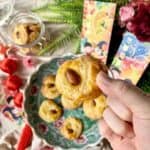 Which of these savory nut recipes was your favourite? Tag me on social media (@greedygirlgourmet) if you make any of them!