The tamarind juice gives assam fish curry a delicious tanginess and adding the coconut cream, which is unusual for this dish, lets us get away without adding palm sugar (which usually goes hand in hand with tamarind)- just as delicious but healthier!
Jump to Recipe
Jump to:
Lately, we've fallen in love with tamarind in my house- its hint of citrusy acidity does wonders for food and helps to wake up your taste buds, especially when combined with sambal belacan (shrimp paste) or used to marinate pork! Besides mee siam (a Singaporean noodle which can be served stir-fried or with soup/ gravy), we also like to use it to cook this Singaporean tangy fish curry.(For more tamarind recipe ideas, click here or here for vegan tamarind dishes.)
Note: this recipe is adapted from a vintage cookbook that came with a calendar. Unlike Singapore in the 80s, most of us don't have time to grate our own coconuts anymore, so I've changed the recipe to use packaged coconut cream/ milk instead to make things more convenient for everyone!
Variations
This dish shouldn't be confused with the classic Malaysian dish/ Singaporean dish, Assam pedas (which requires more herbs such as daun kesum (Vietnamese coriander) and torch ginger flower) or fish head curry (uses fish curry powder).
The most common assam fish dish in Singapore is actually cooked with sugar instead of coconut -cream will share the recipe for that another time- but I prefer this version as it doesn't require you to add sugar (so I feel healthier!)
Ingredients & Substitutes
White fish pieces

If you don't have fish fillets at home, this dish also tastes delicious with pork. 
Unfortunately for vegans or vegetarians who like Asian food, the sauce doesn't complement the taste of mushrooms very well (I used king oyster mushrooms, a very meaty mushroom that is often used to replace meat in vegan dishes, but the resulting dish wasn't 1 I'd care to repeat! Will try again with firm tofu and young jackfruit and update once I've done so!) I do have 100 Asian recipes for vegans at this link though!

Tamarind pulp or tamarind paste (Assam)
Coconut cream

If you only have coconut milk, leave the can in the fridge overnight and it will separate into 2 layers. Open the can, without shaking it and scoop out the top, more solid layer- whisk it well and you'll get your coconut cream!
Note: if you prefer the gravy to be lighter, replace some coconut cream with coconut water. It keeps the coconut flavour but makes for a less heavy sauce. (Don't replace it completely though or the texture of the dish will change.)

Dried chillies
Lemongrass

Lemongrass is often sold as a big bunch- if you need ideas for what to do with the rest, click here for more asian lemongrass recipes.

Turmeric
Aromatics: Garlic & Ginger
Salt or fish sauce, to taste
Optional garnish: green onions, curry leaves, coriander leaves or sliced green chillies
Type of fish
I usually use nile fish or sutchi fillet as these are readily available in fillet form for online grocery delivery (whatever white fish is on promotion really!), but traditionally Singaporean homes would use fish such as Spanish Mackerel (ikan tenggiri), red snapper (ikan merah), threadfin (ikan kurau) and even sea bass. Whichever you use, the key is to use fresh fish (although, honestly, sour fish curry does help to hide the taste of older fish)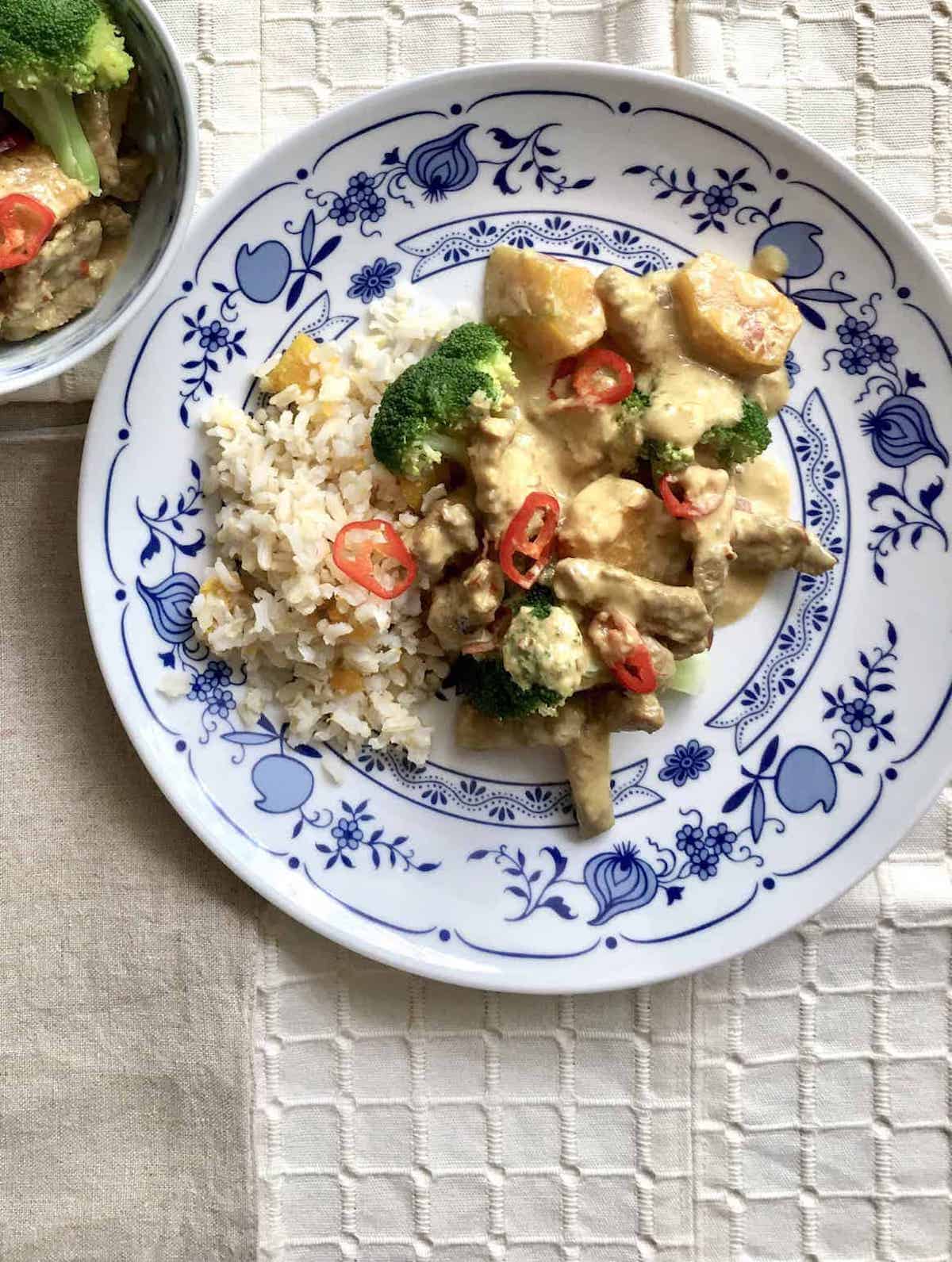 The eagle eyed will notice I made this assam curry with pork and not fish!
Optional ingredients
You can also add these items to the curry (curries are a great fridge-clean out dish!):
tomato wedges
okra/ ladies fingers (it will naturally thicken the sauce a little)
How to Serve
The tangy gravy in this curry goes well with a simple meal of white rice. You can serve it with other dishes such as these soy mushrooms or, a local favourite, soya sauce pork stew.
How to store
Keep for no more than 1-2 days in an air-tight container in the fridge as coconut doesn't last very long.
Tips
Like most stews and curries, this assam fish curry actually tastes better the next day, so it's great for making in advance (e.g. before a party)
Other seafood recipes
Singaporean assam fish curry with coconut
A healthier alternative to the typical Singapore assam fish, as no sugar is added.
Equipment
Knife and cutting board

Granite mortar and pestle. Alternatively, give everything a blitz in the blender but it doesn't quite release the flavours in the same way Do not use a ceramic one or you will end up cursing and swearing as the pounding will take FOREVER

Pan
Ingredients
15.9

oz

white fish fillets (gutted and descaled) (450g)

Substitute: pork (it will need to be cooked longer than the fish). Don't use oyster mushrooms as it doesn't go well with the tamarind

⅖

Cup

coconut cream (100ml), mixed with 1 Chinese bowl of water

Alternatively grate ½ a coconut and mix it with 225 ml of water

1

T

tamarind paste

Mix it with ¼-1/2 Chinese bowl of water

salt

to taste

2

T

vegetable oil, or to taste

Don't use olive oil! Canola or sunflower works (palm oil is the traditional choice in South East Asia)
Rempah (to be pounded together- cut all the ingredients, where possible, before pounding)
4

dried chillies (Cut to facilitate pounding) (Remove the seeds to make it less spicy)

Don't touch your eyes after touching the dried chillies or you will cry

2

lemongrass stalks (white part/ base)

Chop extra fine before pounding to make life easier for yourself

1

piece

turmeric

Substitute with turmeric paste or powder if you don't have fresh on hand

3

cloves

garlic, peeled

1

slice

ginger

Peel with the back of a spoon if you wish- i sometimes leave the skin on!
Instructions
Wash the fish in salt water, then drain dry and cut into 1,5 cm pieces. In Singapore, we use ikan tenggiri, ikan merah and ikan kurau, but you can also use a white fish like cod or tilapia.

Cut all the ingredients for the rempah, then pound (or blend) till fine.

Heat the cooking oil then sear the fish till light brown on both sides. Plate

In the same pan, add more oil if necessary, then fry the pounded rempah. Keep stirring and frying till the oil separates out and you can smell the fragrance of the ingredients.

Add the coconut and fish to the pan. Salt to taste then bring to the boil.

Add the tamarind juice and simmer for another 2-3 minutes or till the fish is cooked. Add more water or salt till the gravy is at your ideal consistency/ tastiness.
Notes
Curries are a great recipe to make when you want to clear out your fridge- I sometimes temper curry leaves with the rempah, or add tomatoes and okra/ lady's fingers to the dish.
Note: this is not the typical Singapore assam fish (sugar + assam, no coconut) or assam pedas fish.
There is another version of assam fish in Singapore (which is popular better known) that is cooked without coconut. Will share a recipe for that soon!
What are some of your favourite fish curries?
If you liked this Singaporean assam fish curry with coconut recipe, I would be super grateful if you'd care to leave a rating or comment below! 🙂 Other Singaporean recipes that you may like include: