What to serve with Curry other than rice (although I do suggest some easy rice sides as well): the best side dishes for a warming bowl of curry, be it Thai Green Curry, Indian Curry, Japanese S&B Curry or Singaporean Chicken Curry!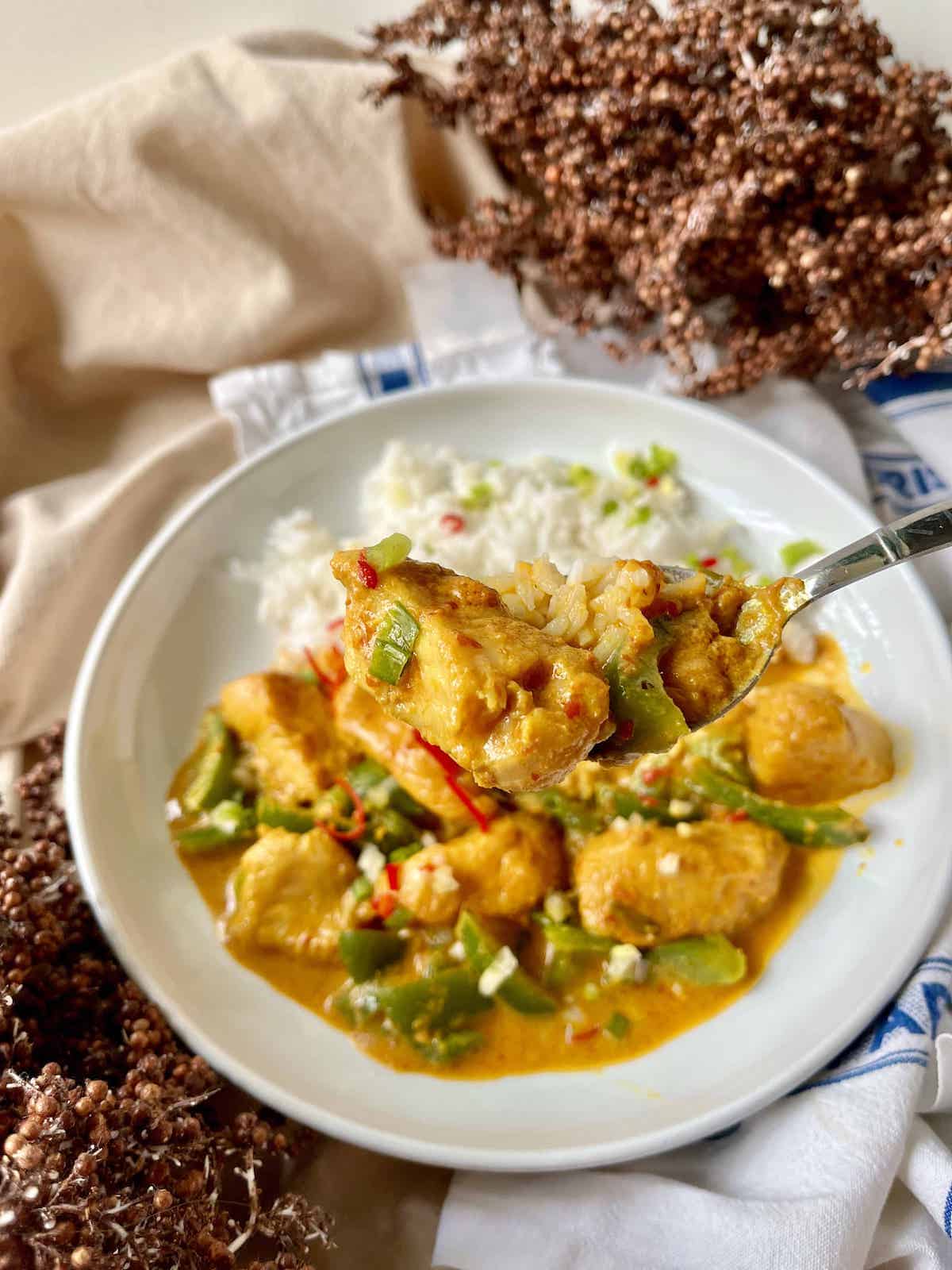 Jump to:
There are many different types of curry, be it Thai Pork Curry, Malaysian Curry Chicken, Japanese Pork Curry or Indian veggie curry.
You can never go wrong by serving curry with a bowl of white rice but, if you want more variety in your meal, scroll down for more suggestions!
Rice
Let's start with rice since it's the most popular side dish for curry.
White Rice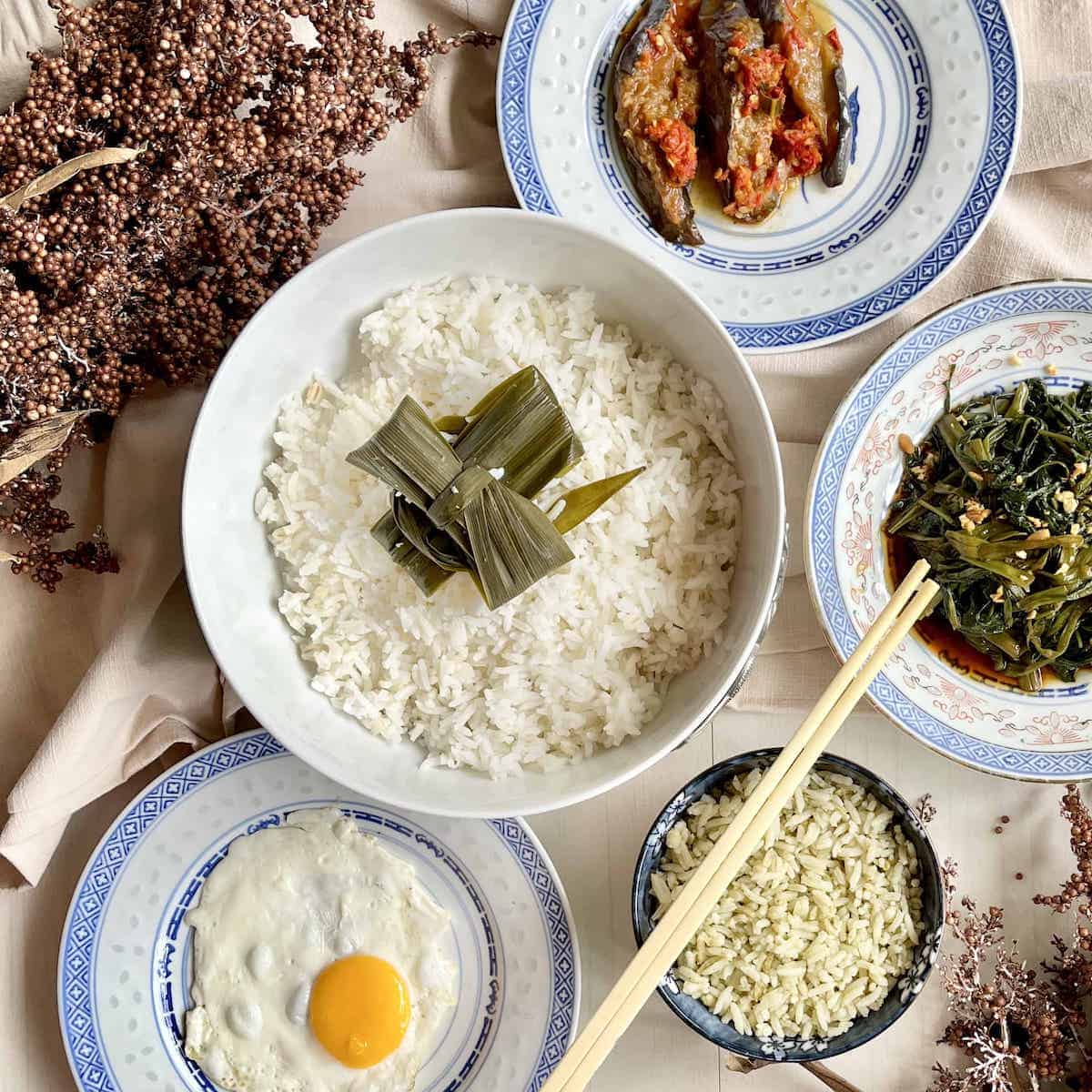 There are so many varieties of rice: Thai Curry goes beautifully with jasmine rice, Malay curry with Pandan Rice, Indian curry with basmati and Japanese or Korean curry with short-grain sushi rice!
However, if you don't have the specific variety of white rice, you can always substitute with 1 of the others, or even with a bowl of brown rice!
To prepare rice, pop it in the rice cooker OR simply cook it in water or broth over the stove. This allows the grains to absorb the liquid and become tender.
Note: Basmati rice is a fragrant and flavorful long-grain rice originating from South Asia that complement the rich flavors of curry. If you like fluffy individual grains, this is the rice to go for! This versatile rice can be served plain or with warm spices, such as turmeric, saffron or cumin, which I'll touch on below.
Turmeric Rice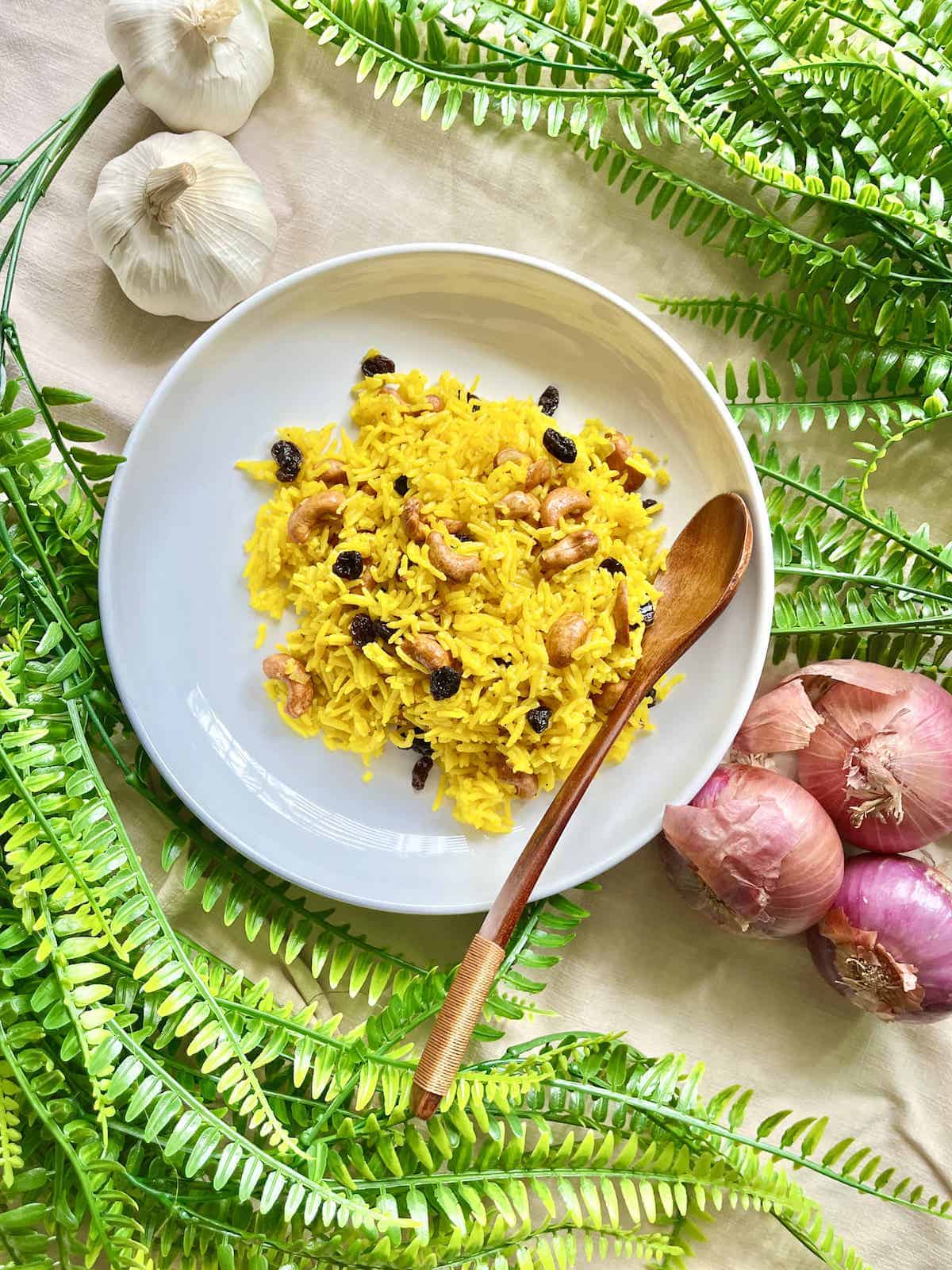 Turmeric rice is another fantastic option to serve with curry, as its earthy flavor goes really well with curry. (In fact, turmeric is often an ingredient in curry spice powder!) Not to mention how beautiful the vibrant yellow color of the rice is!
The key ingredient that gives turmeric rice its distinct color and flavor is turmeric powder, which also offers potential health benefits from its anti-inflammatory and antioxidant properties.
To create this eye-catching accompaniment, simply add a teaspoon of turmeric powder (or 2, depending on how much rice you're cooking) to your rice during the cooking process. For a full recipe- I include other spices to bring out the turmeric flavor- click through below!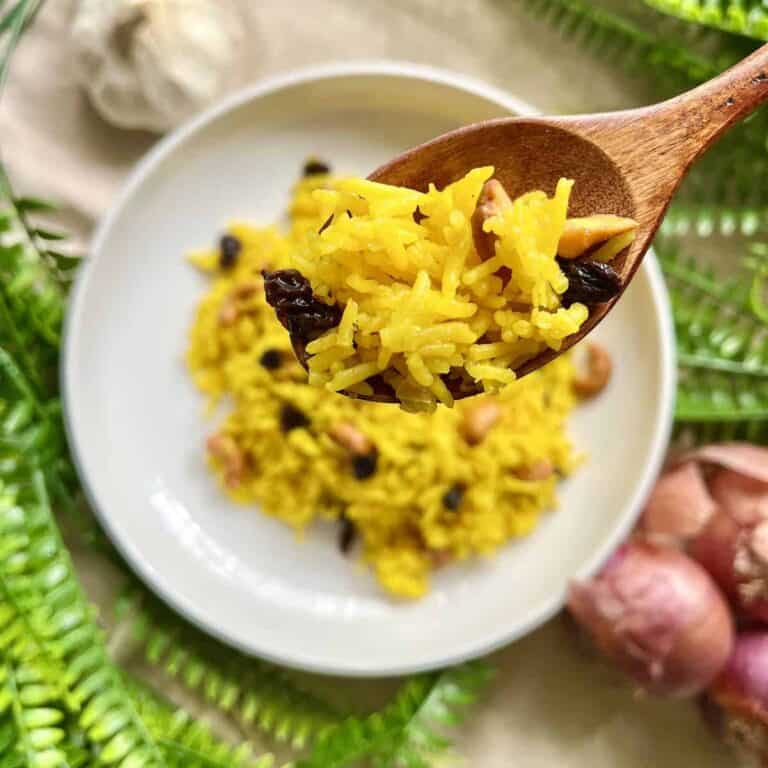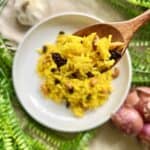 Cauliflower Rice
For a low-carbohydrate alternative, consider serving your curry with cauliflower rice.
Made by grating or processing raw cauliflower into small, rice-like grains, this is an excellent choice for those wanting a lighter, more nutritious alternative to traditional rice with a lower GI.
Cauliflower rice has a distinctive flavor that can be off-putting to some but the strong taste of the curry will help to cover it. Moreover, its texture closely mimics that of cooked rice. It can easily be cooked by sautéing in a pan with a little oil or steaming for a few minutes.
However, I have to confess that I'm not the biggest fan of this rice substitute!
Coconut Rice
Lastly, coconut rice is a creamy and delicious way to enhance your curry.
Made by cooking rice with coconut milk - often with a touch of sugar and herbs such as lemongrass - the rich, slightly sweet coconut rice helps to balance spicy curries.
To prepare coconut rice, you can use either basmati or jasmine rice. Do note that the latter will give you a slightly stickier consistency (less desirable.) The trick is adding enough coconut to flavor the rice, but not so much that the rice clumps.
You will need to cook the rice in a mixture of coconut milk and water (I like to use coconut water), or the rice will become a sticky mess. Don't forget to add a pinch of salt for added depth of flavor!
Protein
Fish Curry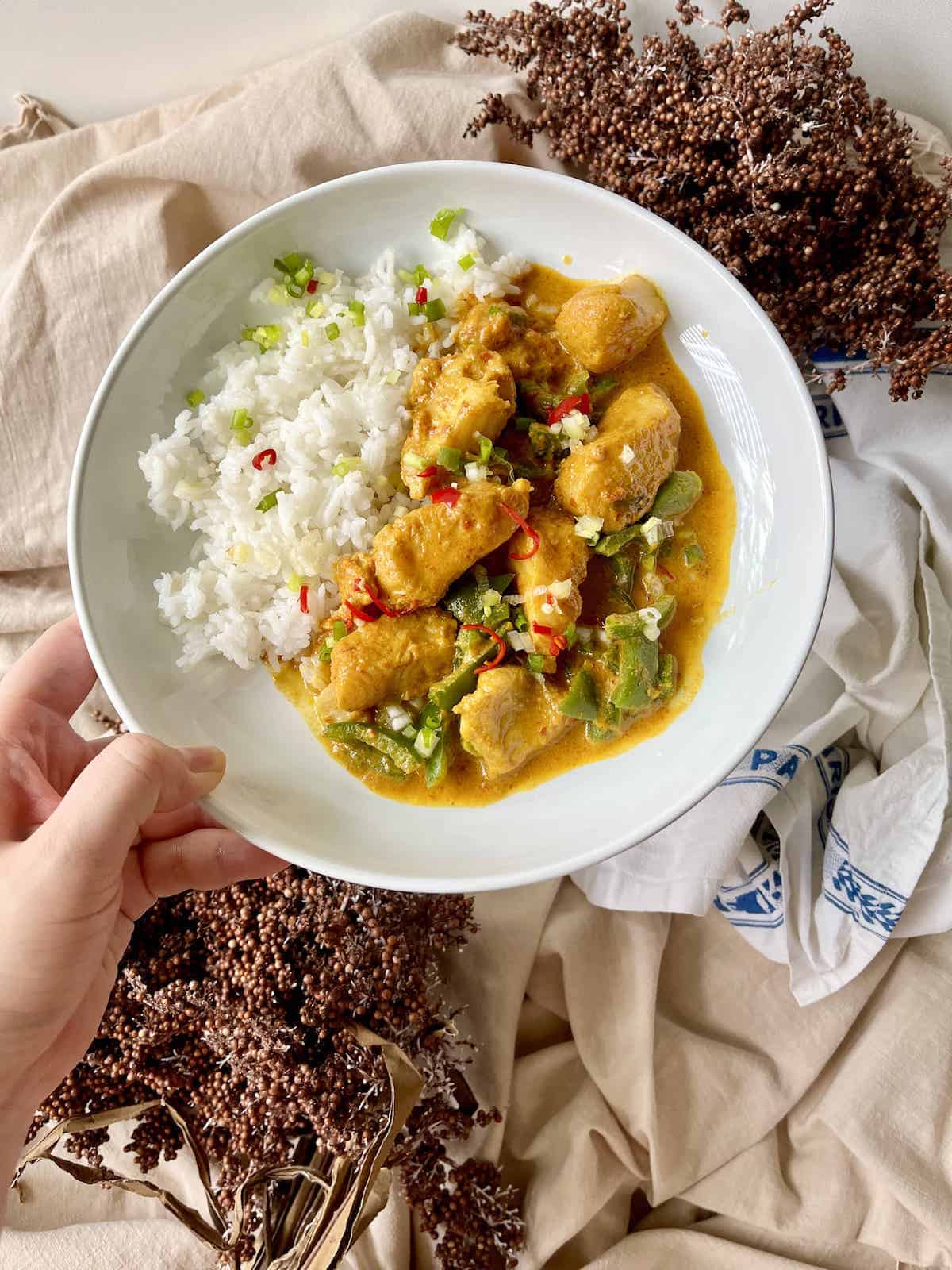 Using a variety of herbs and spices, Indian fish curry can be made using Indian spices such as turmeric and garam masala.
Alternatively, you can make Southeast Asian fish curry, which is seasoned with tamarind and fish sauce, creating a unique taste that is rich but tangy. (Recipe in the link below.)
Singaporean Tamarind Coconut Fish Curry
An 8-ingredient curry with flaky fish in a spiced, creamy curry sauce. The tamarind juice gives the flavorful Singapore Tamarind Coconut Fish Curry a delicious citrusy acidity (and makes sure there is no fishy flavor)- unusual for a curry, but makes for a super satisfying meal with white rice. (Dairy-free) (Stovetop)
Click here for the Assam Fish Curry with Coconut recipe.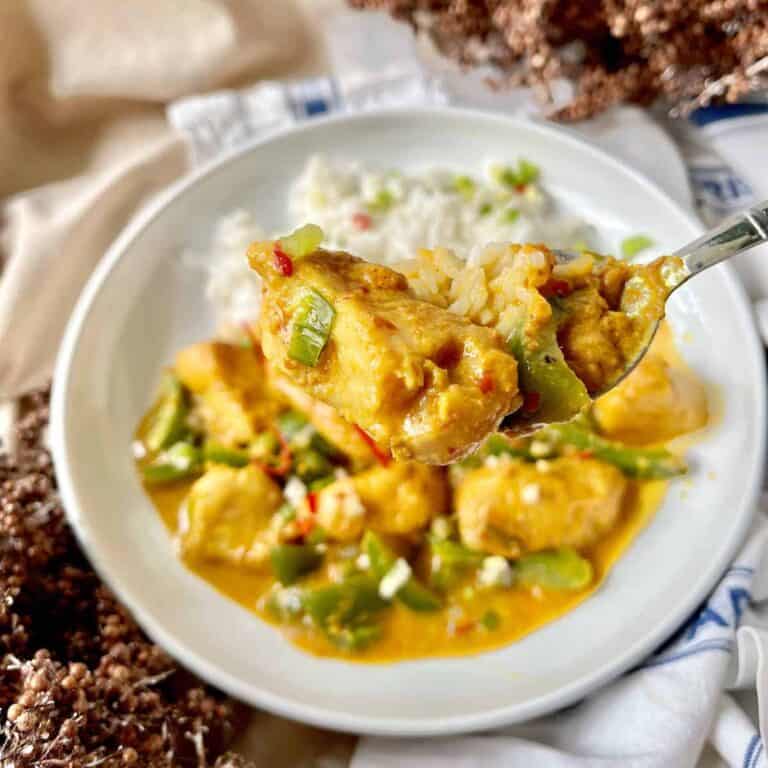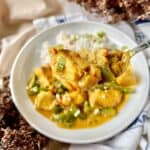 Chicken Curry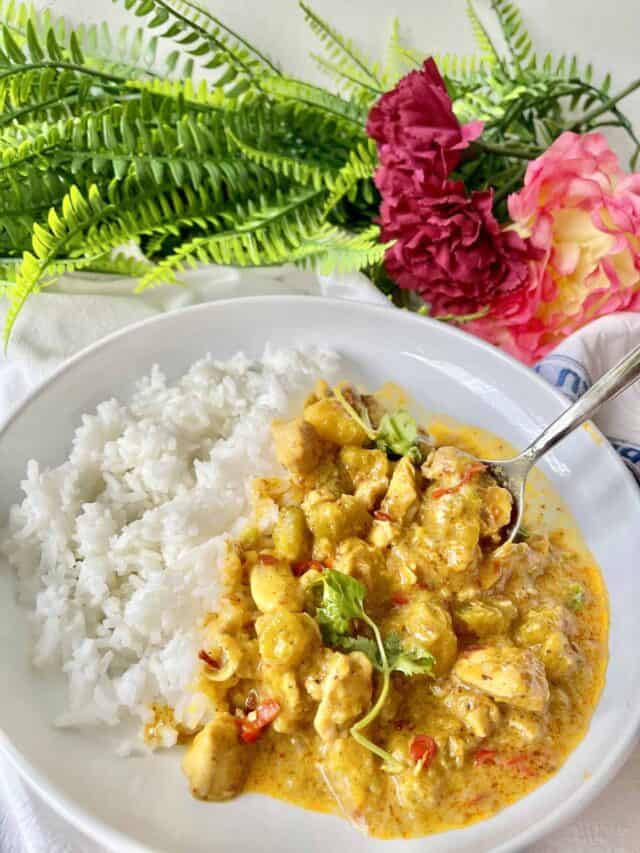 Chicken curry is a popular choice for many, as it is familiar, comforting and versatile. It is actually 1 of the most popular Singaporean home cooked recipes! You can add carrots to bulk it up, or pumpkin as I've done below.
The combination of tender chicken cooked in a flavorful coconut sauce made from a mix of herbs, dry spices, and aromatic components makes this dish irresistible.
Alternatively, Indian chicken curry uses garam masala and turmeric as key ingredients- ever so delicious with white rice or naan bread.
Easy Pumpkin Chicken Curry from Scratch
This easy pumpkin chicken curry is made of juicy, tender chicken morsels simmered in a deliciously aromatic sauce that is full of warm spiced flavor. It's well- spiced but not spicy and can be bulked up with healthy veggies, all in one pot. Plus it's super flexible: it can be made with coconut cream, regular cream, pumpkin puree or none of the above!
Click here for the Curry Chicken Recipe.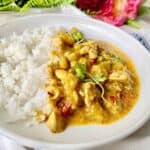 Dhal
If you're vegetarian or vegan, lentils and dhal are great go-to proteins.
Lentils are packed with protein, fiber, and other nutrients, making them a great alternative to meat. Dhal, sometimes spelt Dal, is a dish of split lentils cooked in a range of spices and herbs, is a classic choice in Indian cuisine.
Note: This hearty and flavorful option is sometimes served alongside white rice or roti for a satisfying, nutritious meal.
Bread
Mantou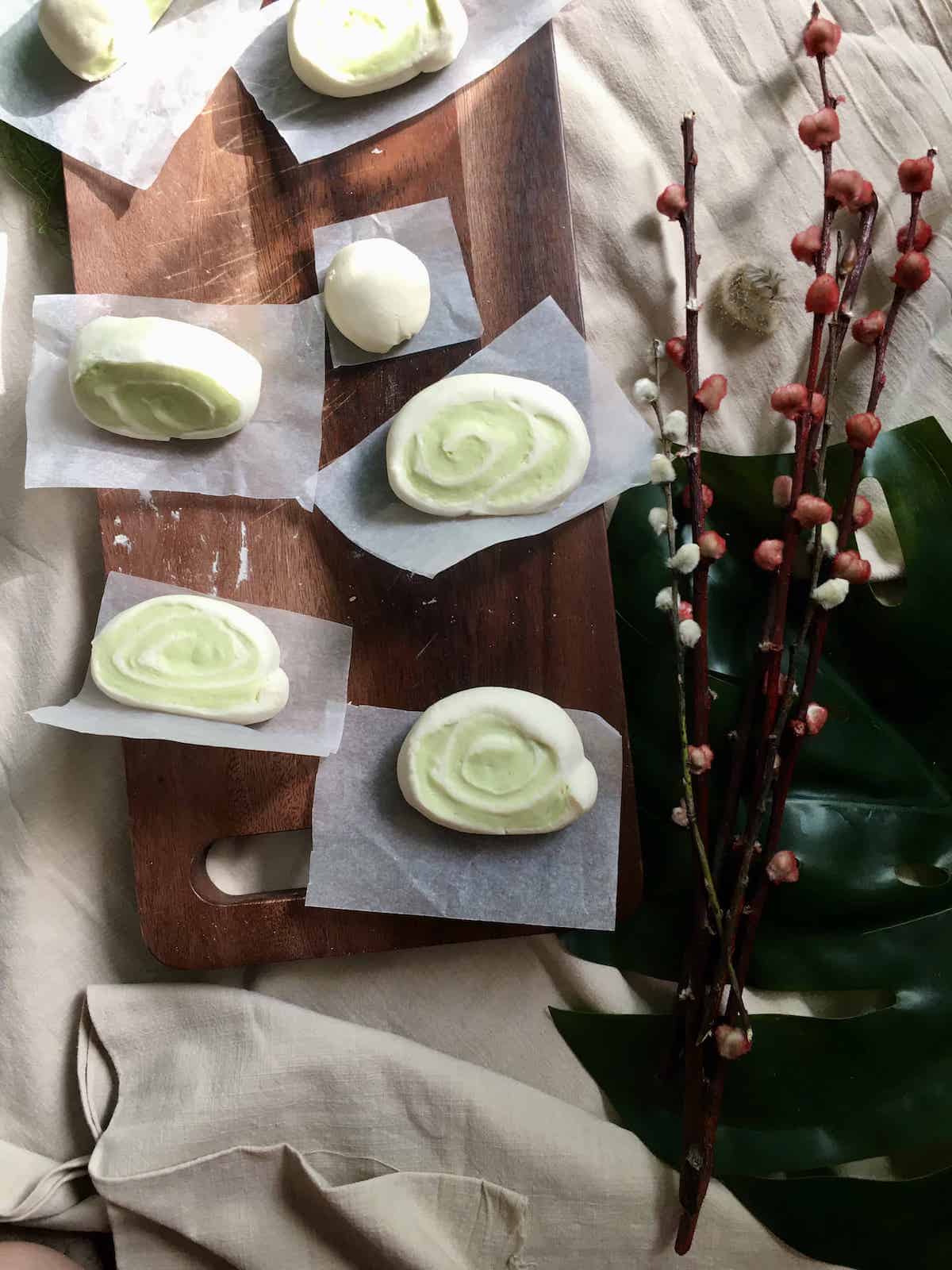 You may be wondering why Chinese steamed buns are making an appearance in a post about curry! However, thanks to the melting pot of cultures that is Singapore, both steamed and fried mantou buns are actually often served with curries here!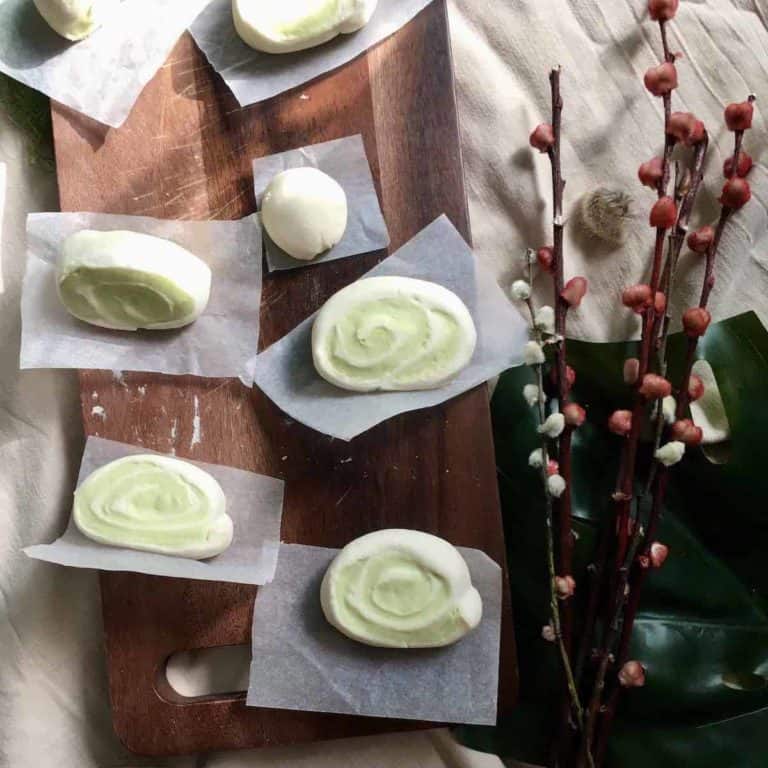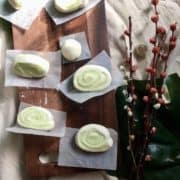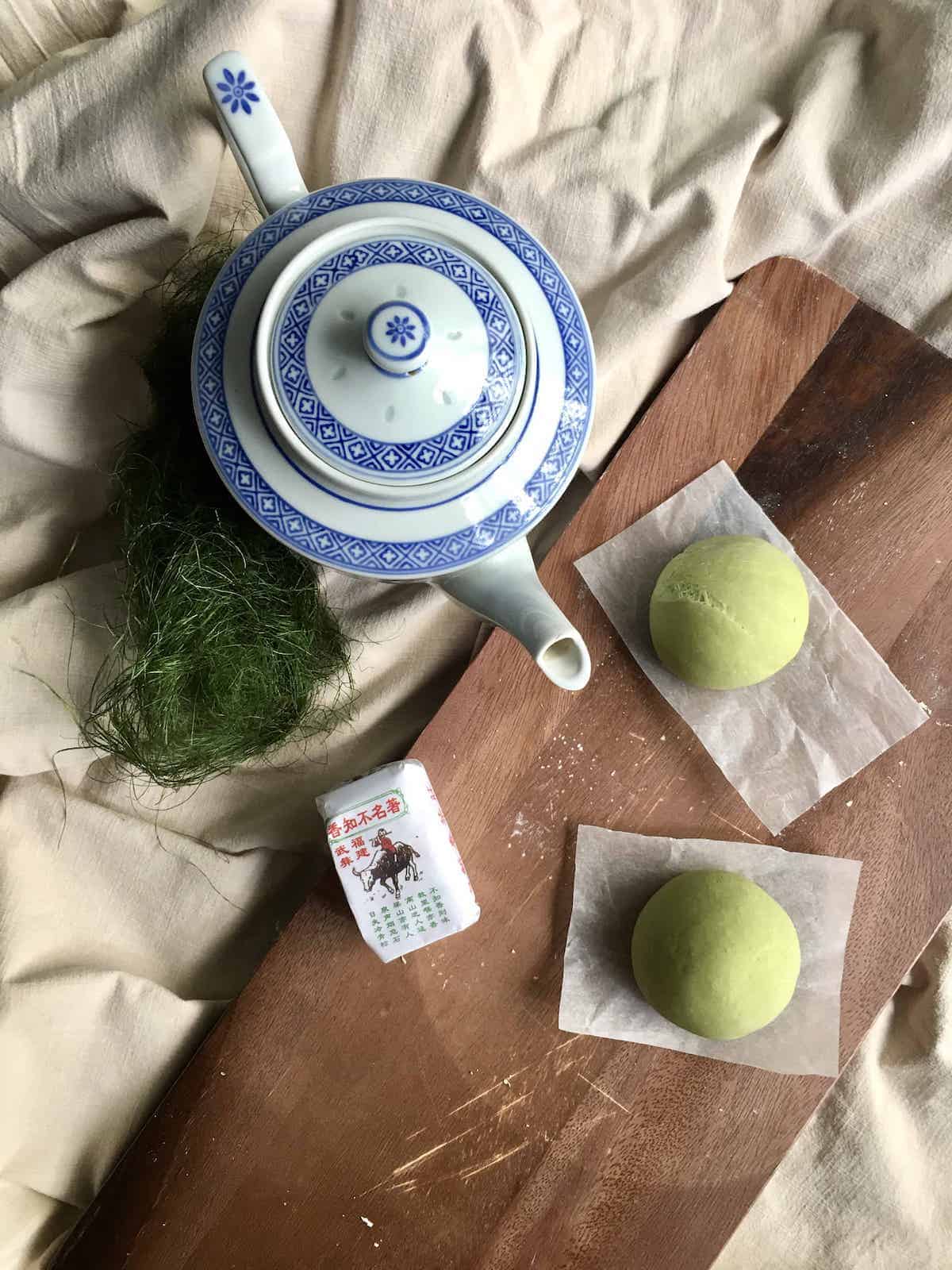 Easy Matcha Buns (1-rise Mantou)
An easy matcha bun (Chinese mantou bao) recipe which only requires 1 proof (1 rise), along with a mantou FAQ section on how to use a metal steamer (instead of the traditional bamboo steamer) and why your naturally vegan matcha buns aren't smooth.
Click here for the green tea mantou recipe.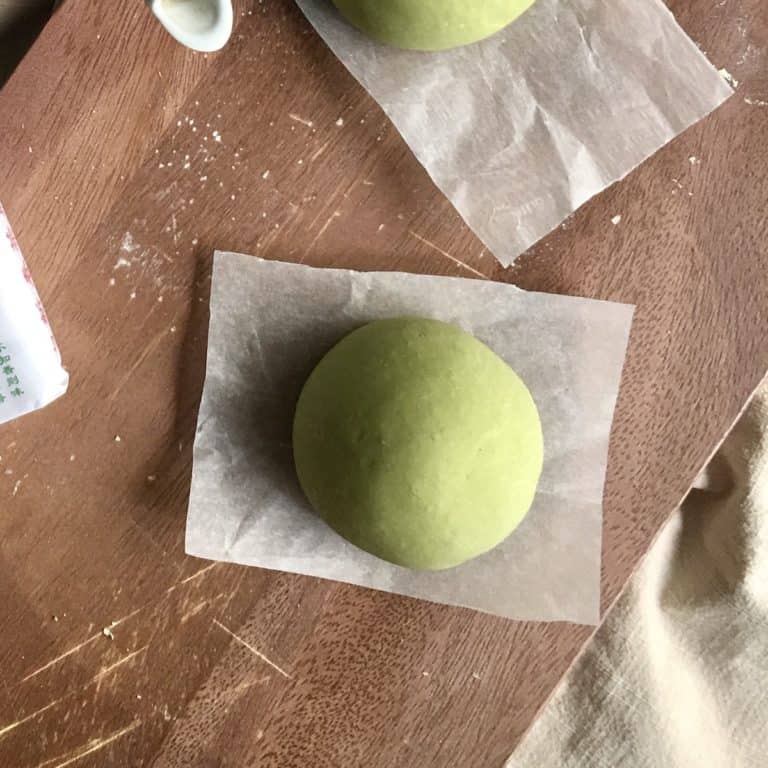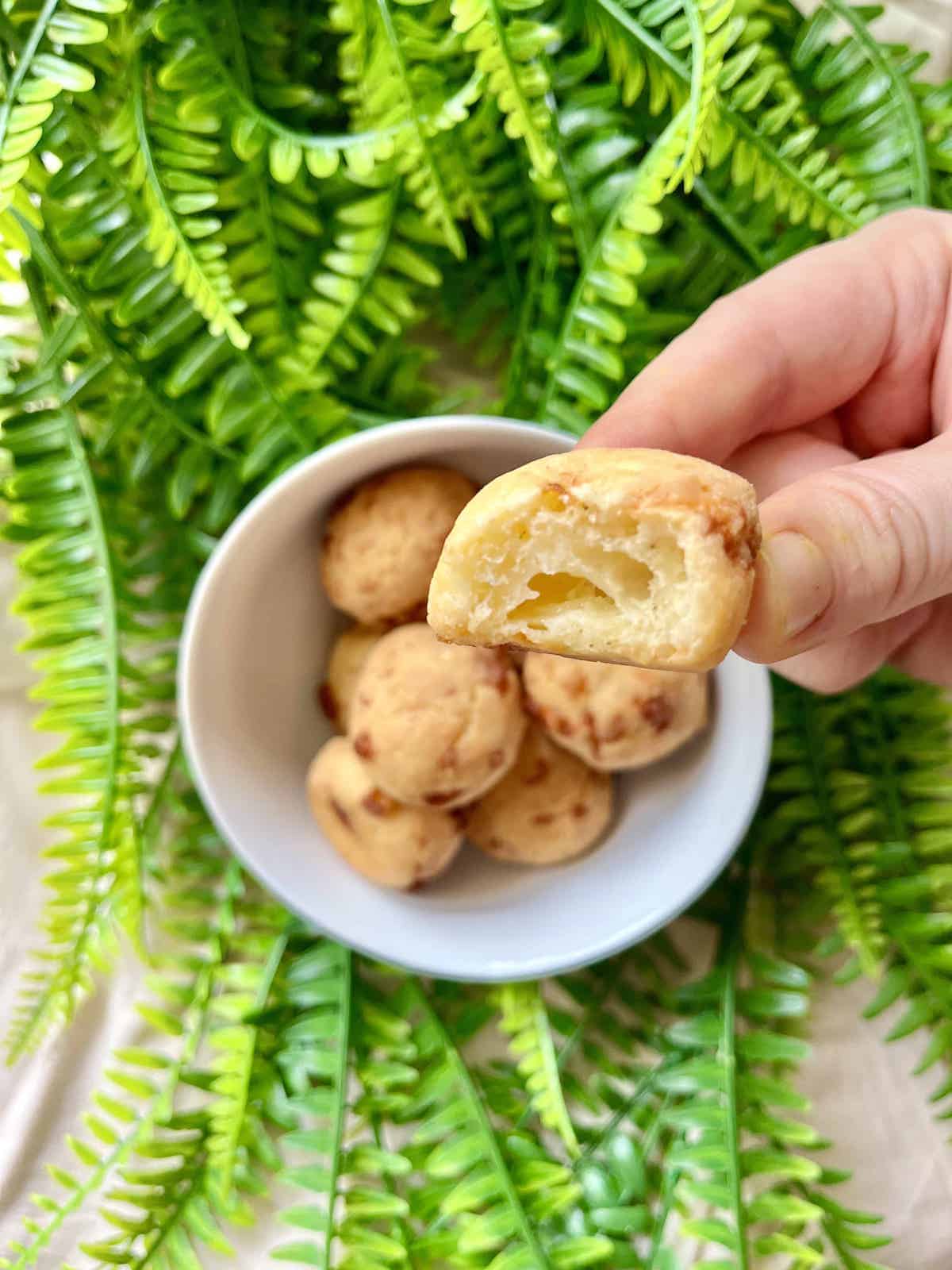 Cheese Mochi Bread
This delicious Cheese Mochi Bread Recipe is crisp on the outside and soft and oozy on the inside! It's also a super easy recipe: you just mix everything and bake. Plus no sugar is used so you don't have to feel guilty about snacking! (Baked) (Air Fried)
Click here for the cheeseball recipe.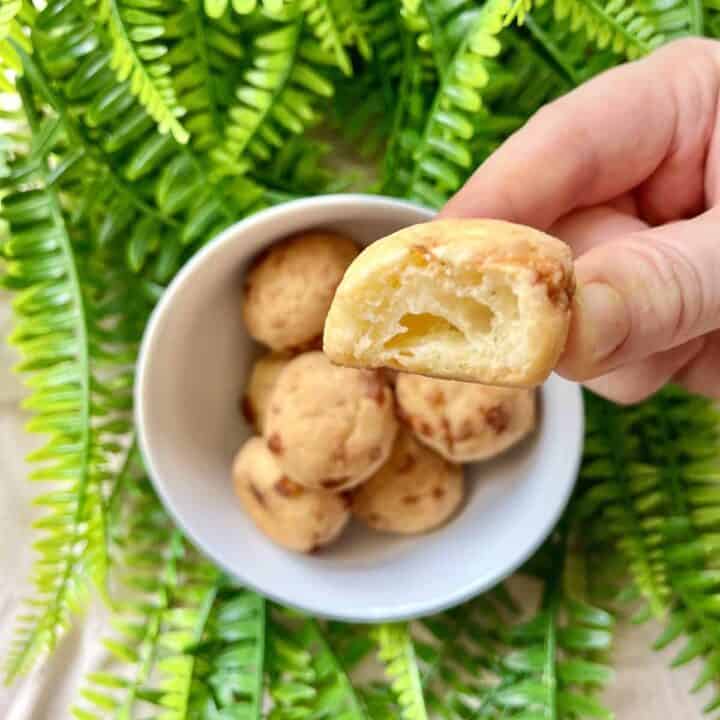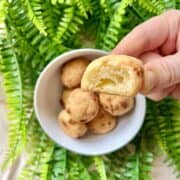 Mochi Waffle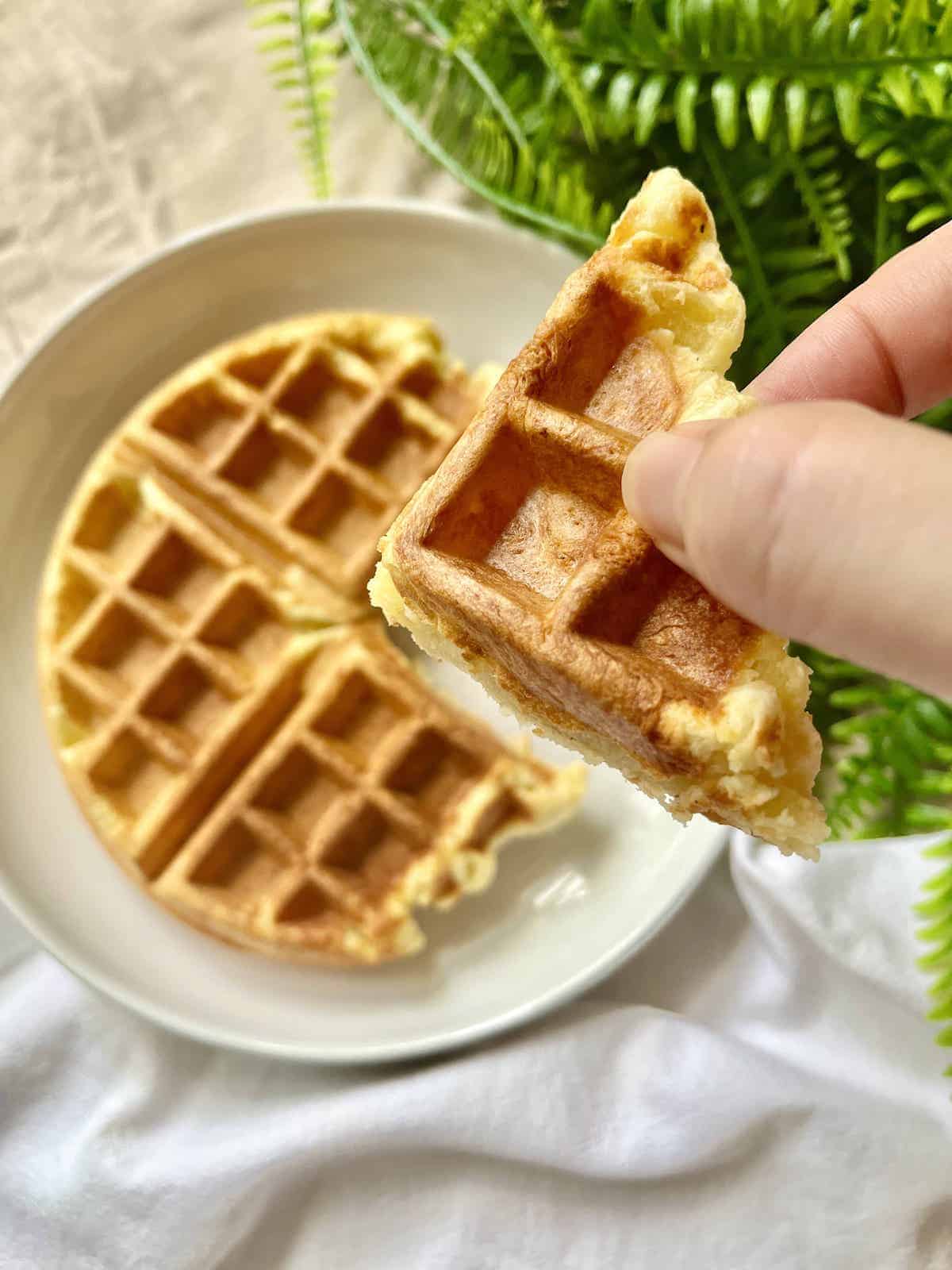 Cheese Mochi Waffles Recipe
This delicious Cheese Mochi Waffles Recipe- also known as Moffles!- is crisp on the outside and soft and oozy on the inside! Thanks to the glutinous rice flour, these waffles stay crispy and don't become soggy as easily. On the table in 15-20 minutes, they're perfect for breakfast or brunch! (This recipe works with both a traditional and vertical waffle maker. It is NOT just putting a mochi in a waffle machine!) (Gluten-Free)
Click here for the cheese waffle recipe.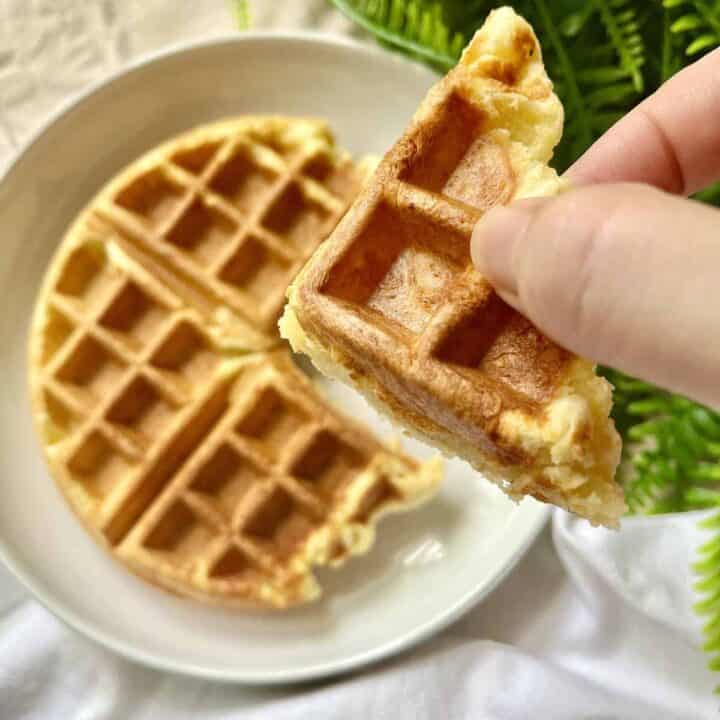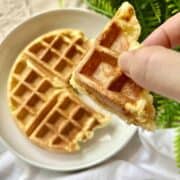 Naan Bread
Naan bread is a popular choice to serve with curry due to its soft and fluffy texture. It is an excellent way to scoop up curry and soak up the flavorful sauce.
This leavened flatbread originated in India and is made from a dough consisting of flour, water, yeast, and sometimes spices.
The dough is typically rolled out and cooked in a tandoor oven or on a hot griddle, giving it its characteristic charred spots and bubbly appearance.
Naan can be enjoyed plain. However, flavored naan which includes various ingredients such as garlic, butter, or even stuffed with fillings like cheese or meat, is also very popular.
Roti
Roti, another traditional Indian flatbread, is an unleavened bread made from wheat flour, water and salt that is easy to make at home.
The dough is rolled out into thin circles and cooked on a hot skillet until it puffs up and develops brown spots. The soft and pliable texture of roti makes it perfect for wrapping around bite-sized pieces of curry.
Paratha
Paratha is a flaky, layered Indian flatbread made from a dough of whole wheat flour, water, and a small amount of oil or ghee. Served with curry or sugar, it's a very popular breakfast in Singapore and Malaysia and goes well with these side dishes!
It is made by rolling, folding, and re-rolling the dough multiple times, creating signature flaky layers. Parathas can be enjoyed plain or stuffed with various fillings such as spiced potatoes, lentils, or grated vegetables.
They are typically cooked on a hot griddle with a little oil or ghee until golden brown and crispy. The rich and buttery flavor, along with the multi-layered texture, makes paratha an ideal bread option to pair with curry dishes, adding a satisfying crunch and a delicious contrast to the soft and saucy curry.
Sadly, they're not super healthy so consume in moderation!
Appetizers
Samosas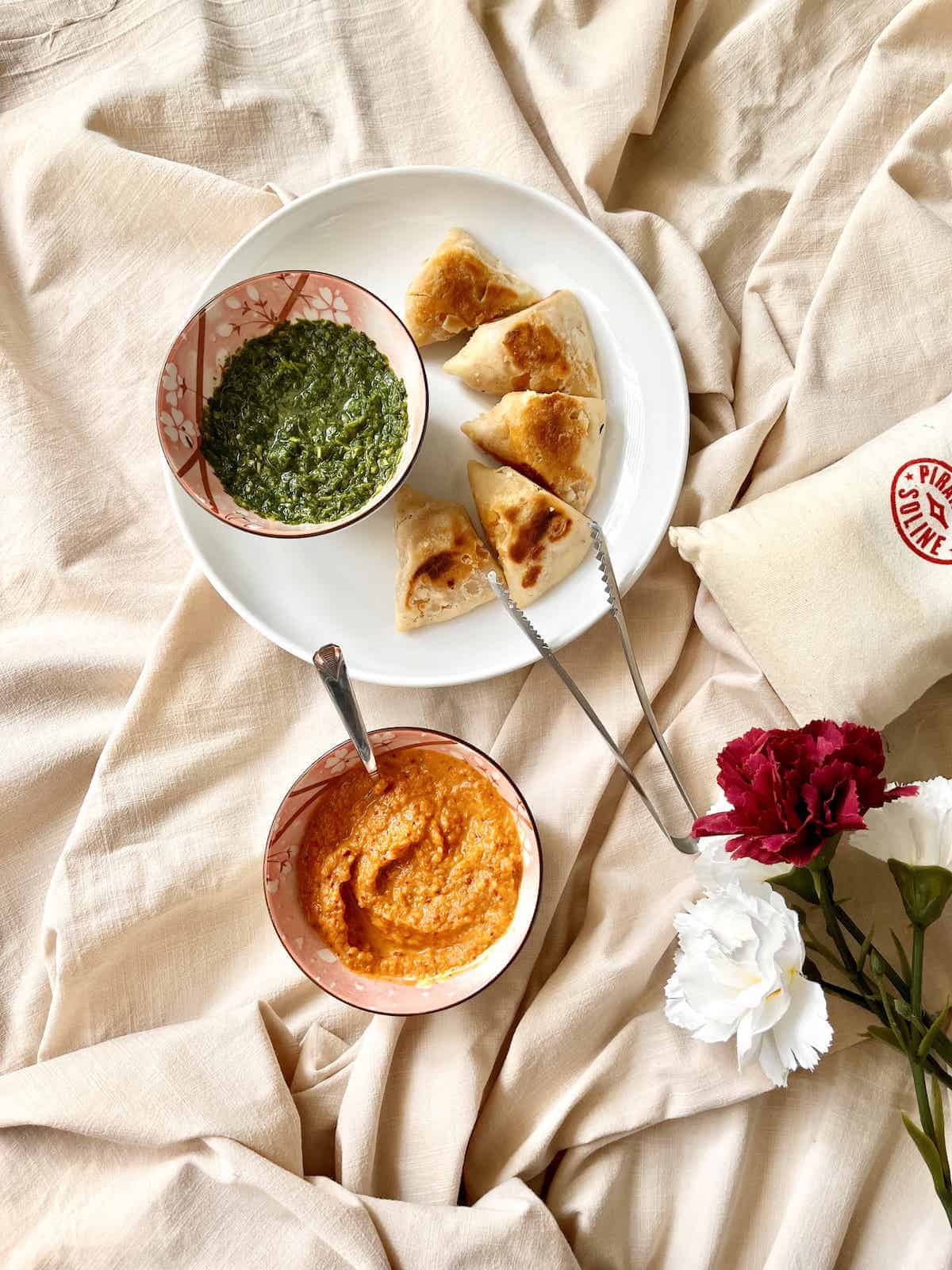 Samosas are a well-loved appetizer that can be served with curry.
These triangular pastries are typically filled with a mixture of spiced potatoes, peas, and occasionally cheese or meat. The spicy filling, usually flavored with ingredients like cumin and coriander, perfectly complements the rich and creamy flavors of curry made with coconut milk.
Samosas taste best when served with a variety of flavorful chutneys, such as tamarind, mint or tomato dipping sauce.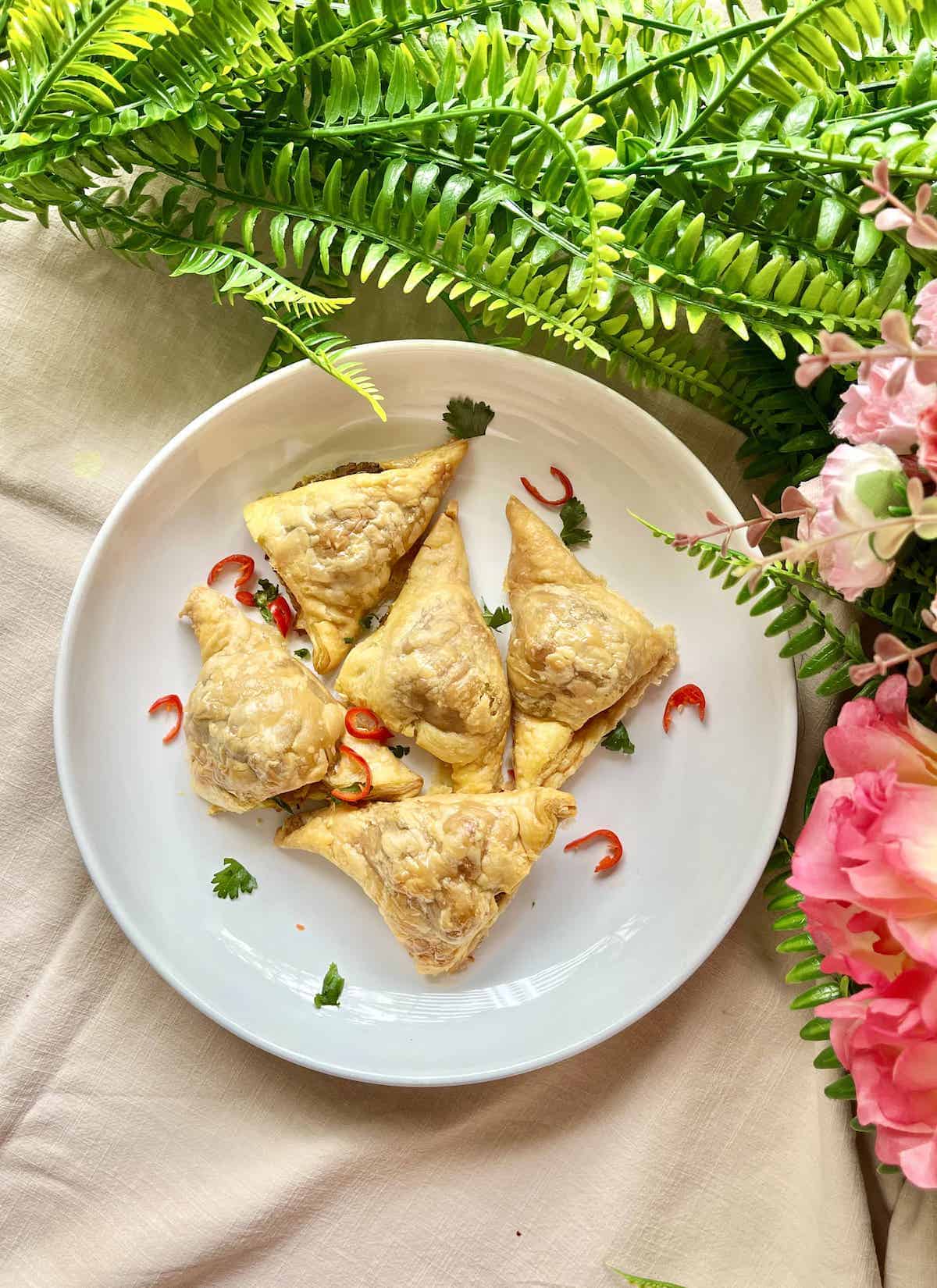 Easy Baked Samosa Recipe
This Easy Baked Samosa Recipe can be made with both puff pastry and phyllo pastry. (I also show you how to make homemade dough, but I don't recommend it for baking, as it won't taste as good without all the oil and fat of deep-frying!) 
Click here for the baked samosa recipe.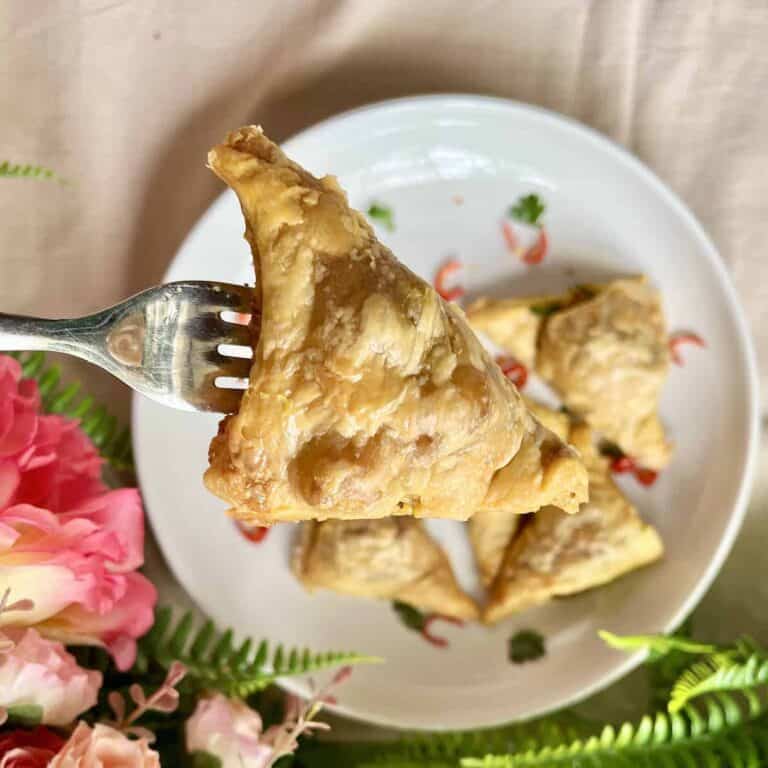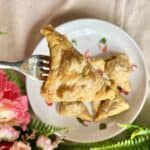 Curry Puff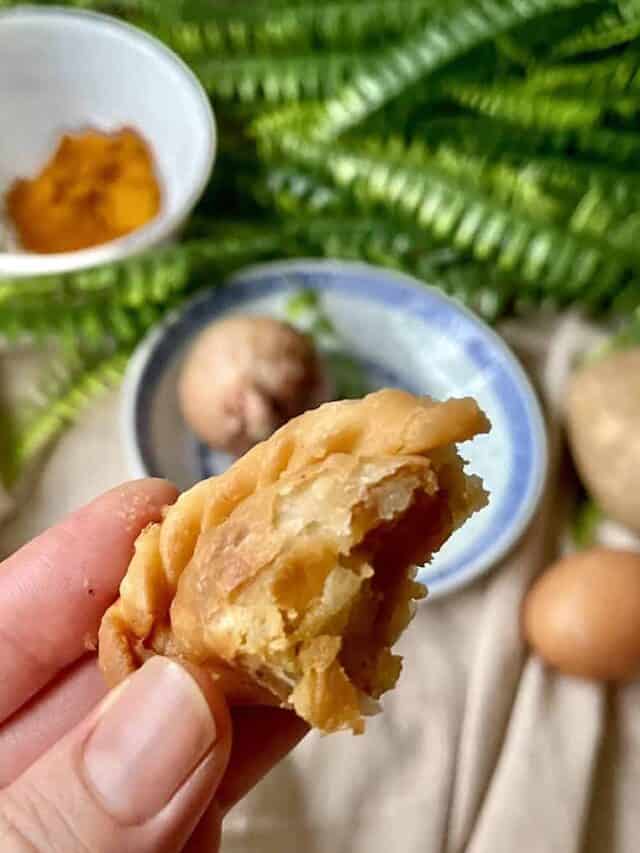 Curry Puff Recipe (Potato)
A savory, flaky and crispy curry puff recipe with potato filling- easily made vegan or vegetarian- that uses cupboard staples. Delicious and perfect for meal prep as it tastes good hot and cold!
Click here for the reinvented samosa recipe.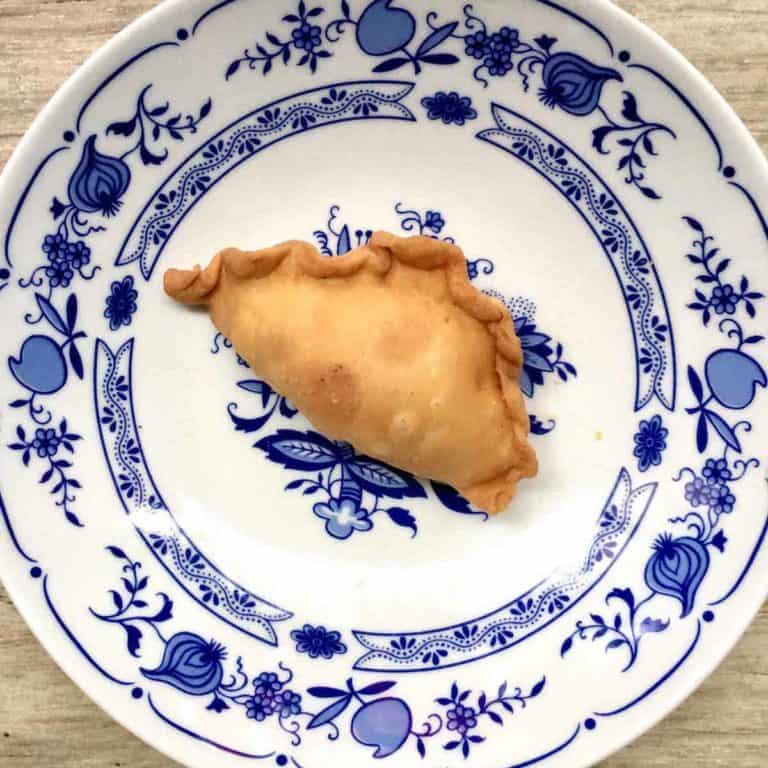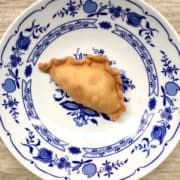 Vegetable Pakoras
Vegetable Pakoras are a nutritious and flavorful appetizer for curry dishes.
This popular Indian dish consists of a mixture of vegetables, such as sliced onions, cauliflower, and spinach, dipped in a spiced chickpea flour batter and deep-fried to a crisp, golden brown. A great way to add some greens to your meal if you're having a meat curry!
The spices used in the pakora batter also add a touch of heat to the appetizer, making it a perfect precursor to a flavorful curry.
Bombay Potatoes
Bombay Potatoes, also known as Aloo Bombay, is a popular Indian side dish that can be served as an appetizer alongside curry.
This dish features diced potatoes cooked with a blend of flavorful spices, such as mustard seeds, turmeric, and cumin, creating a subtly spicy and aromatic dish. The dish is usually garnished with fresh herbs, like coriander or mint, and served with raita to form a refreshing contrast to the spicy curry.
Which of these curry side dishes is your favorite? Let me know in the comments!