The best substitute for dried shiitake mushroom for soups to stews, whether it be Chinese dishes, Japanese food, Korean recipes or other Asian food.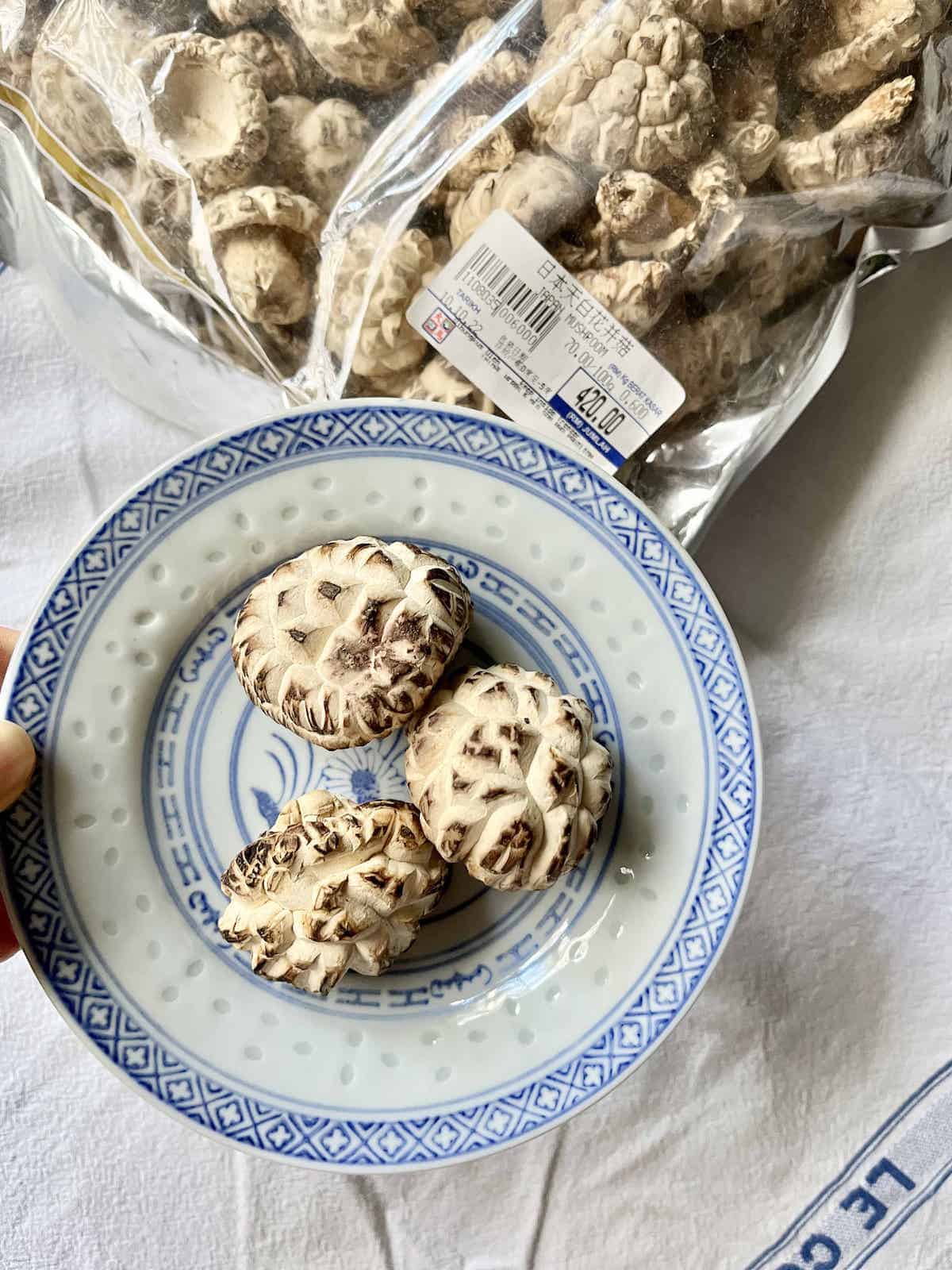 Jump to:
Dried Shiitake Mushrooms are a common ingredient in Chinese cooking, as well as Korean and Japanese food. They're used in my favorite Chinese meatballs, for example!
In Chinese cuisine, before you cook shiitake mushrooms, you need to rehydrate them. After which, they can be used in soups, congee, stews and vegetarian dishes to create umami in the dish.
As good dried shiitake mushrooms are not cheap, these mushrooms are usually associated with more luxurious dishes. (The Japanese ones are more expensive than the Chinese ones.) The flavor is super strong so you only need to use a bit in each recipe! Don't go overboard or the mushroom flavor will dominate the dish.
If you're unable to find them at the grocery stores where you live- although you can always go online- there are a few ingredients, such as other dried mushrooms, that can serve as decent substitutes.
Tip: keep the mushroom soaking water to add flavor to your soups and stews!
Other Mushrooms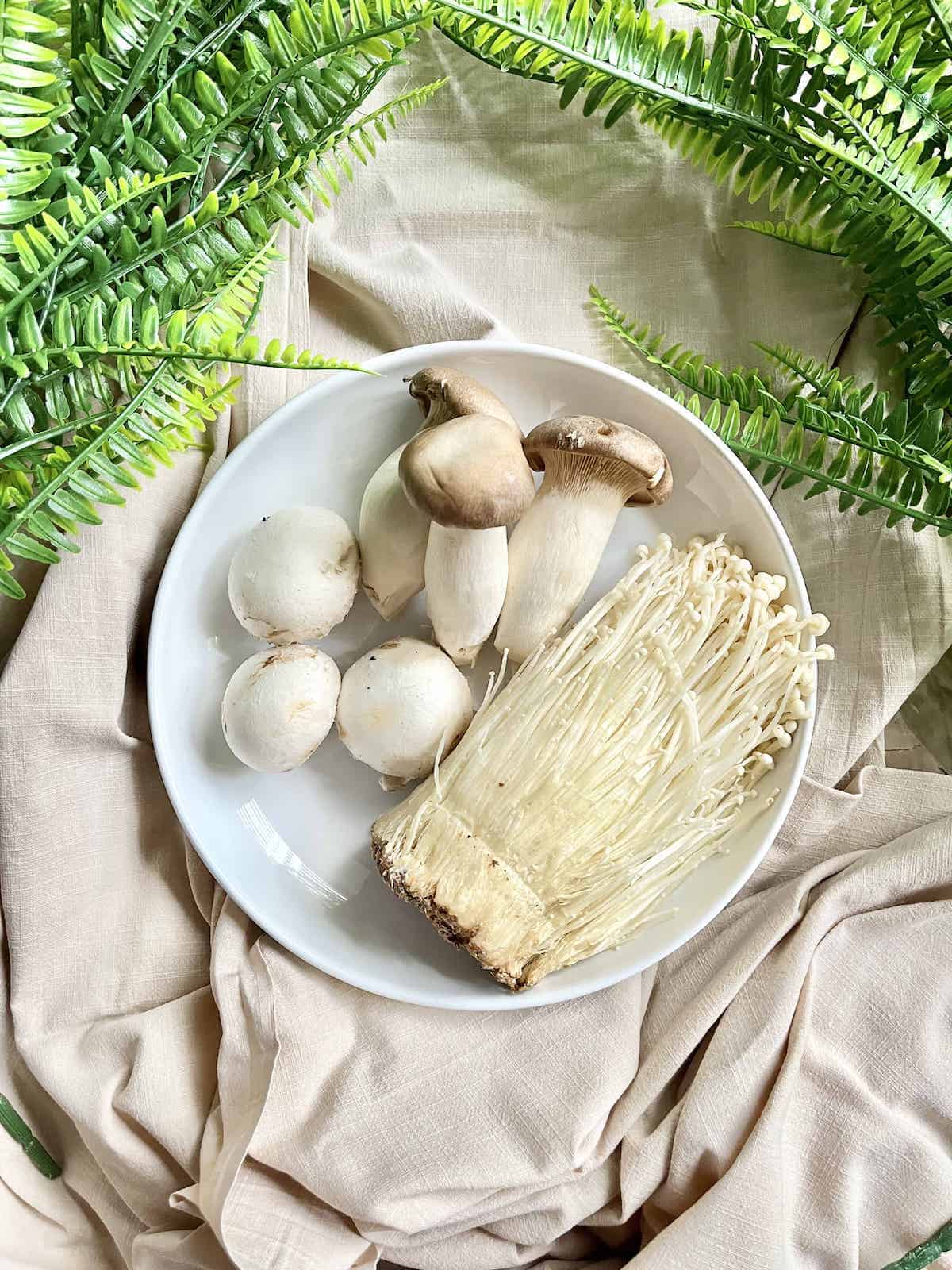 I recommend using dried mushrooms over fresh ones, as the flavor is deeper and more concentrated.
Dried Porcini Mushrooms
Porcini mushrooms are often used in French and Italian cuisine, and not difficult to get, making them an excellent alternative to dried shiitake mushrooms.
They grow naturally in pine forests and can be found both in fresh and dried forms. (Please use dried porcini to substitute for dried shiitake and fresh porcini to substitute for fresh shiitake mushrooms!) Being super versatile, with a strong flavor, they can be incorporated into various side dishes and main courses.
Their earthy and nutty flavor profile is comparable to that of shiitake mushrooms, and they also offer a similar texture suitable for most recipes.
In addition, like shiitake, porcini mushrooms are a good source of vitamins and minerals, including copper, protein, and potassium.
Cremini Mushrooms
Another suitable shiitake mushroom substitute is cremini mushrooms, sometimes referred to as crimini mushrooms. (These are actually from the same family as Portobello mushrooms!)
Also known as baby portobello or brown button mushrooms, cremini mushrooms are the more flavorful cousins of the everyday white button mushrooms. Fresh ones can easily be found in most grocery stores and are not too expensive. However, as with porcini, I recommend using dried cremini to substitute dried shiitake.
They have a mild, earthy flavor and a meaty texture, making them a good alternative in various dishes, such as soups, stews, and stir-fries.
Rehydrated Morel Mushrooms
Rehydrated morel mushrooms can also be considered as a substitute for dried shiitake mushrooms, as both have rich and umami flavors.
Though they look different with their honeycomb-like caps and flat appearance, morel mushrooms can bring depth and complexity to a dish, providing an alternative to the classic shiitake flavor. (They can't be eaten raw FYI.)
To use rehydrated morel mushrooms in place of dried shiitake mushrooms, simply soak them in warm water for about 20 minutes prior to use. This process not only softens the texture but also unlocks their taste to better complement your dish.
Like Lobster Mushrooms, the many folds in the Morels can gather a lot of dirt. Remember to dry them quickly after cleaning as they absorb water.
Keep in mind that morels can be pricier than shiitake mushrooms, so they're not the best of shiitake mushroom substitutes if you're feeling price-conscious.
Tip: Morel mushrooms go especially well with chicken!
Others
When you don't have dried shiitake mushrooms available, there are alternative options for enhancing the flavor of your dishes through broth and seasoning substitutes, which I've labelled below.
Mushroom Stock
1 option to replicate the rich, earthy flavor of dried shiitake mushrooms is to use a homemade or store-bought mushroom stock.
A combination of various mushrooms, such as cremini, king oyster mushrooms, and porcini, can help mimic the taste and aroma of shiitake mushrooms in your recipes.
To prepare a mushroom stock, simply simmer a LOT of mushrooms with vegetables, such as onions, carrots, and celery, along with herbs and spices to create a savory and aromatic broth.
Mushroom Soup Base
Another substitute for dried shiitake mushrooms can be found in a mushroom-flavored soup base.
Available in powder or paste form, these bases are designed to capture the essence of mushrooms in a concentrated form. By dissolving the base in water, you can create a flavorful broth to cook with or use as a seasoning agent in various dishes.
The ready-made mushroom soup bases can be found in grocery stores or specialty shops, and may contain additional ingredients like garlic, onion, and spices to provide depth of flavor.
Soy Sauce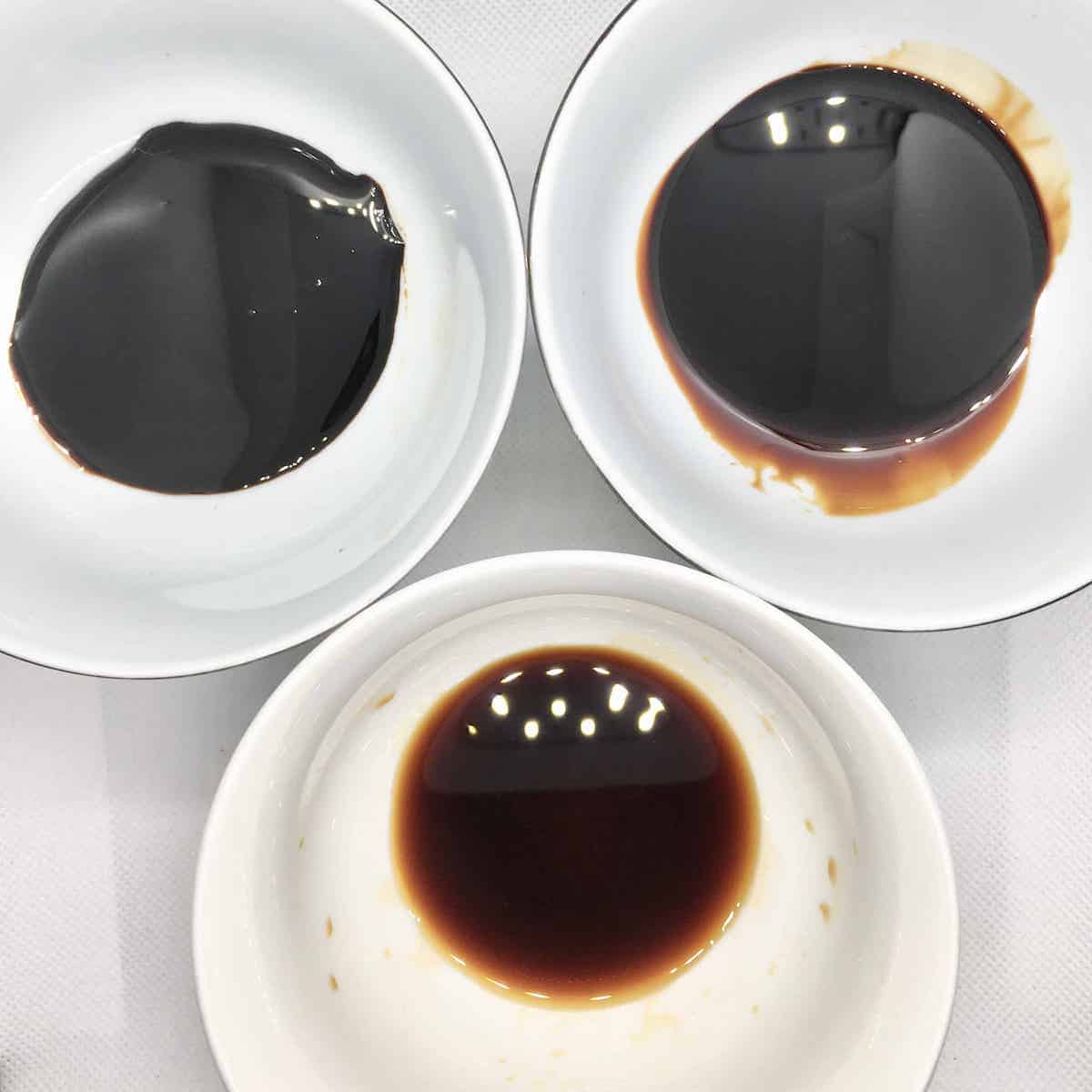 Light Soy Sauce is a versatile and widely available ingredient that can be used as a substitute to impart umami flavor in place of dried shiitake mushrooms. Since dried shiitake and light soy are both often used in Chinese food, the light soy flavor will not be out of place in the recipe!
It is particularly useful when you need to add a depth of flavor to stir-fries, soups, and stews. While it may not provide the exact flavor of shiitake mushrooms, it does contribute to the overall savoriness and complexity of a dish.
Just keep in mind that using soy sauce will also add saltiness, so don't add too much and adjust your seasoning accordingly.
Note: light soy sauce is different from dark soy and sweet soy sauce!
Dried Kelp
Dried seaweed is another way to add umami to dishes, if you need to replace shiitake mushrooms for some reason.
Make sure not to boil the dried kelp for too long or it may develop a bitter taste.
Tip: dried kelp often comes with a white powder on it, which is not mold, so look carefully before you toss!
Umami Powder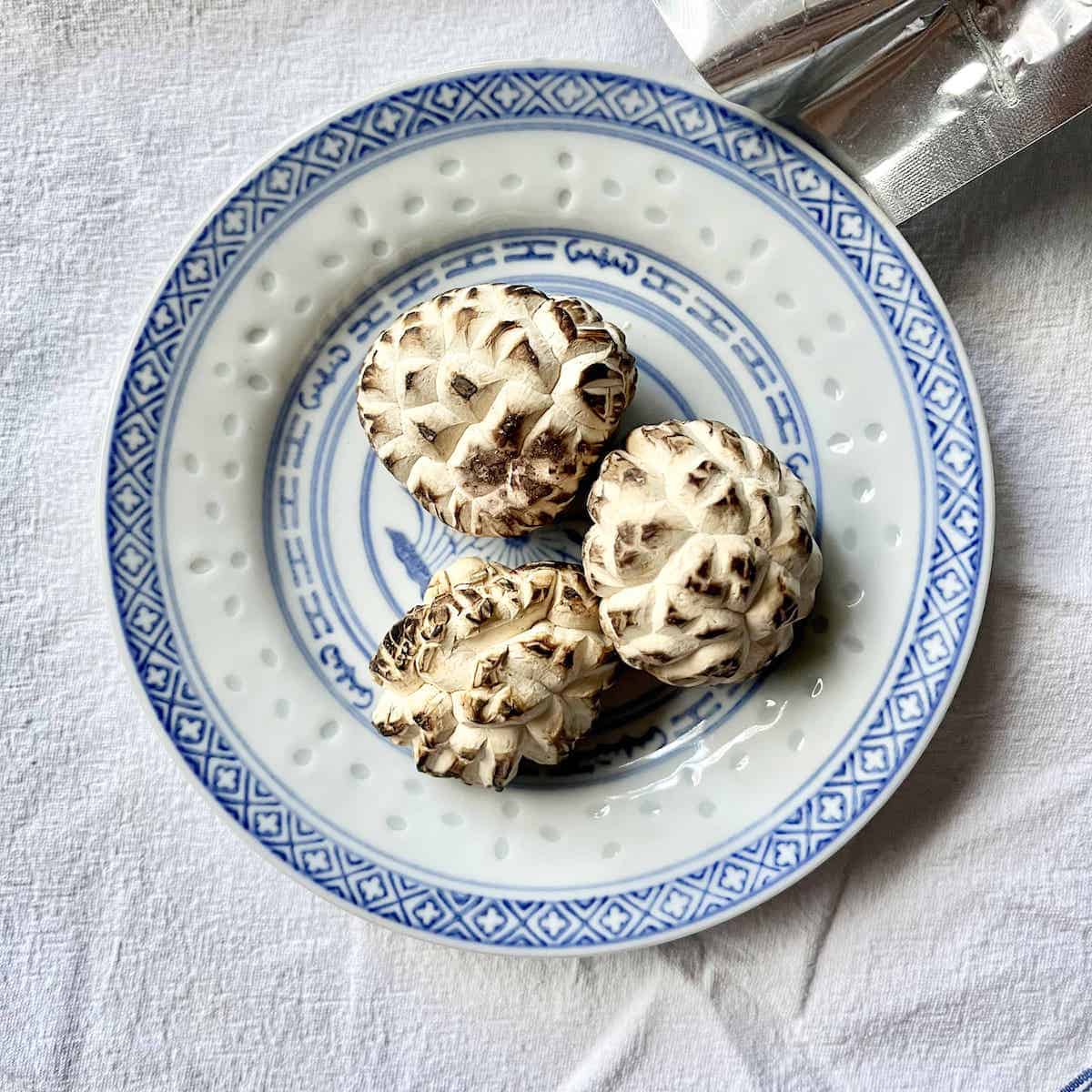 A more specialized option for replicating the umami flavor of dried shiitake mushrooms can be found in umami powders, such as MSG (which is a fairly controversial ingredient.)
There are also Umami powders made from a blend of natural ingredients that are high in glutamate, such as seaweed, dried tomatoes, mushroom powder, or nutritional yeast, all of which contribute to that rich, savory taste typically associated with shiitake mushrooms.
Umami powders can be directly incorporated into recipes or sprinkled on top of finished dishes to boost their flavor profile. You can get them at specialty stores, online or make your own!
Tip: to make your own dried mushroom powder, blitz edible dried mushrooms, such as dried portobello mushrooms or dried crimini mushrooms, into a fine powder. I suggest using a spice grinder! You can also add some salt and sugar when blitzing if you want the taste to be more similar to a bouillon cube.
Vegetarian Oyster Sauce
Vegetarian Oyster Sauce is a popular option for adding depth of flavor to dishes without using animal products.
Derived from ingredients like mushrooms, soybeans, and seaweed, this sauce closely mimics the rich umami taste typically found in traditional oyster sauce.
You can use Vegetarian Oyster Sauce in stir-fries, sauces, or as a marinade for tofu and vegetables to substitute shiitake mushroom. It can also be a great addition to soups, where it elevates the overall flavor.
When using Vegetarian Oyster Sauce, adjust the quantity according to the desired taste and intensity, as it can be quite potent.
Soybean Paste
Another flavor enhancer for vegetarian and vegan dishes is Soybean Paste, such as Miso.
Made from fermented soybeans mixed with rice, barley, or other grains, Miso Paste delivers a distinct salty and savory flavor, commonly used in traditional Japanese cuisine. Miso is available in several varieties, such as white, red, and mixed miso, each has a different level of flavor intensity.
The Chinese Soybean Paste, Taucheo, and the Korean version, Doenjjang, can also be used.
Soy bean Paste can be easily incorporated into a vast range of recipes, from dressings to marinades and soups. It is a versatile ingredient that complements various types of dishes, whether it's for adding a depth of flavor to vegetables, tofu, or grains.
When using Miso Paste, start with a small amount and gradually increase it depending on your taste preferences as it can be pretty salty!
If you've a different choice to substitute for dried shiitake mushrooms, do let me know in the comments!