The 17 best side dishes for Char Siu Pork, from steamed white rice to noodles, stir-fries and Dim Sum!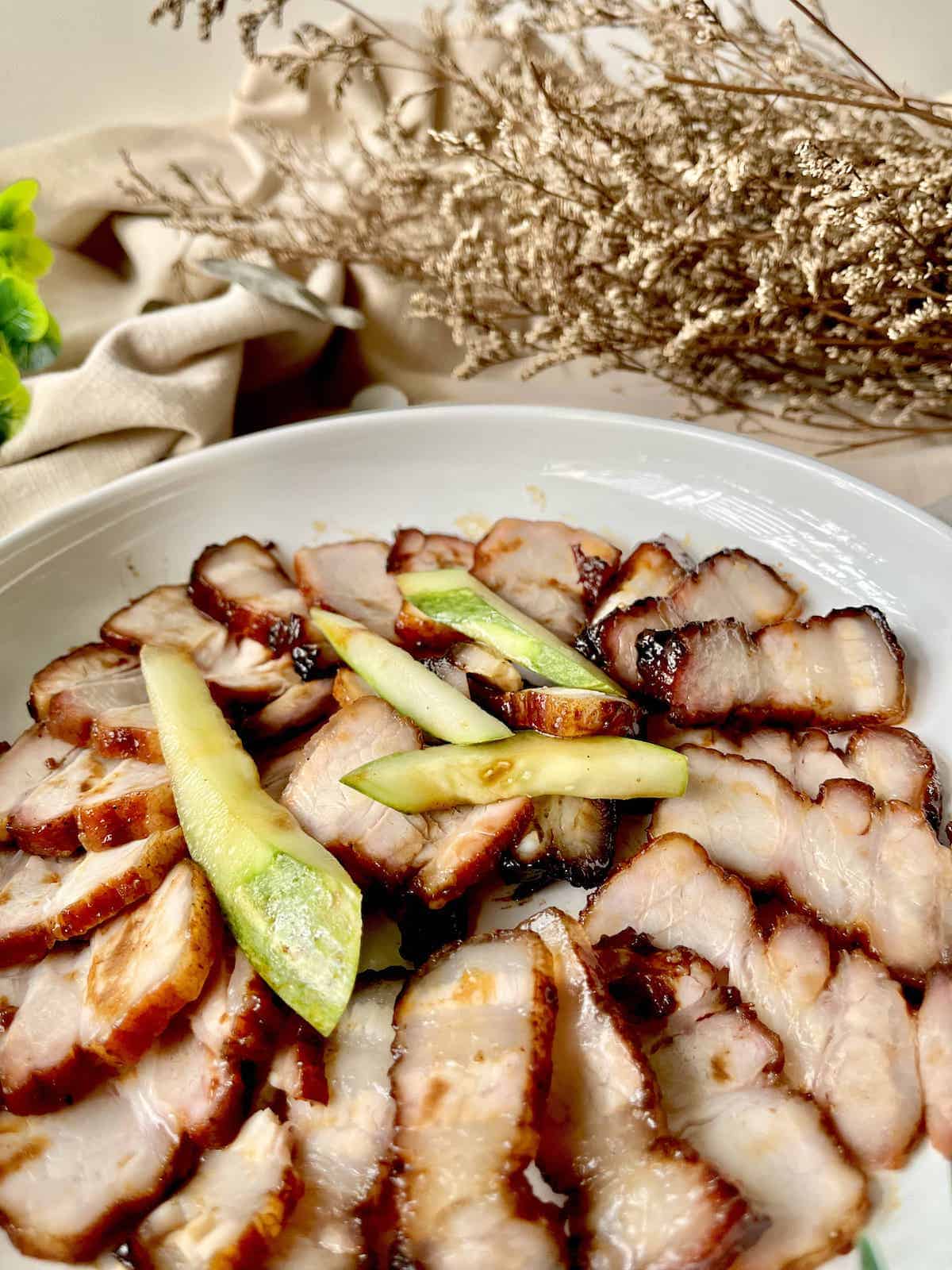 Jump to:
What is Char Siu?
Char Siu, or Chinese Barbecue Pork, is a traditional Chinese pork dish that tastes both sweet and savory. Traditionally made of pork belly, modern versions of BBQ pork use less fatty cuts such as pork shoulder for health reasons.
It can be served as a main course with steamed white rice, as part of other dishes (such as stir-fried noodles), or in a Dim Sum meal. You can find it at street food stalls or at the most expensive Chinese restaurants!
Note: click here for more pork recipes.
Siu Mei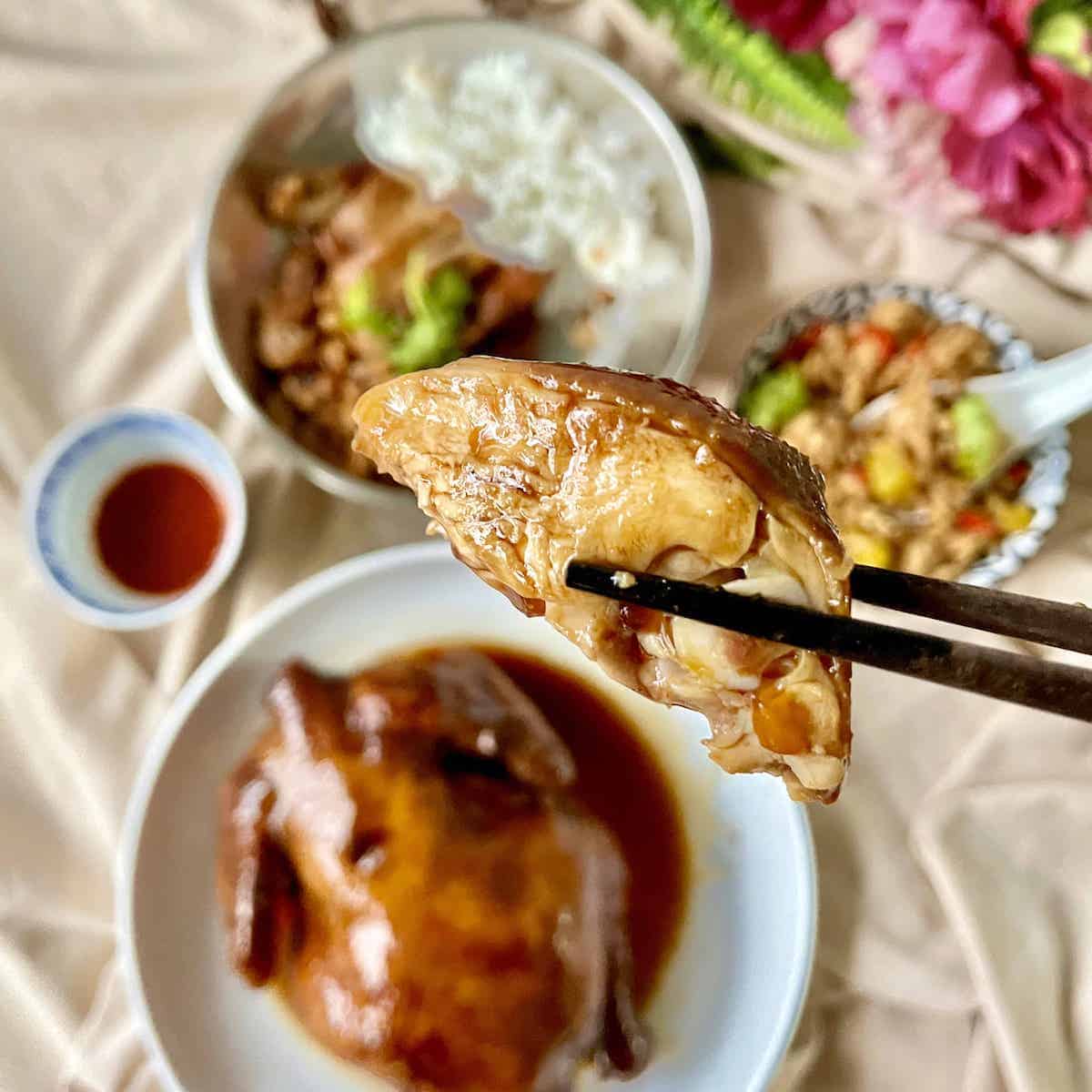 In Cantonese cuisine, Roast Pork often comes with other types of Siu Mei (燒味), such as roasted goose or Soy Sauce Chicken. They're often served with slices of raw cucumber on the side.
Best Poached One Pot Chinatown Soy Sauce Chicken Recipe
This Cantonese classic chicken is an easy-to-recreate-restaurant dish that can be made in 1 pot! It's also the gift that keeps giving as the leftover poaching liquid can be used for so many things (see post above). (Inspired by 4 recipes: Woks Of Life, SCMP, Burning Kitchen and Red House Spice)
Click here for the better than takeout Chinese poached chicken.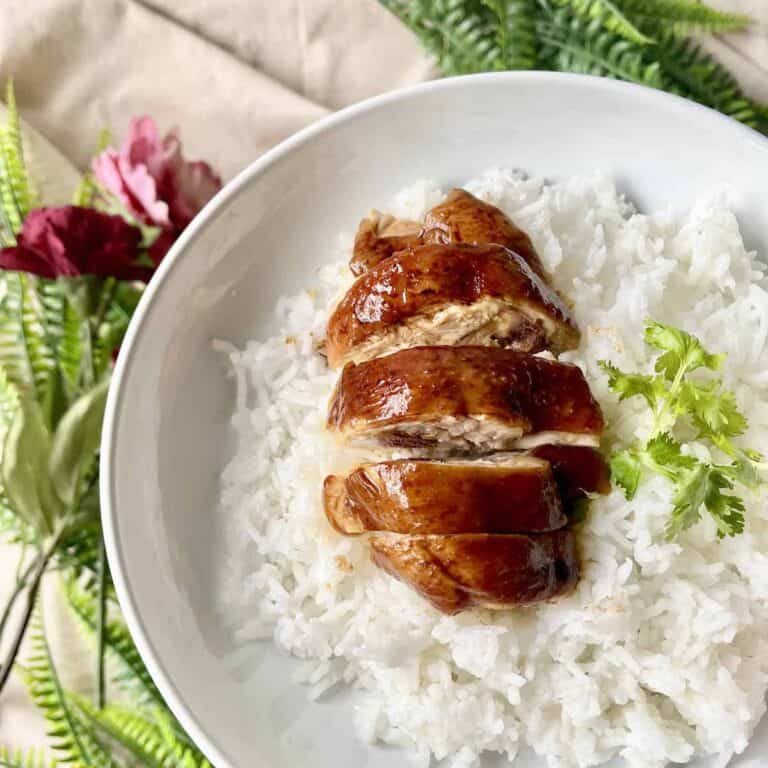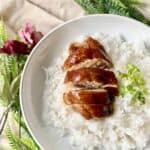 Easy Version
Much as I love the traditional recipe, not everyone has a few hours to poach a dinner recipe. If you're in a hurry, try this easy 1-pot shortcut!
Easy Chinese Braised Soy Sauce Chicken Thighs
A simplified but still delicious version of the most popular recipe on my website (Chinatown soya sauce chicken): this easy Chinese braised soy sauce chicken thighs recipe is simple to make in one pot and done in ⅓ the time!
Click here for the easy Cantonese Soy Chicken recipe.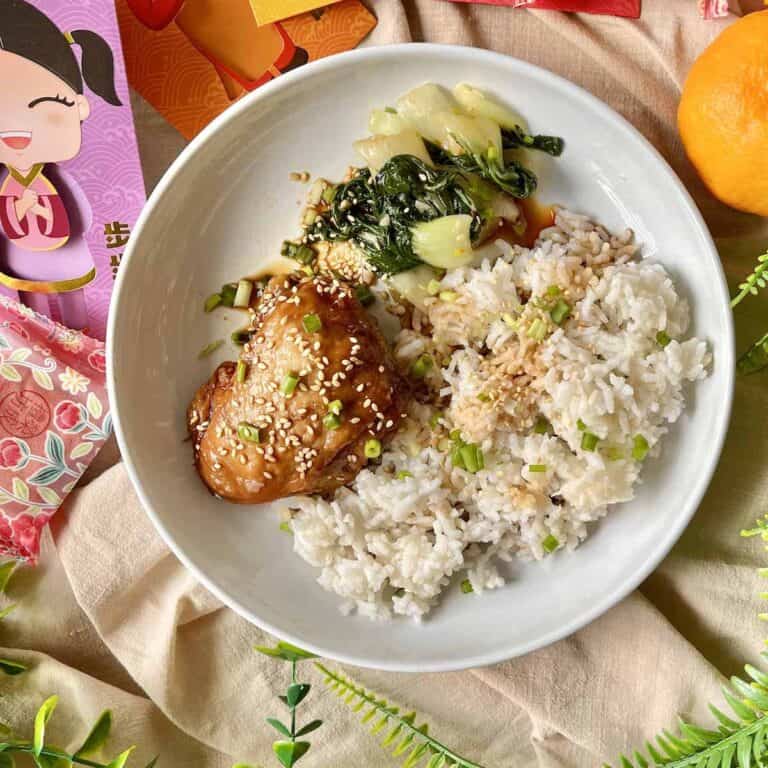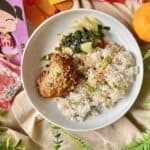 Dim Sum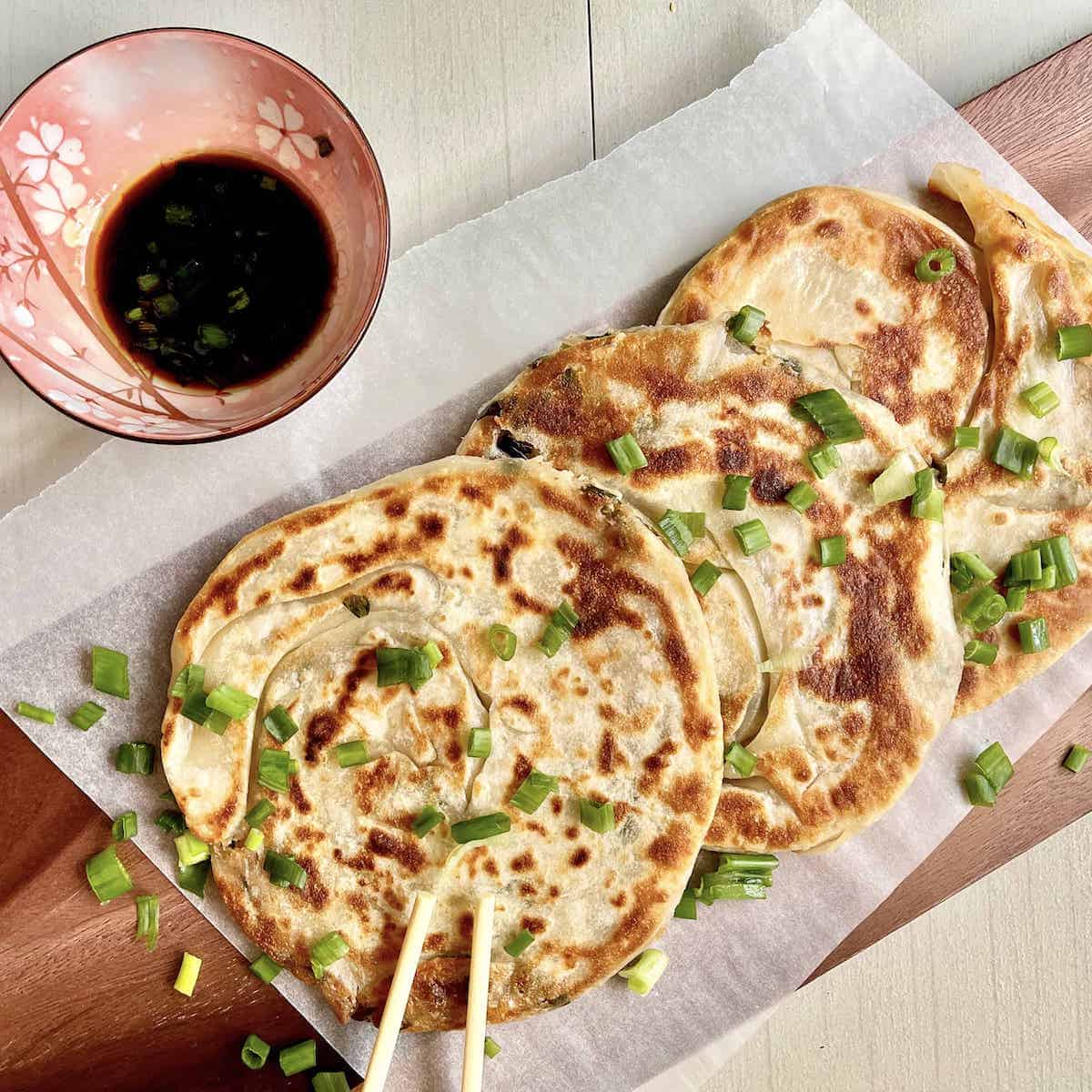 Note: although Char Siew Bao (BBQ Pork Buns) are 1 of the most popular Dim Sum dishes, I'm not including them in this round-up or it'll be pork overload. I do recommend using leftover Char Siu to make Pork Buns or in Singapore Shrimp Mei Fun though!
Taiwanese green onion pancake recipe (Cong you bing)
Taiwanese green onion pancake (Cong you bing), also known as Chinese scallion pancake, is a delicious savoury street snack that is easy to batch make and freeze.
Click here for the spring onion pancake recipe.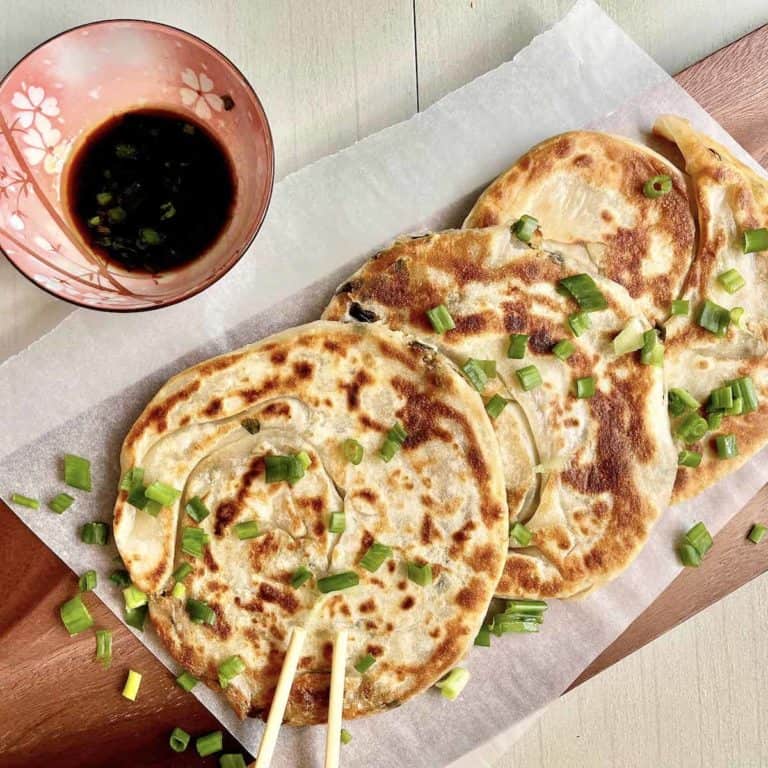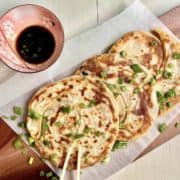 Siu Mai
Cantonese Shu Mai (燒賣) is 1 of the most popular Dim Sums but really easy to make at home and freeze.
Ha Cheung Fan
Thin rice paper is wrapped around juicy shrimp and drizzled with a fragrant soy sauce mix in this Cheung Fun recipe (虾肠粉).
Har Gow
Juicy Shrimp Dumplings go really well with roasted pork (which can sometimes be a bit drying), which is why we have yet another prawn recipe on this list, Har Gow.
Lo Bak Gao
Made of radish, this is often called Carrot Cake as well as Turnip Cake as the word for "radish" is similar to "carrot" in Chinese.
Note: A popular variation of this dish is tostir-fry smaller pieces with dried shrimp and XO sauce.
Appetisers
Cucumber Salad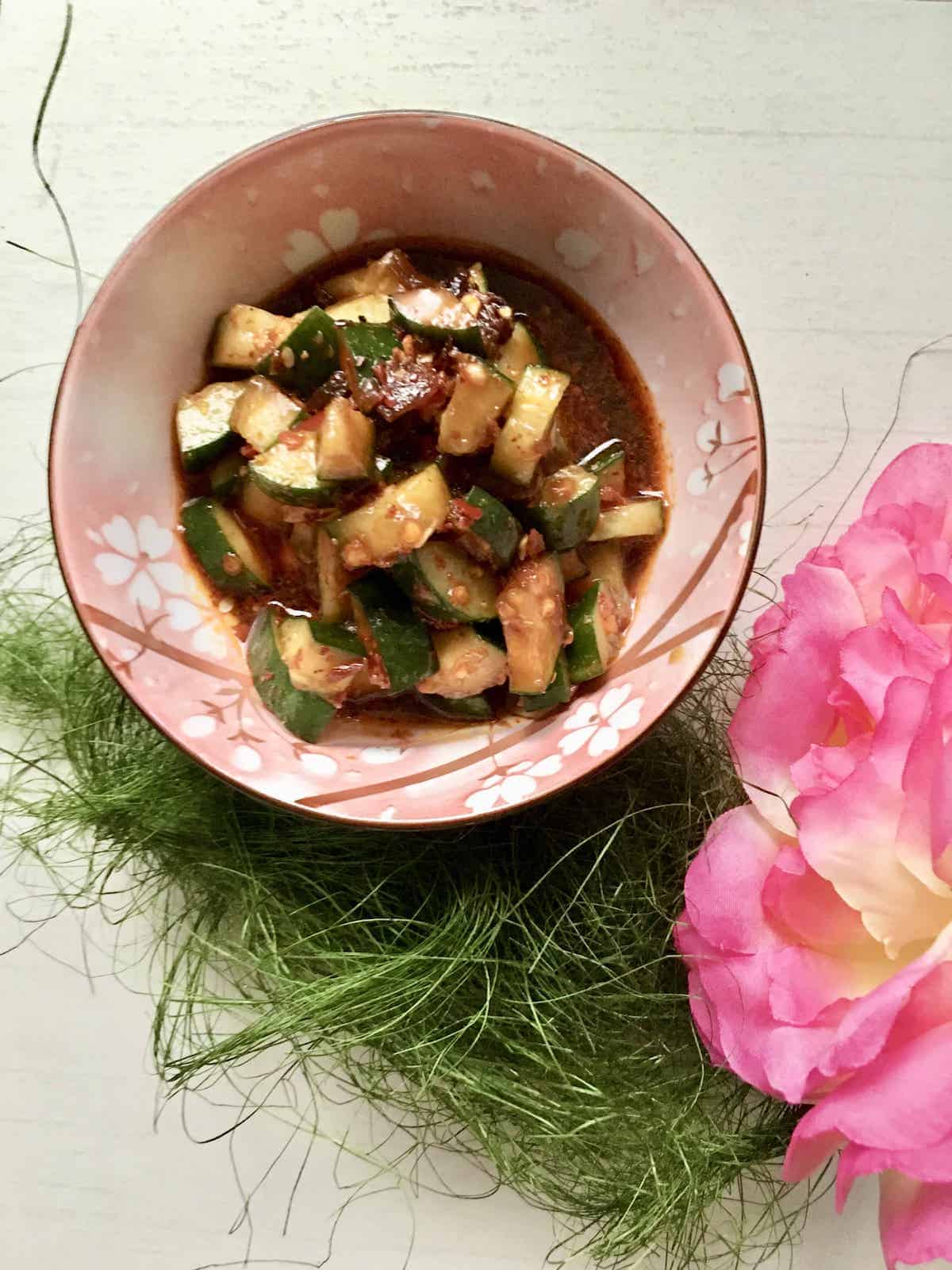 Cold cucumber salad recipe
The easy Chinese cold cucumber salad recipe is delicious and full of spicy flavor. Best of all, it only requires 4-ingredients and takes 5-10 minutes to make. 
Click here for the Cucumber Side Dish recipe.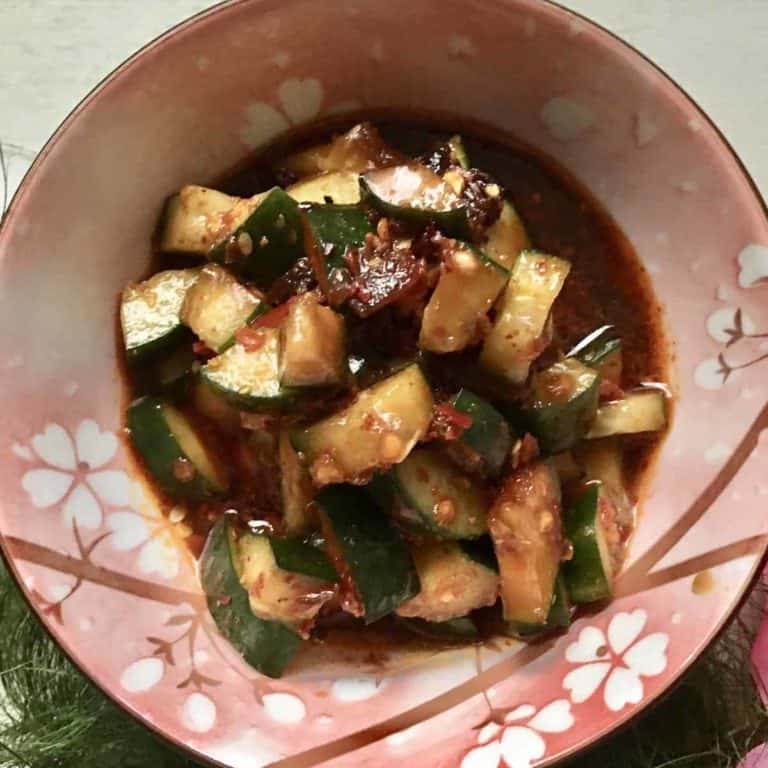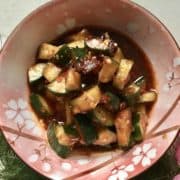 Baos
Spiral Bao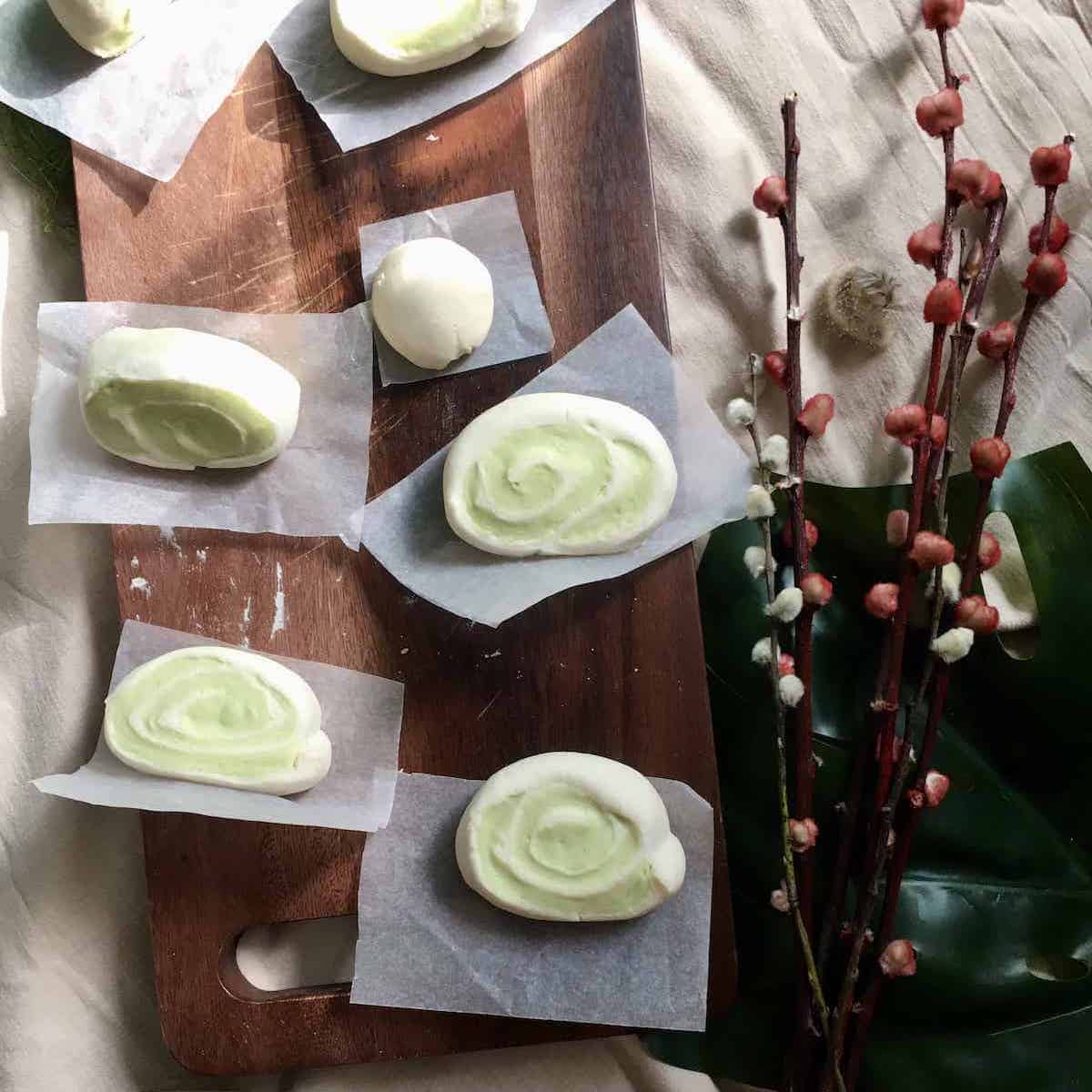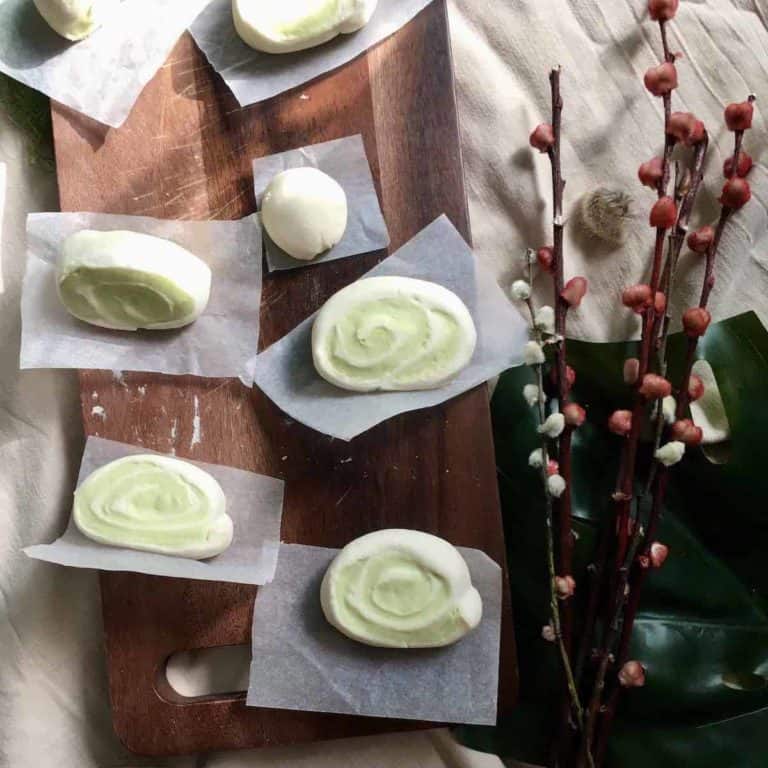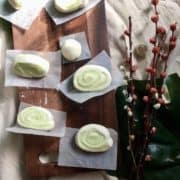 Matcha Mantou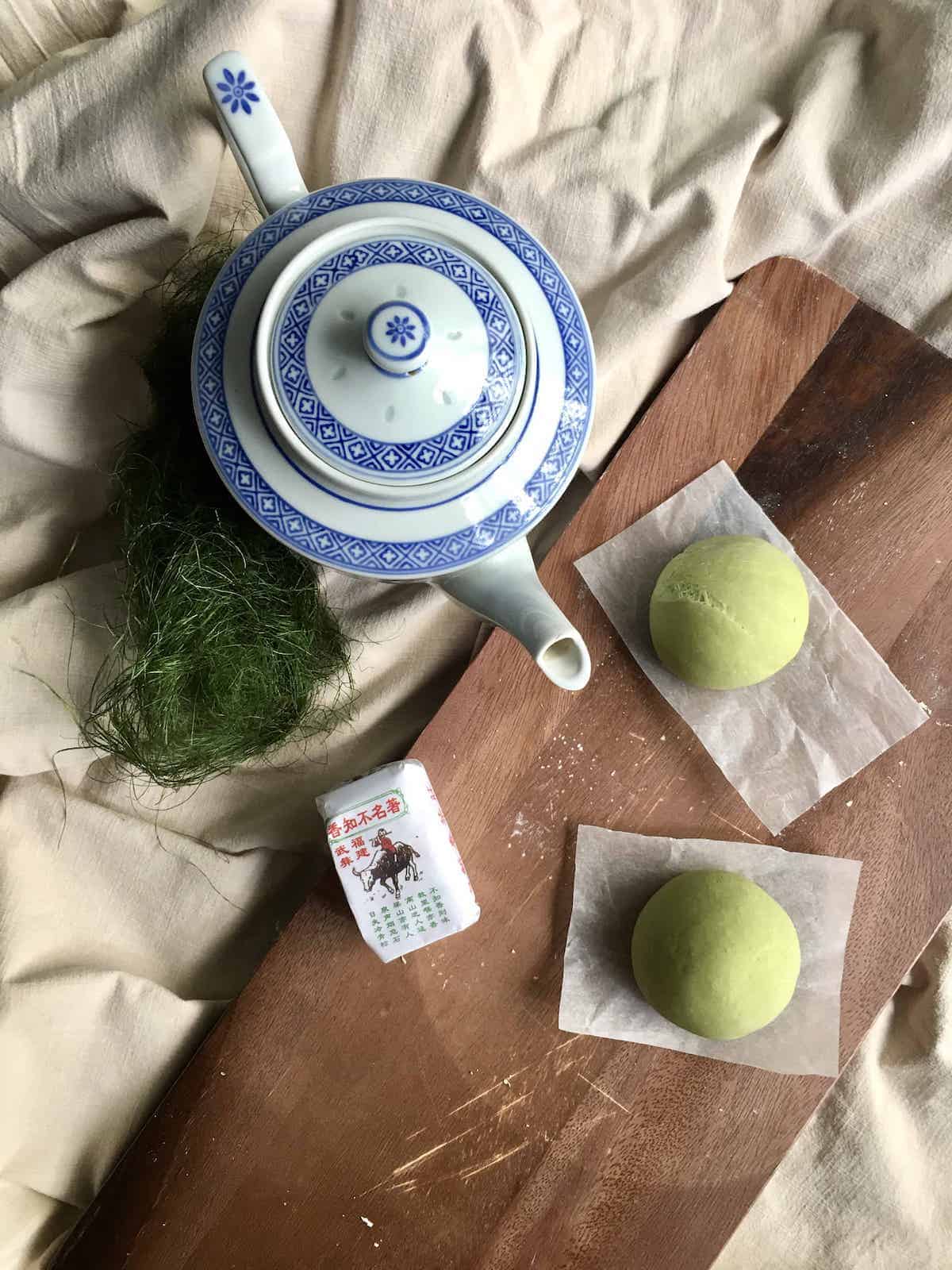 Easy Matcha Buns (1-rise Mantou)
An easy matcha bun (Chinese mantou bao) recipe which only requires 1 proof (1 rise), along with a mantou FAQ section on how to use a metal steamer (instead of the traditional bamboo steamer) and why your naturally vegan matcha buns aren't smooth.
Click here for the steamed green tea buns recipe.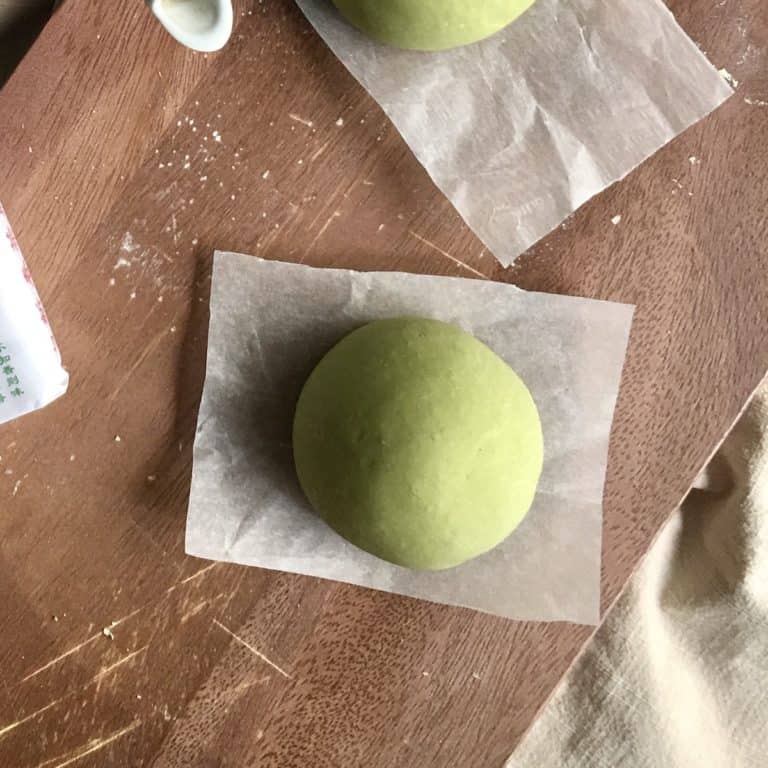 Scallion Buns
Also known as Hua Juan, these buns are freezer-friendly.
Noodles
Slices of Char Siu are a great way to add protein to a plate of noodles.
Stir-fried Vermicelli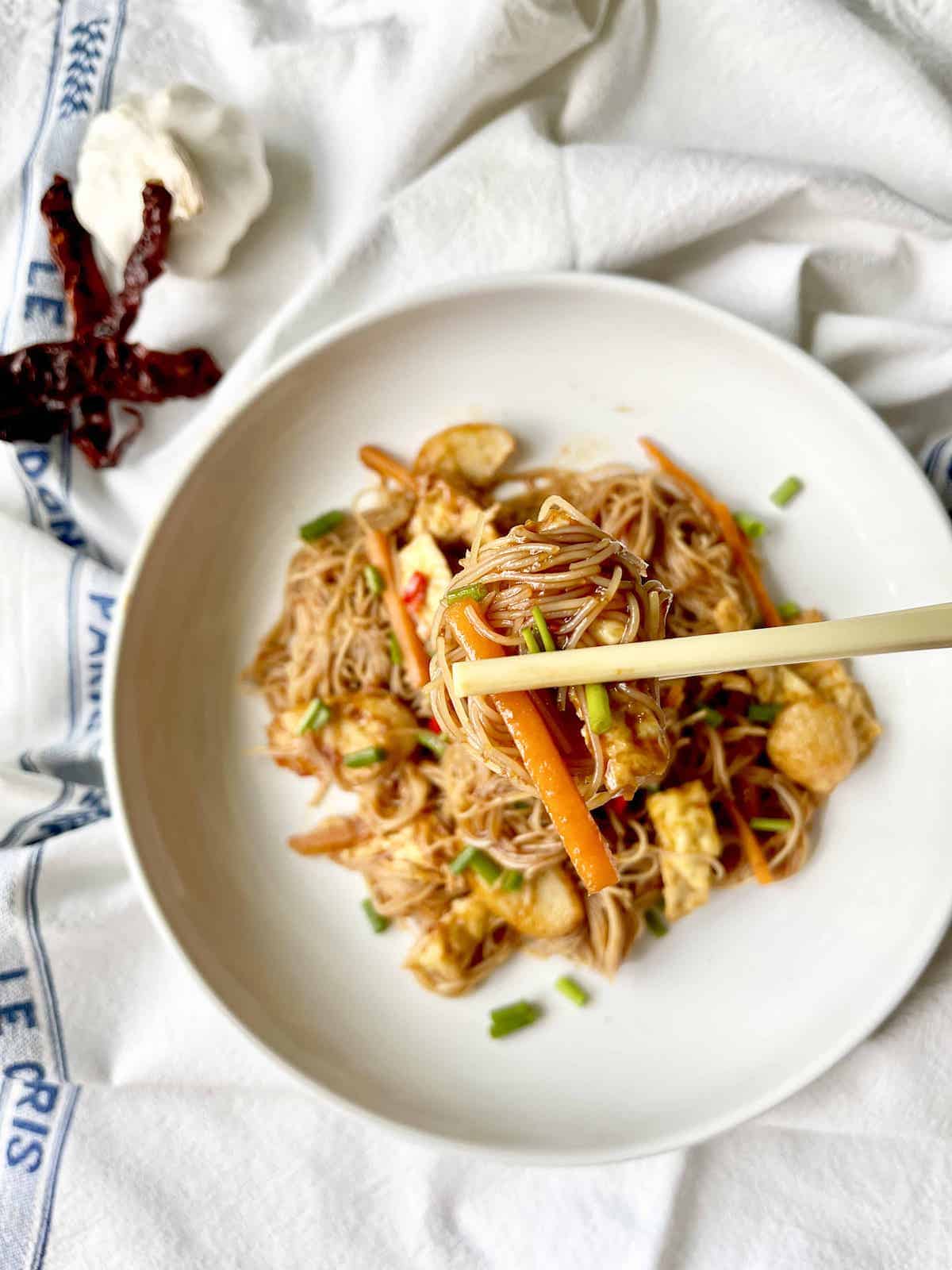 Singapore Fried Vermicelli (Bihun Goreng)
Singapore Fried Vermicelli, also known as Bihun Goreng, is delicious, easy to cook and quick to make in under 30 minutes. Using only simple ingredients (no chicken broth needed), it's a complete meal in itself. It's also cheap enough that some hawker centres (street food stalls) in Singapore sell it for only S$2/ US$1.50!
Click here for the fried bee hoon recipe.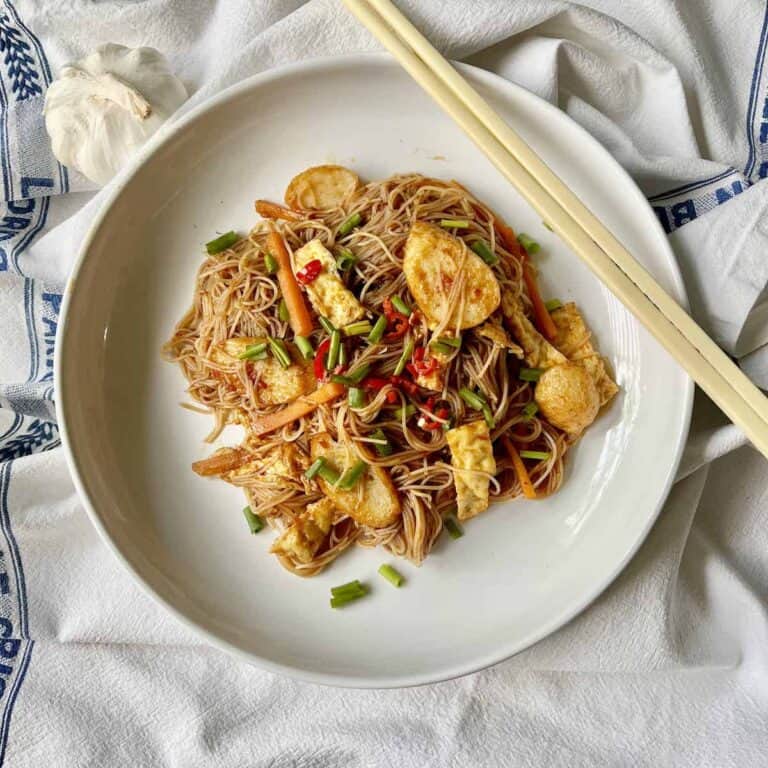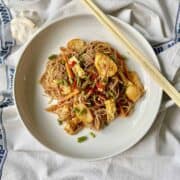 Chow Mein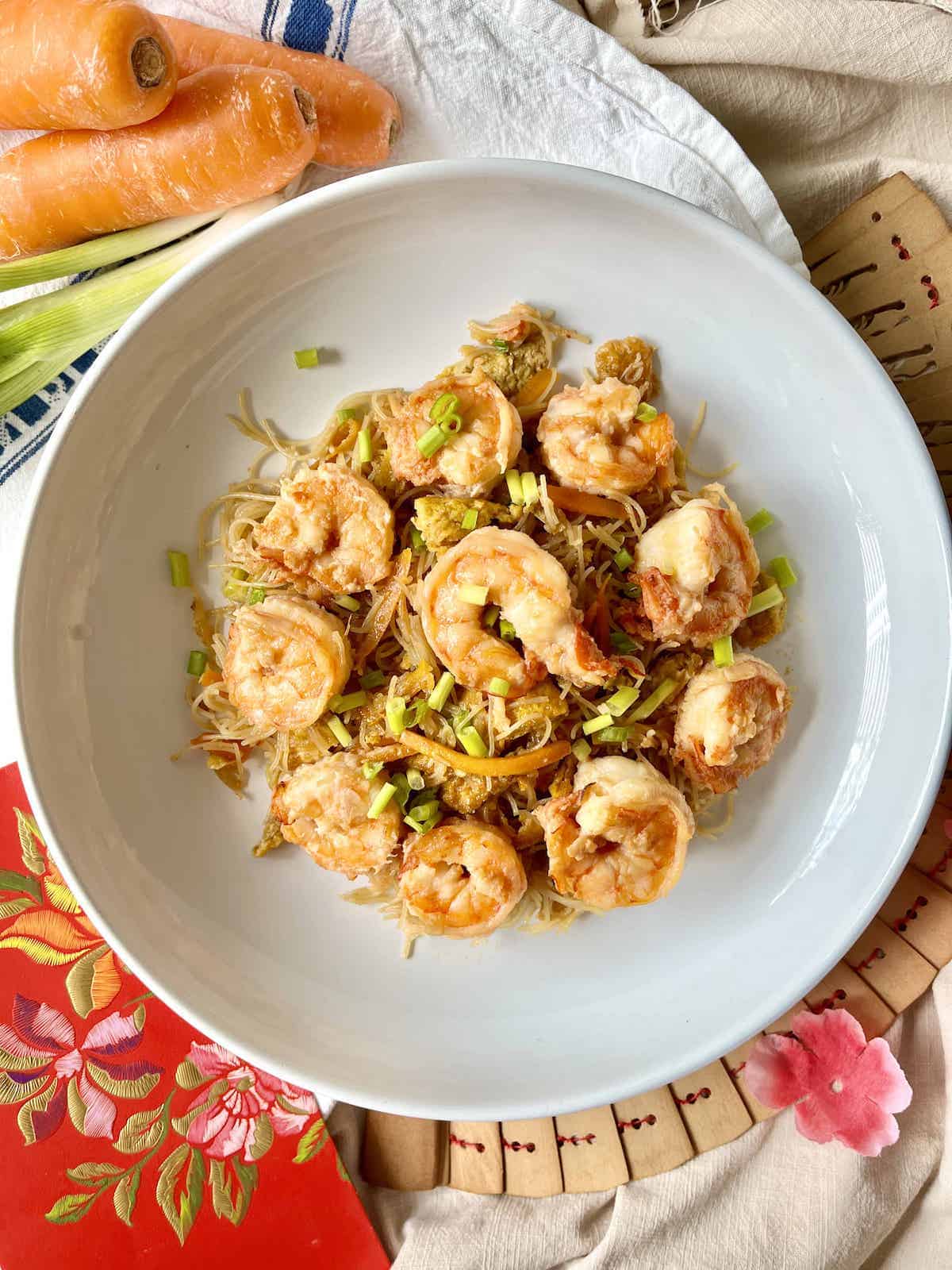 To the Cantonese, Shrimp represents laughter (as it is a homonym.) For a happy year ahead, try some of these Chinese Shrimp dishes.
Shrimp Mei Fun (Fried Rice Noodles)
Shrimp Mei Fun is an easy Stir Fried Thin Rice Noodles Dish. Packed with shrimp and vegetables, it's a complete meal with fibre and protein that cam be made in under 30 minutes!
Click here for the Chinese takeout staple.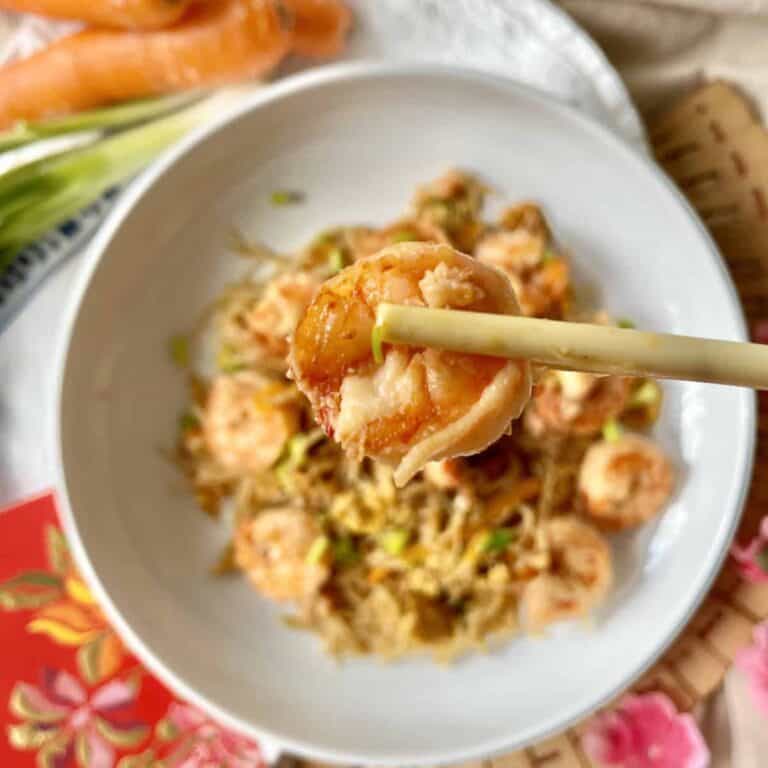 Wonton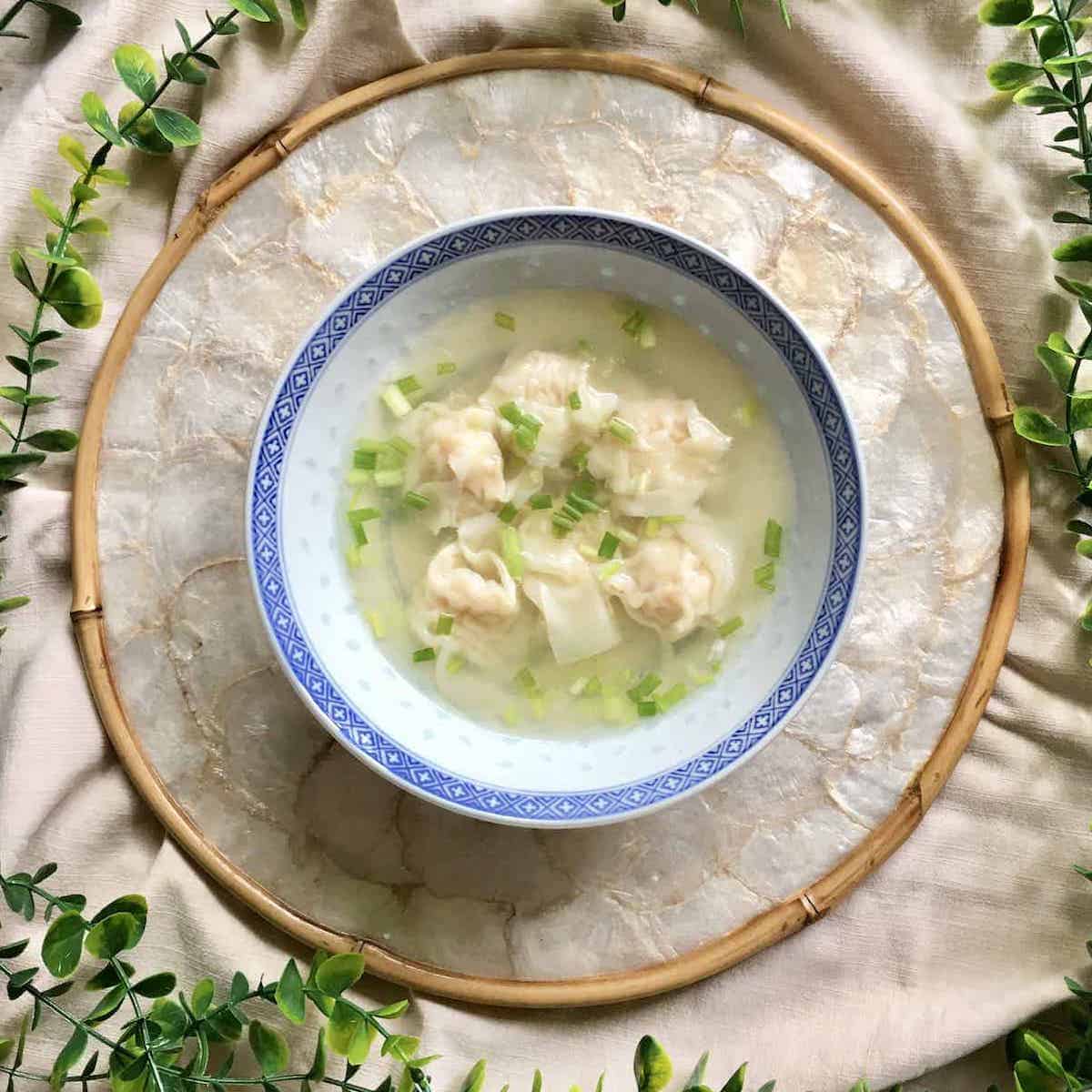 Obviously, adding char siu would make the dish non plant-based! But this is a good combination for a party with both vegans and non-vegans: the vegans can have the plain wonton noodle soup, and the non-vegans the char siu wonton noodles.
Easy Vegan Wonton Soup for Colds
Done in 20 minute vegan Chinese wonton soup that tastes as good as the traditional version. Gluten-free and made without commercially bought stock/ bouillon cube OR hours of making homemade stock! A great flu fighter thanks to the ginger and garlic!
Click here for the wonton soup recipe.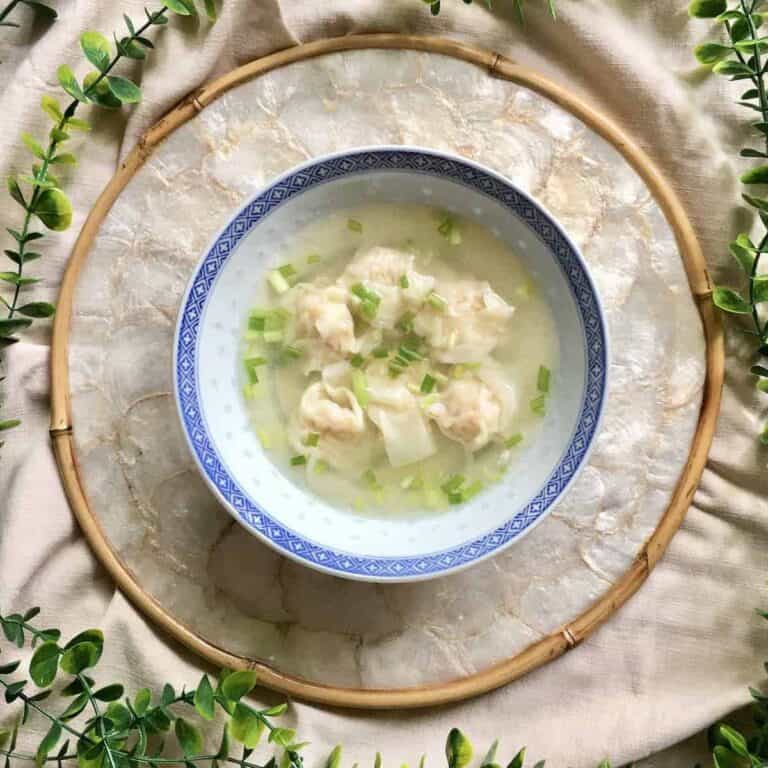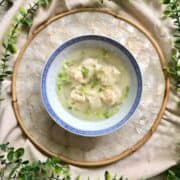 Rice
Alternatively, Char Siu is also delicious with a bowl of plate white rice, fried rice or a bowl of rice porridge, such as Ting Zhai Jook.
For more flavor, consider pairing it with some of these congee dishes!
Tip: make a sumptuous meal of it with these porridge side dishes and best toppings for congee, such as salted duck eggs.
Prawn Congee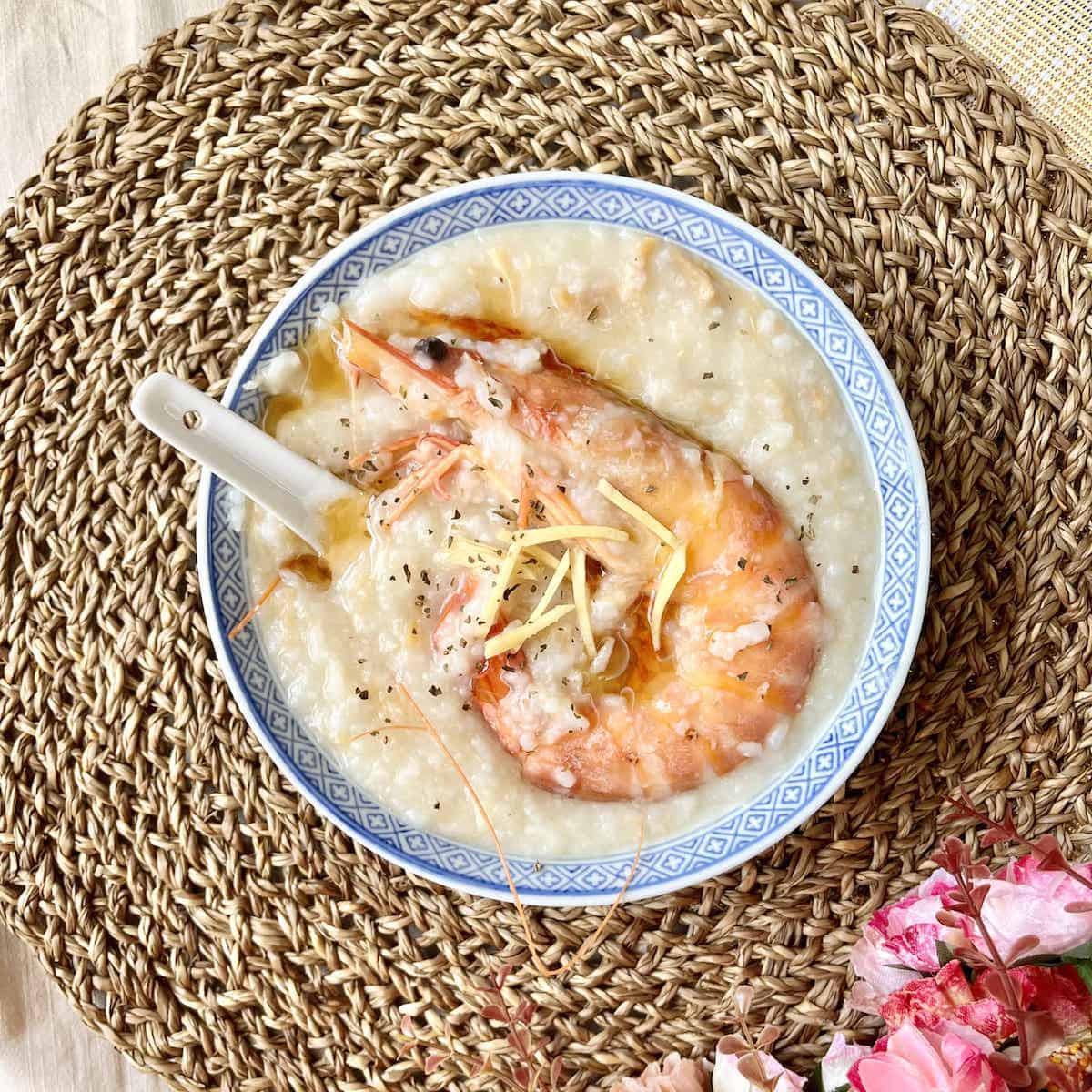 Easy Chinese Seafood congee with shrimp/ prawn
This Easy Chinese Seafood congee with shrimps or prawns is a delicious seafood rice porridge that is easy to cook but still silky and rich. Chicken stock/ broth optional!
Click here for the shrimp congee recipe.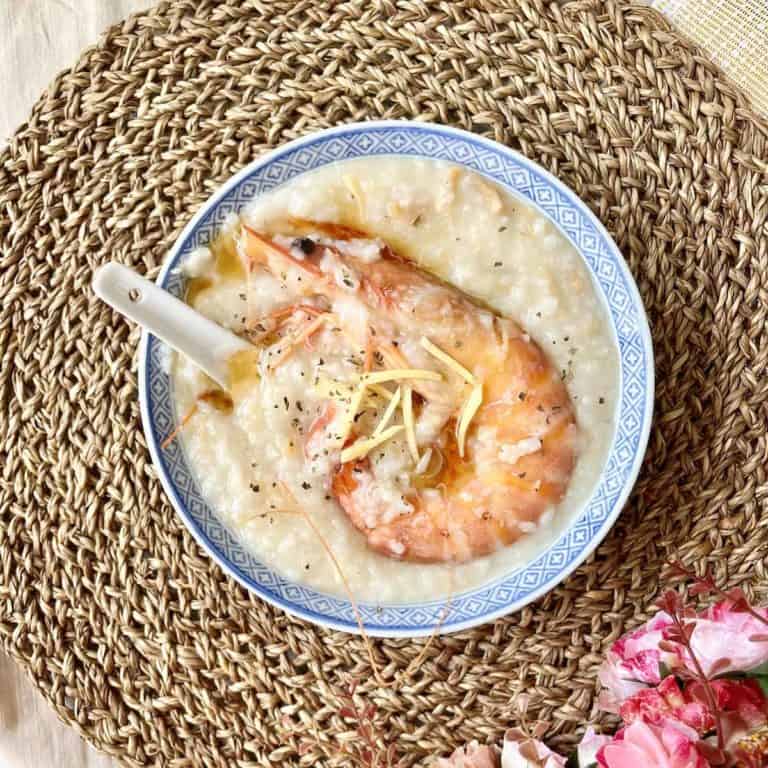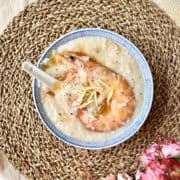 Scallop Congee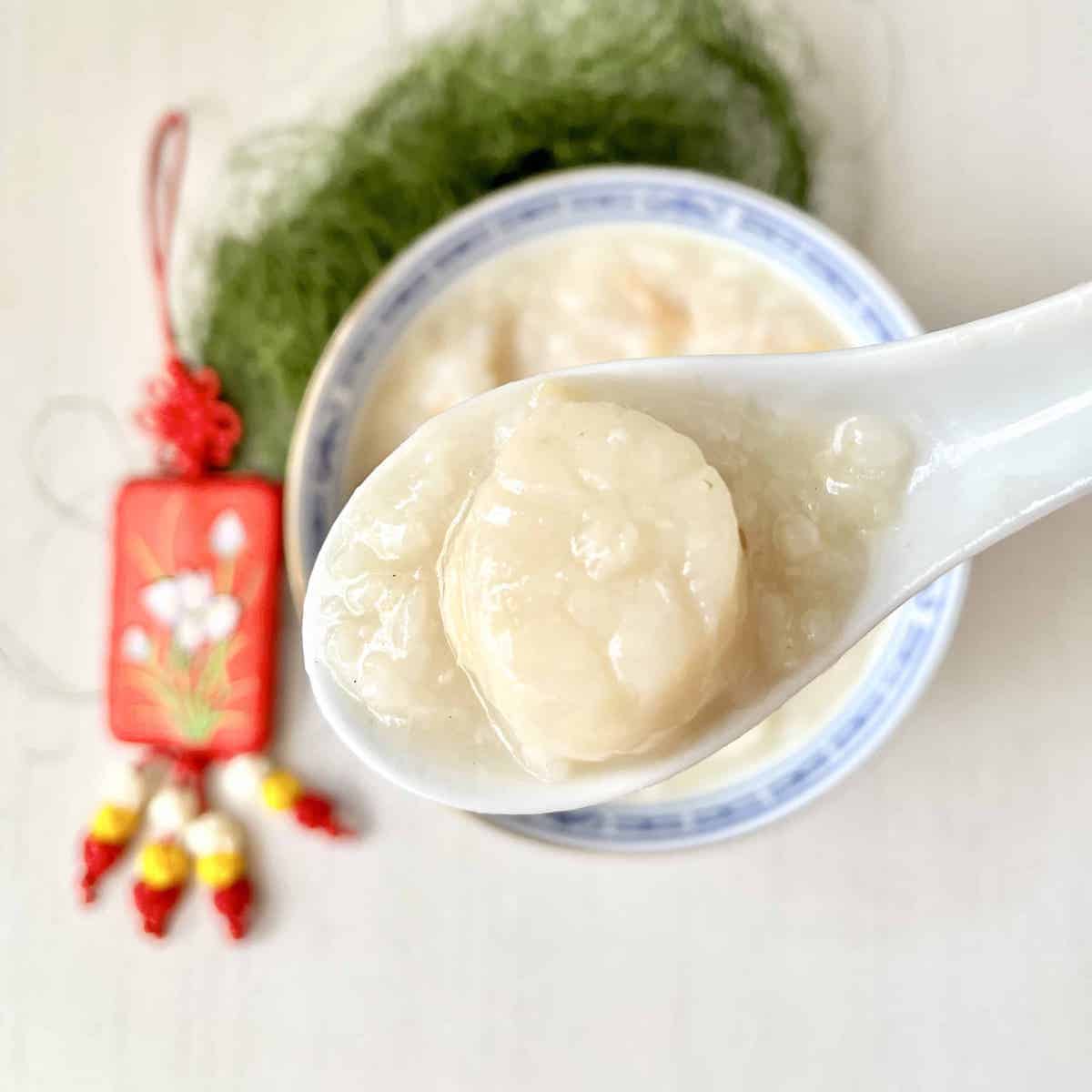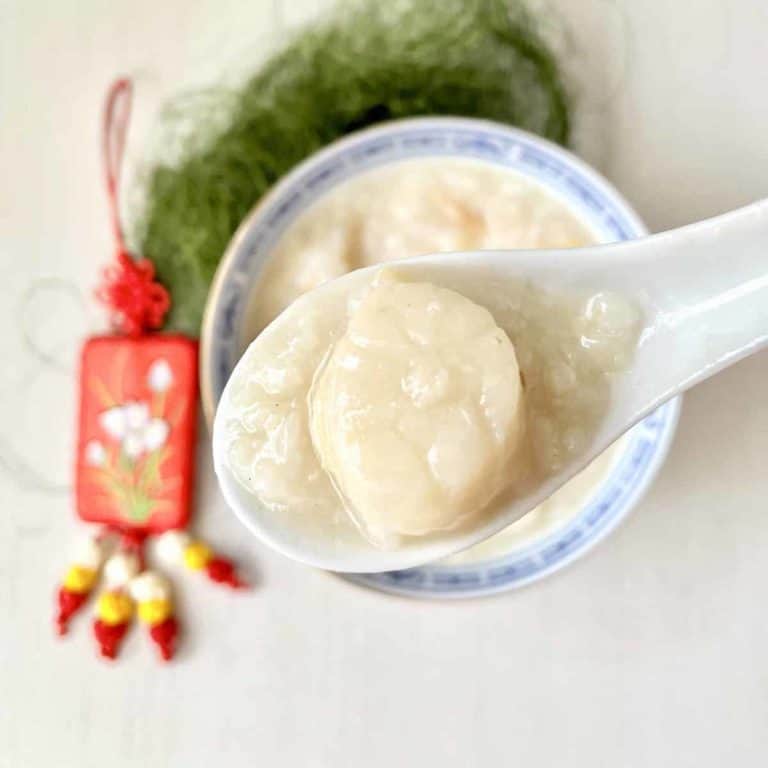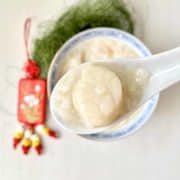 Abalone Porridge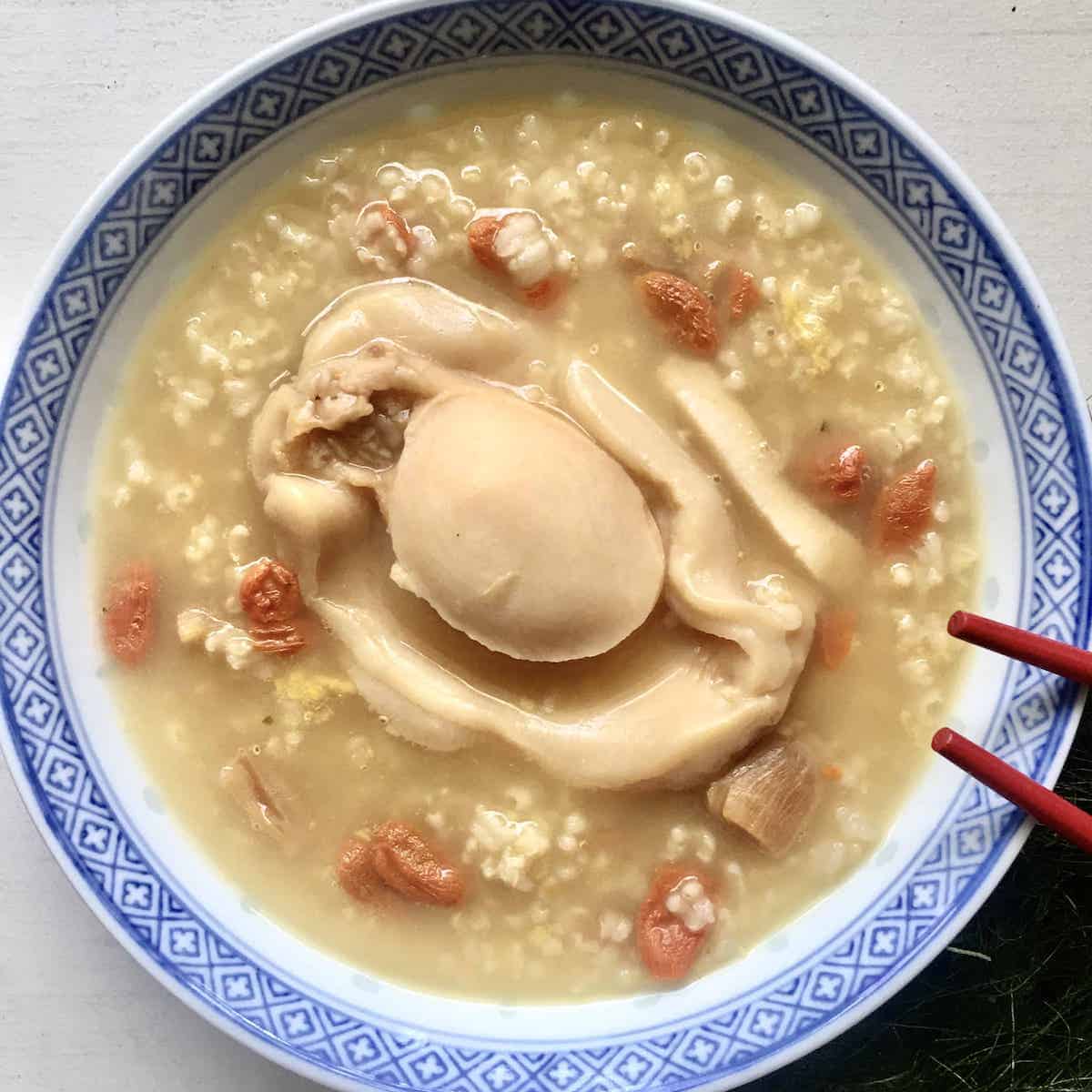 Abalone has a special place in Asian cooking and Chinese cuisine. To learn more, try some of these abalone recipes such as abalone salad.
Easy Chinese Canned Abalone Porridge
A no-fuss, easy Chinese Canned Abalone Porridge recipe, also known as jook or congee, which can be made using store cupboard ingredients. So easy there's only 1 photo for the step-by-step instructions, it's the perfect comfort food and a delicious recipe for a weekday dinner.
Click here for the Bao Yu Porridge recipe.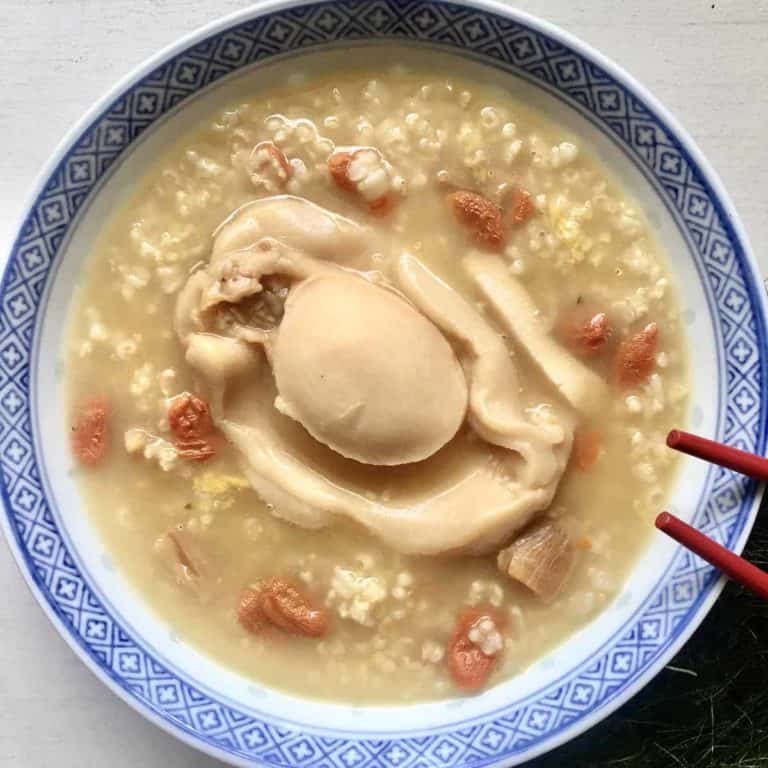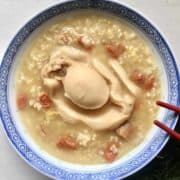 Fried Rice
Egg fried rice is the most basic version of this classic Chinese dish, requiring 6 ingredients such as sesame oil, light soy sauce and green onions. Delicious and done in 10 minutes!
Tip: the key to non-soggy fried rice is to use leftover rice and not freshly cooked rice!
If these Chinese recipes were helpful, maybe you'd like to sign up for my Asian food newsletter?