6 ideas for the best Madras Curry Powder substitute, as well as what NOT to use!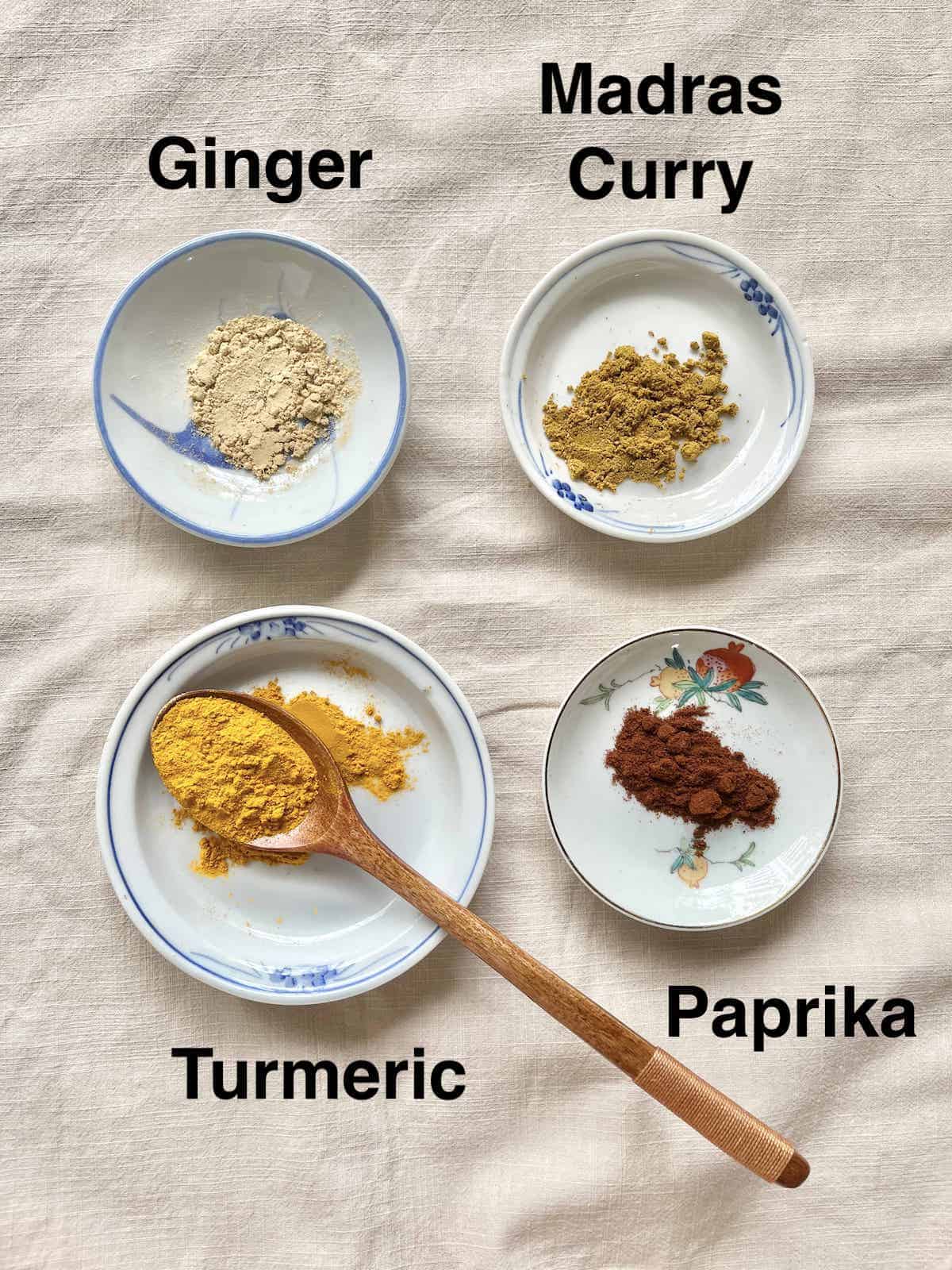 What is Madras Curry?
Have you noticed that you've never seen a "Chicken Madras curry", for example, in an authentic Indian cookbook? Well, that's because "Madras curry" and "curry powder" are both British inventions, inspired by classic Indian curries.
Madras curry is a medium hot curry that is usually orange-red colored. (Sometimes not, as shown in the version above, which was bought from Borough Market.)
Madras curry powder is hotter than regular curry powder as it gets its color and heat from the often generous amounts of red chili powder used, sometimes mixed with paprika or turmeric. It usually tastes spicy, sweet, salty, savory, earthy and with aniseed or licorice notes.
Inspired by the cuisine of the city of Madras, now Chennai, in the South of India, which was usually vegetarian, you can also make Madras curry with meat or seafood, then serve with raita, coconut rice and samosas. (Southern Indian dishes are more rice than naan-centric.)
Note: seafood madras curries are slightly different.
Ingredients
Hence, as there is no "authentic" madras recipe, there is a lot of flexibility in the ingredients used! For example, if you can't take spice, the heat level can be easily changed by reducing the amount of chili peppers added- scroll down for how to make your own!
There are many variations as each house or chef has its/ his/ her own recipe, differing depending on what ingredients are available locally.
Typically, the spice blend would contain a mix of the following: curry leaves, mustard seeds, asafoetida, coriander seeds, cumin seeds, cinnamon (or cassia to save costs!), turmeric, red chilies, bay leaves, cloves, fenugreek seeds, black peppercorns and allspice. Sometimes, ground ginger, garlic, cardamom, nutmeg and mace are added too.
It's delicious used in a tomato-based dish! (Fry the onions then add the tomatoes, madras spice and Chili powder if you need more spice.)
The powder can also be mixed with coconut milk or yoghurt to create a creamy curry, to which tamarind, lemon juice, lime juice or vinegar can be added.
How to Make
Roast the whole spices in an oven (10 minutes, 180C) or dry fry over low heat, then process the earthy spices into a fine powder, either by grinding in a mortar and pestle, coffee or spice grinder.
Homemade curry powder will keep its flavor for about 3 months. Store it in your spice rack or the fridge or freezer for a longer shelf life.
Note: you can also make it as a vinegar-coconut milk curry paste or oil infusion instead of ground spices.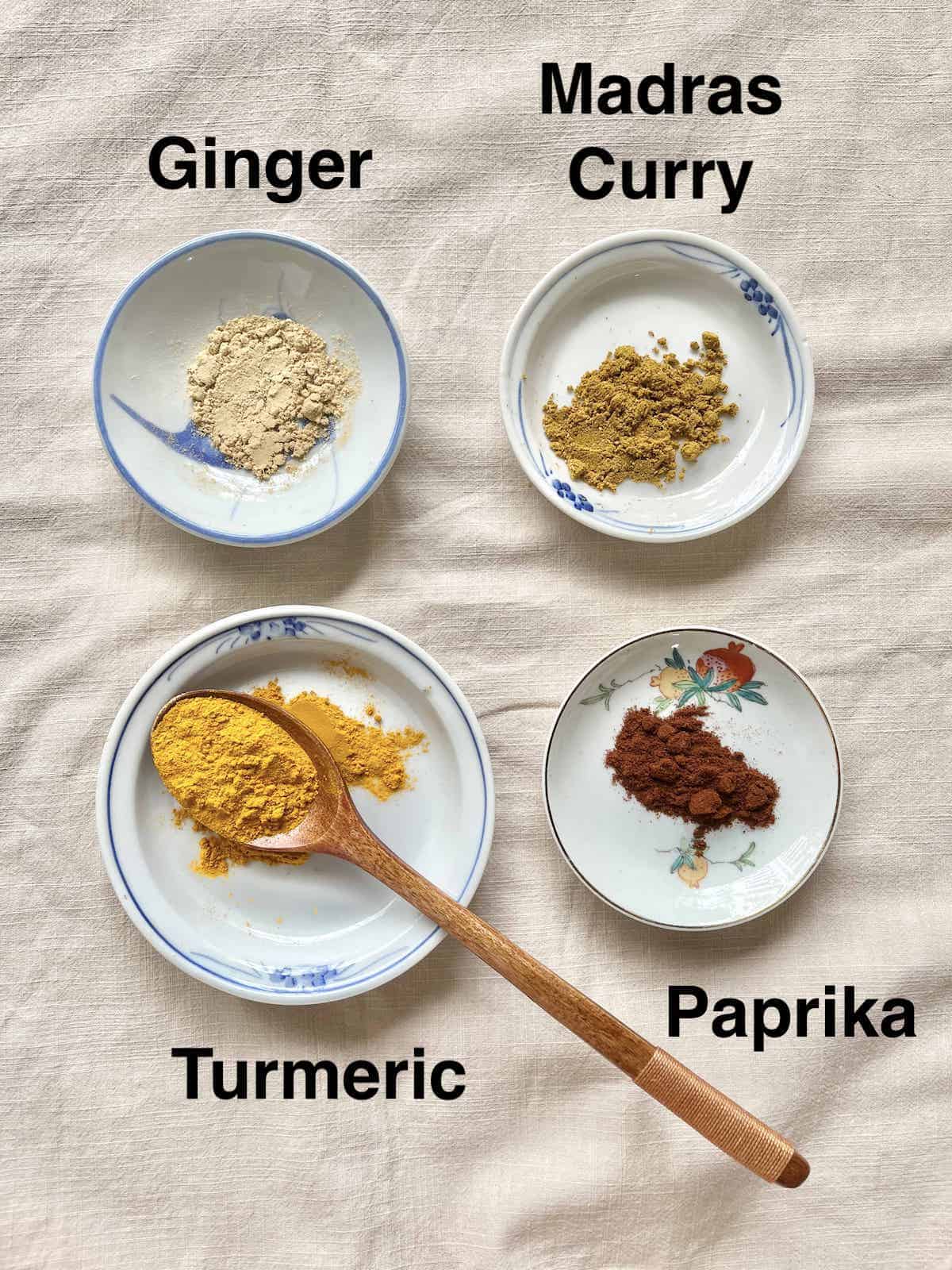 Substitutes
If you don't have time to pop out to the grocery stores to get some Madras Curry Powder, there are several good alternatives. (You have a lot of flexibility in replacing Madras Powder, since it's a "British Indian Curry Restaurant" recipe.)
Regular Curry Powder
This is very similar, although usually more yellow than red in color.
The best substitute is thus simply adding some ground chili pepper to the standard curry powder to change its color and to give it the fiery flavor we associate with Madras.
If you're using shop-bought curry powder, it can sometimes be a watered down version and lack the intense flavor of real Indian food. Feel free to improve the taste by mixing it with your own blend of spices!
Tip: similarly, you can use Madras powder instead of curry powder for Singapore noodles but note that it will be spicier!
Garam Masala
This is 1 of the most famous Indian spice mixes, and often contains cardamom, cloves, cumin, cinnamon, and black pepper. (The exact ingredients change depending on the Indian region.)
However, garam masala is usually used as a finishing spice (added right before the end of cooking) versus madras curry powder, which is used as a base spice.
Remember to add chili powder if using Garam Masala as a replacement, and do note that the flavor profile of your dish may change!
Sambar Powder
This is another commonly used Indian spice mixture that has similar ingredients. You can add a pinch of extra ground spices you have in your pantry to adjust the flavor to your liking.
Tandoori Masala
Tandoori Masala is a spice blend used for tandoori (Indian clay oven) recipes. It can include anything from garam masala mix, ground ginger, ground garlic, ground onion and other spices. (You may need to add some red chilies to it.)
Other Indian Curry Pastes
These are actually a better substitute for Madras Curry Paste. You can use Vindaloo Paste or Tikka Masala Paste.
Not Recommended
Green Curry Paste
If you see someone recommending Green Curry Paste as a substitute for Madras Curry Powder, please run far, far away! 1 is an Indian (OK British Indian) recipe and the other is Thai, so the flavors are completely different!
Thai flavors include galangal, lemongrass and kaffir lime leaves- none of which are present in Madras!
Red Curry Paste
Similarly, do not substitute with Thai red curry paste- even though the colours look similar, they taste totally different!
Sambal Oelek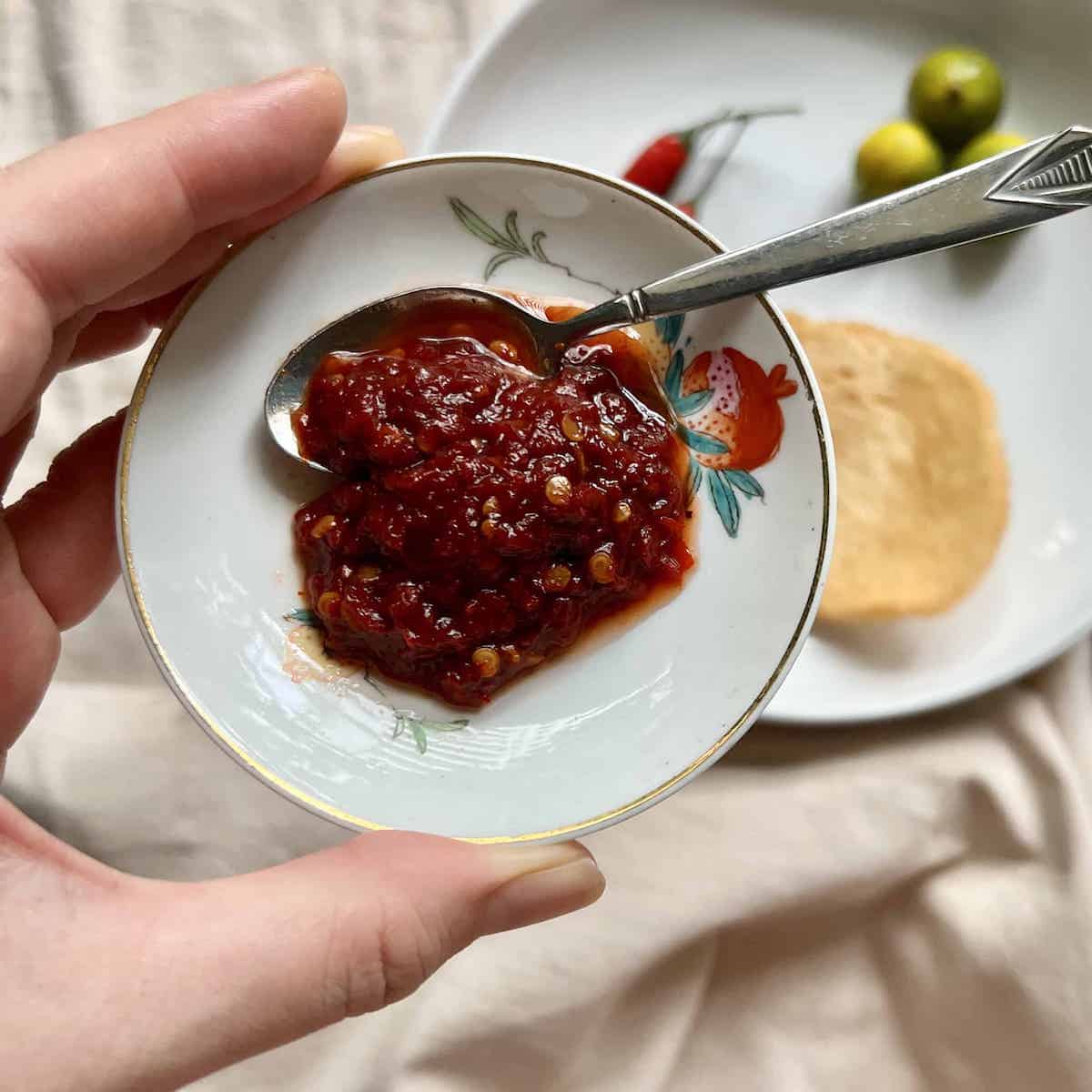 OK, sambal oelek isn't the worst substitute as it's mainly chillies, salt and vinegar. However, it tends to be much more spicy and acidic than Madras, lacking the complex flavors from the spices.
If you really have to use sambal oelek as a substitute, remember to pimp it up with some ground cumin, ground yellow mustard seed or maybe even mixing with your own curry powder! You'll also need to tame the tang with some sugar.
We've come to the end of the list of madras curry powder substitutes. If you found it useful, maybe you'd like to sign up for my newsletter in which I send you more information about authentic Asian food?