Recipes for the best Chinese New Year Cookies 2023, ranging from classic Chinese almond cookies and pineapple tarts to more modern salted egg yolk ones!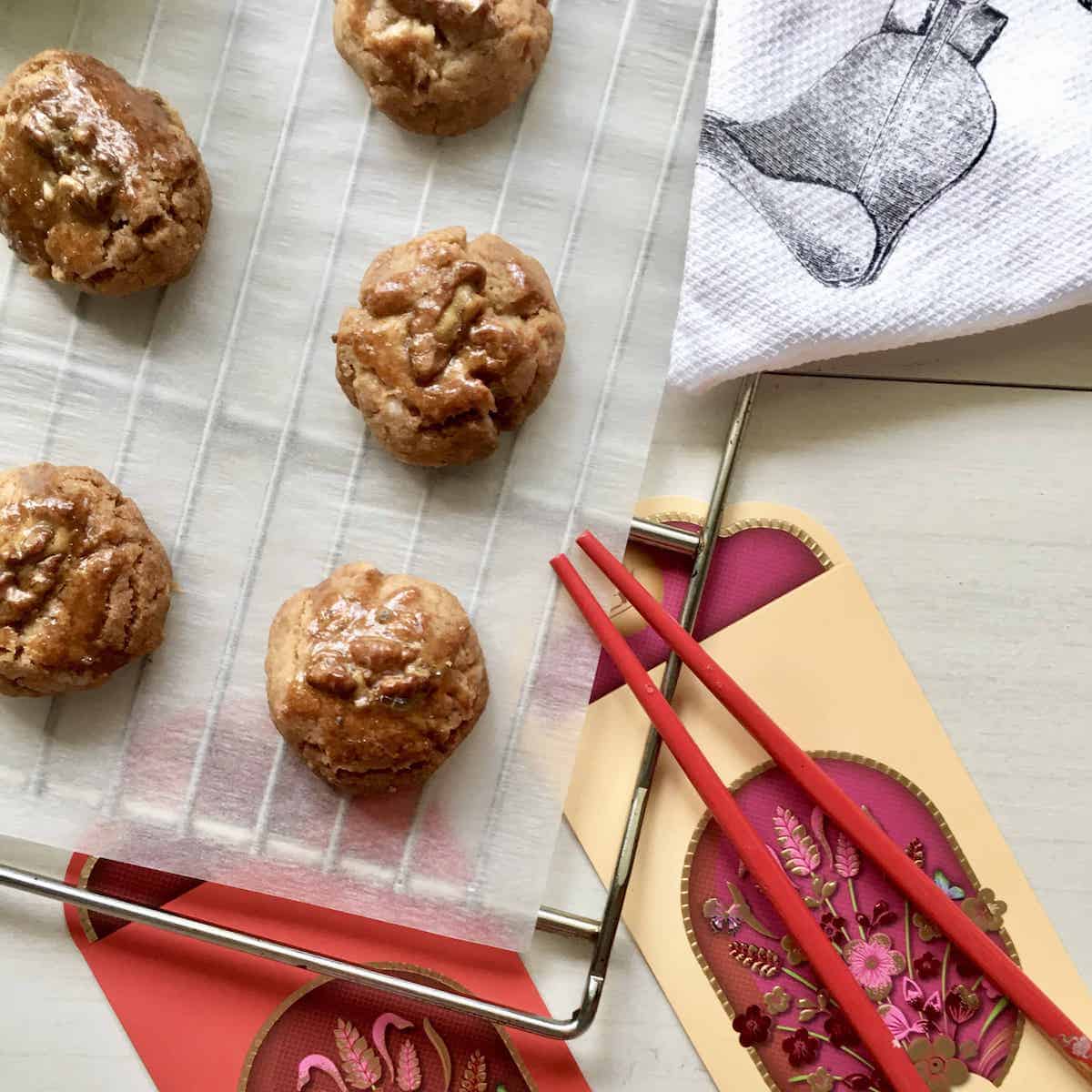 Jump to:
Along with giving out and collecting red packets (for good luck), gorging on sweets such as Nian Gao, snacks (Chinese sponge cake!) and cookies during visiting is a huge part of the annual Chinese New Year celebration.
What's the snack you're most looking forward to this festive season?

🍪 Nut Cookies
Chinese Peanut Cookie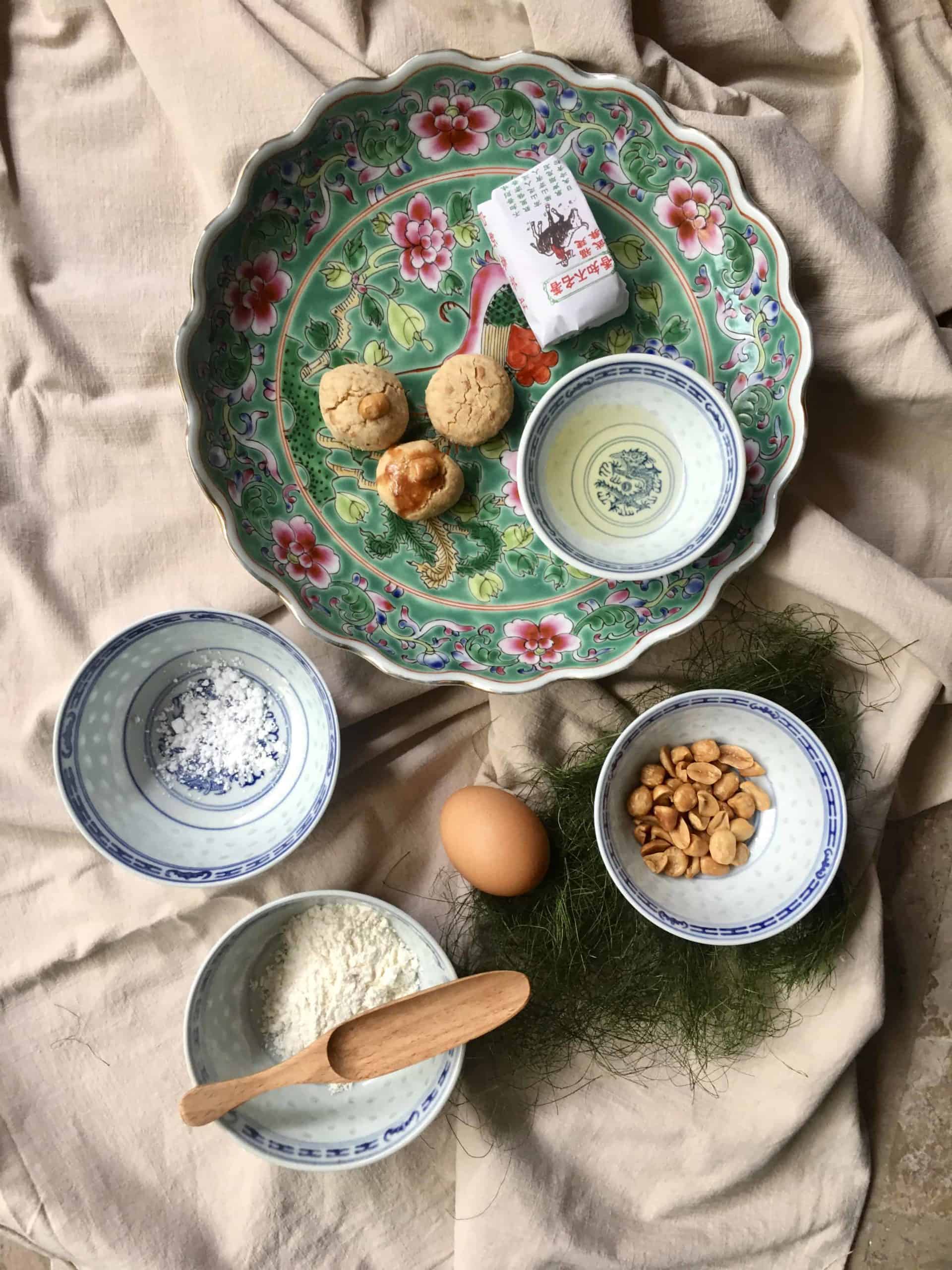 This is 1 of the most popular Chinese New Year recipes on Greedygirlgourmet- and really popular in real life too! Last year, someone ordered over 20 jars at a time!
Note: these old-school cookies didn't use peanut butter in them.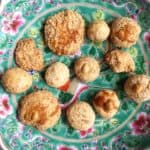 Hup Toh Soh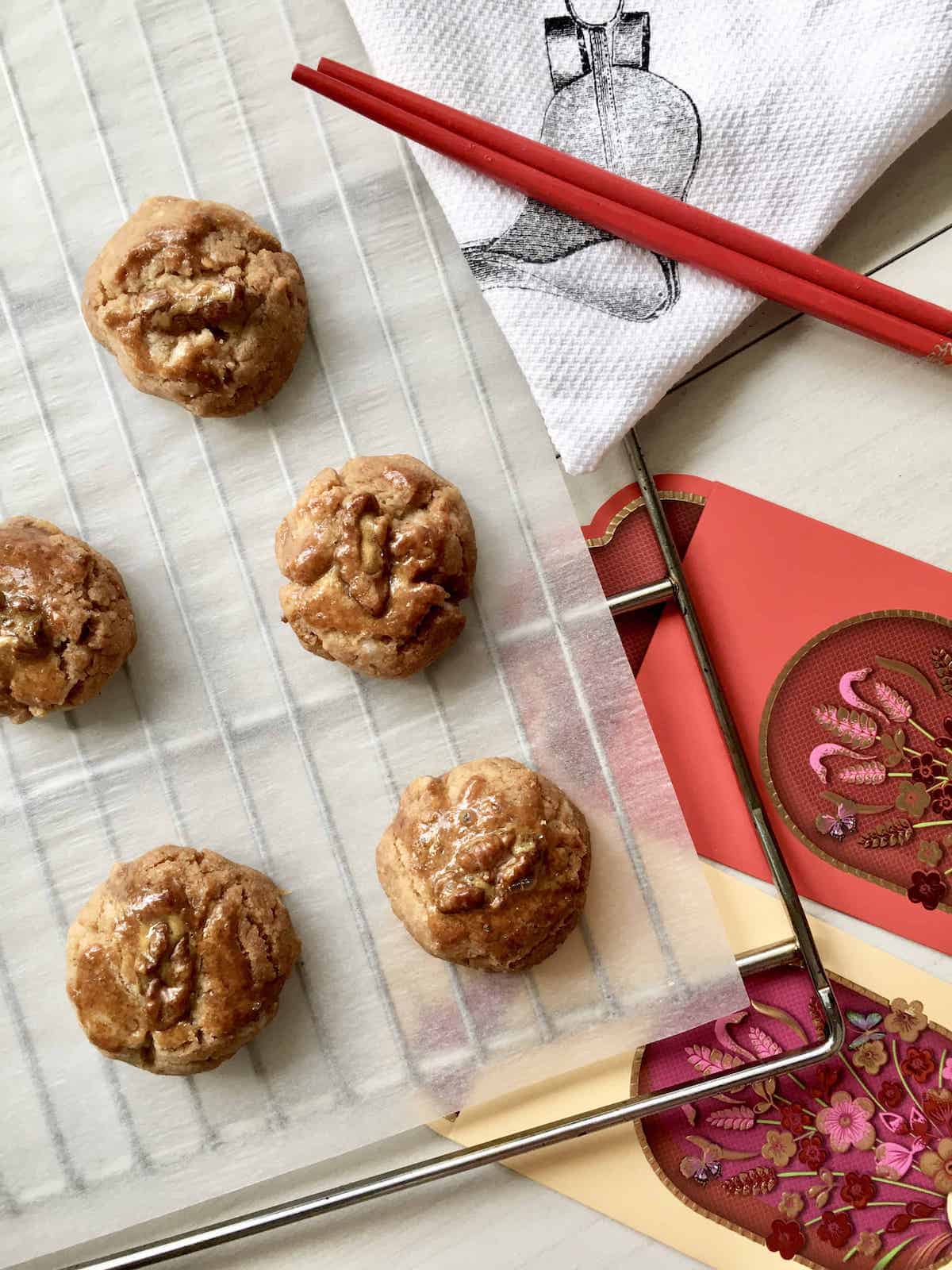 These is a popular snack in Hong Kong!
Chinese Walnut Cookies (Hup Toh Soh)
Also known as He Tao Su, these classic vegetarian cookies are easy to make at home, using store cupboard ingredients, and can be made vegan as well (info below). Crispy, crumbly and fragrant, they go well with coffee or milk tea!
Click here for the Cantonese nut cookie recipe.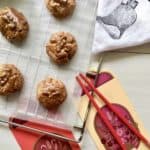 Cashew Nut Cookies
For those of you with food allergies and intolerances, don't worry, you don't have to miss out. Check out these delicious gluten-free, dairy-free nut cookies from Dish by Dish.
Almond Cookies
In America, these cookies are actually 1 of the most popular Chinese cookies. You only need a few simple ingredients, such as almond flour and almond extract to boost the almond flavor.
Note: for more Asian cookies, click here
🐇 Rabbits
Every year, the Chinese Lunar Calendar is associated with a different animal. For example, 2023 will be the year of the Rabbit!
Chinese people like to celebrate by making food in the shape of that year's animal, so this year is all about bunnies!
Spring Cookies
This Easter Cookie actually works terrifically for CNY 2023!
No Icing Bunnies
If you don't want to have to fuss about with icing, try these simple but effective Rabbit Butter Cookies.
🇸🇬 South East Asian
There's a huge Chinese population in many parts of South East Asia such as Singapore, Malaysia and Indonesia. Here, the Chinese people have starting using local ingredients and know-how to make their own particular Chinese recipes.
Scroll down for some of the popular Lunar New Year treats in the region!
P.S. If you're curious about the local cuisine, click here to find out more about popular Singaporean desserts!
Pineapple Tarts
Once upon a time, I sold these, until I decided chopping the pineapples, grating them by hand and stirring for HOURS was just too much work! However, here are some of my tips from those days:
to enable this traditional cookie to last at room temperature, you need to add a lot of sugar to the pineapple jam. To make sure it's not too sweet, use unripe pineapples (and not ripe ones, which have a higher sugar content.)
if you like them chewy but don't have hours to grate, you can mix blended pineapples with some grated pieces for more bite. (Some people chop them instead.)
These traditional Chinese New Year cookies are given out as symbols of Good Fortune. In Hokkien, pineapple is "Ong Lai" which is a homonym for the arrival of Prosperity.
Kuih Rose
Also known as Beehive Cookies, these delicacies use coconut milk, which is a very common ingredient in South East Asian cooking.
Light and crunchy, they're fried, not baked!
🥠 Modern
Fortune Cookie
Given that fortune cookies are an American invention, they certainly weren't part of the traditional Lunar New Year celebration!
However, they're a fun addition when celebrating with friends, as you can easily make your own and include all kind of fun predictions for good fortune in the Year of the Rabbit in them!
P.S. The recipe even comes with a video to make your life easier!
Brown Sugar Cookies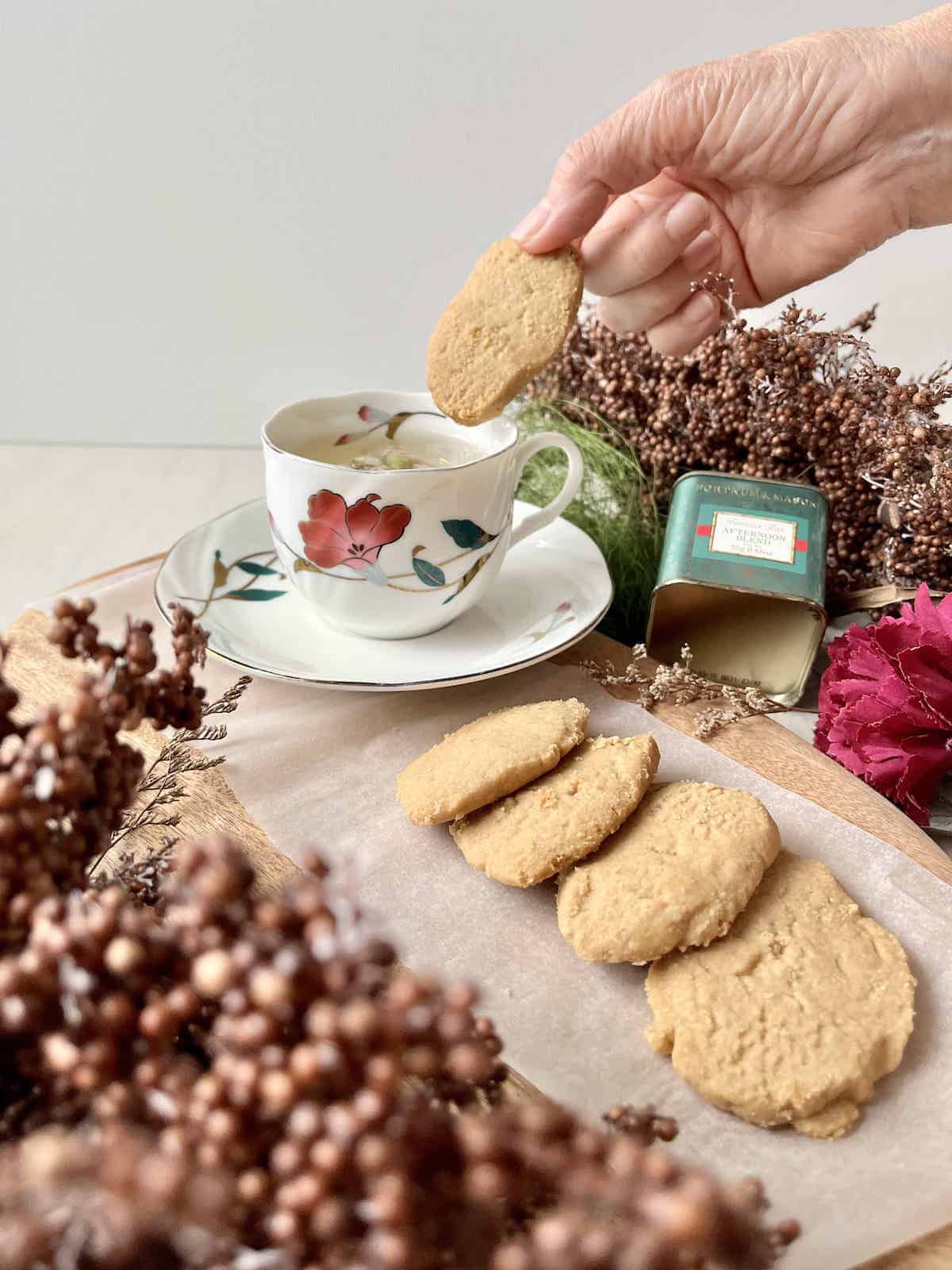 These are 1 of my favorite holiday cookies as you can make so many cookies from this 1 dough:
add in milk chocolate chips
substitute the brown sugar for white
add some vanilla or almond extract
use royal icing to write the Chinese Character for fortune (福) on them
etc etc!
Easy 3-ingredient Brown Sugar Cookies
Buttery, crisp but flaky and not-too-sweet, these deliciously easy 3-ingredient Brown Sugar Cookies are the perfect Holiday Bake for fall and winter! Lots of flavor for very little work, they're the perfect bake for when you're feeling lazy and don't have eggs.
Click here for the easy basic cookie dough recipe.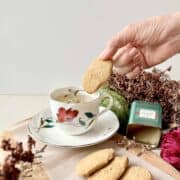 Bak Kwa Cookies
Most people end up with too much meat jerky after the Spring Festival, so why not chop some up and throw them into your bakes?
Note: for more leftover bak kwa recipes, click here.
Shaker Cookies
These CNY cookies with a see-through centre by Constellation Inspiration are some of the most unique ones I've seen! They're a bit complicated as you will need isomalt to make the clear "windows" in the cookie (so that you can see the bits move when you shake the cookies!)
Sesame Shortbread
These chewy sesame cookies are a more grown-up treat, with their earthy, nutty black sesame flavor. (You can use black Sesame Seeds to make the homemade paste for this recipe. Extra can be turned into beautiful lattes or black sesame tong sui.)
P.S. Another popular Chinese sesame snack is Jian Dui, which is made from glutinous rice flour, and is commonly seen at Dim Sum restaurants.
Five Spice Cookies
If you want something more original, try these glazed 5 spice cookies! Use homemade Chinese 5 spice powder for a more aromatic flavor.
Note: you will need a mold to get the beautiful pattern. They look perfect for Christmas too!
Red Bean Paste Cookies
This popular-in-China sweet treat is crisp and delicious. The crust is similar to the one used in easy Chinese Almond Cookies so you can save time by baking both on the same day. (It's custom to have maaaaannnny different types of traditional Chinese New Year desserts out to offer guests!)
Moreover, you can also substitute the red bean paste with other fillings such as pineapple jam, black sesame etc!
Have you found some Chinese New Year cookie recipes to bake for the 2023 Spring Festival? Tag me on social media so I can see! (@greedygirlgourmet) And, if you've liked what you've seen, do sign up here to receive my weekly newsletter!