Recipes for the best Chinese New Year snacks, in China and other Asian countries, that you can't miss out on- both delicious and auspicious!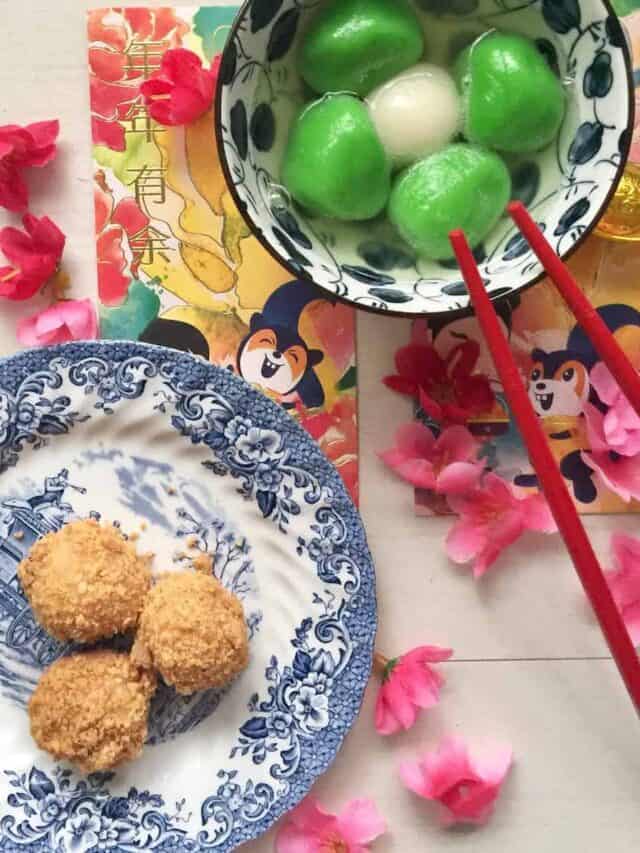 Jump to:
As much a part of Lunar New Year celebration as giving out red envelopes for good fortune, gorging on Chinese New Year (CNY) snacks is a big part of the festive season.
Chinese families are big on symbolism during this time of the year, so don't serve anything associated with bad luck like black sesame soup! (The color black is linked to death.) Instead, check out this list of the best Chinese New Year snacks that you can't miss out on!
Both delicious and auspicious!
Note: for more information on traditional Chinese New Year savory foods, such as longevity noodles for long life, click here.
🌍 Global Treats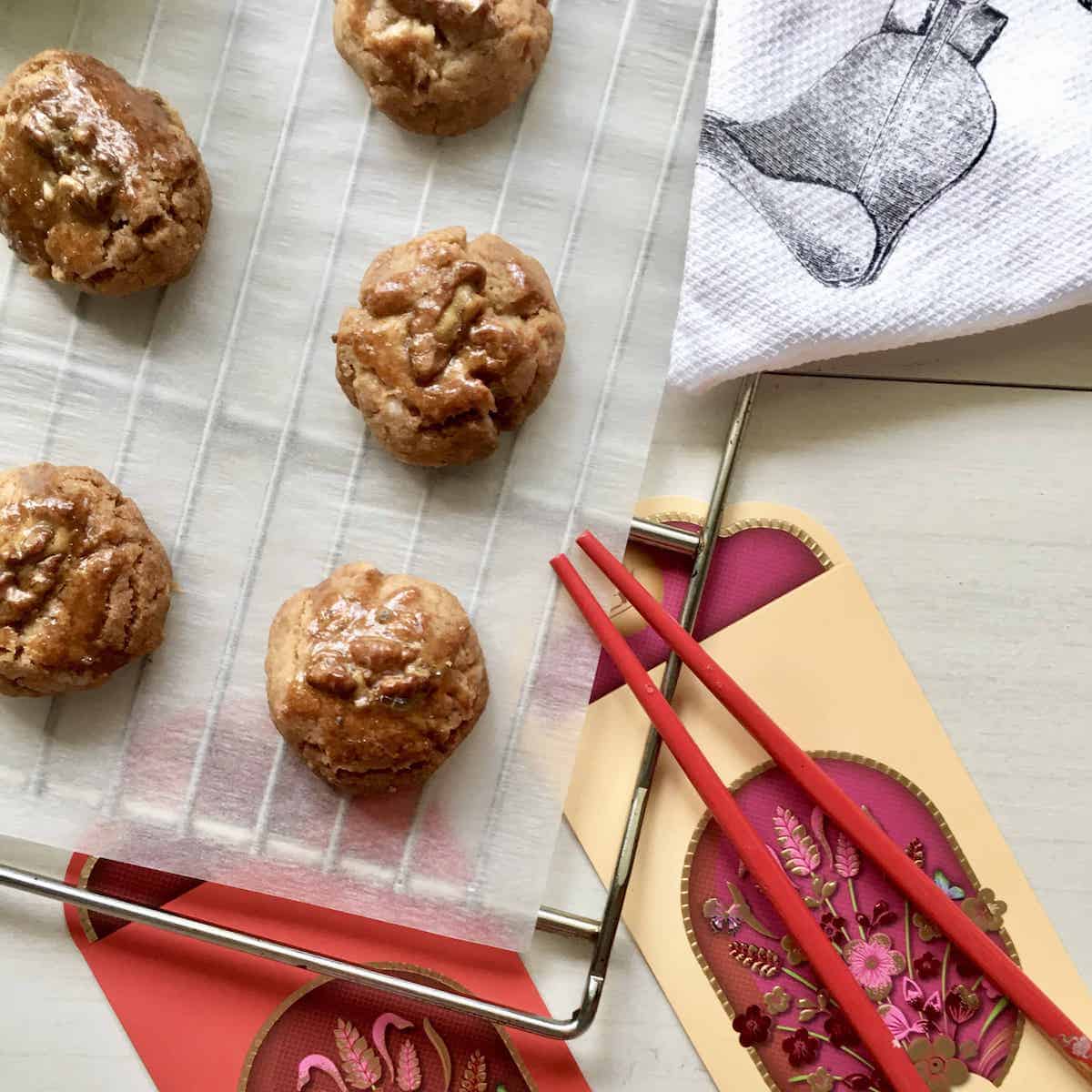 Chinese people can be found all over the world, from within China to in other parts of Asia such as Thailand and Philippines. As they integrated with the local communities, they created their own New Year recipes which can't be found in China.
We'll start by looking at some of the Chinese New Year Snacks that are eaten in both China and other Asian countries, before moving on to China-specific and South East Asian-specific recipes!
Tang Yuan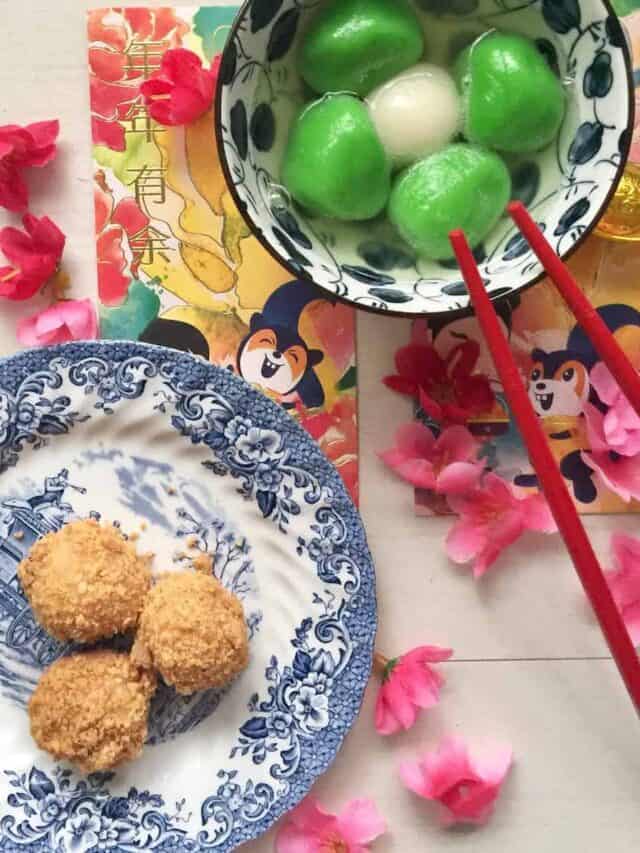 These sweet rice balls made from Glutinous Rice Flour are associated with the Lantern Festival. The round shape symbolises reunion which is why it's 1 of the traditional foods served during Reunion Dinner (年夜饭 Nián yè fàn or 团年饭 tuán nián fàn), the eve on which families gather before the start of Chinese New Year.
P.S. I like mine oozing with black sesame filling, but red bean paste is a popular choice too. If you're running out of prep time, you can also serve them plain!
Tang Yuan (With Filling and Plain)
Tang yuan, or Chinese glutinous rice balls, are a 2 to 3-ingredient chewy snack that can be served in soup (sweet or savoury) or fried. Served at Chinese family gatherings, especially the Winter Solstice, they also come plain or with filling inside so, as you can see, this is a very versatile and easy dish! 
Click here for the Chinese rice ball recipe.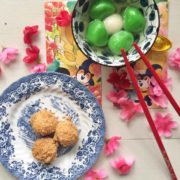 Nuts and Seeds
The Chinese word for "seed" (瓜子) is the same as that for "children": (子.)
Chinese people are big on having kids so it's no surprise that sunflower seeds, pumpkin seeds, watermelon seeds and nuts are a staple during Spring Festival!
This takes the form of snacking on the actual toasted nuts and seeds, to using them as ingredients in other Chinese New Year goodies, such as cookies and candy brittle!
For an extra auspicious nut, serve up pistachios. The name in Chinese, 开心果, means "Happy Fruit" because the nuts look like they are smiling!
Tip: if cracking the melon seeds with your teeth (very traditional, the action is called 嗑 kē), make sure you do so carefully! The shells can be super hard!
Peanut Cookies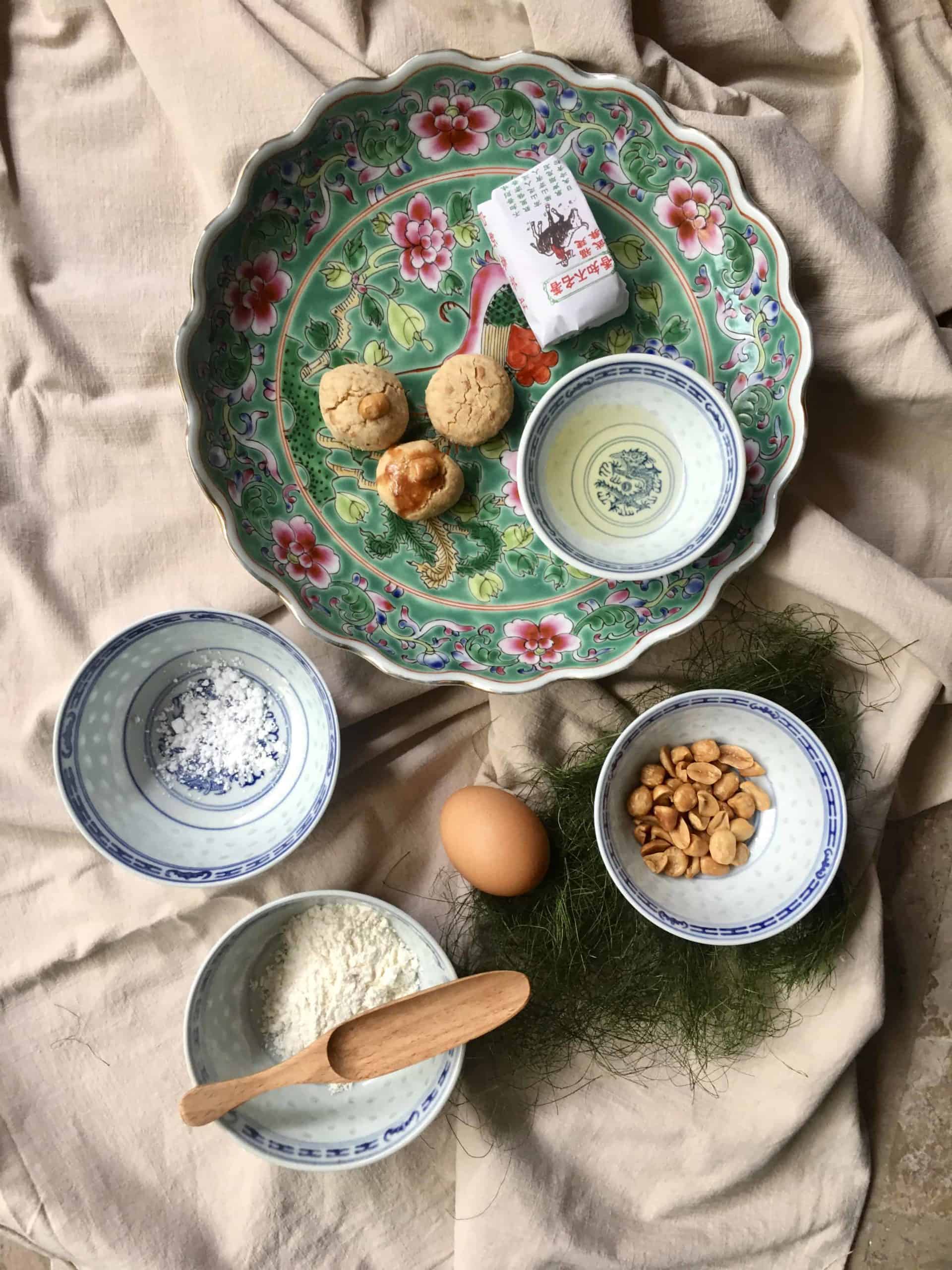 Peanuts (花生) are associated with longevity and fertility. You'll find them served in many forms: from these cookies to crunchy nut brittle or in their original, roasted, unshelled form.
Tip: if you don't have time to make your own Chinese New Year bakes, I've heard that Ding Bakery does good ones (though not tried them myself.)
Old-fashioned Chinese Peanut Cookies
I've baked 1000s of peanut cookies before finalising my recipe and someone even ordered over 20 jars of it last year! So you should definitely try my recipe!
Click here for the Asian nut cookie recipe.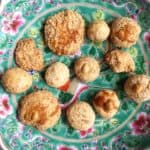 Walnut Cookies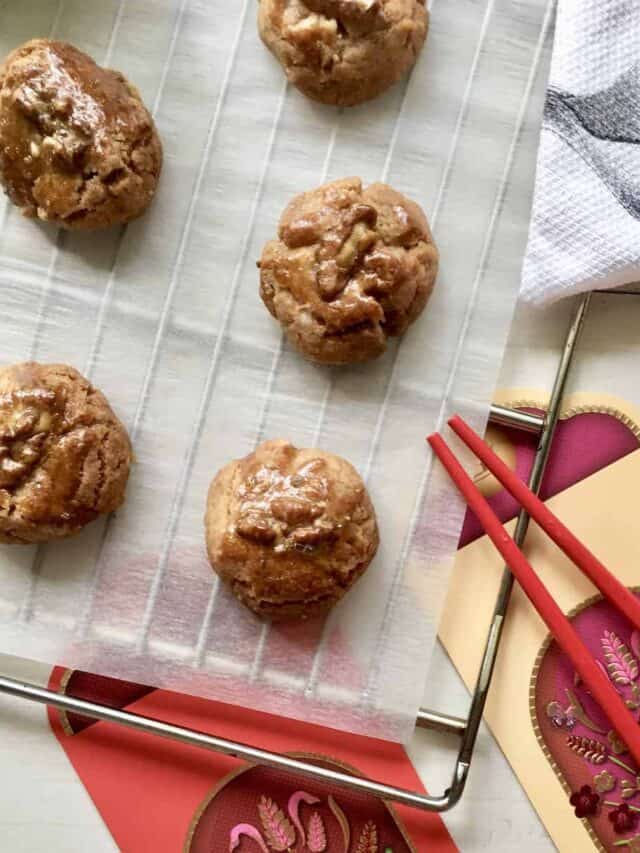 A Cantonese favorite, I suggest washing these down with a cup of Hong Kong Yuan Yang Tea.
Chinese Walnut Cookies (Hup Toh Soh)
Also known as He Tao Su, these classic vegetarian cookies are easy to make at home, using store cupboard ingredients, and can be made vegan as well (info below). Crispy, crumbly and fragrant, they go well with coffee or milk tea!
Click here for the Chinese He Tao Su recipe.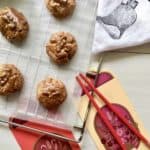 Bak Kwa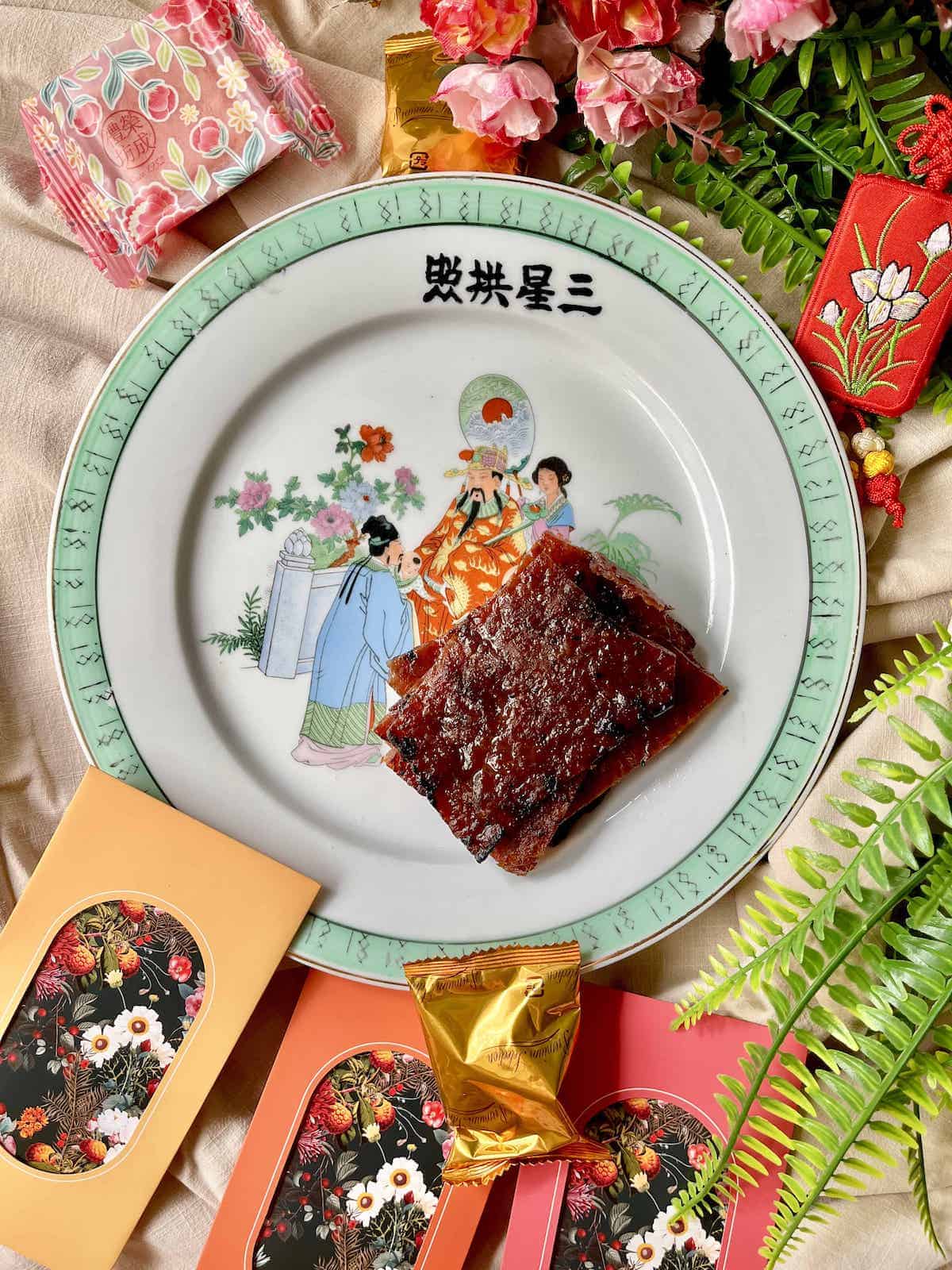 This tasty treat is traditionally made of pork- it's like a Chinese meat jerky but more moist- and originated in Fujian, Southern China. Many Chinese people from Fujian immigrated to Singapore (Nanyang) and brought this recipe with them.
The red color is thought to bring good luck in the coming year, and as eating meat wasn't as commonplace in the past, bak kwa was treated as a luxurious special treat for the new year.
Today, this sweet and savory snack is not just eaten during the Chinese New Year celebration. (The queues are horrendous before CNY though.) In Singapore, they're a popular tourist food souvenir all year round. Ironically, many Chinese people now buy them to bring back to China as gifts!
You can also make them a homemade version by mixing pork mince with seasoning such as oyster sauce, soy sauce and, of course, sugar, then baking it in the oven.
These days, you can get meat-free versions too, made of tempeh. I've even baked a fruit pulp and mushroom version!
Note: Leftover Pork Jerky post CNY can be used in many dishes such as scones or omelettes. Click through for more ideas!
Bak Kwa (Chinese Pork Jerky)
Bak Kwa, or Chinese Pork Jerky, is 1 of the most popular Chinese New Year snacks in Singapore & Malaysia. Save yourself time and money by making your own using this super simple recipe with easy-to-find ingredients! It's tender, savory and delicious!
Click here for the preserved pork recipe.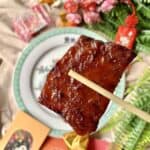 Nian Gao
Made of brown sugar, water and glutinous rice flour, Nian Gao (年糕, literally "year higher"), or Chinese New Year Cake, is a sticky and, unfortunately, high calorie treat seen during this time of the year. They're often dipped in eg and batter then fried.
If you like mochi, you'll love this Chinese dessert!
Sweets
Serving sweets (糖果) represent a sweet life ahead. These do not have to be literal candy sweets, but can also take the form of dried and candied fruit, such as ginger candy!
Tip: these are usually presented along with the nuts and seeds in an octagonal tray, pa kuo ho, also called the tray of luck because 8 is a lucky number!
Red Dates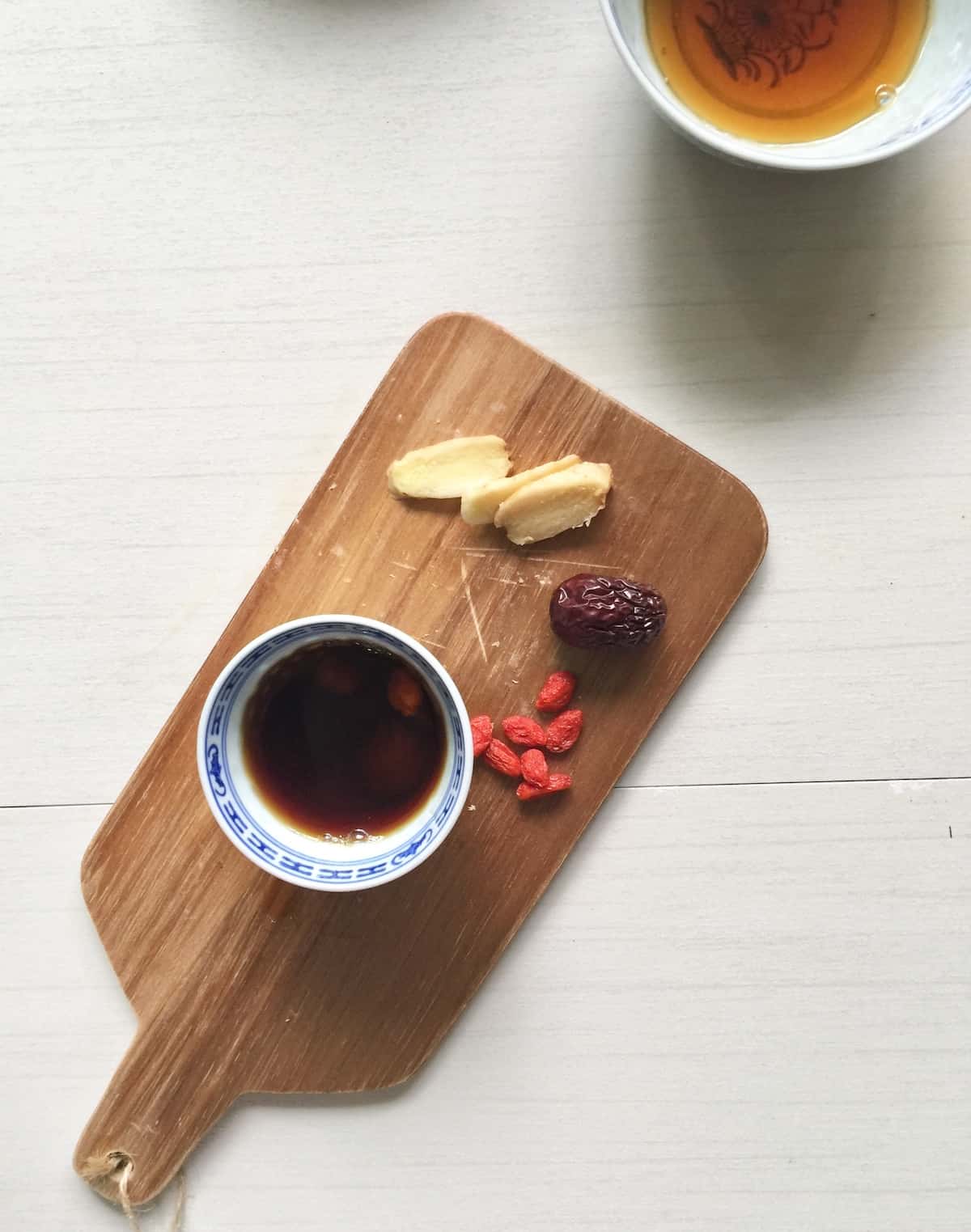 Also known as Jujubes, Chinese red dates are considered lucky for 2 reasons:
They're red! (A lucky color in Chinese culture)
They're a homonym for getting ahead early. "枣" (date, pronounced as zao) sounds like "早" (early, also pronounced as zao) in Chinese!
You can munch on them dried- be careful of the seed in the middle- or use them in drinks such as Red Date Tea (Hong Zao Cha) or Dried Longan Tea!
Chinese Red Date Tea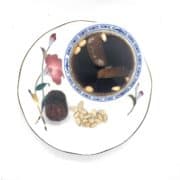 Dried Longans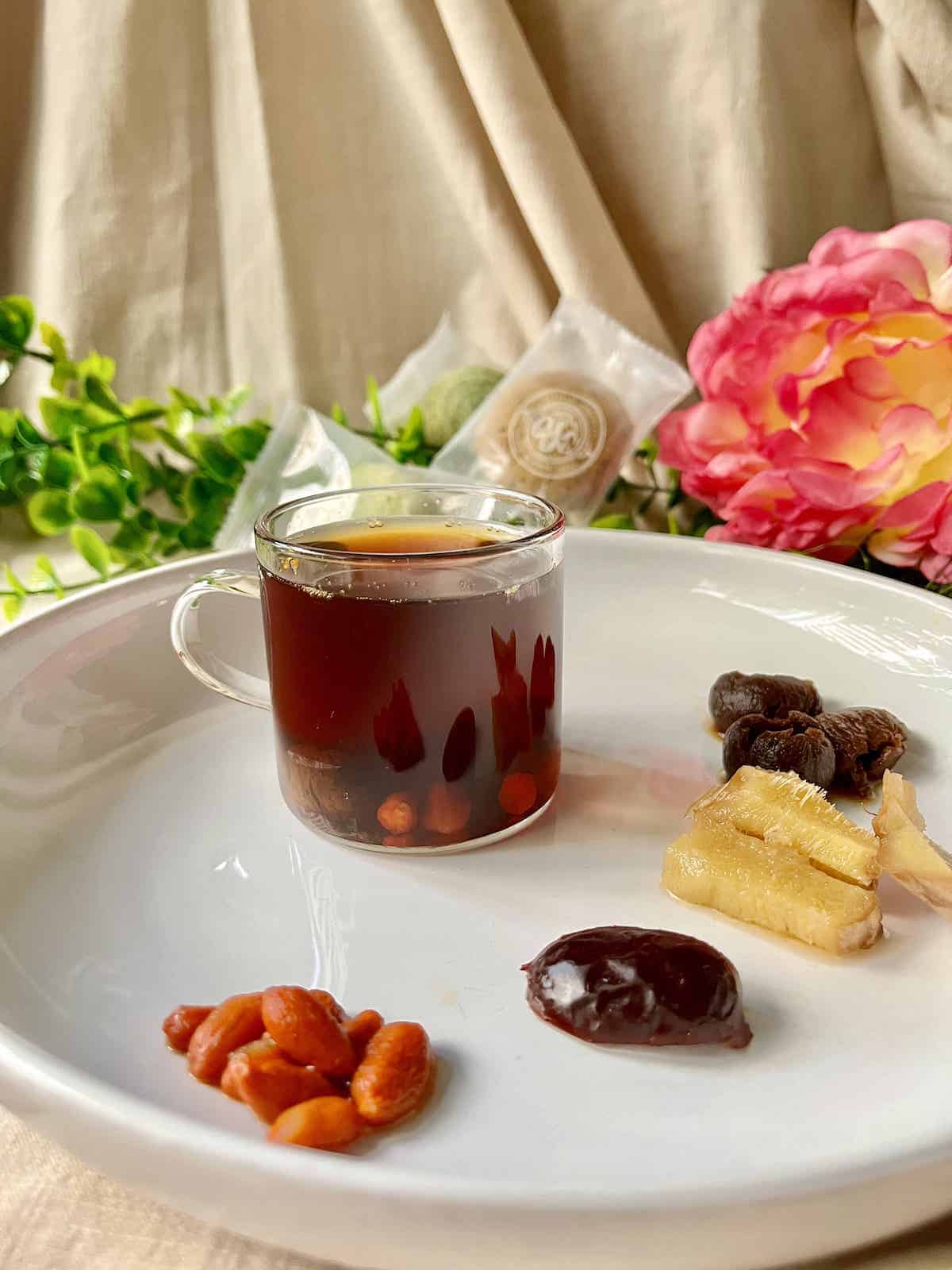 Dried longans are also a Chinese New Year snack in their own right as the Chinese name "桂圆" (gui yuan) sounds like "贵圆" (round and expensive.)
Plus, round objects symbolise reunion, a popular theme of the Chinese Spring Festival!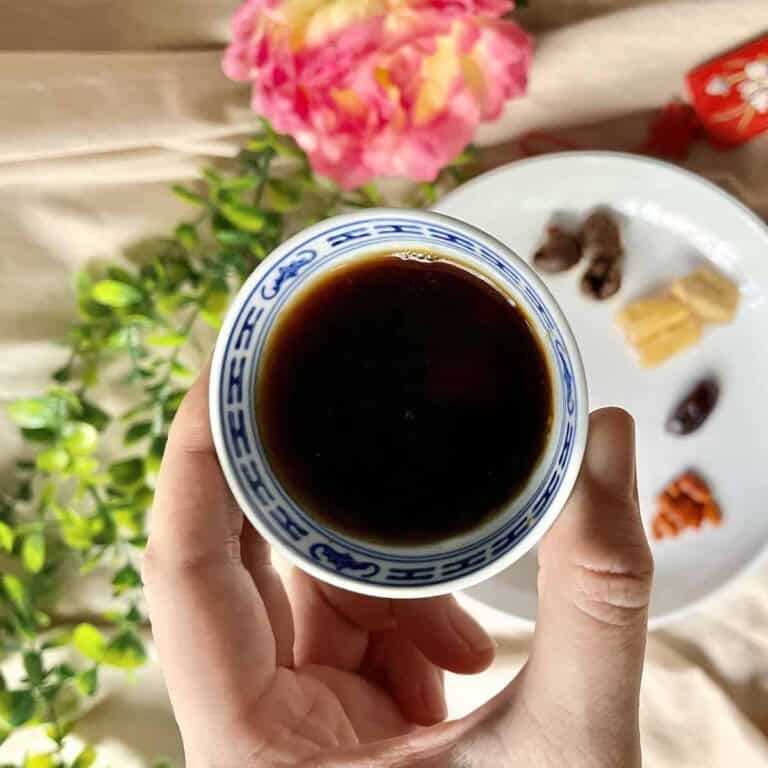 🇨🇳 China
Some Chinese New Year treats are more common in China than in other parts the world.
Persimmon Cakes
Bing Tang Hu Lu
Candied hawthorns are a popular street snack that you see in Chinese period dramas. Traditionally a winter snack, they're still easy to find in parts of China but increasingly rare outside, in places like Hong Kong. I've never even seen them sold in Singapore!
The recipe to make your own is quite simple, as they're basically hawthorn fruits covered with a malt syrup glaze, but managing the sugar temperature can be tricky. A little bit off and you end up with a sticky mess! (Melted sugar is also super hot so you can easily burn yourself if not careful.)
Note: I've just bought a bunch of hawthorns and will be sharing my recipe soon. If you can't get hawthorns, feel free to use other fruits such as strawberries and grapes!
Origin Story
Apparently this sweet and sour snack originated as a doctor's prescription for 1 of the Emperor's favorite concubines in the Song Dynasty.
According to the story, she really did recover after eating this every day!
Fried Dough Twists
Also known as 麻花, these crisp dough sticks symbolise reunion. Fried with peanut oil, they can be sweet or spicy.
The ones from Tianjin are particularly well-known. Go to 18th Street (十八街麻花 shí bā jiē má huā) to try the most famous ones!
Origin Story
According to an ancient legend, scorpions ran amok in 大营 Daying, a part of China. To get rid of them, the locals cursed them by making these fried snacks in the shape of a Scorpion's tail, then frying and eating them!
Malt Candy
Don't get me wrong, you do get Malt Candy, also known as 麦芽糖 mài yá táng or 关东糖 guān dōng táng, outside of China but it's pretty much a dying skill and trade, sad to say. The last time I saw someone making it in Singapore was in the 90s, and the lady who was selling it was... shall we say, not a spring bunny?
Origin Story
Traditionally, Chinese families would make this on the 23rd of Lunar December, the Kitchen God Festival. It would be mixed with nuts, grains and red dates to form a sweet snack, like a cross between a brittle and nougat.
This sweet treat would be offered to the Kitchen God as a bribe for him to say nice things about the family to the Jade Emperor!
Candy Figures
Malt syrup would also be shaped into beautiful figures known as 捏糖人 niē táng rén. This is an ancient Chinese art dating back 100s of years.
Whilst hot, the syrup is stretched into beautiful shapes, often the Zodiac animal for the year (rabbit for 2023) or a lucky word.
🇸🇬 South East Asia
There is a huge community of Chinese people in other South East Asian countries such as Singapore, Malaysia and Indonesia who have created their own fusion recipes, using ingredients native to the region.
Here are some of the local Chinese New Year snacks, such as arrowroot chips, dried shrimp (hei bi) spring rolls and salted egg snacks, that you'll find in these countries but not as much in China!
Note: yes that's the Singapore flag. It's my home country, so I get to choose what emoji to use for this section! 😛
Pineapple Tarts
Pineapple tarts are considered "lucky foods" as the Hokkien name, "Ong Lai", is literally "Fortune Comes." And who doesn't want more prosperity?
We used to have to grate pineapples and then caramelise it slowly over a low fire to make pineapple jam. These days, you can get pre-made pineapple paste from baking shops such as Phoon Huat (Red Man) and Bake with Yen. However, homemade pineapple paste is the best, as you get the texture from the grated fruit!
It takes forever though- I've spent 10 hours stirring jam before!- so definitely only make handmade pineapple tarts the traditional way for the friends and family members you actually like!
Note: for a more authentic (and, in my opinion, more complementary flavor), I would suggest using pandan juice for the green colouring instead of matcha powder.
P.S. Although I've included pineapple tarts under the South East Asian section, I do wonder if they were modified from an original Chinese snack, as the Taiwanese have something similar and there aren't native Malay people in Taiwan! (Some websites say it was invented by the Peranakans, so... who knows?)
Salted Egg Snacks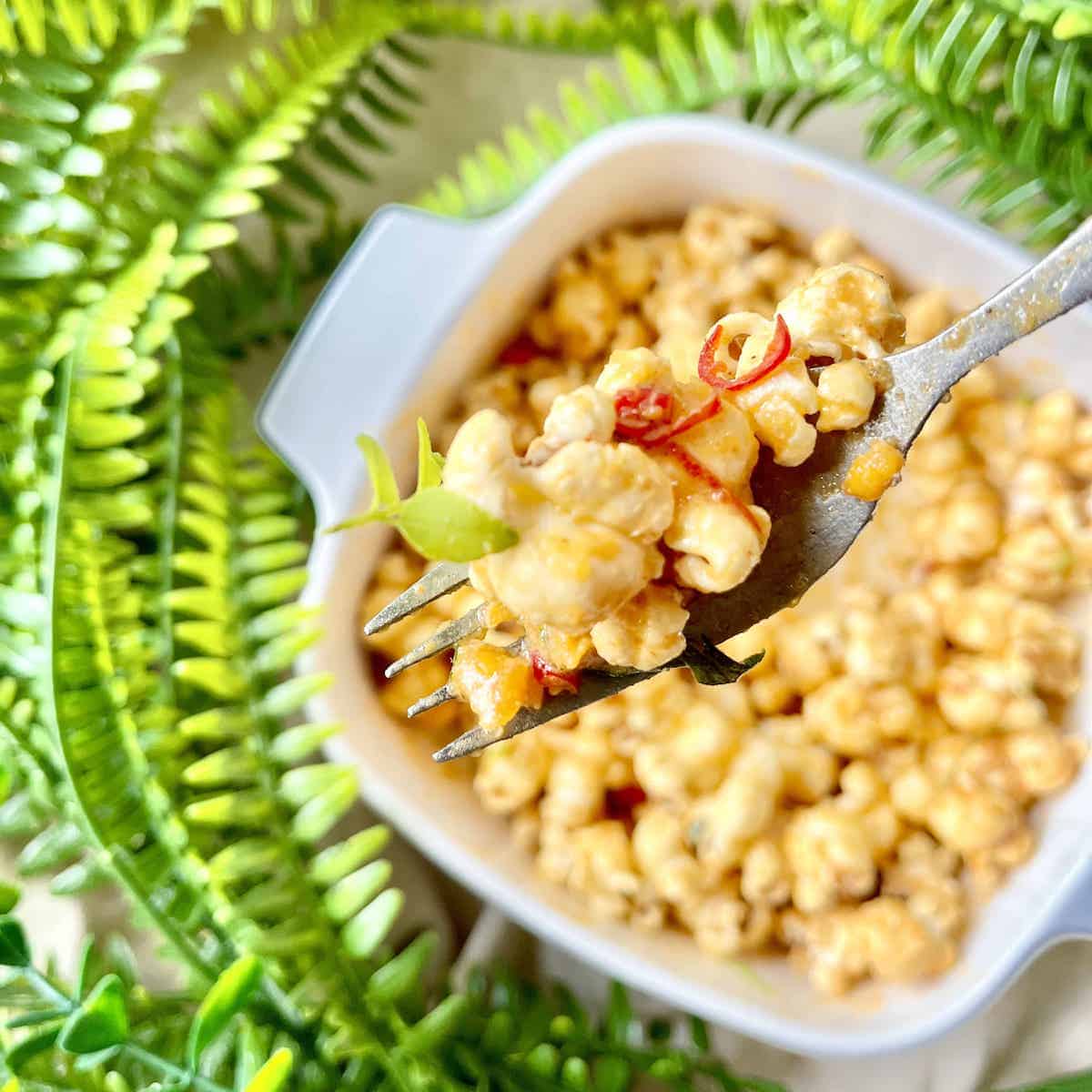 Although salted ducks eggs are an ancient Chinese ingredient, they really took on a life in Singapore, where they're used in everything from salted egg tofu and popcorn to salted egg cornflakes!
Kuih Kapit
Also known as Kueh Belanda or love letters, these crispy traditional snacks taste best made over a charcoal fire, which is the way my Aunt in Malaysia still makes them.
You pour a thin layer of the batter on an iron mold, bake it over charcoal, then fold or roll it before the dough sets! (They come in 2 forms: flat or rolled up like cigars.)
Origin Story
The colloquial name, "love letters", came about because it is believed that a pair of lovers used to pass messages by rolling them up in the snacks and gifting them to each other. Eating the love letter meant that the affection was received!
Note: Kuih is the Malay word for "cake" so you know that all the Lunar New Year foods with "kuih" or "kueh" in the name are from a country with a Malay population, and not from China!
Kuih Bangkit
These are flavoured with coconut milk and pandan leaves, 2 very typical South East Asian ingredients. (The flour used ranges from tapioca flour to arrowroot or sago.) Traditionally made with wooden moulds, these cookies come in the form of pretty white flower or animal shapes.
Kuih Bangkit, or Kueh Bangkit, is literally translated into "to rise"- thought to be a reference to how these melt-in-the-mouth cookies rise during the baking process. However, you can see how the name is in keeping with the Chinese predilection for symbolic names!
Note: the tip to a good Kuih Bangkit is to stir-fry the flour really well before using! So....like most Nyonya recipes, this recipe takes time!
Which of these delicious Chinese snacks is your favourite? Personally, I can never say no to anything more cookies! If you've enjoyed this CNY round-up, why not sign-up for my newsletter here?