In search of the best milk for Matcha Latte: the pros and cons of using cow's milk versus less common alternatives such as sesame milk, almond milk, rice milk, coconut milk, oat milk etc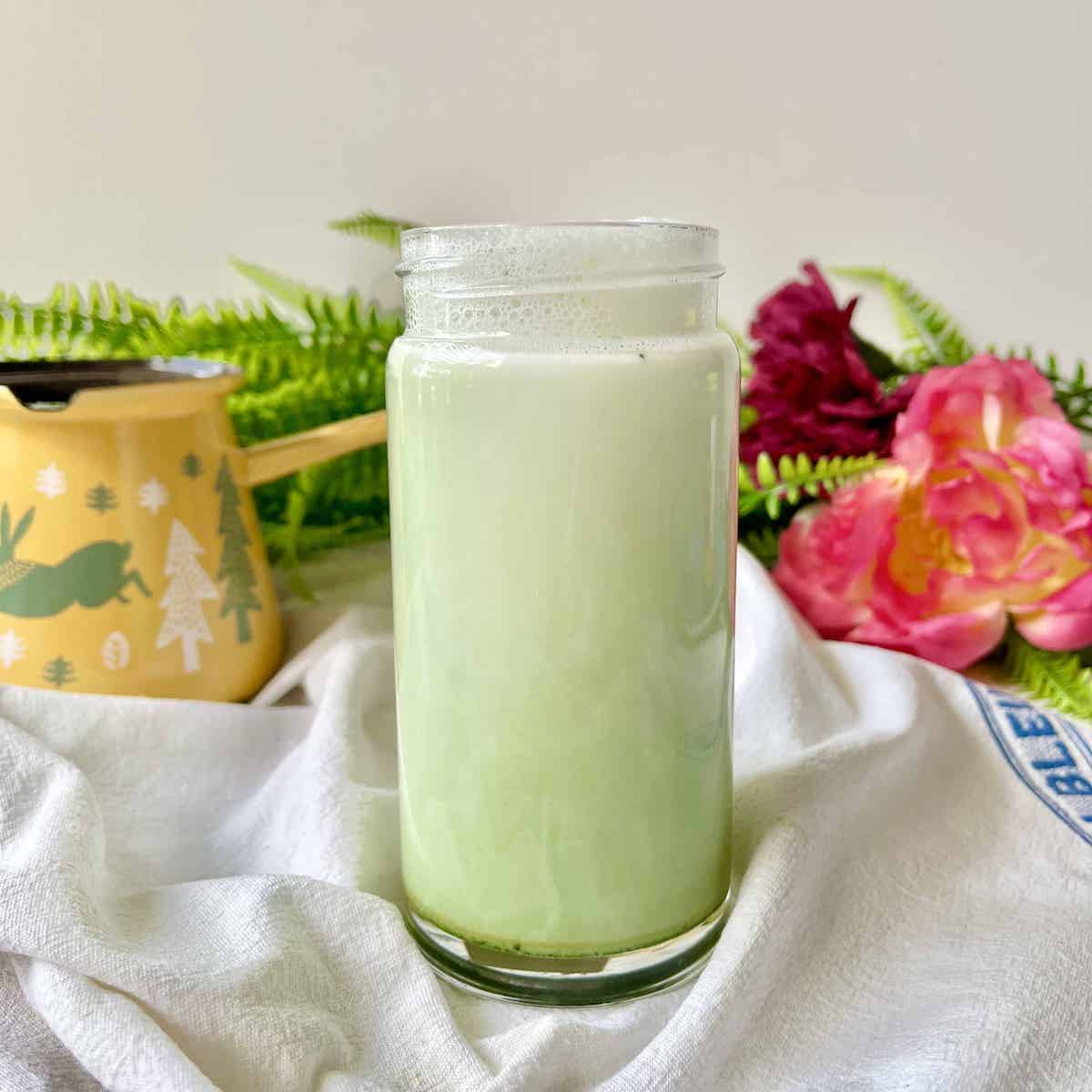 Jump to:
What is a Matcha Latte
Matcha latte is a popular beverage made from matcha, a finely ground powder made from green tea leaves, mixed with a sweetener and frothed steamed milk. (You can still froth milk without a milk frother BTW.) 
This green tea drink has a unique flavor and a fun, vibrant green color. It's a delicious drink with a creamy texture, and a rich, earthy taste from the matcha.
Matcha is rich in catechins and antioxidants, such as EGCG (Epigallocatechin gallate.) These protect the body from free radical damage and are anti-cancer. Hence, matcha lattes are considered healthy yet still delicious alternatives to traditional coffee-based lattes. 
With its delicate taste and creamy flavor, a matcha latte is a delicious and enjoyable way to boost your antioxidant intake.
It's so popular, you can find this drink in almost all coffee shops these days! Happily, you can save money by assembling the drink at home.
How to Make
The green powder is so fine, you need to use a matcha whisk to combine it with water, although do note that it only suspends in the liquid (and does not dissolve in it.)
After you've mixed the matcha with water, a sweetener (such as sugar or maple syrup) and a frothed milk of choice is added to create a creamy drink.
Tip: Matcha has a vegetal, earthy taste so it needs a sweetener, such as maple syrup or brown sugar syrup, to balance the flavor. Even if you're trying to be healthy, I don't recommend omitting the sweetener!
Ceremonial vs Culinary Grade Matcha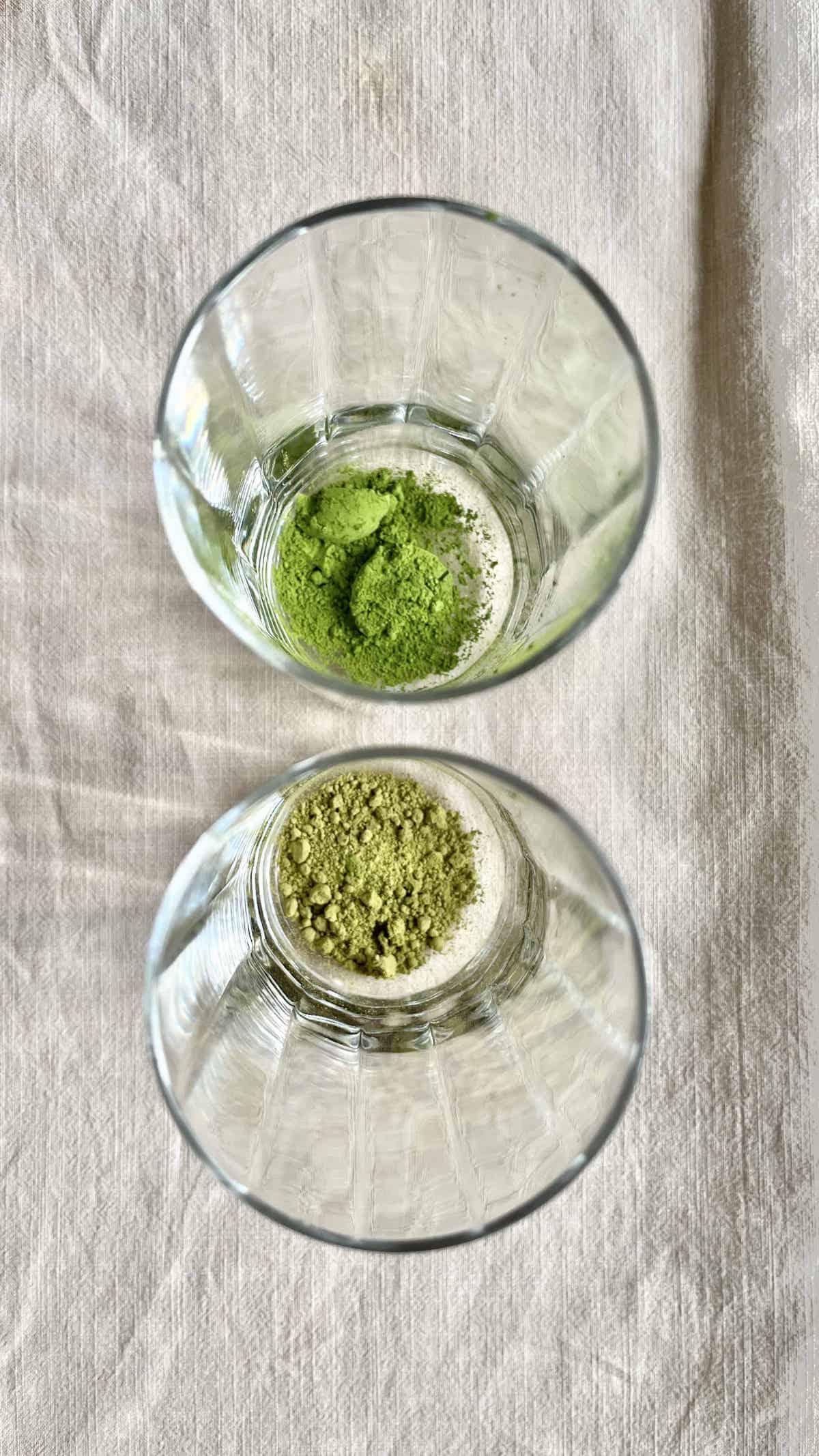 When it comes to matcha, there are 2 main varieties: ceremonial grade and culinary grade.
Ceremonial Grade Matcha: This is the highest quality matcha powder available, mainly used for traditional Japanese tea ceremonies. It is also the most expensive so I don't use it for all my matcha bakes! Produced from the youngest tea leaves with the stems and veins removed, ceremonial grade matcha is a very fine powder with a vibrant green hue, delicate taste, and smooth texture. It's perfect for enjoying on its own, whisked with hot water, as a matcha tea.
Culinary Grade Matcha: This is mainly used for cooking and baking purposes. Culinary grade matcha is made from slightly older leaves, which results in a slightly bitter and more robust flavor. It's an ideal choice for using in baking and making drinks such as matcha lattes. Moreover, it has lower caffeine levels than its ceremonial counterpart, so is a good choice for a late-in-the-day pick-me-up.
Note: you can also make green tea latte from regular green tea powder. This is the most cost effective, but the color will be the dullest and the taste will be the least refined.
Customising your Latte
Matcha latte is a very flexible drink.
It can be customised by adding strawberry, blueberry, vanilla extract, chai syrup and, of course, different types of milk!
There are advantages and disadvantages of each type of milk, which I've outlined below.
Dairy Milk: Whole, Skim, and Low-Fat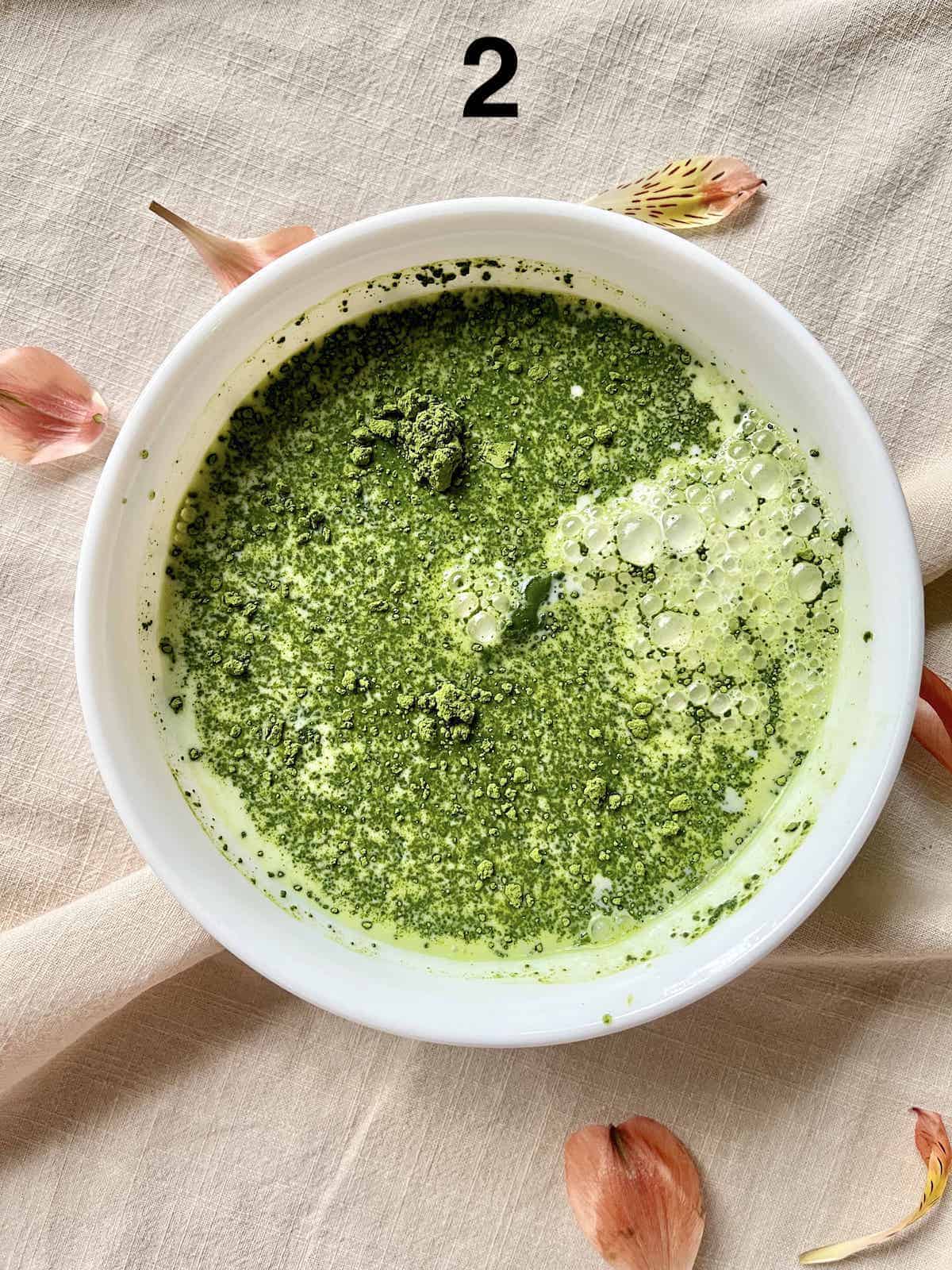 Dairy milk is the traditional choice for making matcha and other popular lattes, such as Nutella Hazelnut Latte and Matcha Chai Latte.
However, if you are drinking matcha drinks for their health benefits, it is not the best choice, as it can affect nutrient and anti-oxidant absorption.
Moreover, some feel that its richness can overpower the delicate flavor of matcha. (Personally, I love using whole-fat regular milk but everyone will have a different opinion, depending on their taste buds!)
Here are some of the pros and cons of whole milk, skim milk and low-fat milk.
Whole milk
Pros:
Creamy Texture.
It is also a great way to consume more protein as it has the most protein of the various milks at 8g (per 8 fluid ounces.)
In addition, it is rich in calcium, vitamin D, vitamin A, vitamin B12 etc
For those with a smaller budget, it's usually less expensive than plant-based alternatives.
And you can find it almost everywhere!
Cons
Some find it too rich for the delicate matcha flavor.
Moreover, it has the most calories at 150 calories as well as the most sugar (12g.)
Contains cholesterol
Not to mention the fact that many Asians are actually lactose intolerant!
Intensive farming methods have also resulted in many ethical concerns about meat and dairy production. (Animal welfare.)
For example, it's very water-intensive, requiring 628 litres of water to produce 1 litre of cow's milk.
Skim milk
Pros: Obviously a lighter option with less fat and calories.
Cons: but the latte will taste weaker and almost watery.
Low-fat milk
If you're on the fence, this could offer a balance between creaminess and lightness.
Note 1: Starbucks uses a 2% milk for its lattes.
Note 2: All the nutritional information is based on a 8-oz serving.
Alternative Non-Dairy Options
For those who are vegan, are looking to experiment with different flavors or trying out an Asian plant-based diet, you can consider non-dairy milks.
They have become increasingly popular for making lattes.
Tip: Just remember to choose an unsweetened version for best results without extra oils etc added to it. (Do note that most will have had thickeners and stabilizers added to them.) Moreover, it is best to choose brands that have been fortified with nutrients and minerals.
Each type of milk has its unique characteristics:
Almond Milk
This sweet, creamy, and nutty milk is usually considered a top choice for non-dairy matcha lattes.
Pros:
Low in saturated and unsaturated fat as well as calories (40 calories) and carbohydrates (1g.)
Lactose-free
Cholesterol-free
Cons
Pretty pricey and not a good source of protein, fibre or calcium. (Although many brands are supplemented with the Vitamins A and D as well as calcium.)  
Moreover, almonds have a very distinct flavor which can overpower the matcha taste.
Plus, some people are severely allergic to nuts!
If you're switching to alternative milks to be sustainable, almond milk isn't a great alternative- you need 371 litres of water to produce 1 litre of almond milk!
Soy Milk
This smooth and thick milk goes very well with the green tea flavor. This is actually quite a common Asian flavor combination!
Pros
Has almost as much protein as whole milk (7g vs 8g) but low in saturated fat and with only 1g of sugar, 4g of carbohydates and 4g of fat.
Moreover, it's less expensive than almond milk!
Cholesterol and lactose-free.
Cons
Outside of Asia, it can be hard to find brands with no added sugar, unless you make it at home!
Moreover, soy is another common allergen in the West.
Oat Milk
It has a subtle nutty flavor that can enhance the matcha flavor.
Tip: Do remember to shake the oat milk before using, or the drink will be super watery.
Pros
This naturally has a sweet taste so you won't have to use so much sugar.
Contains less saturated fat than regular milk but about the same amount of healthy unsaturated fats.
Has a little bit more protein and fiber than other plant-based options.
Cholesterol and lactose free
Moderate amount of calories compared to, say, coconut milk!
Cons
Costs a bit more.
Relatively high in carbohydrates compared to other dairy-free milks
Many are processed in facilities with products that use gluten so are not GF (though oats themselves are naturally gluten-free)
Coconut Milk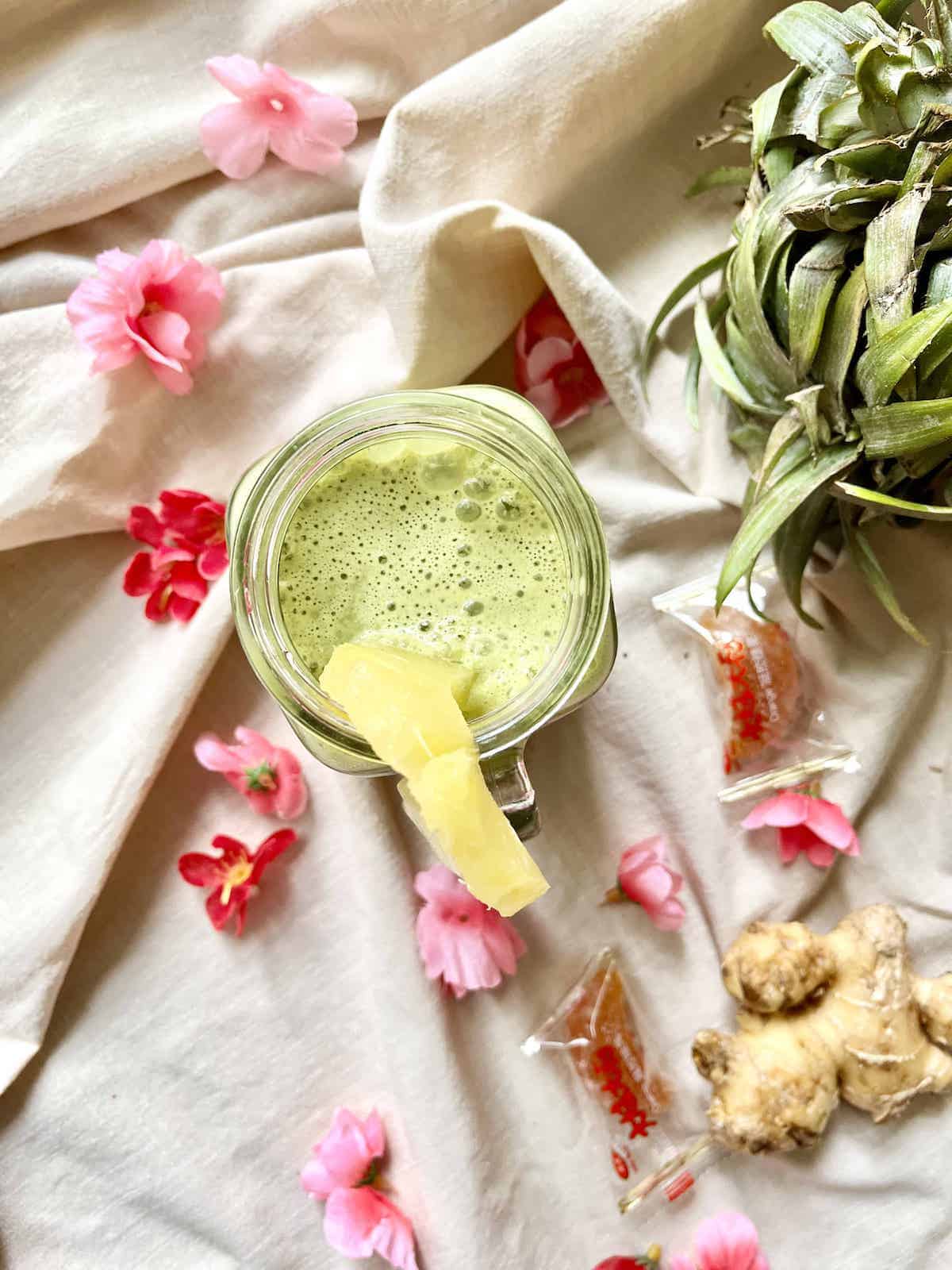 Honestly, I thought this would be a terrible flavor combination, but when I tried pineapple matcha made with coconut milk, it was delicious! The coconut milk has a rich, tropical flavor which gives the matcha drink a distinctive yet delicious flavor
Pros
Lactose-free
Creamy texture
Readily available at most grocery stores
Rich in dietary fibre, magnesium and manganese and can provide iron and Vitamin C
Cons
Only has half the protein of cow's milk
High in calories and saturated fat (which is what gives the rich and creamy texture!) However, the fats are medium-chain fatty acids, which can be metabolized more quickly by the body than the long-chain saturated fatty acids in cow's milk.
Cashew Milk
This is a great option for those looking for a creamy non-dairy milk and have a bigger budget.
Pros
Terrific texture that is very similar to the creaminess of dairy
Contains polyunsaturated fats as well as vitamins A and E
Lactose-free
Cons
Not stocked everywhere (hard to find)
costly
Very little to no protein
Rice Milk
This is a less common option that is lighter in texture and sweeter in taste.
Pros
Is naturally sweet and the texture if suitable for those who prefer less creamy drinks.
Lactose-free and there are fewer people allergic to it than, say, a nut milk.
Plus, it's relatively easy to digest.
Cons
Sesame Milk
Rich and nutty, this gives depth to the matcha latte and provides an unusual twist.
Pros
Creamy consistency
Lactose-free
Less water- intensive than cow's milk, almond milk, oat milk and soy milk.
Nutritious as a good source of protein and fibre.
Cons
Has a very distinct taste and can have a hint of bitterness
Not easy to find
When choosing the best milk for your matcha latte, it ultimately comes down to personal preference and dietary requirements.
Experimenting with the different kinds of milk mentioned above can help you discover the best matcha latte combination for you!