Sambal Oelek is a deliciously tangy and fiery Indonesian chili paste. It is super versatile and can be used as a dipping sauce or in these best recipes with Sambal Oelek.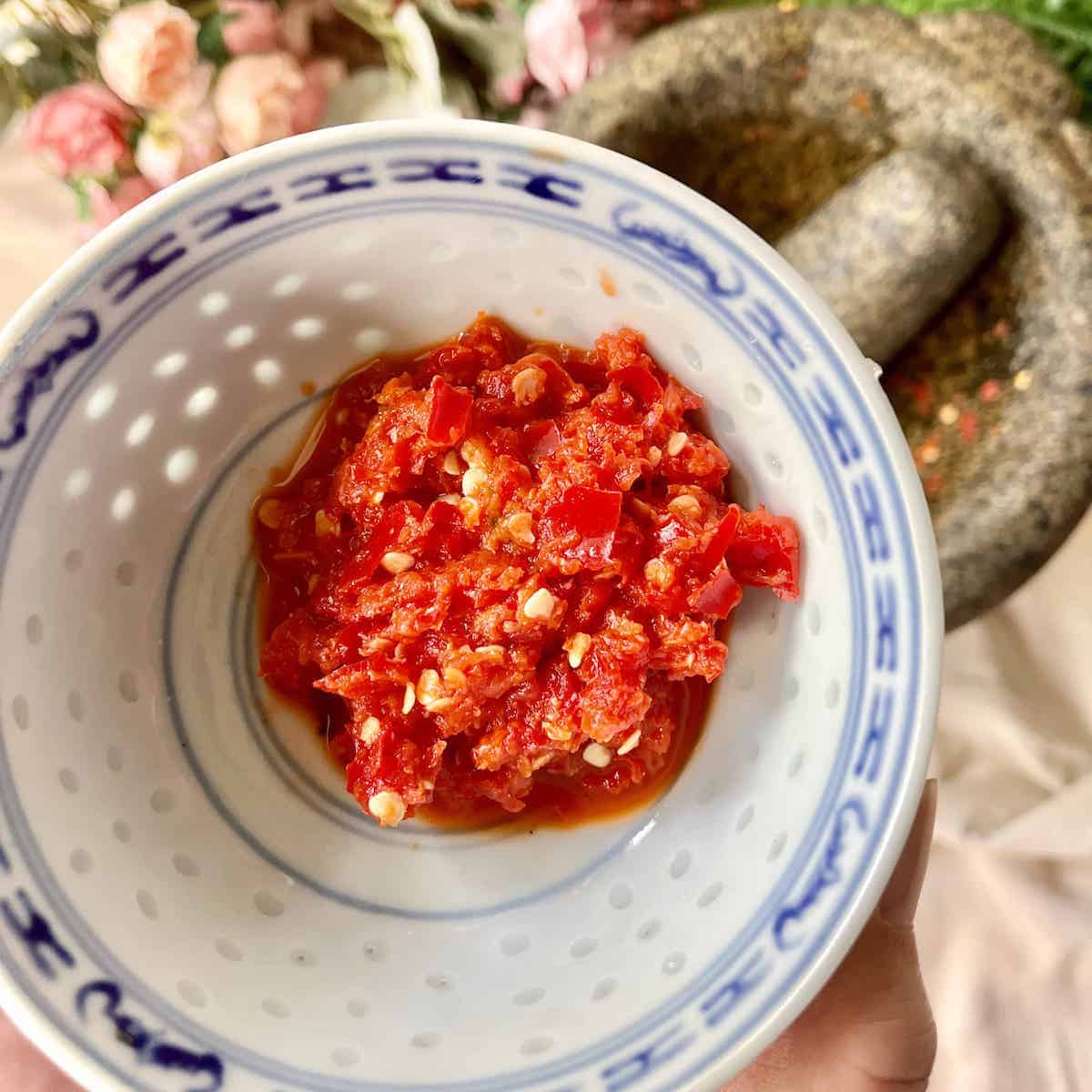 Jump to:
What is Sambal Oelek?
Sambal oelek is a traditional Indonesian chili paste made by pounding (or blending) fresh red chili peppers, vinegar, and salt into a thick paste. (Click through for the easy recipe.)
It is known for its spicy, tangy and bold flavor. The chili peppers used in sambal oelek can vary, but they are typically red chili peppers like bird's eye chili or Fresno chili.
Sambal oelek is widely used in South East Asian cuisine as a dipping sauce, marinade, or flavor enhancer. However, since its basic ingredients are so simple, I can add a kick of spice and depth of flavor to a wide range of dishes from various cuisines, without making the recipe taste inauthentic!
Note: It is sometimes confused with Sriracha in the West. Sriracha is a garlic chili paste, whilst Sambal Oelek traditionally doesn't contain garlic. For the best substitutes for Sambal Oelek, click here.
Condiments
Sambal Aioli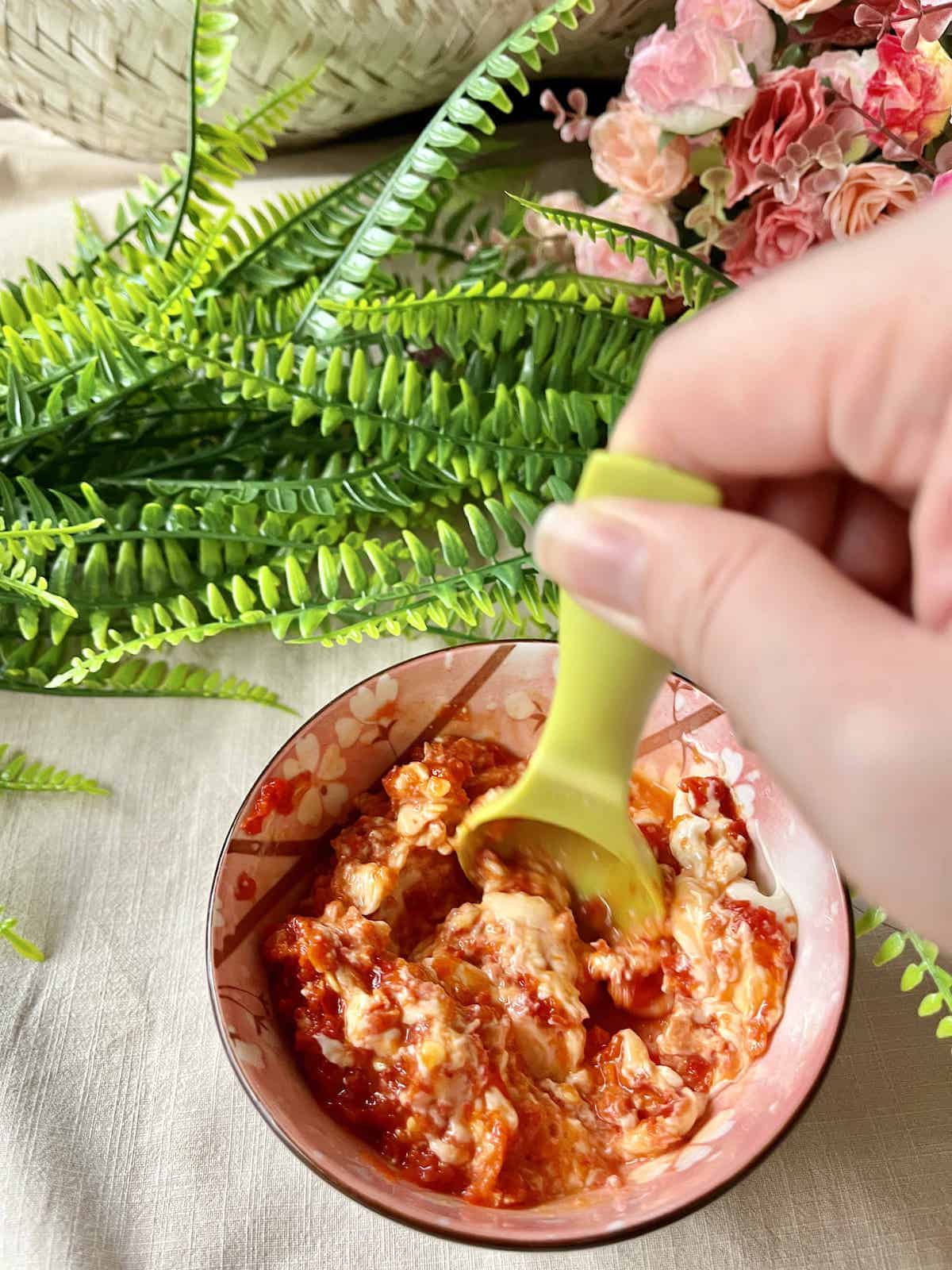 Easy 3-ingredient Sambal Aioli (Sambal Mayo)
This spicy, tangy sauce goes well with french fries, grilled corn, hard boiled eggs, chicken salad and a whole host of other things.
Click here for the easy Sambal Aioli Spread.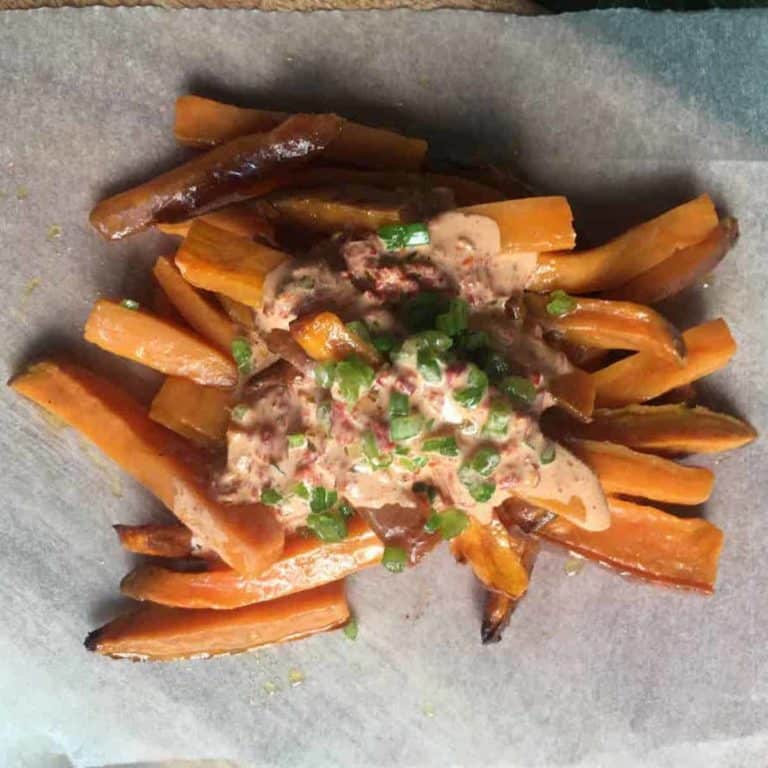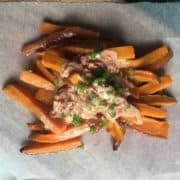 Korean BBQ Sauce
Because this Sambal uses such simple ingredients that can be found in almost all cuisines, it is a great way of adding spice to the recipes from many countries, such as in this Barbecue Sauce.
Protein
Chicken Curry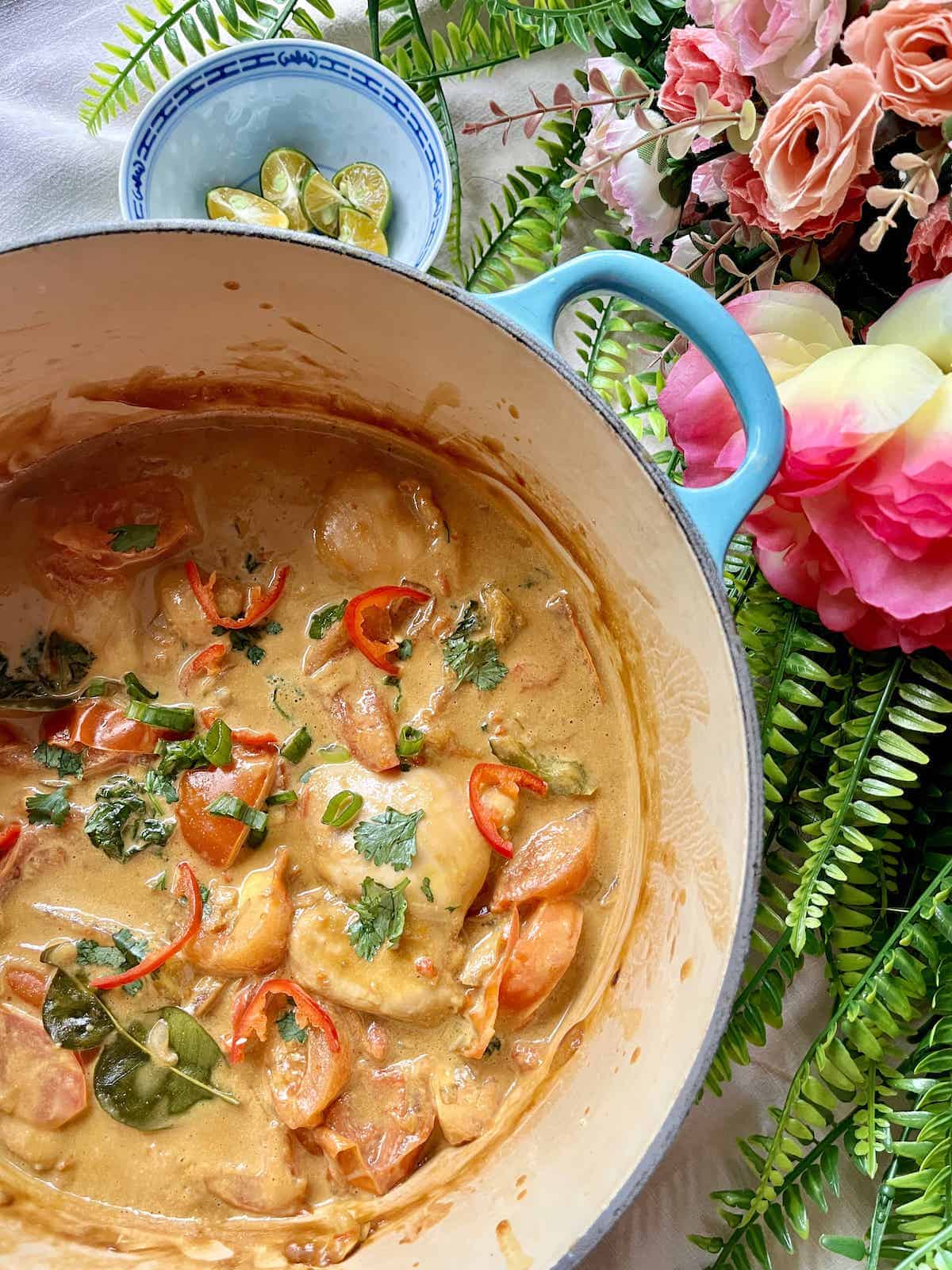 Chicken Sambal (One Pot, with Coconut)
This Chicken Sambal dish is simmered in coconut and made in one pot. It can be bulked up with lots of flavorful veggies, such as bell peppers, tomatoes and carrots! Best of all, it's on the table in under 30 minutes (if you use skinless, boneless chicken. You can make it with any cut of chicken, but the cooking time will change.)
Click here for the curry chicken with sambal oelek recipe.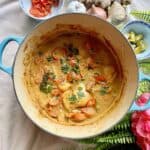 Vietnamese Wings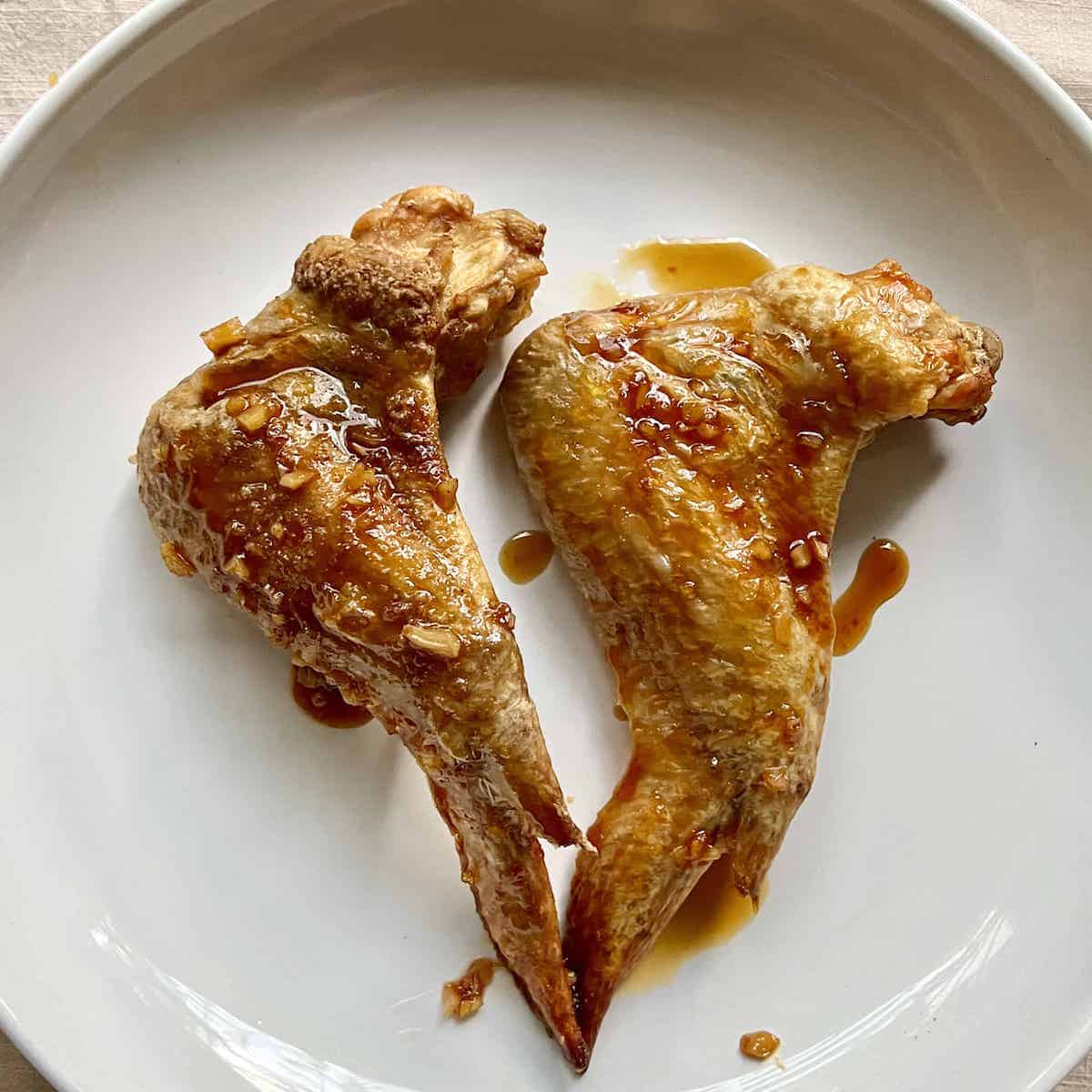 Note: you can use either Sambal Belacan (a cooked sambal) or Sambal Oelek (a fresh sambal) in this recipe.
Crispy Fish Sauce Wings Recipe (Baked)
Inspired by the famous Pok Pok wings, this Vietnamese Crispy Fish Sauce Chicken Wings Recipe has big, punchy flavors. Though baked and not fried, it is still super crispy, tangy and delicious with a fingerlicking, sweet, salty and tangy sticky glaze! 
Click here for the finger-licking Wings recipe!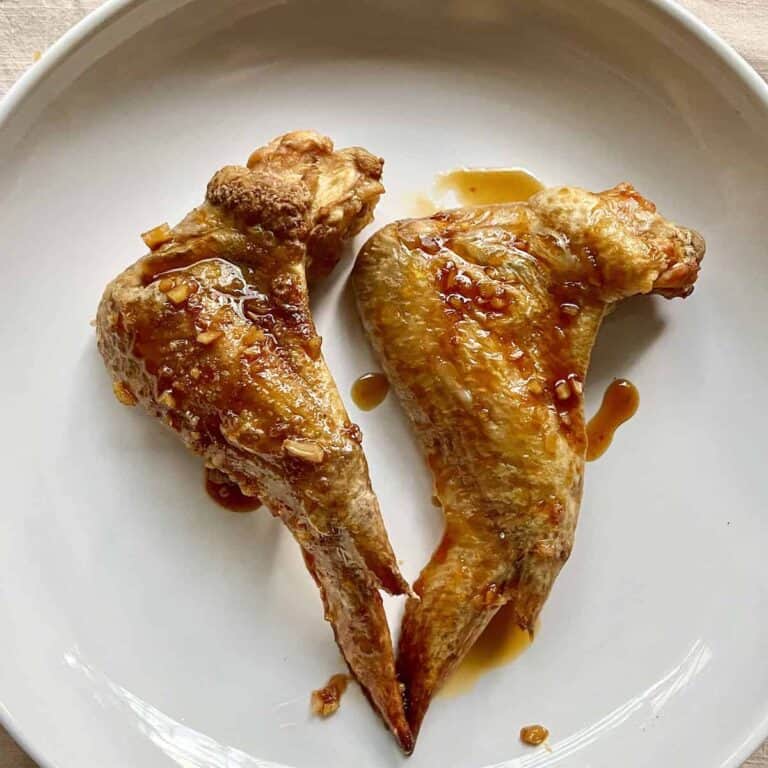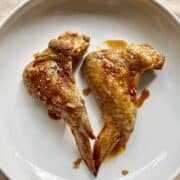 Spicy Chicken
Sambal Oelek is also delicious used in marinades for meat.
Chicken Skewer
This is an easy 7-ingredient skewered meat recipe!
Sambal Shrimp
This spicy and sour condiment is great as a dipping sauce for grilled seafood but you can also use it as to stir-fry shrimp!
Fried Egg Tacos
Alternatively, you can substitute the chili paste and vinegar in recipes with Sambal Oelek, such as in these Egg Tacos!
Vegetables
Tofu & Eggplant
Or use it in this spicy meatless tofu dish!
Hot Salad
The Indonesian sauce is also a great addition to spice up your greens, such as in this Spicy Cabbage Salad.
Shakshuka
Sambal Oelek is so versatile, some people use it to make non-traditional, spicy Shakshuka!
Spicy Green Beans
These Green Beans stir-fried in a sambal sauce are crunchy and delicious. Best of all, they only take 25 minutes to cook!
Hot Guacamole
Take your guacamole to new heights by blending the creamy avocados with sambal oelek and cilantro. (You'll only need the tiniest bit of lime juice for freshness, because the sambal is already tangy.)
This zesty and spicy dip will be the star of your next party!
Carbs
Sambal Fried Rice
Also known as Nasi Goreng, this Malay Fried Rice is a great way to use up leftover rice.
Beef Noodles
As mentioned, this chili paste is super versatile, so it also goes well with beef in this Thai-inspired noodle dish!
Pork Noodles
Now you won't see pork with sambal oelek traditionally, as Indonesia is a Muslim country and Pork is not halal. However, the sauce is now so wide-spread that we are seeing all sorts of variations, such as these spicy pork noodles.
Tofu Noodles
This sticky noodles owe their depth of flavor to the versatile ingredient!
Vegan
Ramen
Because this Chili Sauce is vegan, it's also a great ingredient for plant-based recipes such as these Garlic Noodles.
Crispy Tofu
This pan-fried tofu is spicy, stick and savory!
If these Spicy Sambal Oelek recipes were helpful, maybe you'd like to sign up for my Asian food newsletter?