From pumpkin soup to creamy pumpkin congee and deep-fried fritters, here are some warming and delicious Asian Kabocha Squash Recipes for you to make this fall and winter.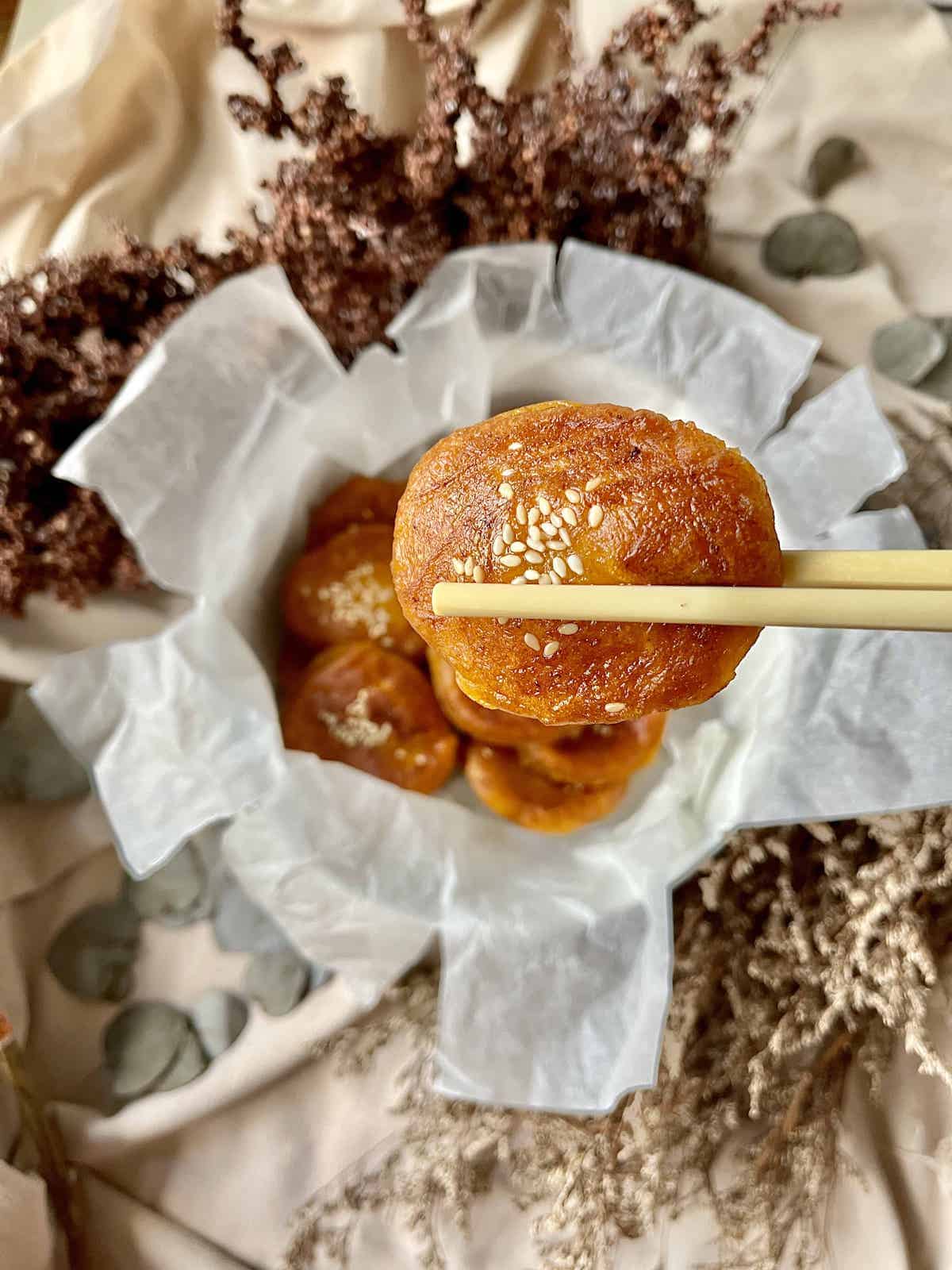 Jump to:
What is Kabocha Squash?
Also known as Japanese Squash and Korean pumpkin (danhobak), Kabocha (カボチャ, 南瓜) is a winter squash that is commonly used in Japanese cuisine. (For example, in tempura.)
It has a particularly vibrant orange flesh and velvety but sweet flavor, that tastes like a cross between sweet potatoes and pumpkin, with a hint of chestnut.
This Japanese pumpkin has dark green, bumpy, edible skin (when cooked), and is full of fibre and vitamins! (For those on a keto diet, it has less carbs than butternut squash FYI.)
Tip: Keep the Kabocha pumpkin seeds and roast them for a snack.
For more non-traditional Thanksgiving meals, click here.
Where to Buy
It is harvested in fall, and can be found in the Asian grocery store or farmers market.
Tip: Make sure that the squash you choose feels heavy and has no soft spots or mold on the outer skin or stem.
Substitutes
If you can't get Kabocha Squash, you can use regular pumpkin, acorn squash, butternut squash or sometimes sweet potato.
However, do note that the colour may not be as attractive as they don't have the same bright orange flesh.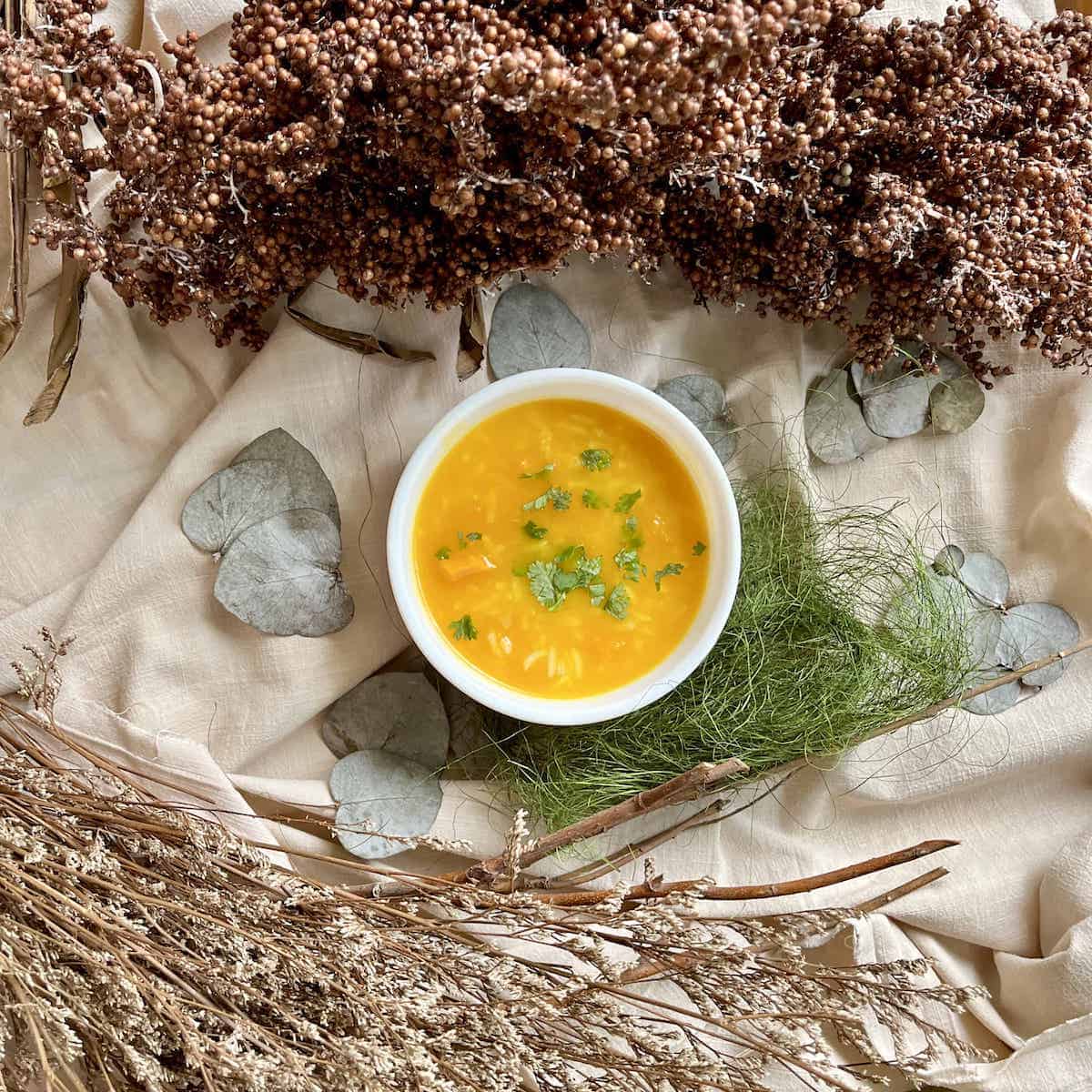 Made with peeled Japanese Kabocha. (If the peel is not removed, the color will be more like the bowl on the right.)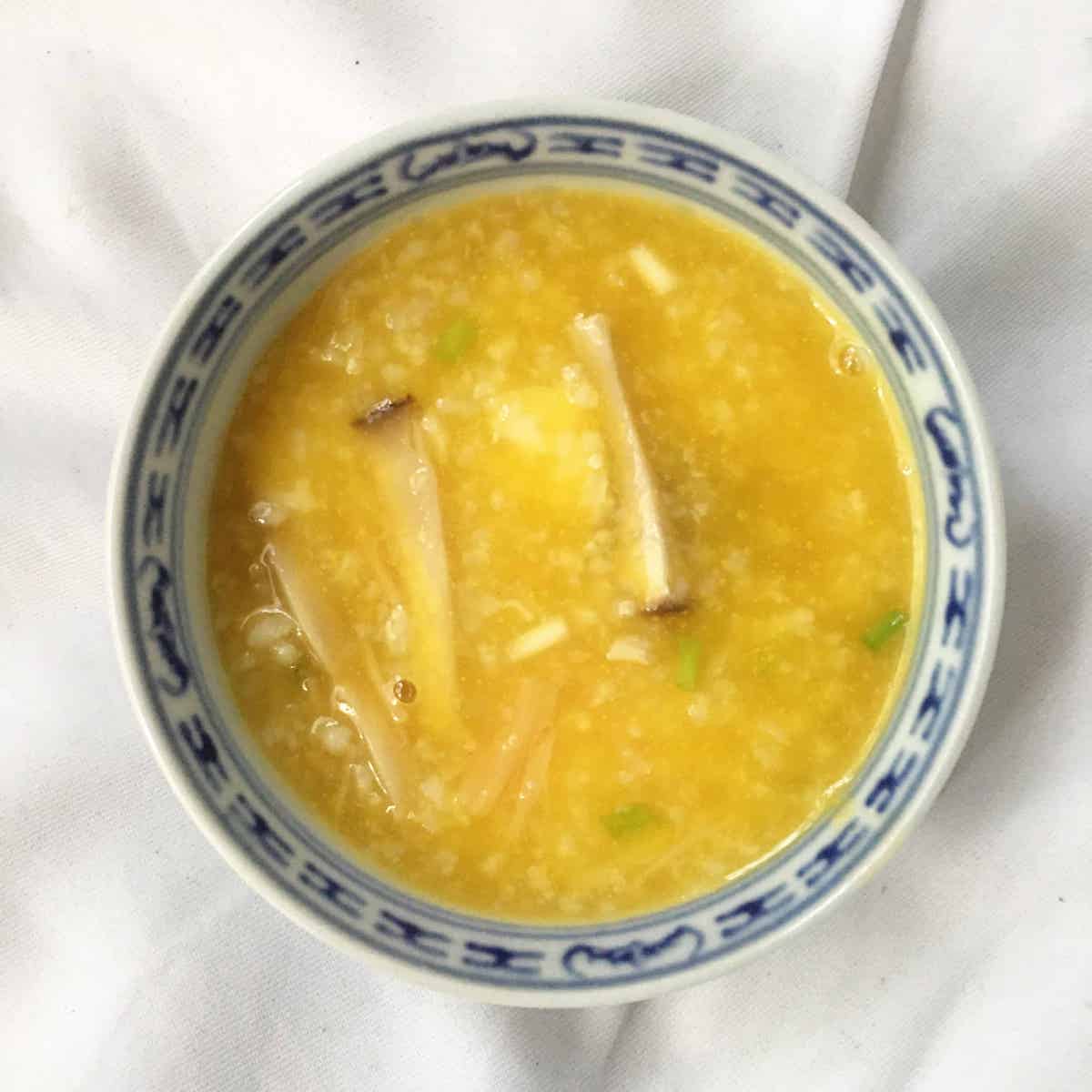 Made with regular pumpkin- the color is not quite as rich!
How to Cut
Carefully insert the sharp end of a sharp knife into the pumpkin and slice into half. From there, it'll be easier to cut as the flesh is much softer than the skin.
If you find it too difficult, you can microwave the Squash to soften it. (Blitz in 90 second intervals till soft enough.) For those who don't have a microwave (like me!), you can roast in the oven.
Tip: place a wet cloth under the cutting board to make sure that it doesn't move around during the cutting process.
How to Store
A whole Kabocha can be kept at room temperature for several weeks (preferably, store it in a dark and cool pantry.)
Cooked Squash can last in an airtight container in the fridge for 3-4 days or be frozen for 4 weeks. Both cooked as well as uncooked, cut squash can be frozen for 2-3 months.
Here are some different ways to eat this delicious Japanese pumpkin and bring out the natural sweetness of the squash.
Snacks
Chinese Pumpkin Cake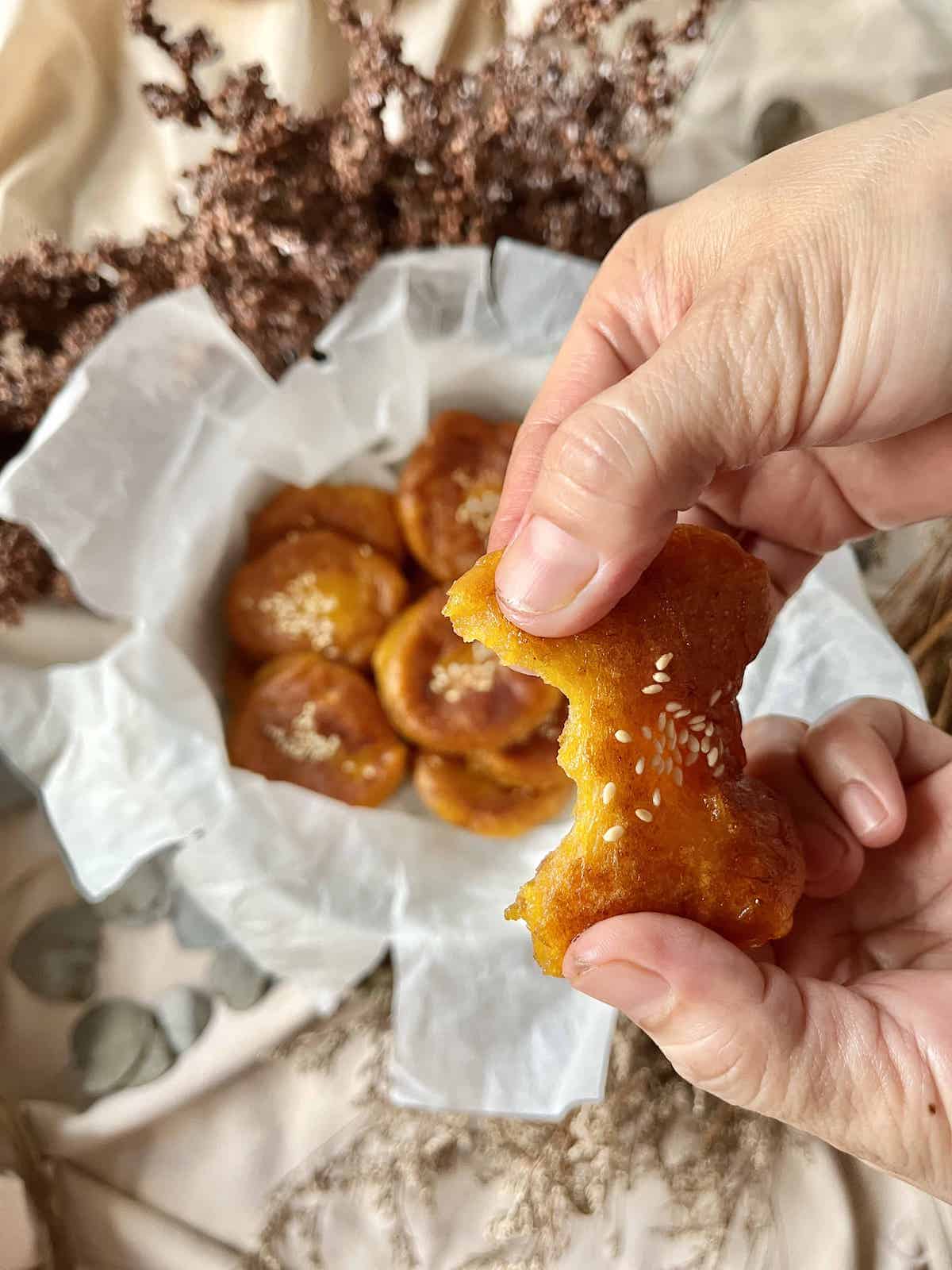 This popular Chinese dessert can be made with Kabocha Squash, regular pumpkin and Sweet Potato.
Note: Kabocha Dango is a similar Japanese snack that only requires 2 ingredients (Potato starch and Kabocha are mixed then pan-fried.)
Chinese Pumpkin Cake
Crisp on the outside but soft, gooey and chewy on the inside, Chinese Pumpkin Cake or Nan Gua Bing is a must-make dessert in fall! If you've ever felt intimidated by the thought of making your own Asian street snacks, try this easy Chinese recipe to give you confidence! It's simple enough to make perfectly the very 1st time!
Click here for the Nan Gua Bing recipe.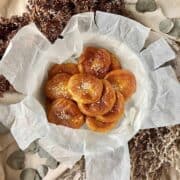 Filipino Squash Fritters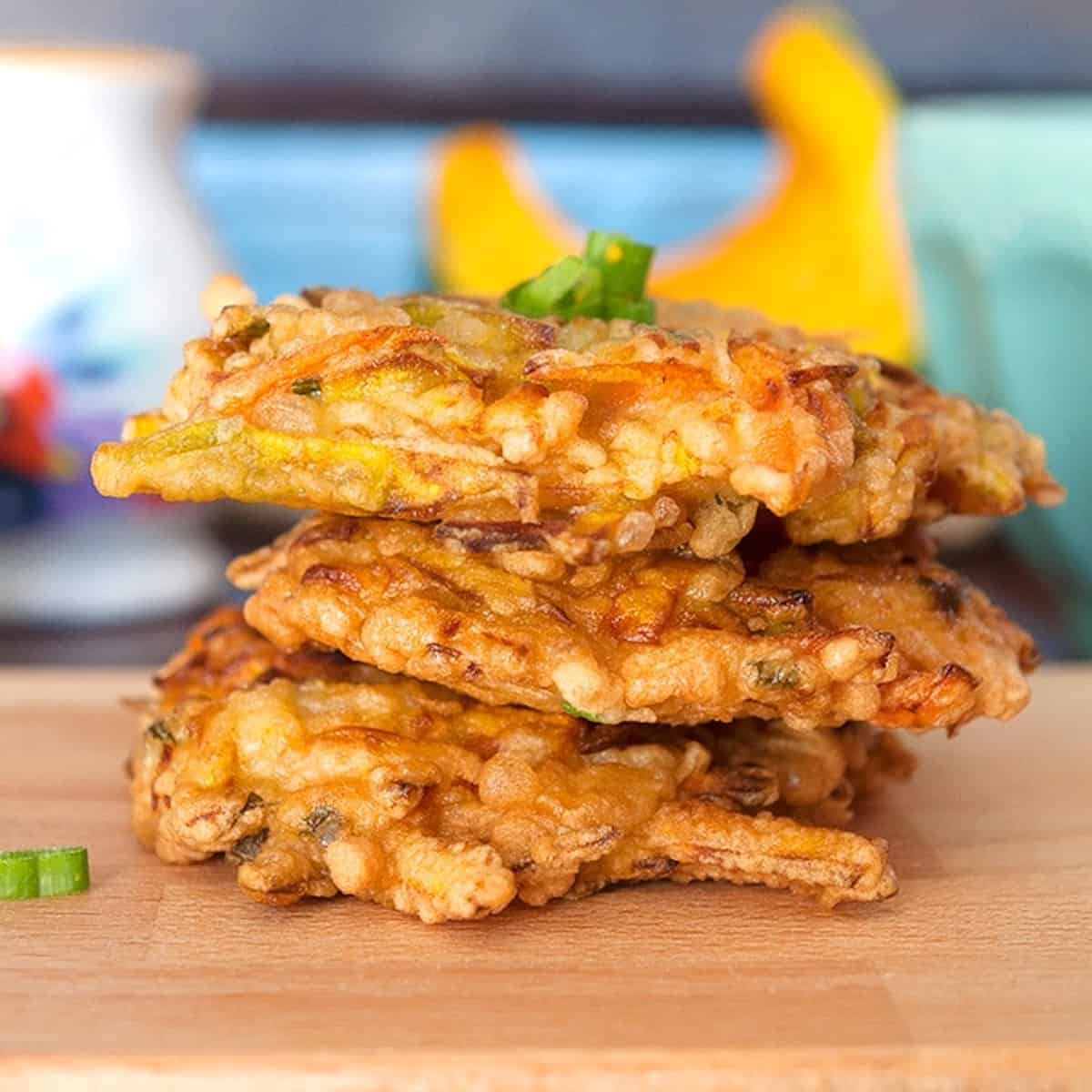 Squash okoy (Karamba)
Squash okoy or Filipino kalabasa fritters are a great way to use up a bountiful pumpkin crop. Filipinos usually pair it with a tangy soy sauce mix. There is no set recipe as it's done to taste but you can use this Toyomansi Dipping Sauce as a base.
Check out this recipe
Side Dishes
Salad
Mash boiled or steamed kabocha and mix with cut cucumbers, hard boiled eggs and Kewpie mayonnaise.
Roasted
The easiest way to cook delicious sweet squash is to simply roast it with a pinch of sea salt to bring out the natural sweetness and fluffiness.
Cut into cubes before roasting and mix with vegetables and toasted almonds or walnuts to make a salad.
Note: Remember to lay the pumpkin in a single layer on the baking sheet that doesn't touch, so that it roasts and doesn't steam.
Tip: to get nice brown bits on the flesh, brush generously with oil. If you like it on the sweeter side, brush with some maple syrup or brown sugar and cinnamon.
Wrap in crispy bacon to make the perfect side dish.
Braised
Alternatively, another favourite way is to braise cut pieces (of skin and flesh) in dashi, mirin and soy sauce. Garnished with lightly toasted sesame seeds and green spring onions, it makes for a great Japanese savory side dish for the holiday table.
Miso Squash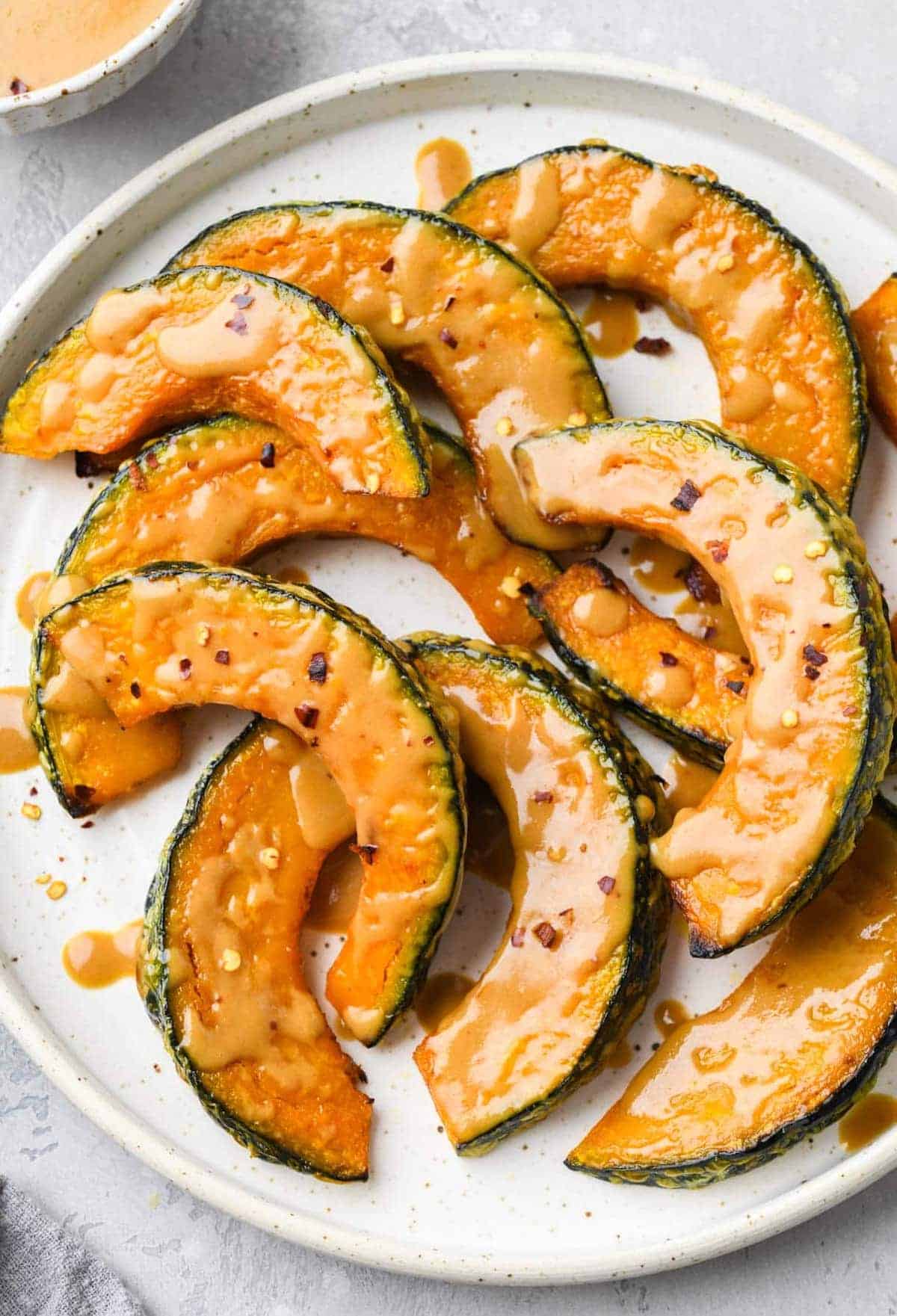 Miso Kabocha Squash
This roasted squash recipe is absolutely delicious, paired with a flavor packed, garlicky miso glaze that comes together quickly. This winter squash tastes sweet and rich once roasted, a true delight.
Click here for the miso squash recipe.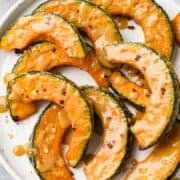 Soups
Carrot and Pumpkin Soup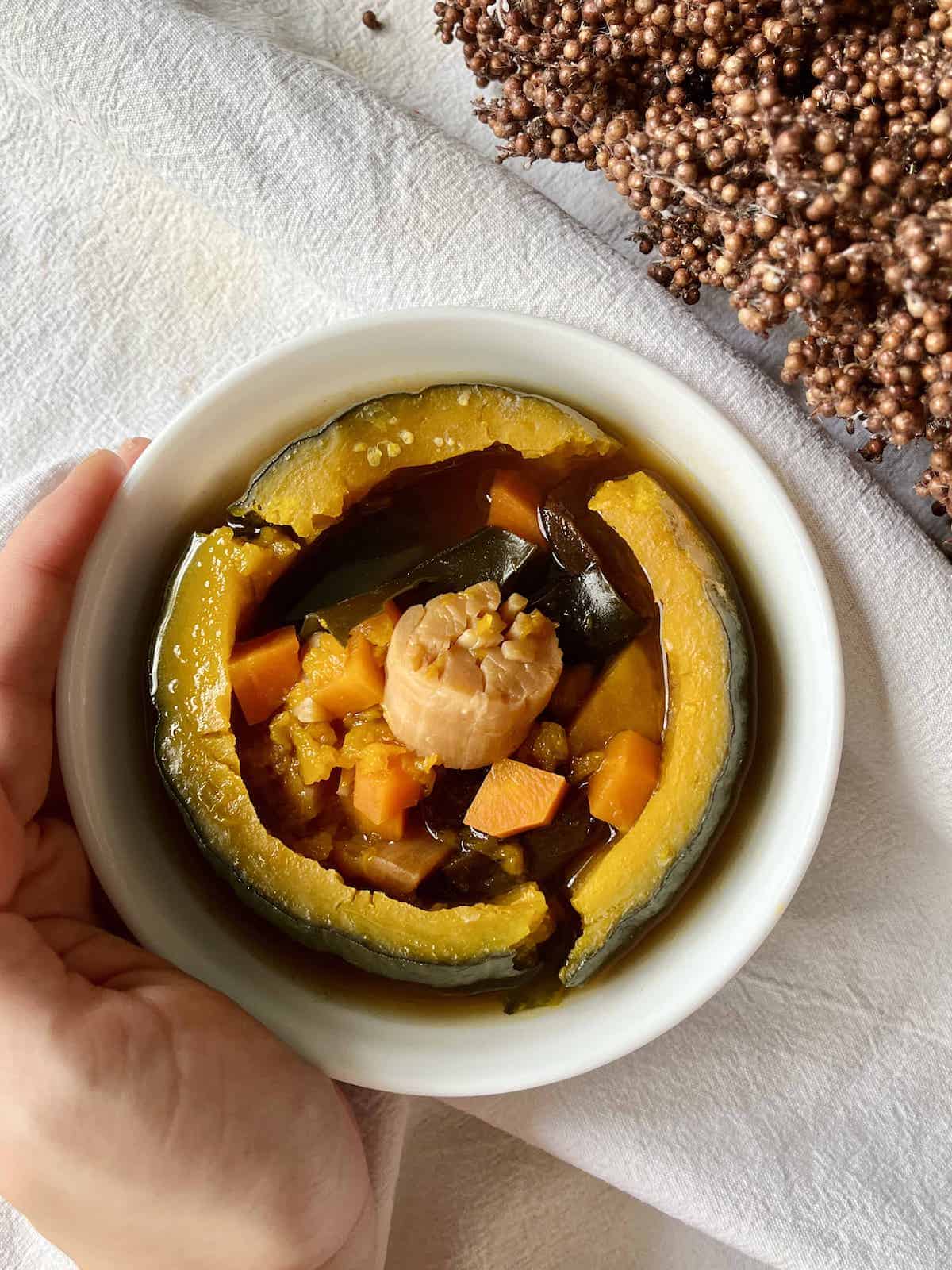 Note: this soup is pretty much a cut, dump and steam dish. No need for an immersion blender!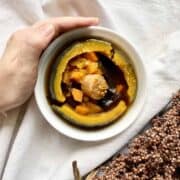 Fresh Ginger and Turmeric Soup
For an easy soup that only requires 5 ingredients, try this Vietnamese Kabocha and pork recipe.
Mains
Congee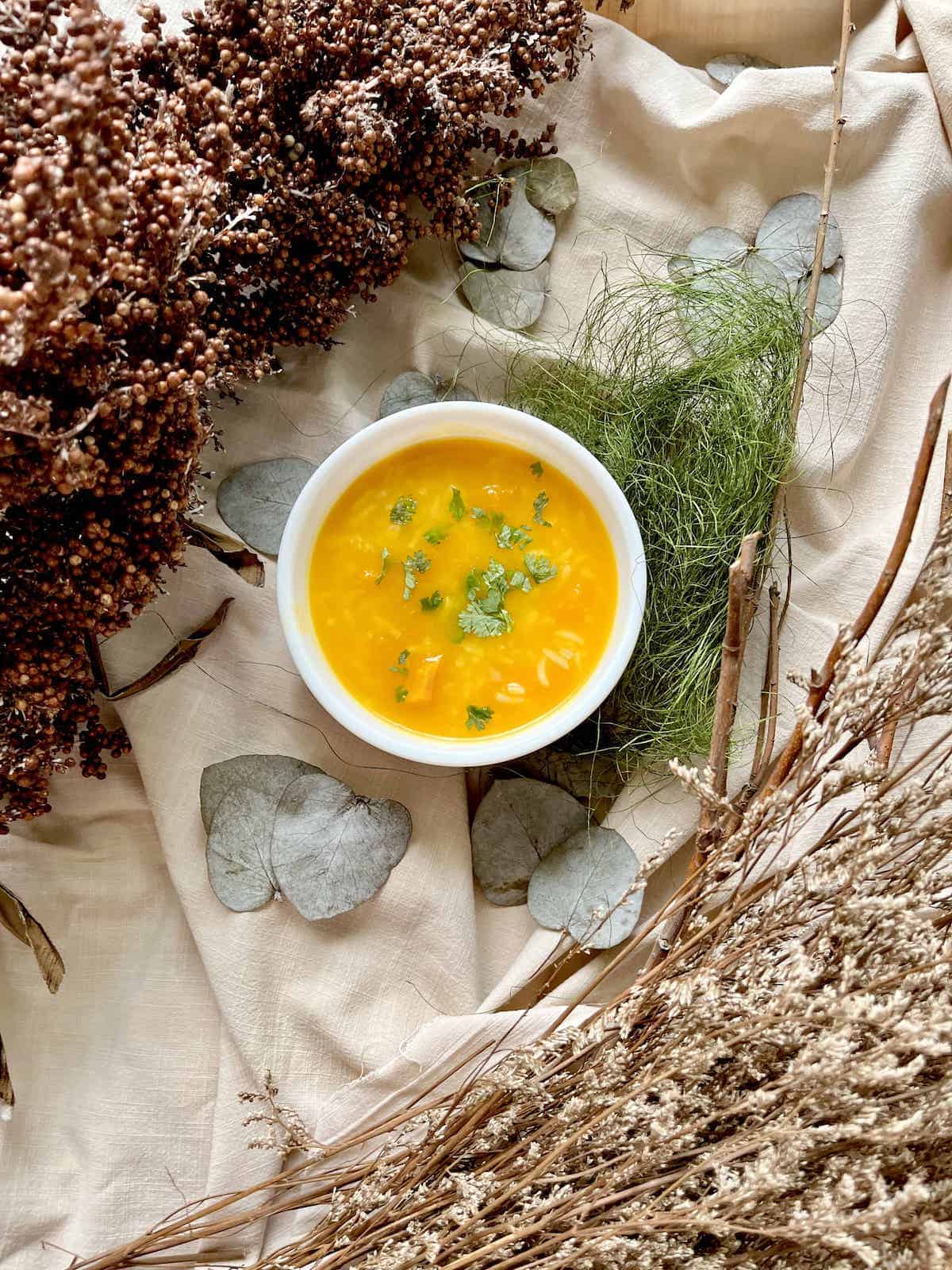 The pumpkin not only thickens the congee, it also gives it a rich flavor.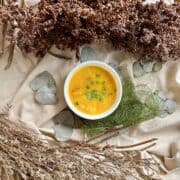 Pumpkin Rice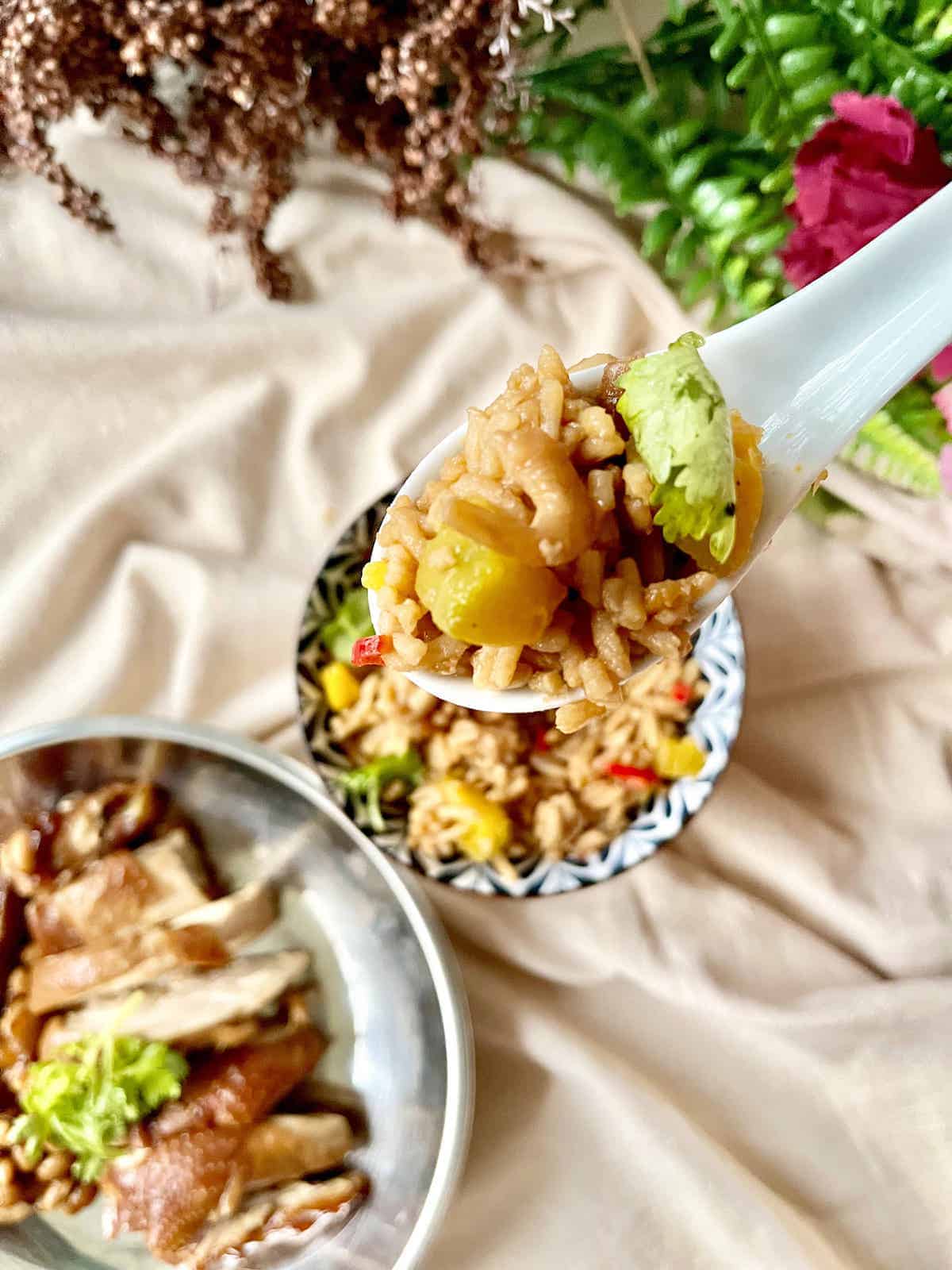 Chinese Pumpkin Rice
This Chinese Pumpkin rice is a super easy and flavorful rice cooker recipe: the soft pumpkin cubes melt in your mouth, contrasting with the firm bite of the white rice grains. Moreover, it only takes 10 minutes to prepare and the rest of the work is up to your rice cooker!
Click here for the rice cooker Chinese recipe.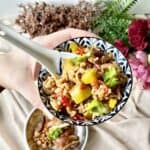 Kabocha Soba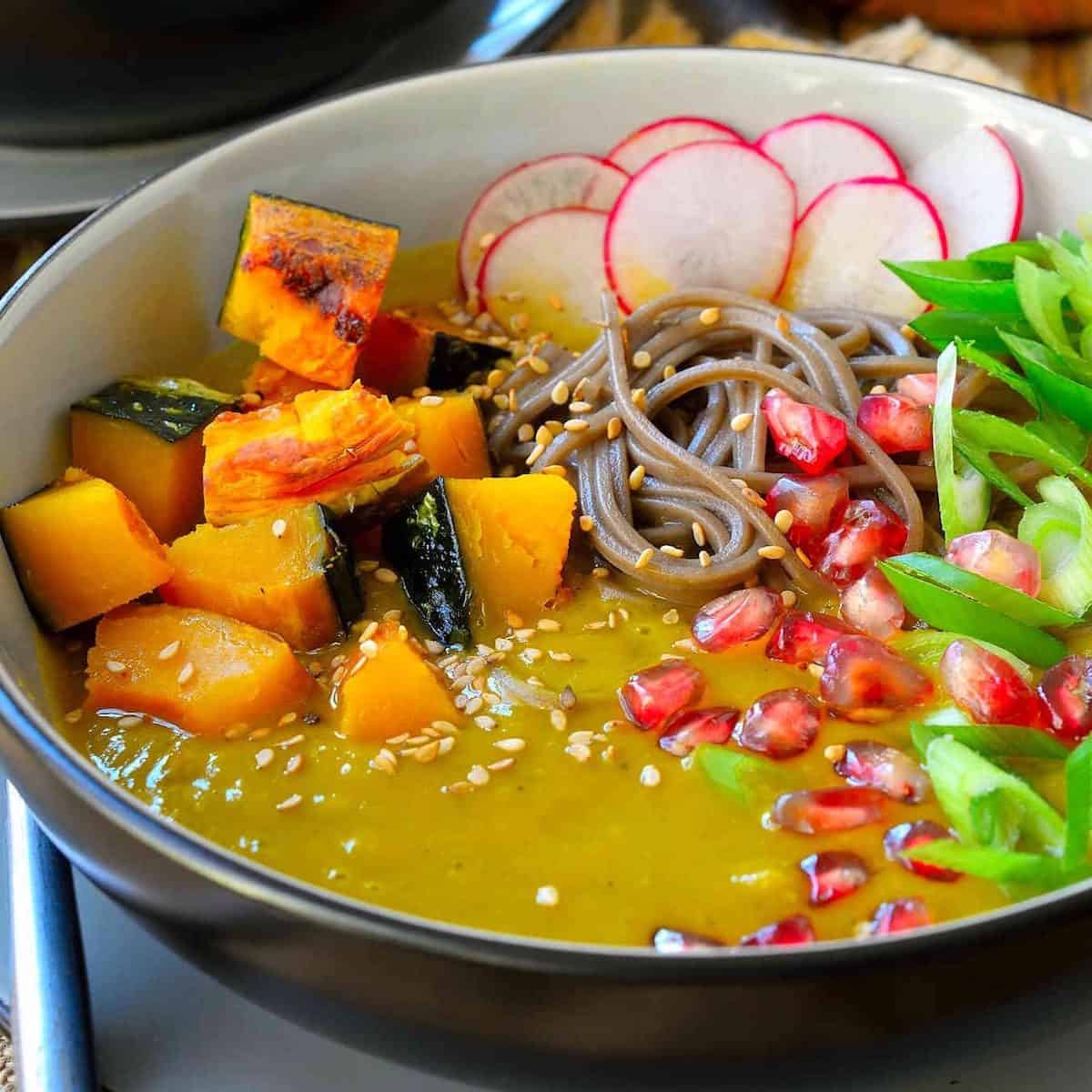 Japanese noodles in pumpkin soup
Thanks to the roasted pumpkin puree, this is a thick and nutritious noodle soup that is perfect for warming up in fall and winter.
Click here for the warming, Soba recipe.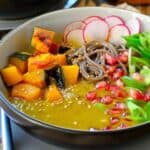 Stews
Chicken Curry
Easy Pumpkin Chicken Curry from Scratch
This easy pumpkin chicken curry is made of juicy, tender chicken morsels simmered in a deliciously aromatic sauce that is full of warm spiced flavor. It's well- spiced but not spicy and can be bulked up with healthy veggies, all in one pot. Plus it's super flexible: it can be made with coconut cream, regular cream, pumpkin puree or none of the above!
Click here for the pumpkin curry with chicken.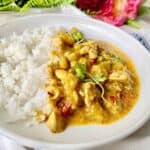 Note: Kabocha puree can be used in place of coconut milk to thicken curry, as in the recipe above, or the Soba Noodles below.
If you would like an Indian version of this curry (it's a great dish to pair with paratha!), try this Squash Kootu.
Filipino Stew
Chicken, Squash and Mushroom Stew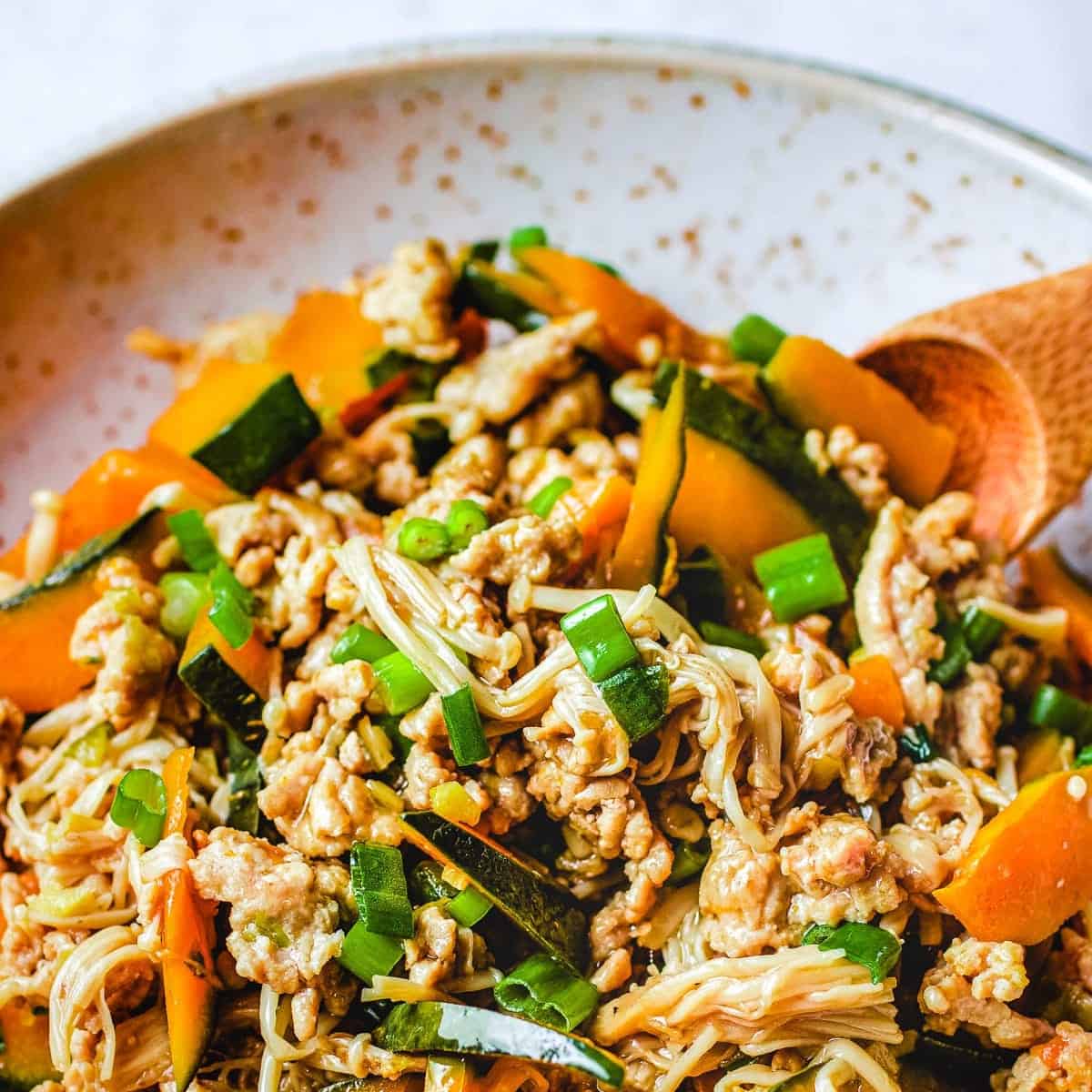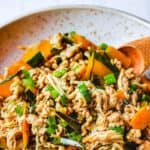 If you enjoyed this list of Japanese Kabocha Squash recipes, maybe you'd like to sign up for my Asian foods newsletter?