The best authentic Asian egg recipes, to show you how to use this affordable but delicious and nutritious ingredient!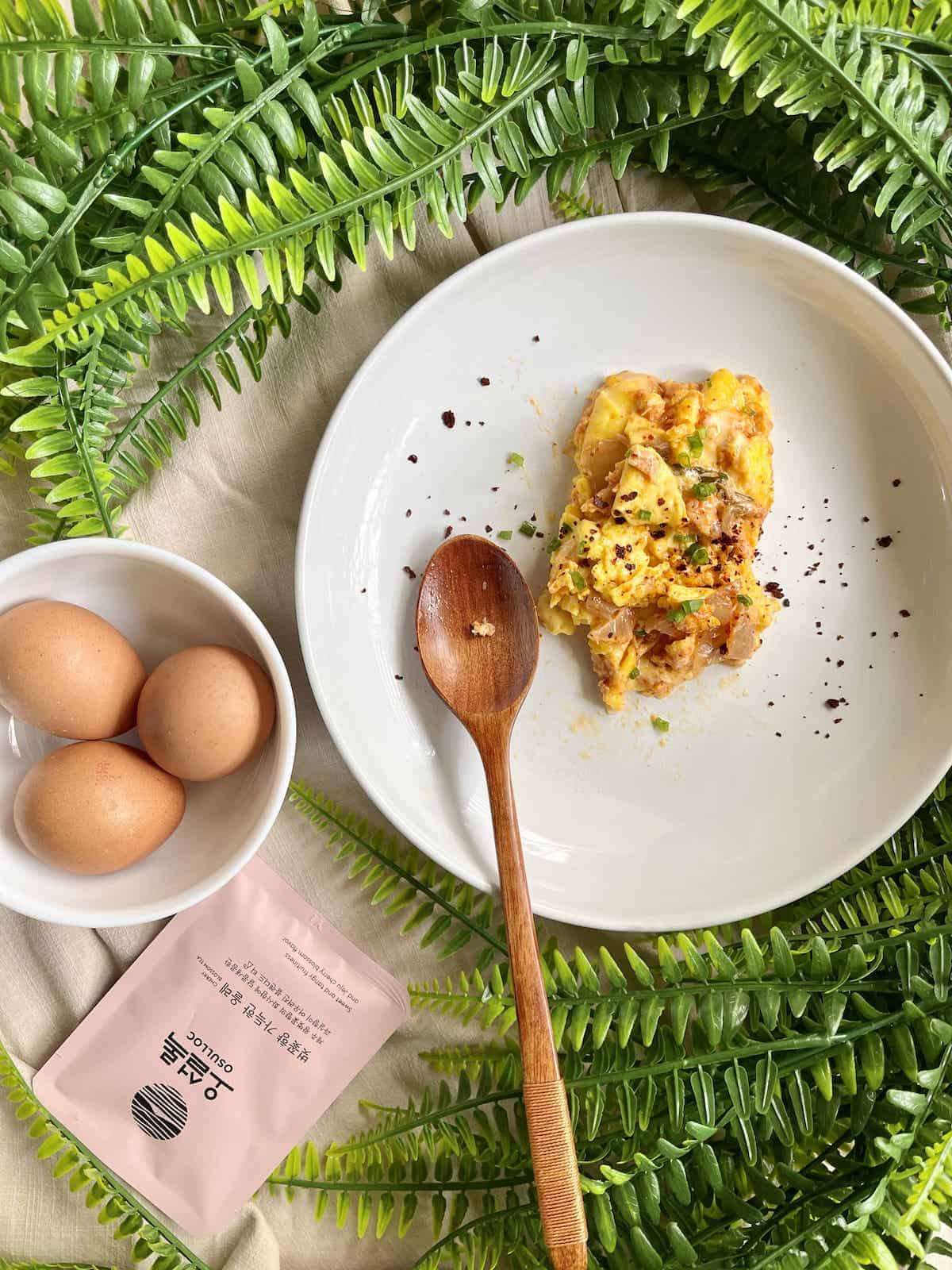 Jump to:
Eggs are a relatively inexpensive, versatile and nutritious ingredient hat can be made into many delicious dishes! Full of protein, they also keep you full for a long time.
It's not wonder they are a culinary staple in many cultures, and Asia is no exception. Here are some of the best authentic egg recipes from the region, covering China, Korea, Japan, Southeast Asia, and India!
Note: I will be focusing on duck and chicken eggs. The recipes will feature egg as the star of the dish.
For example, even though Mee Siam and Nasi Lemak usually come with a hard boiled egg, the egg is not the key feature of the dish, so I won't include it in this round up. You can find Asian rice recipes here though!
Preserved
Salted Eggs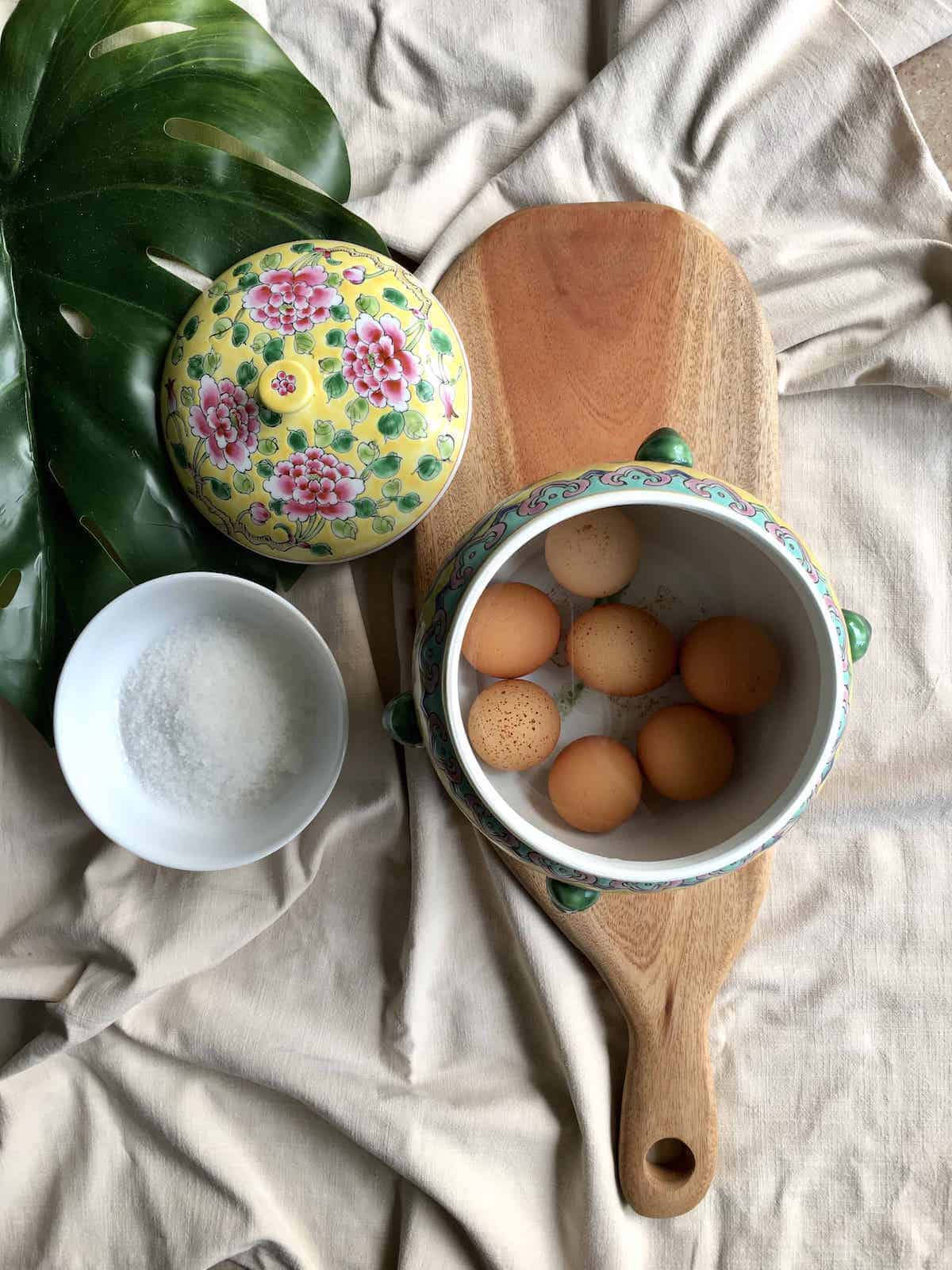 Using salt to preserve eggs is a common practice in many Asian countries, such as China, Singapore and Philippines.
Salted ducks eggs are a delicious condiment that can be eaten with a plain bowl of rice or used to make a scrumptious creamy golden sauce that is good with everything from prawns to tofu!
For more ways to use salted eggs, from salted egg popcorn to cornflakes, click here.
How to Make Chinese Salted Egg Recipe
Learn how to make 1 of my favorite condiments, Chinese Salted Egg, at home using brine solution with only 3 ingredients. So good but so quick and easy: the hardest part is the waiting! (My homemade salted egg yolk recipe is passed down from my Greatgrandmother so you know it's tried and tested.)
Click here for the preserved egg recipe.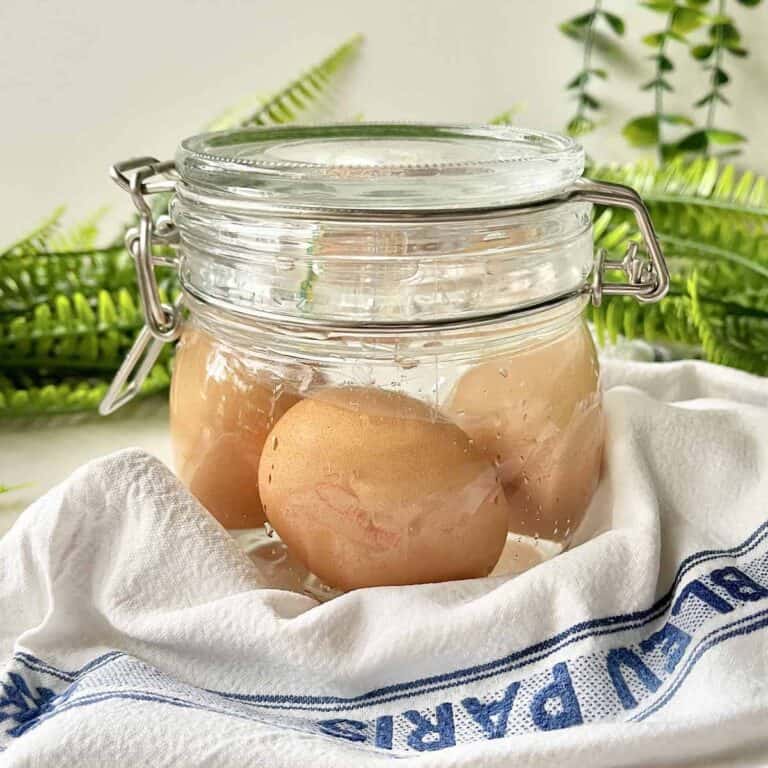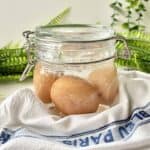 Korean
Kimchi Eggs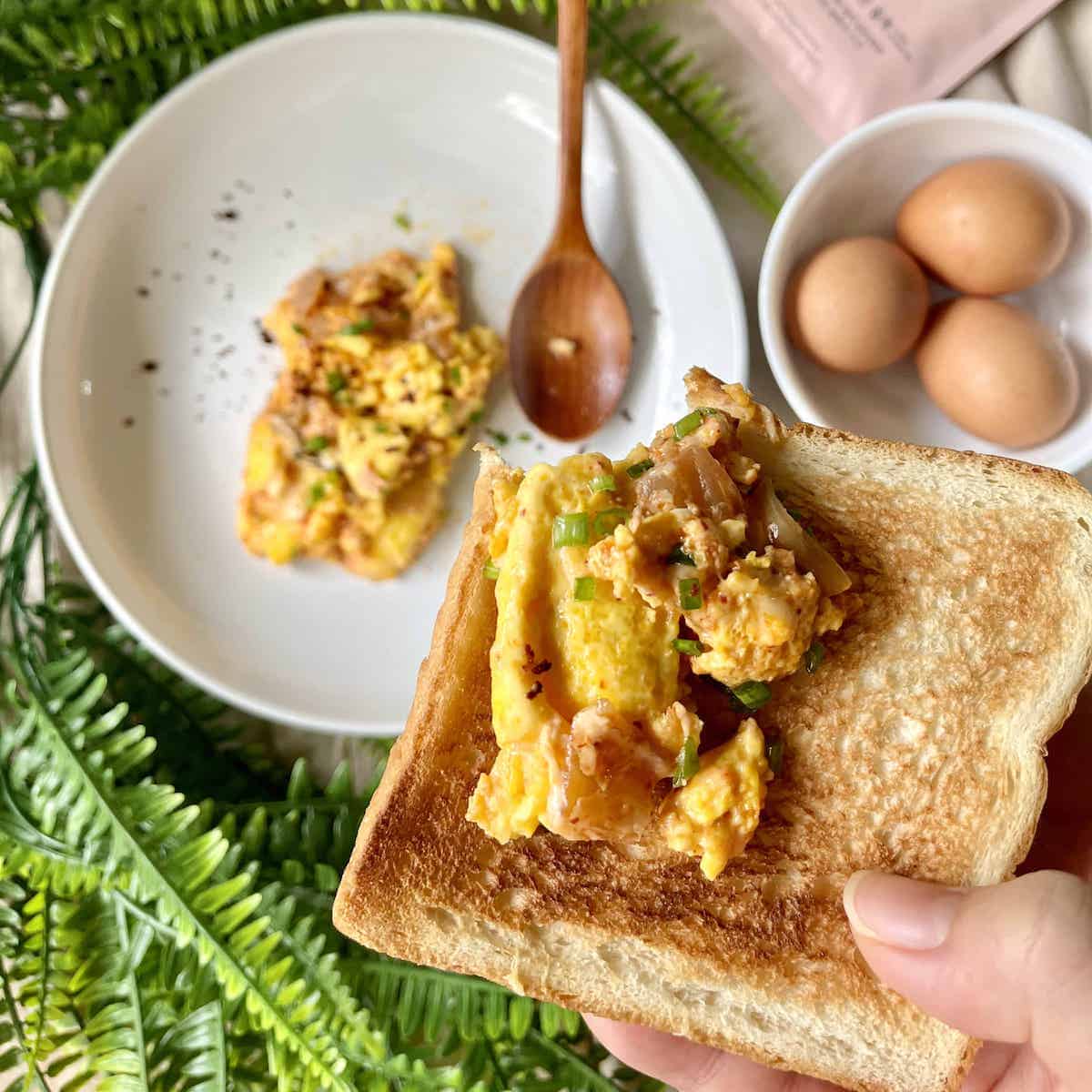 Kimchi Eggs (10 minutes)
An easy Kimchi Eggs recipe that only requires 10 minutes to whip up- perfect for breakfast, lunch or dinner! You really only need 2 ingredients (though ideally 5) and all are readily available at the regular grocery store!
Click here for the kimchi omelette recipe.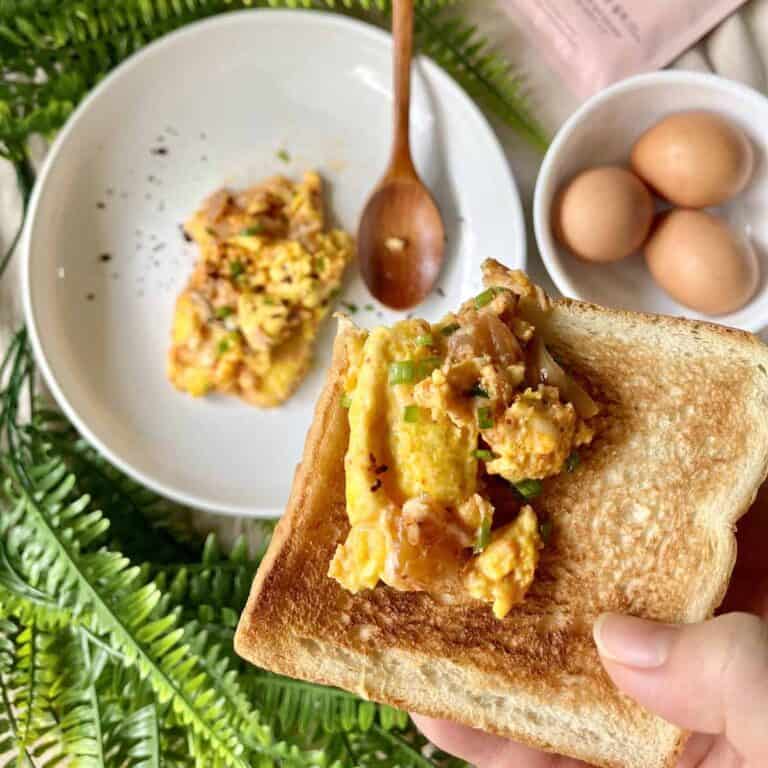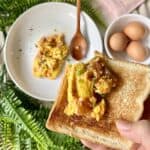 Attorney Woo Kimbap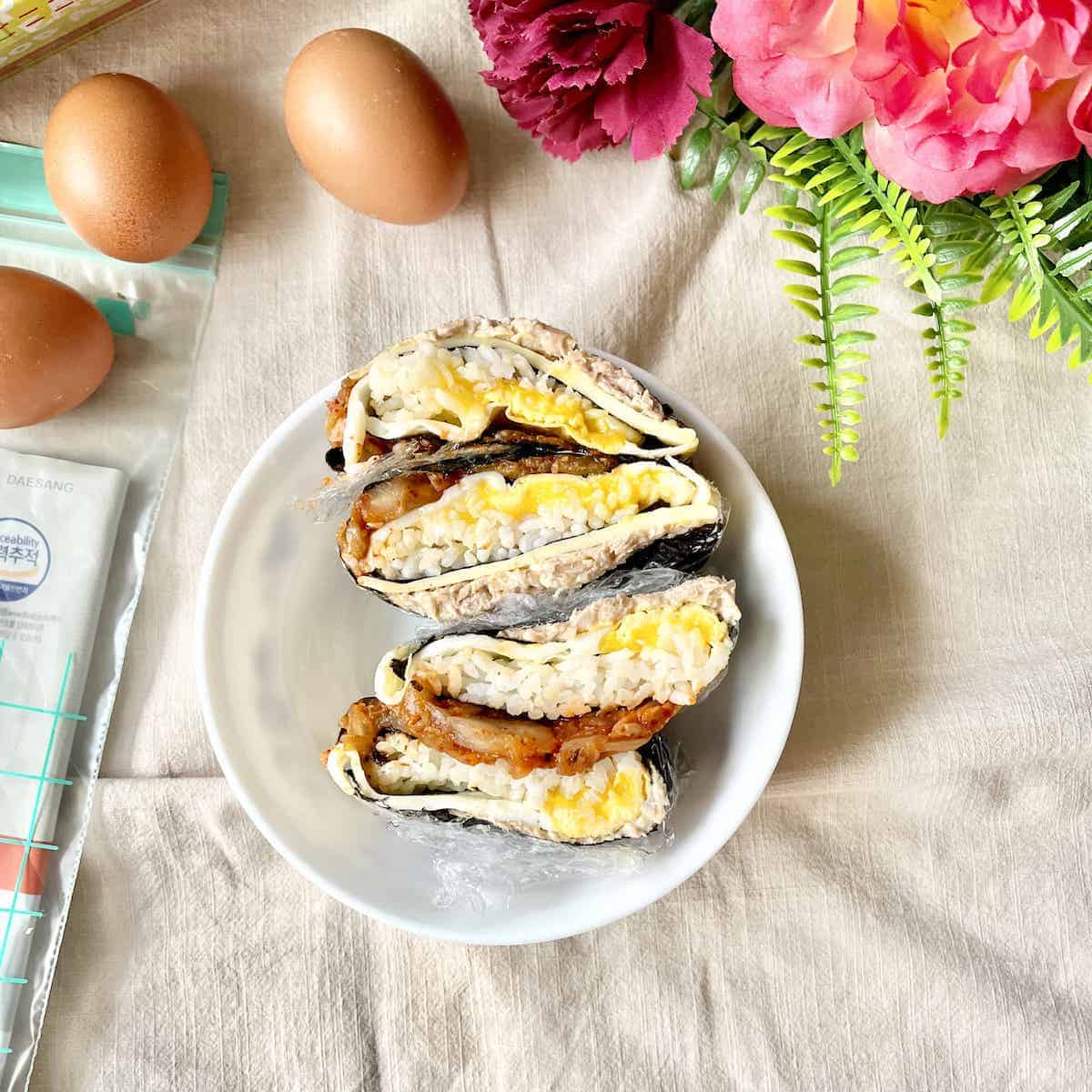 Of course, this is a super flexible and easy Korean sushi recipe, so you don't have to put in eggs, but they certainly taste good if you do!
Folded Kimbap Sandwich (Attorney Woo)
Folded Kimbap Sandwich is a fun, easy and delicious Korean street snack that shot to fame with the K-drama, Extraordinary Attorney Woo. It's simple to make and super versatile for lunchboxes: read on for some of the many possible fillings!
Click here for the no-roll gimbap recipe.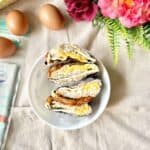 Mayak Eggs
This is a really simple recipe that basically marinades hard boiled eggs in soy sauce.
Mayak Eggs
Mayak Eggs is a super simple but deliciously savory Korean side dish that can be made in minutes! It tastes phenomenal with just rice and lasts for 3-4 days in the fridge, so is a great Asian meal prep recipe!
Click here for the Korean soy egg recipe.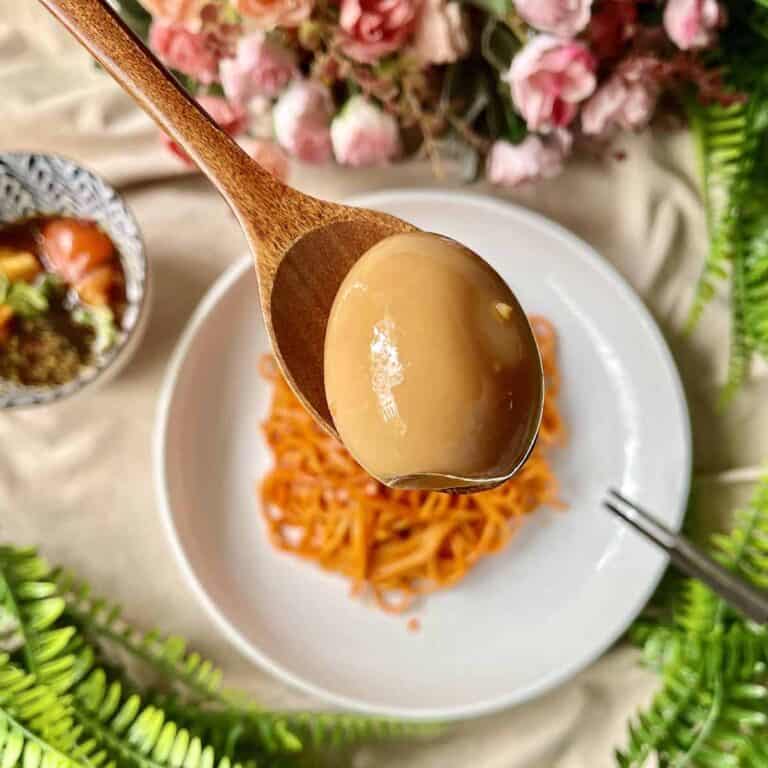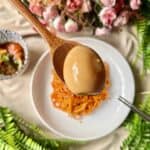 Korean Rolled Omelette
Gyeran Mari is 1 of Korea's most famous egg dishes.
It is made by rolling thin layers of beaten eggs into a spring-roll like shape. Usually filled with ingredients such as julienned or minced vegetables, seafood, cheese or ham, this is a delightful and satisfying treat!
Korean Egg Bread
Gyeran Bbang is a popular street food in Korea, that you can find anywhere from Myeongdong to Gangnam.
This fluffy, muffin-shaped bread has a whole egg cooked in the middle- it's a great option for those looking for non-spicy Korean food!
Japanese
Tamagoyaki
Japanese Tamagoyaki, a sweet and savory rolled omelette, is very similar to the Korean Gyeran Mari listed above!
This breakfast and bento favorite is made using a lower heat than its French counterpart. The beaten egg is mixed with dashi to get its flavor, then cooked in layers.
Note: although Japanese people make this with a special square shaped pan, you can use a regular pan.
Onsen Tamago
These Japanese Onsen Tamago or "Hot Spring Eggs" (温泉卵) are slow cooked in hot water to create a delicate, silky smooth white and custard like centre.
Note: unlike hard boiled eggs, you do not want a totally solid egg! When you cut into the egg, a thick lava like yolk should ooze out.
Omurice
Omurice is a popular dish in Korea and Japan, and consists of rice wrapped in a golden egg, topped with a sweet and savory sauce.
Chinese
Tomato Scramble
This Chinese home-cooked favorite combines fluffy scrambled eggs combined with tomatoes (番茄炒蛋) for a quick and easy dinner recipe. Succulent shrimp is often added to the tomato egg dish, but is not a must-have ingredient.
Note: some people like to add milk to the beaten eggs to make it extra smooth.
Tea Eggs
Usually called Chinese Tea Eggs, the literal translation of the Chinese name, Cha Ye Dan, these savory eggs are especially popular in Taiwan. The eggs are simmered in an aromatic tea-infused broth till they absorb the fragrance of the marinade and develop a marbled pattern.
The eggs can be kept in the fridge for up to a week so make a great make-ahead Chinese breakfast.
Fried Rice
蛋炒饭 or Chinese Egg Fried Rice is a simple but tasty staple Chinese stir fry recipe. It's not difficult to make but do remember to use leftover rice so that the grains are light and fluffy!
Egg Drop Soup
Egg drop soup is a typical Chinese home cooked recipe that is both easy and delicious. It has a silky texture and light flavor and only takes 10 minutes!
Unlike Chinese ginseng soup and Silkie chicken soup, no special ingredients are needed for this comforting and nourishing dish.
Steamed Egg
A steamed egg 蒸蛋羹 may sound boring but the Chinese version is deliciously smooth, silky and, with some soy sauce, deliciously savory!
Indian
Anda Curry
Spices play a central role in Indian cuisine, such as in Indian Masala Egg Curry.
This dish sees hard-boiled eggs gently simmered in a rich and aromatic tomato-based gravy, resulting in a dish that is both hearty and delicious. Perfect with a bowl of white rice!
Note: you will need some Indian spices for this recipe.
Egg Biryani
Biryani, a fragrant India rice dish in which basmati rice is cooked with aromatic spices, can come in many flavors.
One variation is egg biryani- a delicious and filling dish for when you're trying to cut down on meat!
Southeast Asian
Soy Sauce Eggs
Also known as Telur Masuk Kicap, this is an easy Malaysian egg recipe that is full of flavour!
Let me know if I've missed out on your favorite egg dish!
If these Asian egg recipes were helpful, maybe you'd like to sign up for my Chinese food newsletter?