Food blog SEO (search engine optimization): in this post, I'll share free and paid SEO tools and how I increased my Google traffic by 8x in slightly over 5 months (with Google Analytics and Google Search Console data to back me up.) Or, in other words, how to find the right keywords so you can get onto the first page of google.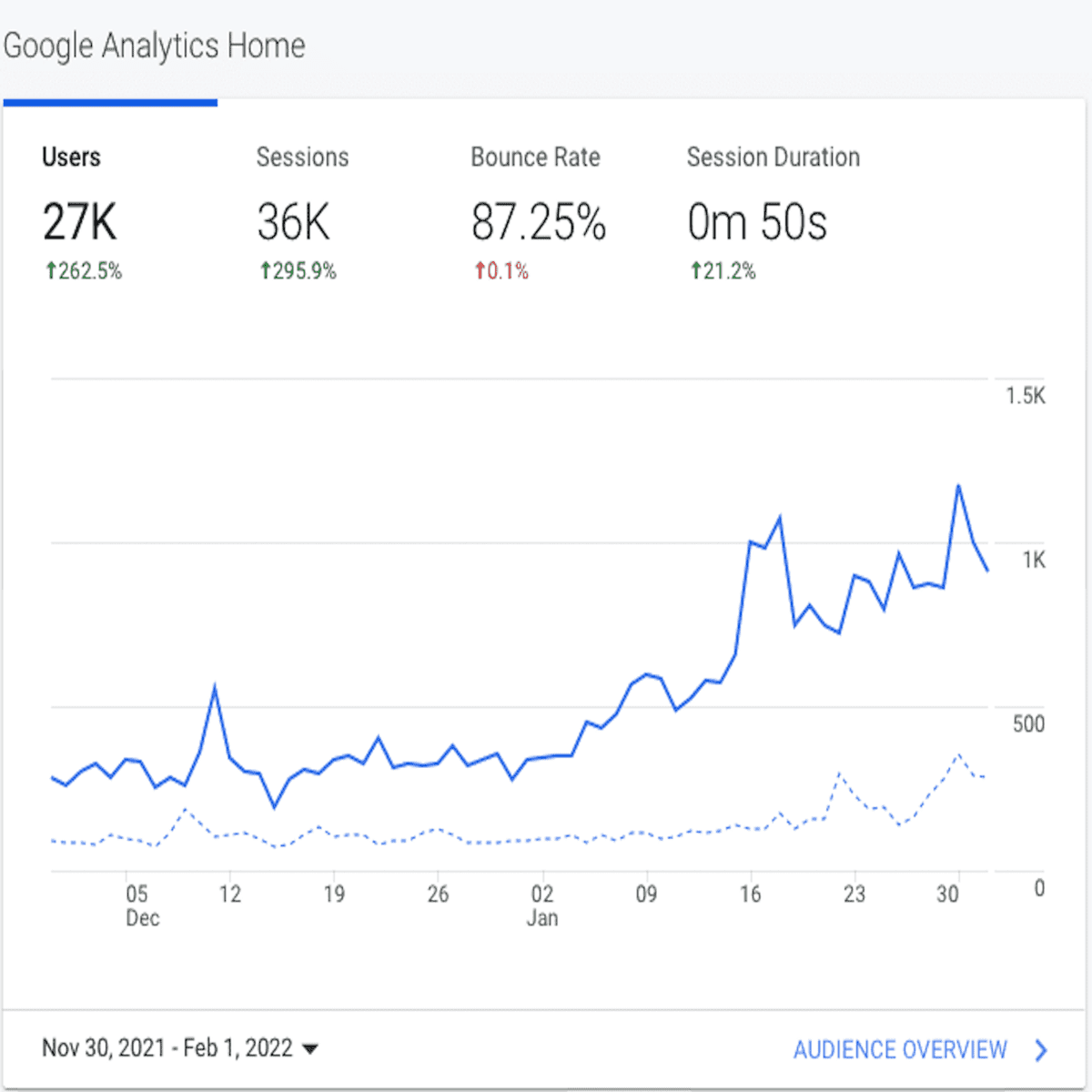 My traffic surged from 200+ daily visits in January to over 1000 in February after taking the Cooking with Keywords class- part of it was due to seasonal traffic (many of the new posts I wrote after taking the course were for Chinese New Year) but my Google organic traffic has nonetheless been steadily increasing since I started applying what I learnt.
Jump to:
Note: this post contains a few affiliate links- if you sign up for the service or product, I'll earn a small fee at no cost to you 🙂
You know how when you ask some bloggers what their secrets to monetising their blogs and building their traffic are, they say "hard work?" Personally, I find that SUPER annoying.
It's just so patronising and self-righteous because we all work hard on our blogs but there's so much confusing and sometimes misleading information out there, that it can be hard to know where to start. You could be working hard but, unfortunately, working hard on the wrong thing which doesn't actually help your blog!
For years I was working super hard- I published like daily posts, updated my Instagram constantly, did the whole shebang - but my blog (and social media) remained stubbornly in a slump. And this was despite my blog being featured on big sites like BuzzFeed and TimeOut London. (Sucks, doesn't it?)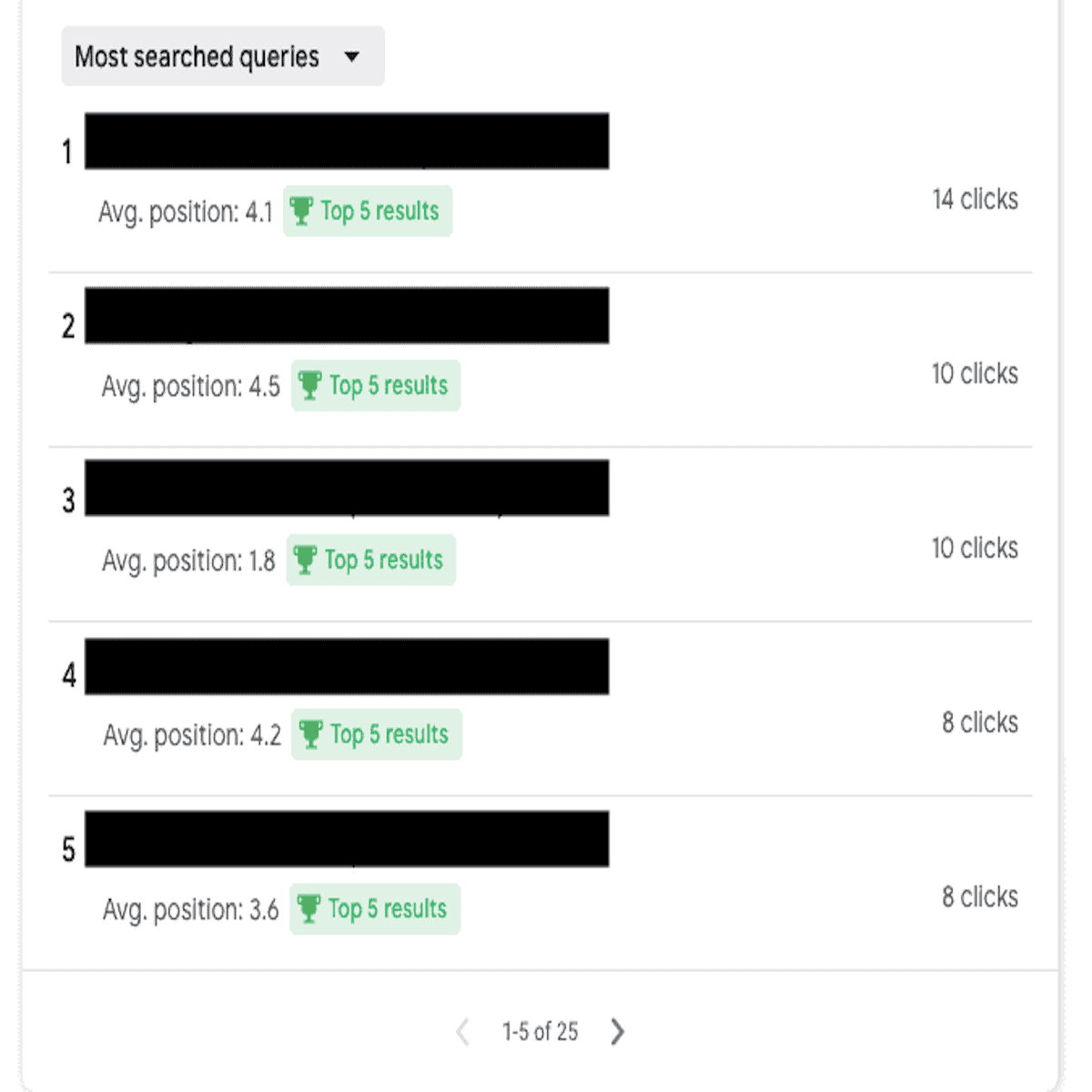 Thankfully, a few months ago, I finally figured out where the "yellow brick road" is, so to speak, and finally have a sense of direction and and know where to channel my efforts!

In this post, I'll be sharing how I increased my daily Google traffic from 68 clicks to 539 clicks, over a period of 5+ months, using a combination of free and paid SEO and keyword research tools.
(Actually, I could have shared how I increased my daily Google clicks by 7x in just 2 months! But I felt that that may be a bit misleading, as part of the traffic increase was thanks to seasonal traffic. So this post shows you what to expect, even during the quietest period for food bloggers.)
Note: in my Cooking with Keywords review, I actually shared how my number of visitors per post changed after the course (as an increase in traffic could derive from the fact that I have more posts and not from better performing posts, if that makes sense.)
Unfortunately, I am unable to do so for this post as I've republished quite a few ones so am not sure how many posts I had on my site in November vs now. (The date of the post updates to the current date when you republish.)
Note: there are obviously more search engines than just Google, but as most English-speaking people use Google, this post focuses primarily on Google.
Also, if you're interested in food blog props for food photography, check out this link!
Top Hat Rank SEO webinars
You can see how the traffic for this blog post surged after I updated it, using what I learnt from the Top Hat Rank free SEO webinars
You'll be pleased to hear that the Top Hat Rank webinars are totally free! (Thanks Ashley Segura, Andrew Wilder, Arsen Rabinovich and Casey Markee for generously setting aside time for us every month!)
Some of the most useful things I've learnt though them include:
how to use Google Search Console (also the fact that there's even a (free) SEO resource like Google Search Console!)

E.g. it can be used to find where your content gaps are

how to optimise my images for SEO, especially for Google Discover
Which plug-ins and blog resources to avoid, as they'll have a negative impact on my blog

e.g. Blueh--t! A lot of bloggers recommend it but don't use it themselves, as it has a very generous affiliate programme.
Pros
These food blog SEO webinars are really very helpful- I learnt SO much from them even though Greedygirlgourmet is my 2nd blog. In fact, they're what guided me to a lot of the resources on this page which is why they're the first thing I have on this list!

For example, there is even a whole webinar dedicated to the Yoast SEO plugin. Did you know that chasing the Yoast green light can harm your site and not help it?!

You can ask the team questions and they'll answer them! (If not on the spot, they'll do it in the transcript that is shared post session.)
Note: the sessions are held live on Zoom, so you'll need to download it.
Cons
If you're not based in the US, the time difference can be a bitch. Right now, I have to set my alarm for 5 am to tune in! And the time difference also changes due to daylight saving, so you need to keep track of that (There is a recap of the webinar online, but then you don't get the opportunity to ask questions.)
Some of the webinars can be rather technical and super confusing for newer bloggers, such as the one on Google Core Web Vitals. (When you've just started blogging, you're like "What is Cumulative Layout Shift?!" or "rich snippets"??) I actually listened to 1 halfway 1-2 years ago then left halfway because I could barely understand what was being discussed. (I got back into them when I decided to get serious about this blog.) And when I first started listening to the webinars, I actually had to re-listen to some of them 2-3x to make sense of the topic!
To help you save time, I've summarised some of the food blog SEO webinars here- if you'd like me to share my notes for all the webinars, just let me know in the comments- I'm planning to send it to (interested) email subscribers.
Cooking with Keywords (keyword research course)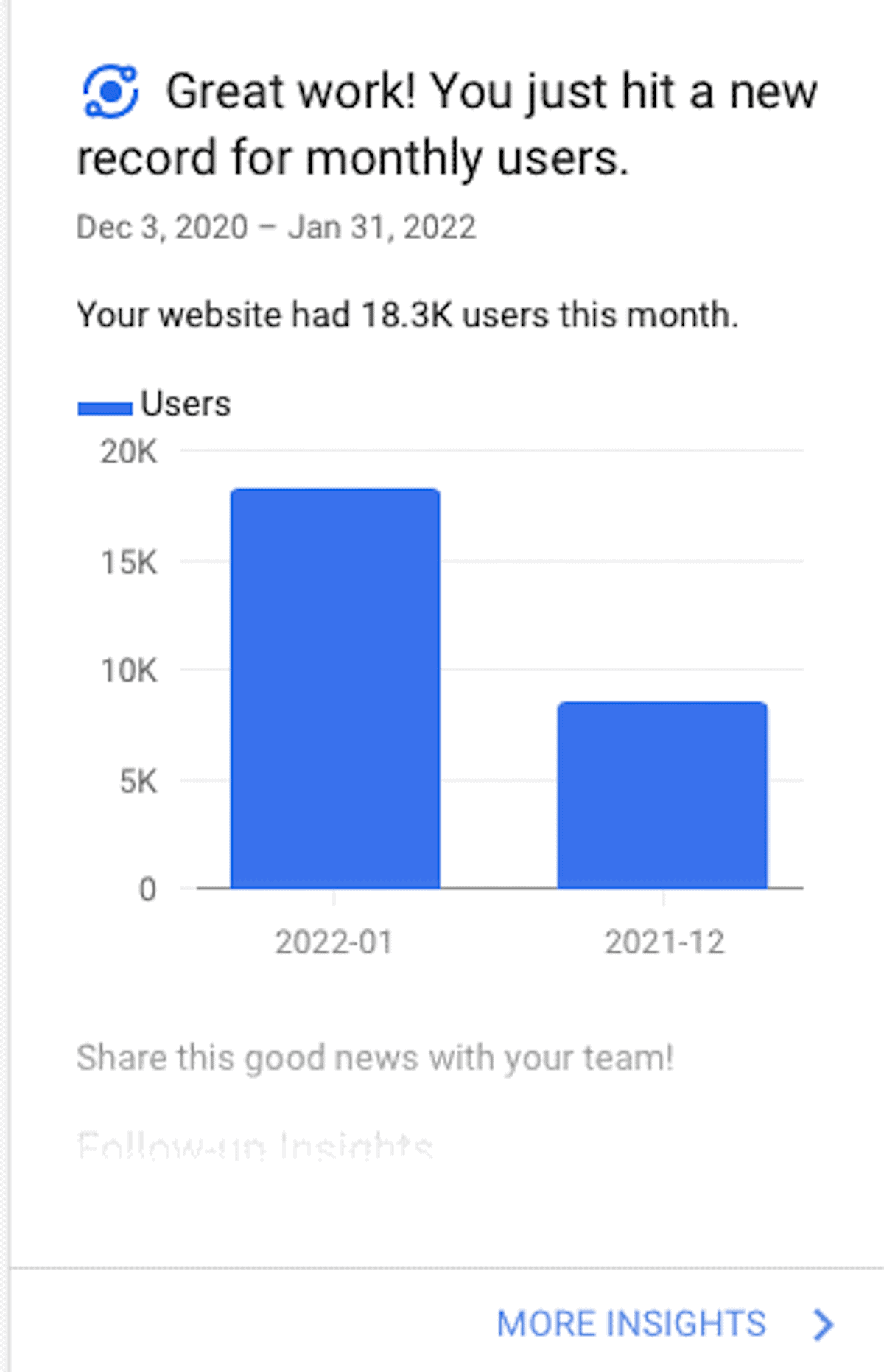 As you can see, my overall traffic more than doubled within 1 month of taking the Cooking with Keywords keyword research course (this Google Analytics screenshot shows all traffic and not just traffic from Google organic search FYI)
First things first, this is a paid SEO resource but it's actually been the most worthwhile investment for my blog to date. If you can't afford to spend any money on your blog now, no worries, I have more free food blog SEO resources further down on the list!
Cooking with Keywords is basically an online course by Aleka Shunk that teaches you how to do keyword research for your blog. If you're wondering why this is important, it's because you can write the best post on a subject, but you won't get much traffic from it if no one is actually searching for that subject!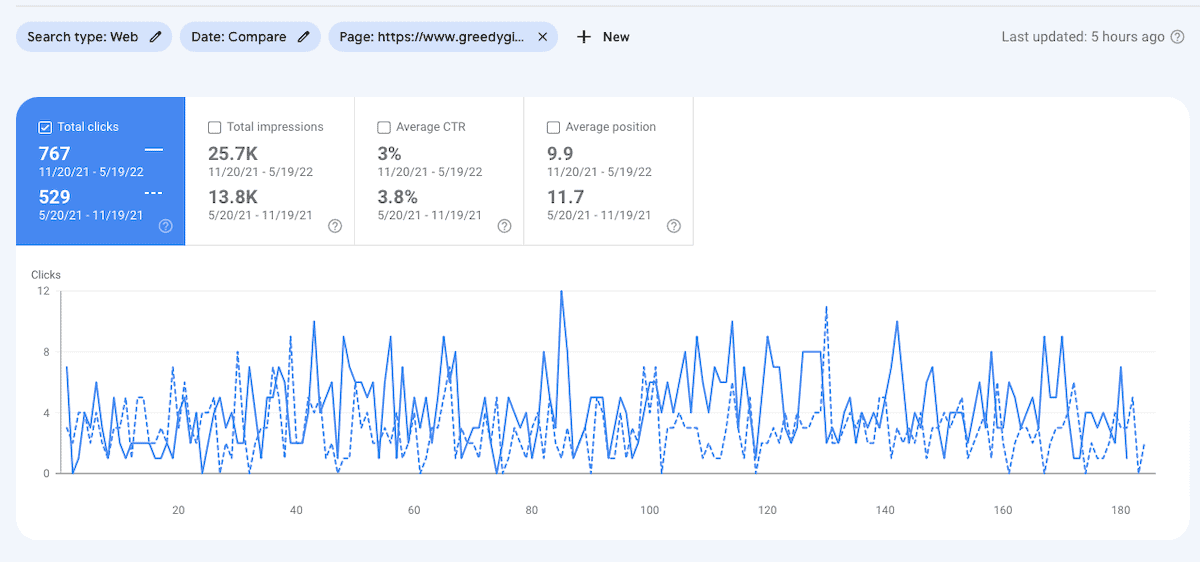 Sometimes, it can be a matter of just tweaking a few words here and there- previously, this pumpkin porridge post was labelled as something else. I can't remember what exactly- maybe pumpkin seafood porridge or hotel chef porridge?
After switching to my new title- I didn't do much changes to the post beyond that- it became 1 of the most visited posts on my blog! (Well, until I started publishing new SEO-optimised posts based on what I've learnt from Cooking with Keywords that did better, but nonetheless traffic for this 1 post has increased by 45%!)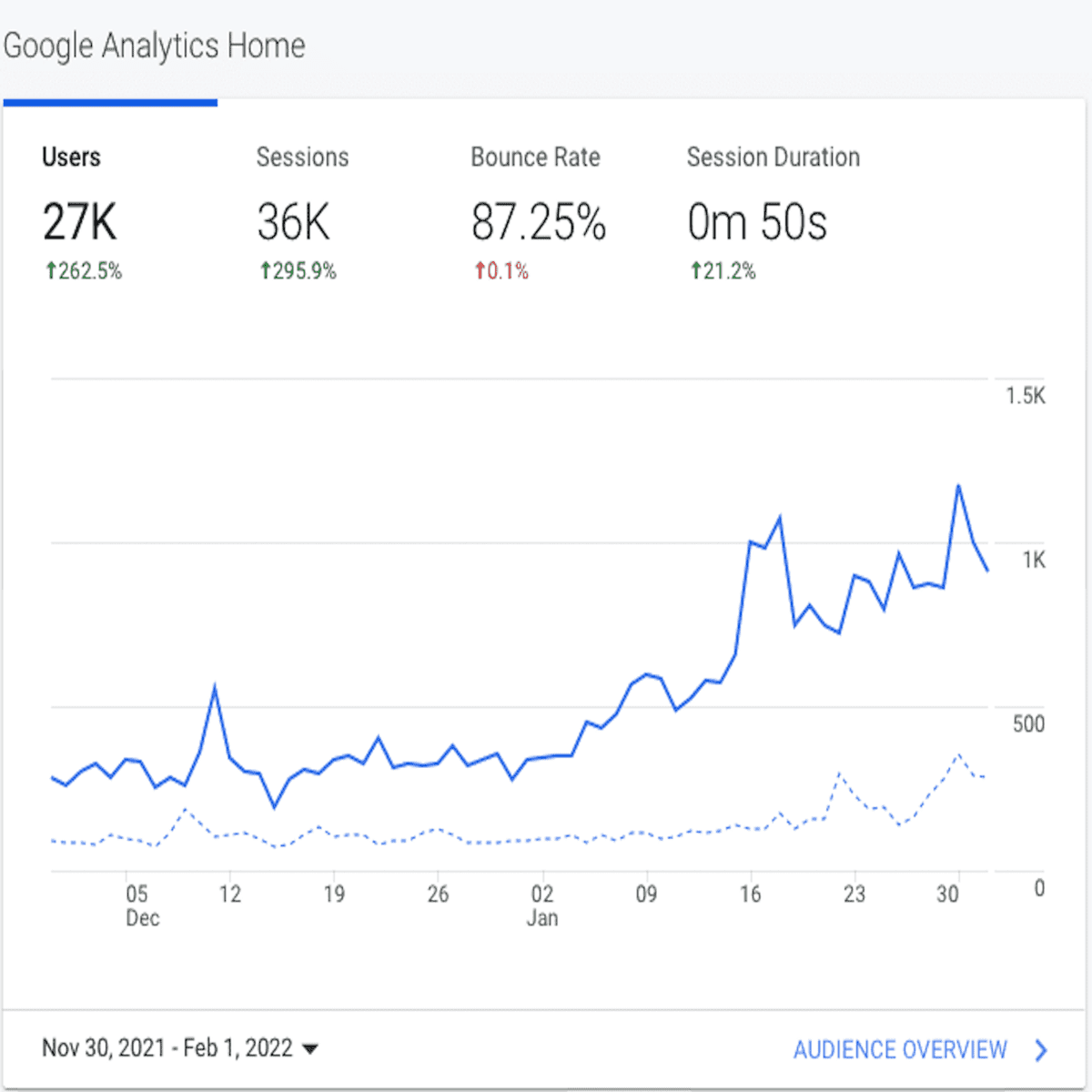 This graph shows the general trend of my site's traffic post- keyword research, but doesn't go into specifics. For more details, I have a full review of Cooking with Keywords here.
Pros
It really teaches you a lot of up-to-date and effective ways to do keyword research (see my review for how it has helped my course- I think I didn't mention this in the post but, before taking the course, my blog earned ZERO. It's now 5 months after I signed up and I have (a tiny) blog income from 3-4 different sources so I'm thrilled!)
It's developed just for food bloggers, so everything is super relevant if you have a food blog. (The teachings of some generic blog courses may not apply to food blogs.)
There is on-the-ground support- everyone who's done the course can join a Facebook group and ask Aleka (and the other members) questions.
Cons
You have to pay!

I re-couped what I paid for the course in my post-course earnings within 2-3 months though.
SEMRush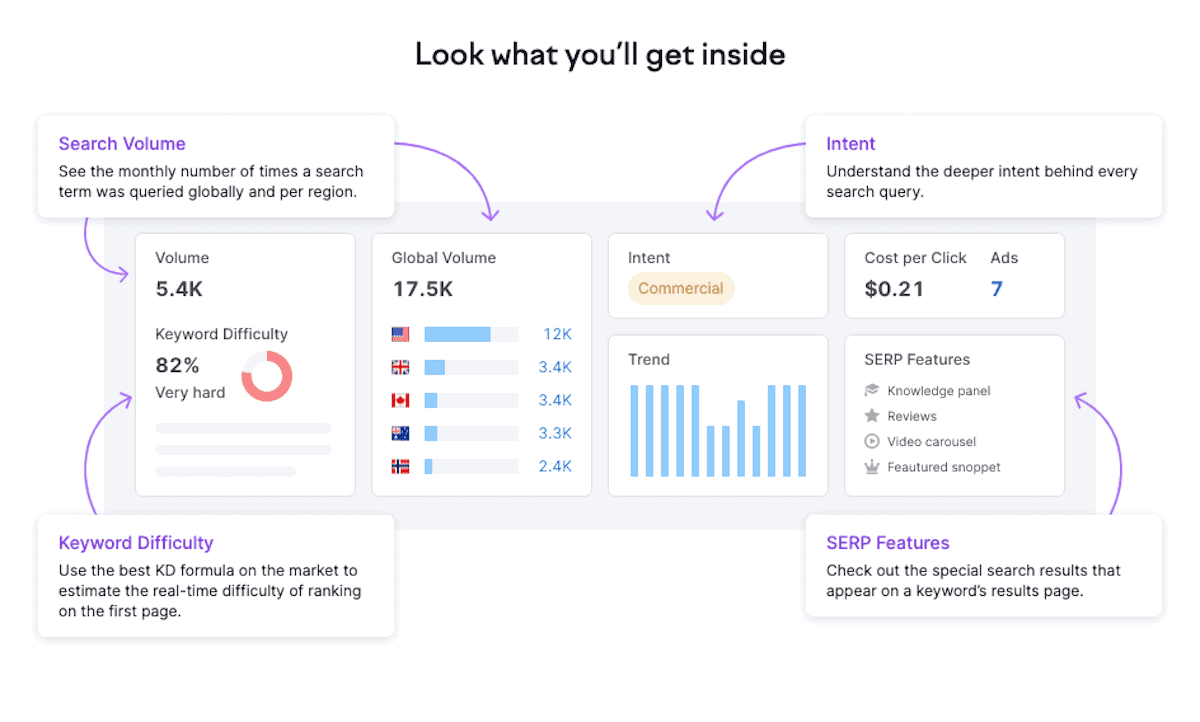 Screenshot showing the information you get with the SEMRush keyword tool
OK, first things first, SEMRush isn't cheap. I actually resisted signing up for it for ages because of the cost but, after trying it, I can see how it's worth every penny. I've found so many long tail keywords in just a few hours with it!
The best thing is they offer a free 7-day trial, so if you're not happy, you can just cancel your trial!
I primarily use SEMRush for keyword research now but it's really an entire SEO toolkit that goes beyond keyword research. (Before I used SEMRush, I used Keysearch, which is more affordable but much more inefficient- click here for my full review on Keysearch. If you have not learnt how to do keyword research and don't plan on learning to do so, I suggest skipping both SEMRush and Keysearch and using RankIQ instead (more details below.)
You really only need 1 of these tools to do keyword research but, if you have the budget, having more than 1 can help to make your workflow faster.
There are also other free keyword research tools that I've not tried, so are not on this list, but I'll update when I find good ones. (Aleka shares on some of these in her Cooking with Keywords course.)
RankIQ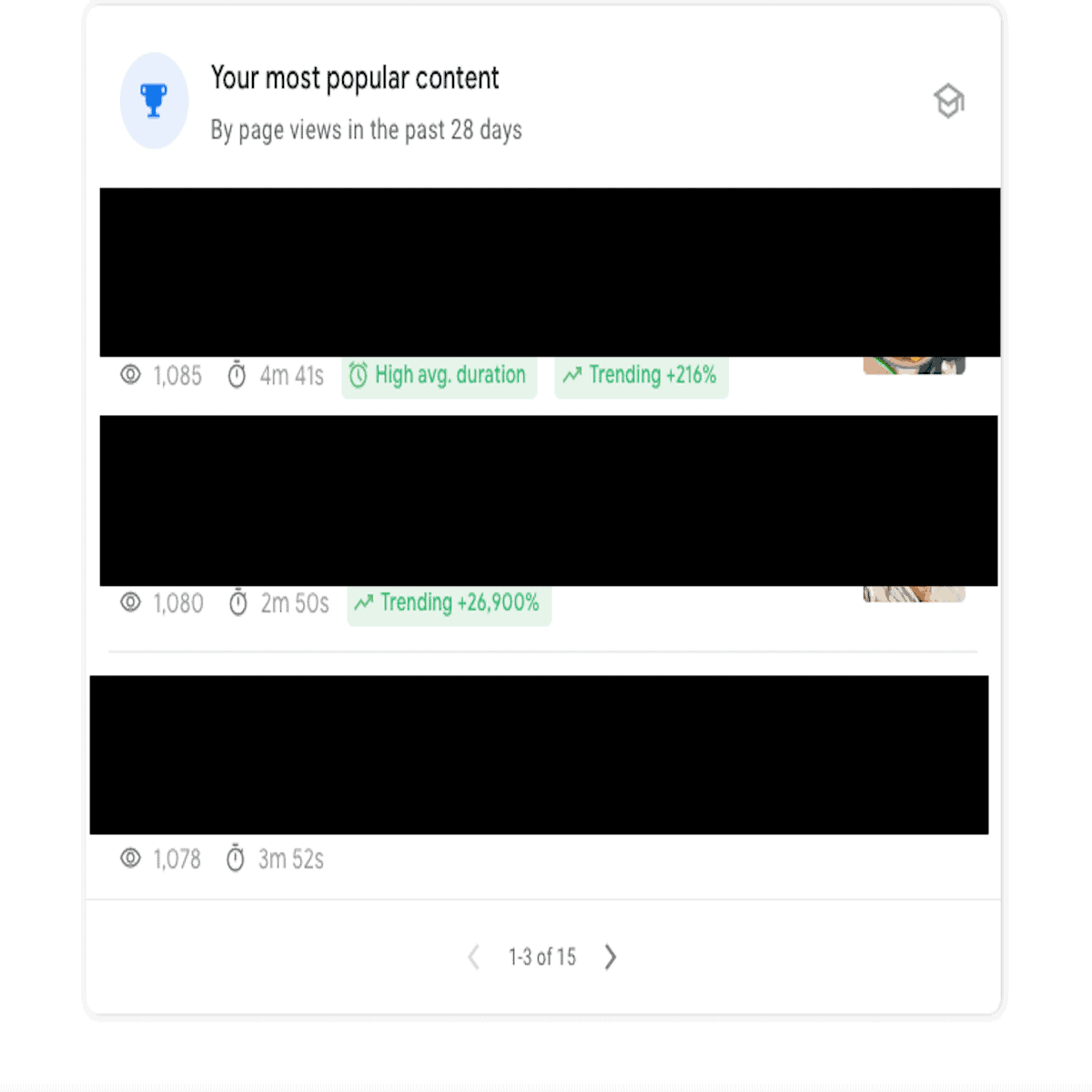 RankIQ is an "AI-powered SEO tool for bloggers" by another blogger (The Blogging Millionaire, Brandon Gaille) that I started using about 3 months back (and am still using.) I love using it to optimise old posts!
Actually, if you have a lot of old content on your website, you could get away with just optimising, updating and republishing versus developing new recipes (which takes forever.)
Click here to see how RankIQ performs vs Keysearch for food blog SEO.
Pros
You don't need to know much about keyword research to use RankIQ.
It's quick and simple to use.

There's a whole library of "high volume, low competition keywords" that are easy to rank for, even for new bloggers, so finding a new post topic is a matter of minutes whilst using something like Keysearch can take you hours or even days.

It is great for updating old posts- I've seen major traffic upticks after using the Content Optimizer on some of my earlier recipes.
It's cheaper than Ahrefs and SEMRush (as it has less functions.)
Cons
It's more expensive than Keysearch.
It may not work for everyone- for example, food bloggers who only want to post a specific recipe and aren't open to new ideas (that are relevant to their niche/ target audience but not what they had originally decided on) may not be able to get the full benefit of RankIQ.
In this case, I'd recommend learning how to do keyword research from scratch using Cooking with Keywords so you can learn how to get your specific post to perform to its best potential.
For a full RankIQ review, click here.
Facebook food blogging groups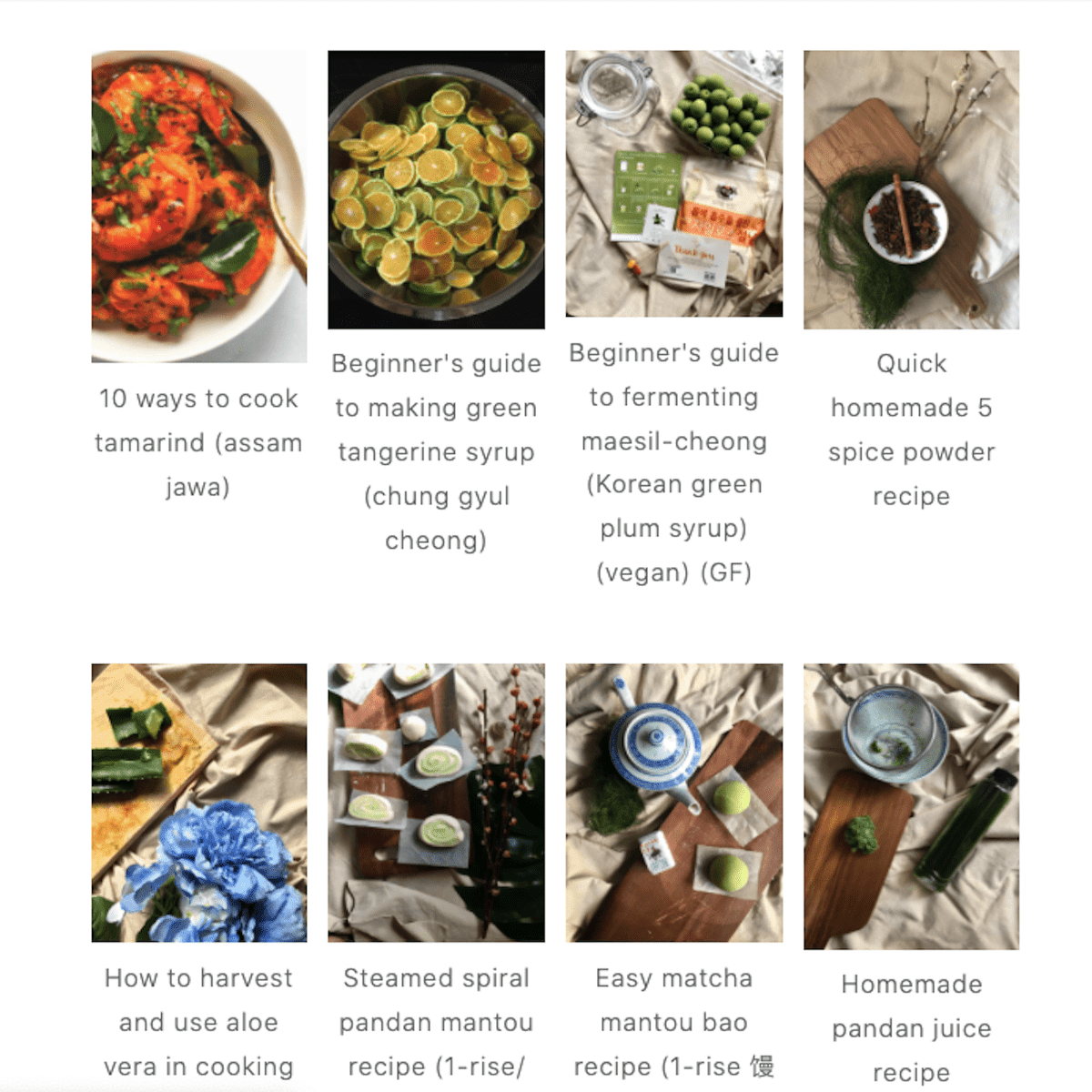 Did you know that there are a lot of Facebook groups for food bloggers? Some of them are dedicated specifically to the creation of recipe round-ups.
If you're not familiar with them, a recipe round-up is a collection of recipes around a certain theme (which could be an ingredient such as salted eggs, a dietary need, a holiday or a cuisine etc. It can even be around the number of ingredients, such as with this collection of Asian recipes that use 5 or less ingredients.)
The recipes can be from 1 site (internal links can also help a post) - as I did with this round-up of my top 2021 recipes- or a collection of recipes from different blogs.
If you're wondering why you would want to be featured in someone else's list, well, Google likes sites with backlinks! It's kind of like a nod from a colleague, recognising the quality of your work. So if the recipe round-up uses do-follow links, that's more power to your food blog.
Here are the top things that food bloggers look out for when curating recipe round-ups (shared by myself and other recipe bloggers. In the post, I've also included several FB groups in which you can drop your site's links, when relevant.)
Note: if you're interested in creating your own listicles, here are tips on the best way to write a recipe round up.
Pros
It's free
It's fast- you pretty much just copy and paste your link on to the Facebook post. Sometimes you may have to provide a 1-3 summary of your post but either way it takes mere minutes!
Cons
The efficacy varies from blog to blog- if you have amazing photos, you're more likely to be featured.

There's no guarantee that your site would be featured in the round-up. Even if your site is featured, there's no guarantee that people would click through to your site.
However, what we're really after here is the do-follow backlinks.
HARO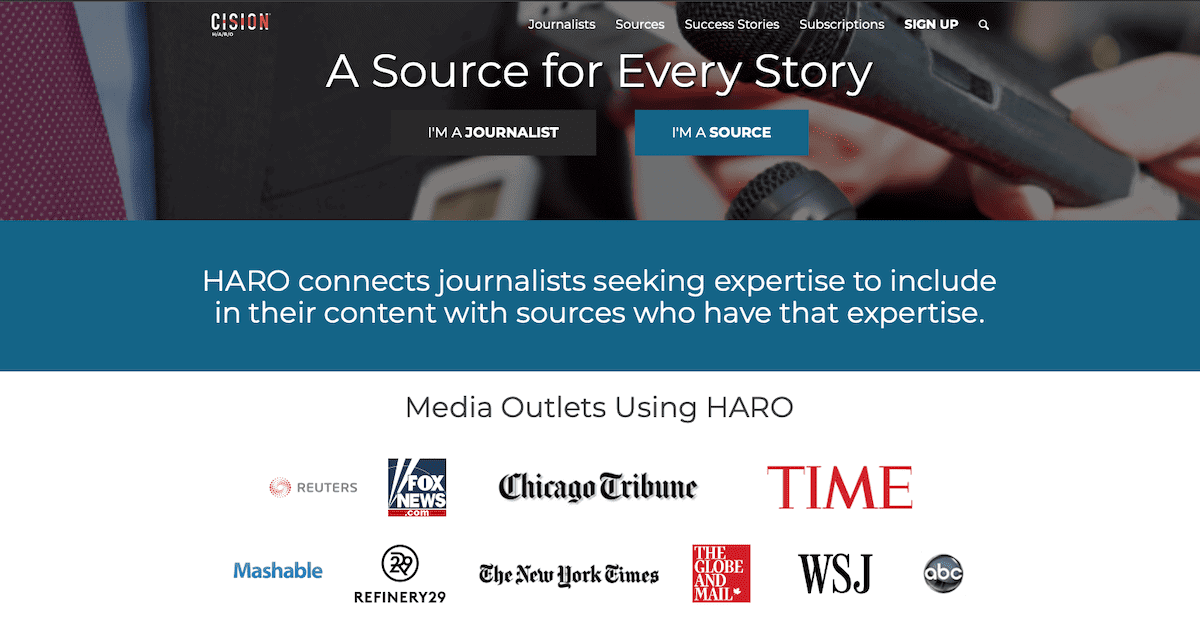 This is another FREE food blog SEO resource that I've used to get backlinks. It's short for "Help A Reporter Out" - journalists and other media personnel use it to get expert tips, quotes and information for their articles. In fact, their tagline is "A source for every story."
You can sign up get daily emails with media requests- it's a great way to get featured in big publications if your tip is selected by the journalist! For more information on HARO, click here.
Pros
It's free
Major media outlets, such as Reuters, Time, WSJ, Refinery29, Mashable, FOX News etc, use it. If you get linked to by 1 of them, that's major brownie points for your blog!
Cons
The rate of return is low- you need to work very hard to get a backlink. You might send in 10s of responses but not get quoted at all!
A lot of times, the journalists want people with qualifications to quote- so medical doctors, nutritionists etc. If you don't have an area of certified expertise, you might find requests that you can reply to few and far between.
You may get quoted in the article, but the post doesn't link to your blog. (You can write in to nicely ask if they would mind linking to you some time after the post is publishes though.)
Cloudways
Well, you don't have to use Cloudways per se, but you do need a good and fast host. Page speed is very important for SEO and a good user experience. (Think back to when you land on a slow site- most of the time, we end up just leaving before the site loads, no?)
I chose Cloudways, as it's 1 of the cheaper hosting services that was recommended by SEO experts.
Update: after my SEO Audit with Casey Markee, I switched to Big Scoots as recommended. (I was still happy with Cloudways but I figure it's best to listen to the experts!) 1 month in, I was SO happy I joined as I was hit by a terrible wave of bot traffic and BigScoots made it so easy to build a firewall to keep the bots out!
Pros
Good and fast host for an inexpensive fee
As far as I'm aware, my site has never been down in the time I've been with them.
I'm a tech noob and I've used Cloudways with no problems to date- I had no idea how to set up my host and create a staging site, but thanks to the help from their customer service, I managed to do so relatively quickly (on my 1st attempt.)
Cons
Not situated in the US
I've heard that other hosting services are more hands-on but they also charge me. (I've not tried them so can't really comment.)
Feast plug-in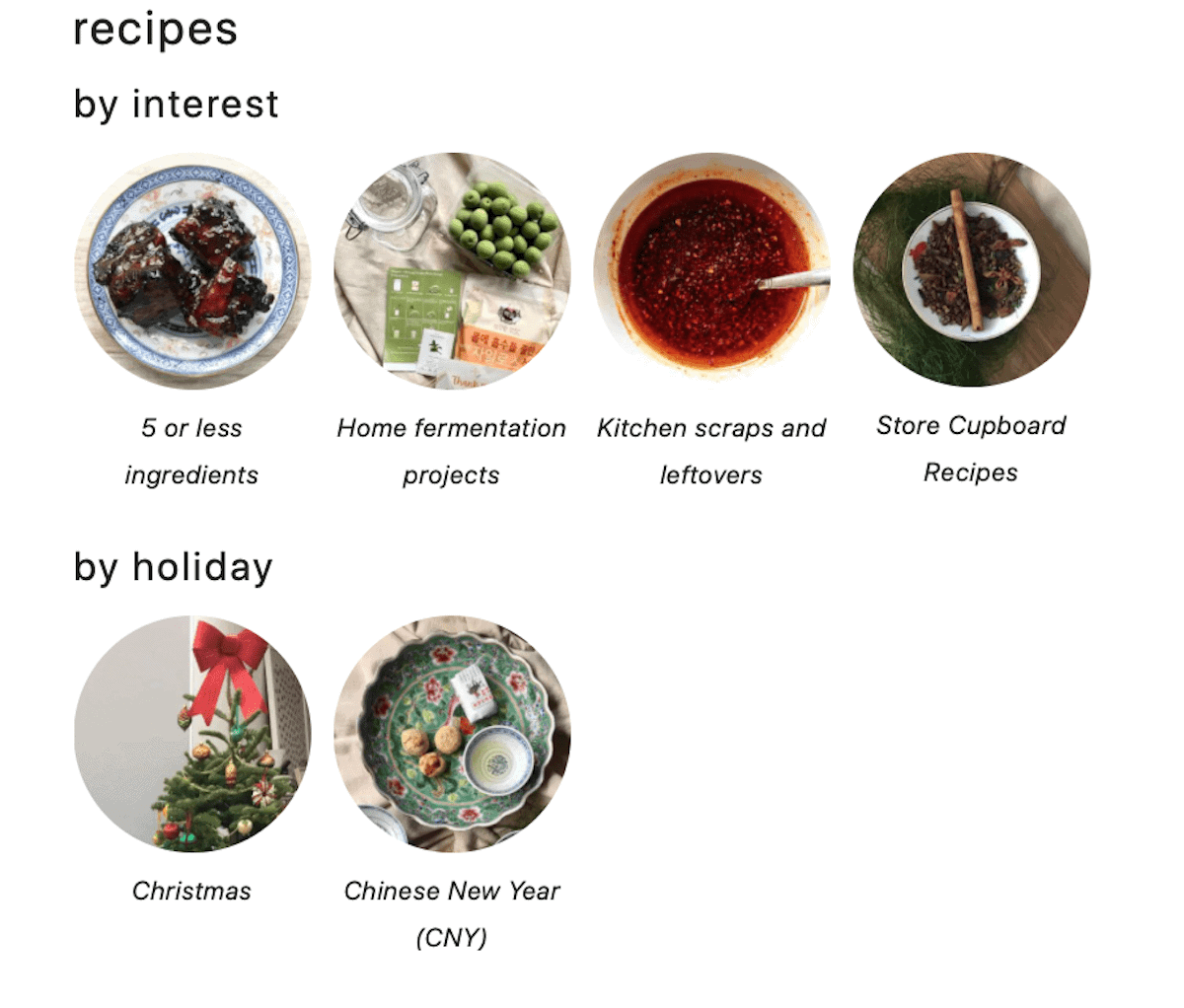 Feast makes it easy to organise your recipes by collections, without the need for another plugin (which can weigh down your site)
The Feast plugin is a paid plug-in that helps you keep your site up-to-date with Google's best practices, as easily as possible. As you may know, Google has new updates EVERY DAY, some more important than the others, so Feast helps to make it easier for you to be on top of things.
For more on why food blogs need the Feast plugin, click here.
Pros
I failed ALL my Google Core Web Vitals before I set-up the Feast plugin.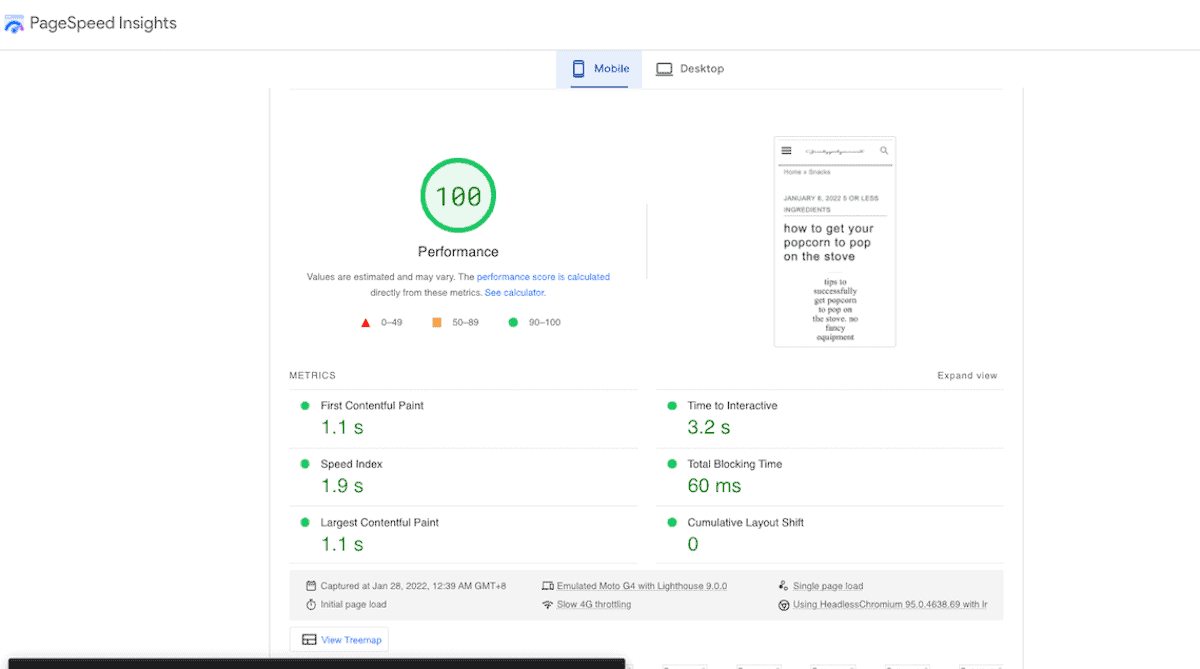 Now, I even score 100 on GPSI!
The Feast plugin is AMAZING for helping your blog pass Google Page Speed Insights (GPSI.) See the 2 images above.
If you never know what's the best plug-in to use, or what's new with Google, the good news is that the Feast plugin helps to keep you up to date and makes everything super simple.
Cons
The design of the Modern Homepage that you get with the Feast plugin is a little plain- you can customise it but I've not attempted to do so.
Things you can do now
Some of these tips may take time- for example, you will need at least an hour to listen to 1 Top Hat Rank webinar. If you're short on time, here are some quick and easy things you can do to help your page SEO right away (besides write great content, of course):
Fill in the meta description for every post
Fill in the alt text description for every photo (you can even get sued if you don't do so!)
Make sure all your posts have star ratings
Use internal linking as much as you can (where relevant, of course)- note that the anchor text for the links is also important
Use a recipe card (Not every recipe plugin is good for SEO- I use WP Recipe Maker which is 1 of the plugins recommended on Top Hat Rank.)
What SEO resources have you found helpful in building the traffic for your food blog? I'd love to hear about them if I've missed something out on this list! P.S. If this list isn't enough, click here for all the posts I have on SEO for food bloggers.