An easy matcha mochi muffin recipe that is naturally gluten-free. It's a perfect no mixer mini cake recipe for those who have celiac disease or who don't like their treats overly sweet. Once you've tried it fresh out of the oven, with the crispy exterior and the gooey insides, you'll find it hard to stop!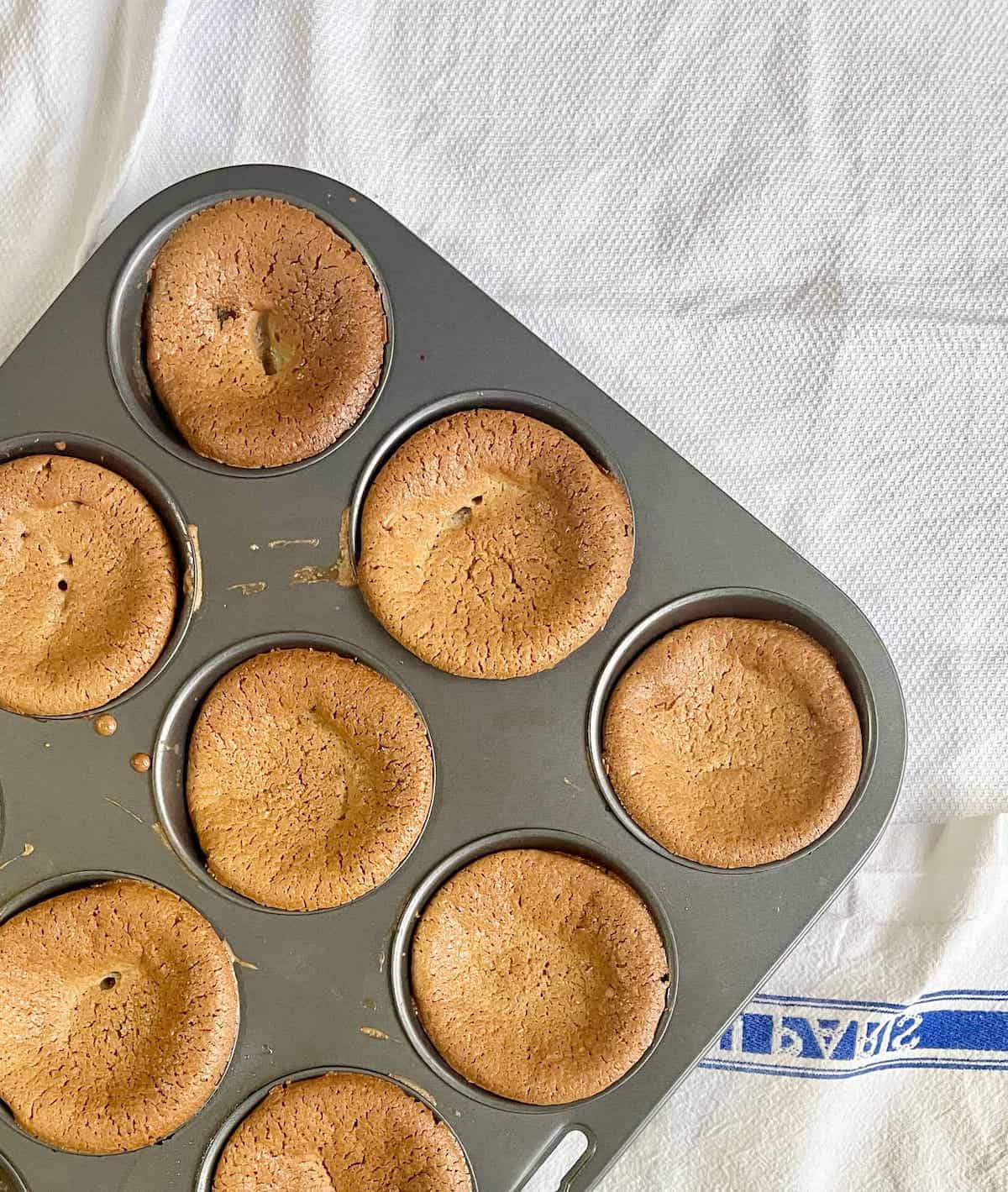 Jump to:
What are mochi?
Mochi are small sweet treats, very similar to Chinese tang yuan and muah chee. These all use glutinous rice flour (also known as sweet rice flour or mochiko flour), a popular ingredient in Asian cultures which produces a very chewy texture. (For more sweet rice flour recipes, click here.)
Mochi are so popular that we now have chewy mochi doughnuts, mochi bread, mochi waffles, mochi cookies, mochi brownies and even mochi muffins. (To be honest, mochi muffins taste more like a green-tea flavoured small Hawaiian butter mochi cake than mochi in my opinion!)
Word of warning: the elastic texture of mochi is highly divisive. Some people LOVE it- hence the million and one mochi bakes- but others hate it! If you're not a fan of chewy, gelatinous foods, this matcha mochi muffin/ mochi cupcake may not be for you.
Why make this
It's delicious: the crispy exterior goes wonderfully with the gooey dough, especially when it's hot out of the oven!
You only need simple, readily available ingredients
Mochi muffins are naturally gluten-free

Glutinous rice flour is easy to find and inexpensive so you don't need a fancy expensive gluten-free flour for this naturally gluten-free snack

It's an easy recipe- you don't even need a mixer!
Ingredients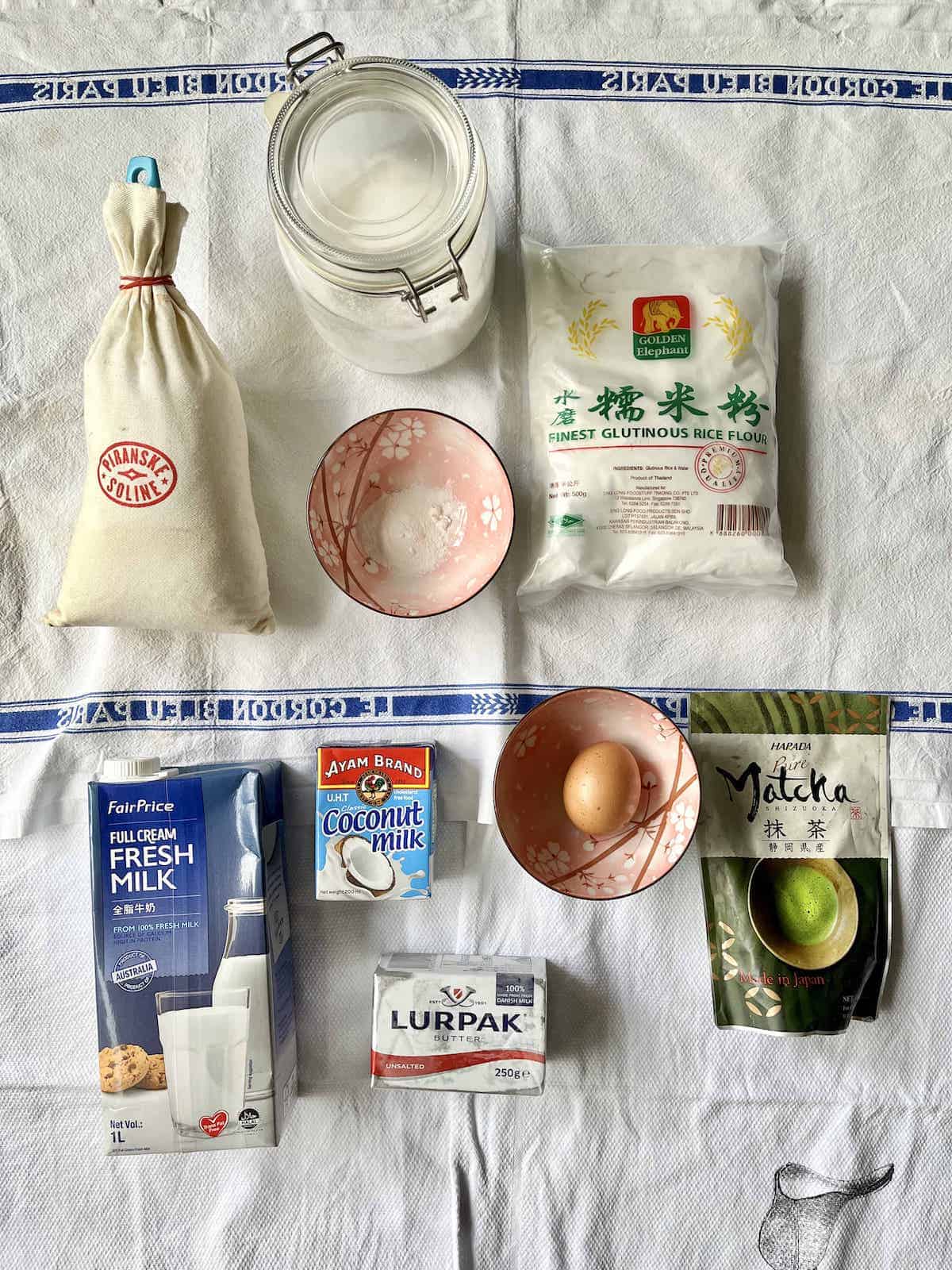 The key ingredients are:
Mochiko flour: Mochi flour is a type of glutinous rice flour, so you can also use Thai sticky rice flour for these green tea mochi muffins (I usually use the Erawan brand shown above.) However, rice flour and glutinous rice flour are NOT the same thing so don't substitute mochiko flour with regular rice flour!
Matcha: Use culinary grade instead of ceremonial grade matcha powder. Once baked, you won't be able to tell the difference so you can save some money. (For more information about matcha powder, click here.)
Milk: Make sure you use whole milk or regular milk and not semi-skimmed!
For the full ingredients list, please scroll down to the recipe card.
Note: If you're trying to recreate the Third Culture Bakery mochi muffin, which is regarded as the original version, note that they use mochiko flour from Koda Farms, pandan as well as organic French-style butter. (You can sub the butter with a neutral oil but the matcha mochi muffin won't taste as rich so I don't recommend it.)
Even though we use a bit of coconut milk in the recipe, the matcha cupcakes taste of matcha and not coconut!
Where to buy
The ingredients are all widely available so you shouldn't have to go specially to Asian grocery stores for them.
Variations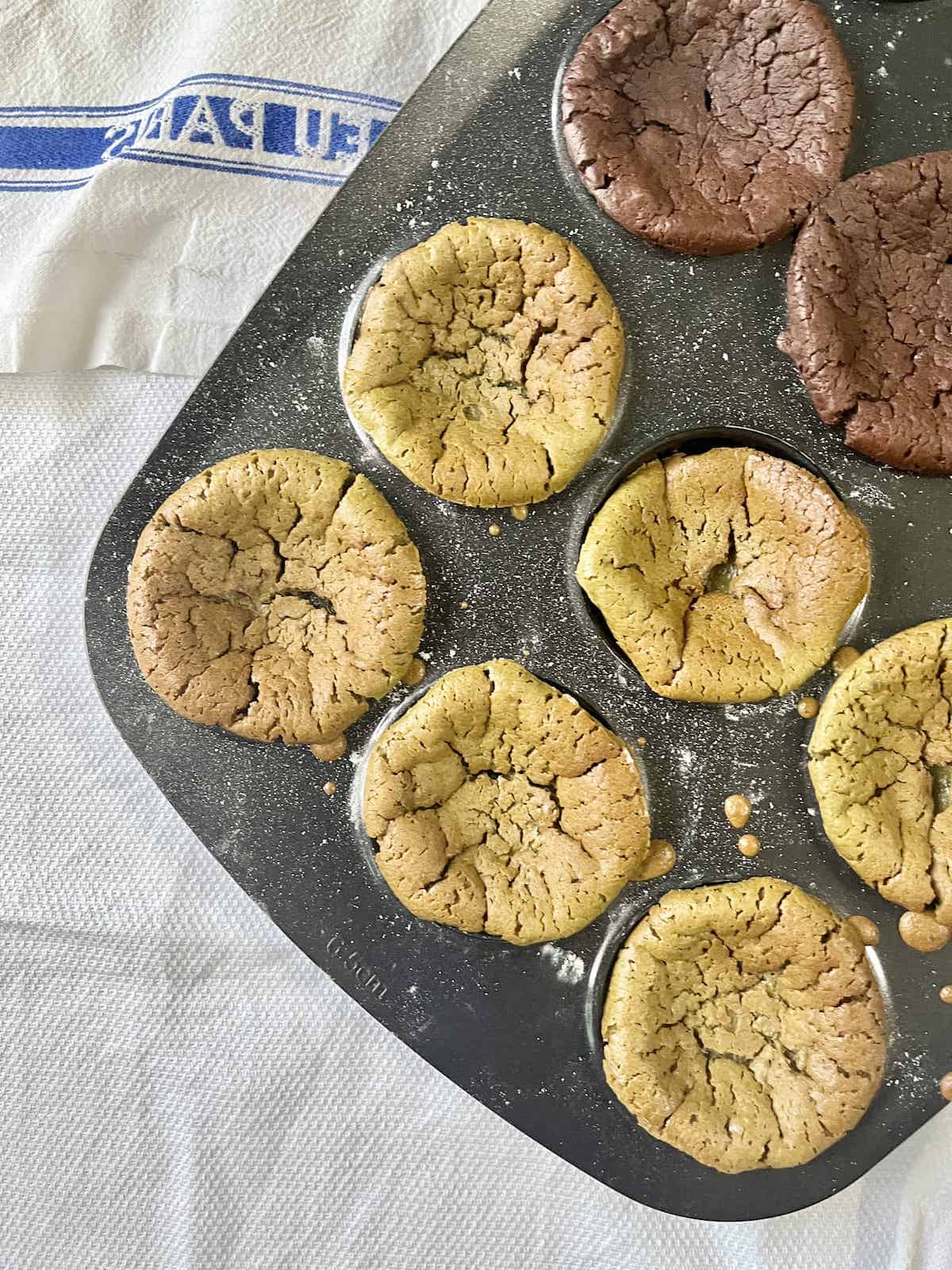 These mini Japanese rice cakes- OK Japanese-inspired!- come in a whole range of different flavours such as ube (purple yam.) I'm making matcha ones but you can also make:
Equipment
If you don't have a muffin tin, you can also bake the batter in the form of a larger cake. However, it will need to be baked for longer (timing depends on size of cake pan.)
Nonetheless, I recommend baking mochi muffins if you can. The best part is the contrast between the crispy outside and the soft gooey inside, and you get more of that with a muffin than a cake!
Step by Step Instructions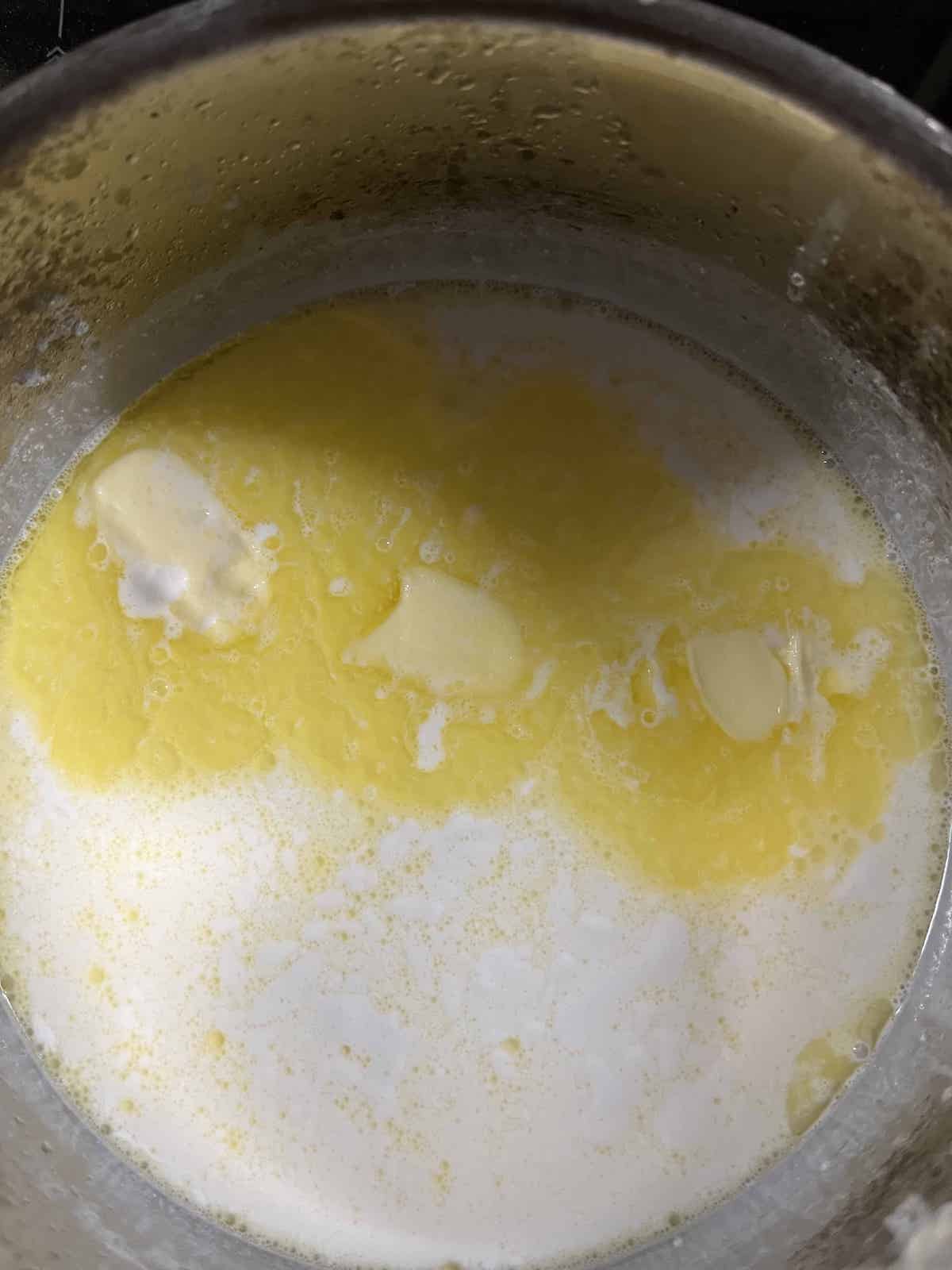 Melt the unsalted butter in a pot with the whole milk and coconut milk over low heat.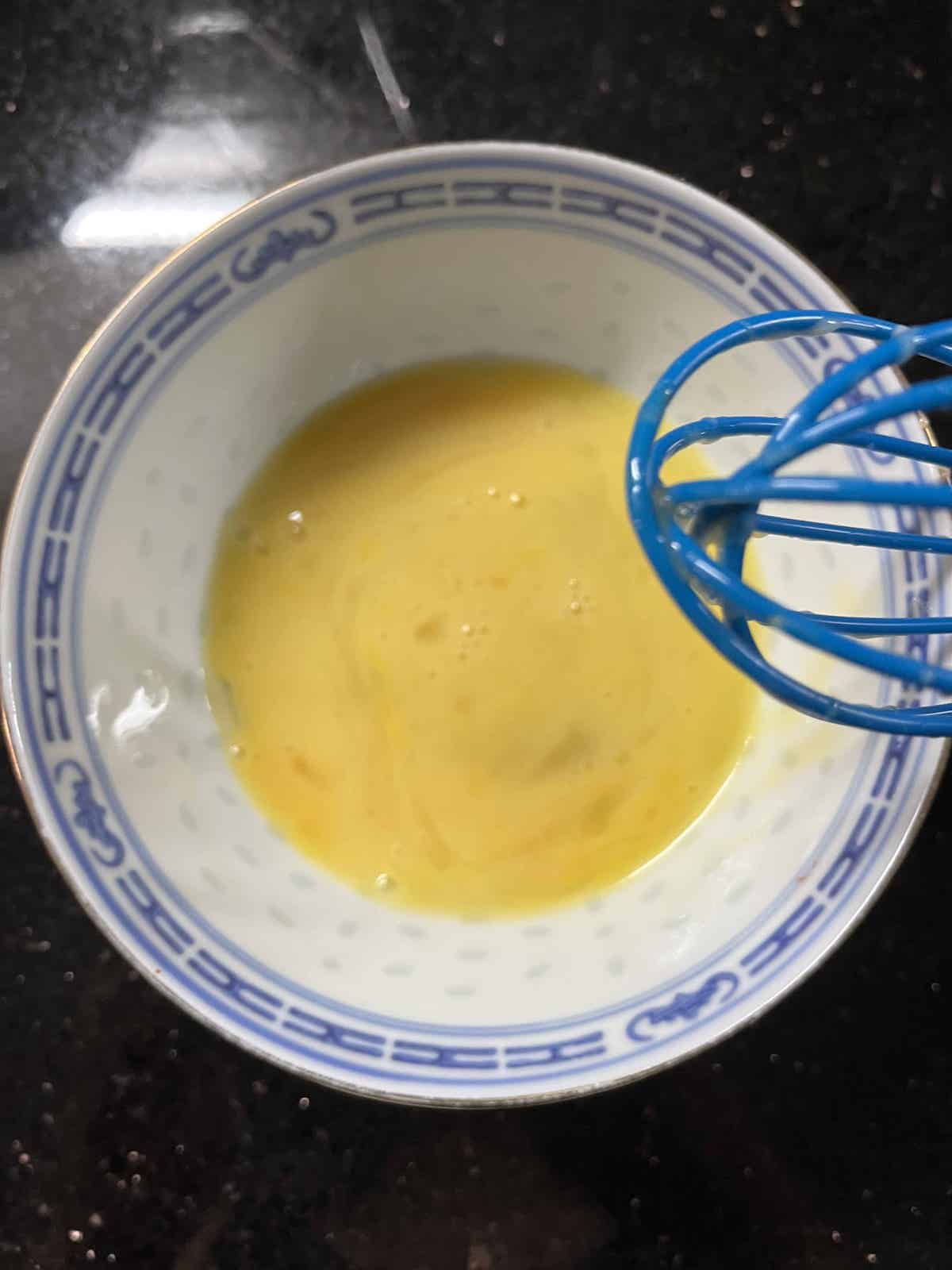 2. Whilst the liquids are heating up, whisk the eggs till the whites and yolks are well-mixed.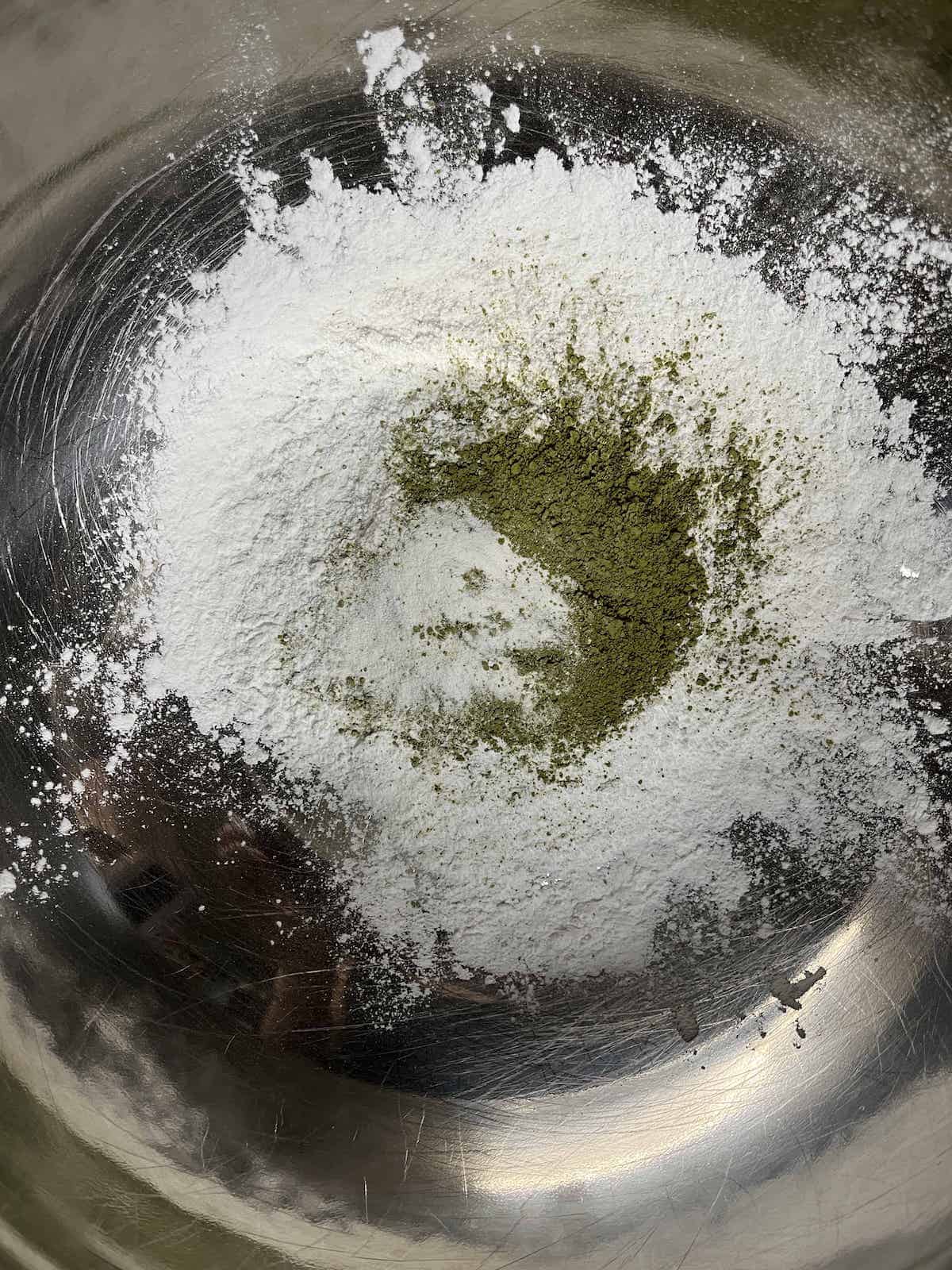 3. Pour the glutinous rice flour, matcha powder, baking powder, salt and sugar into a large bowl and whisk well. (This is to prevent lumps as matcha clumps easily.)
I didn't sieve the flours and my batter was OK, but if yours is very lumpy, it may need sieving.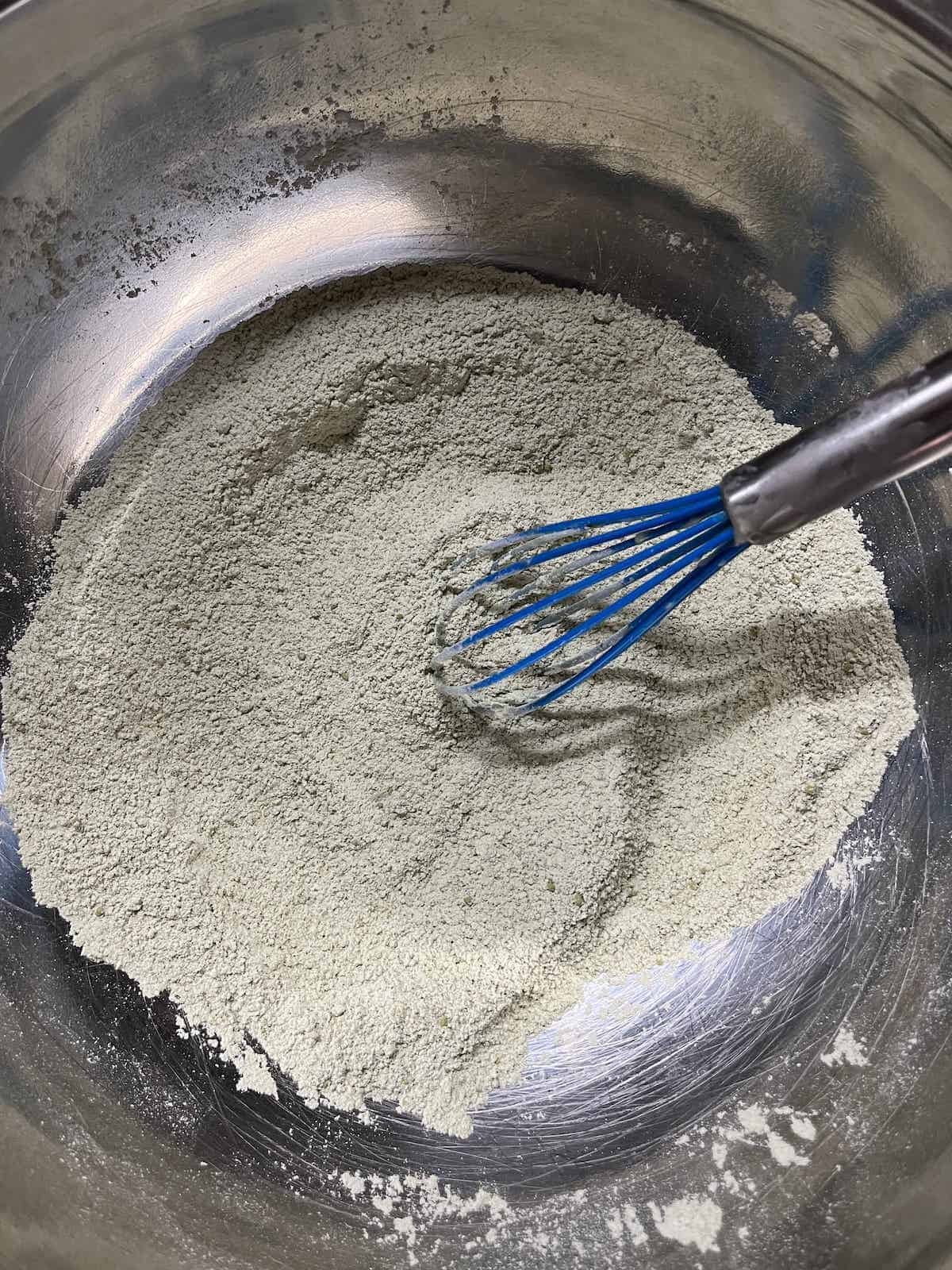 4. You can stop once the powders are all mixed up and you don't see any lumps of green.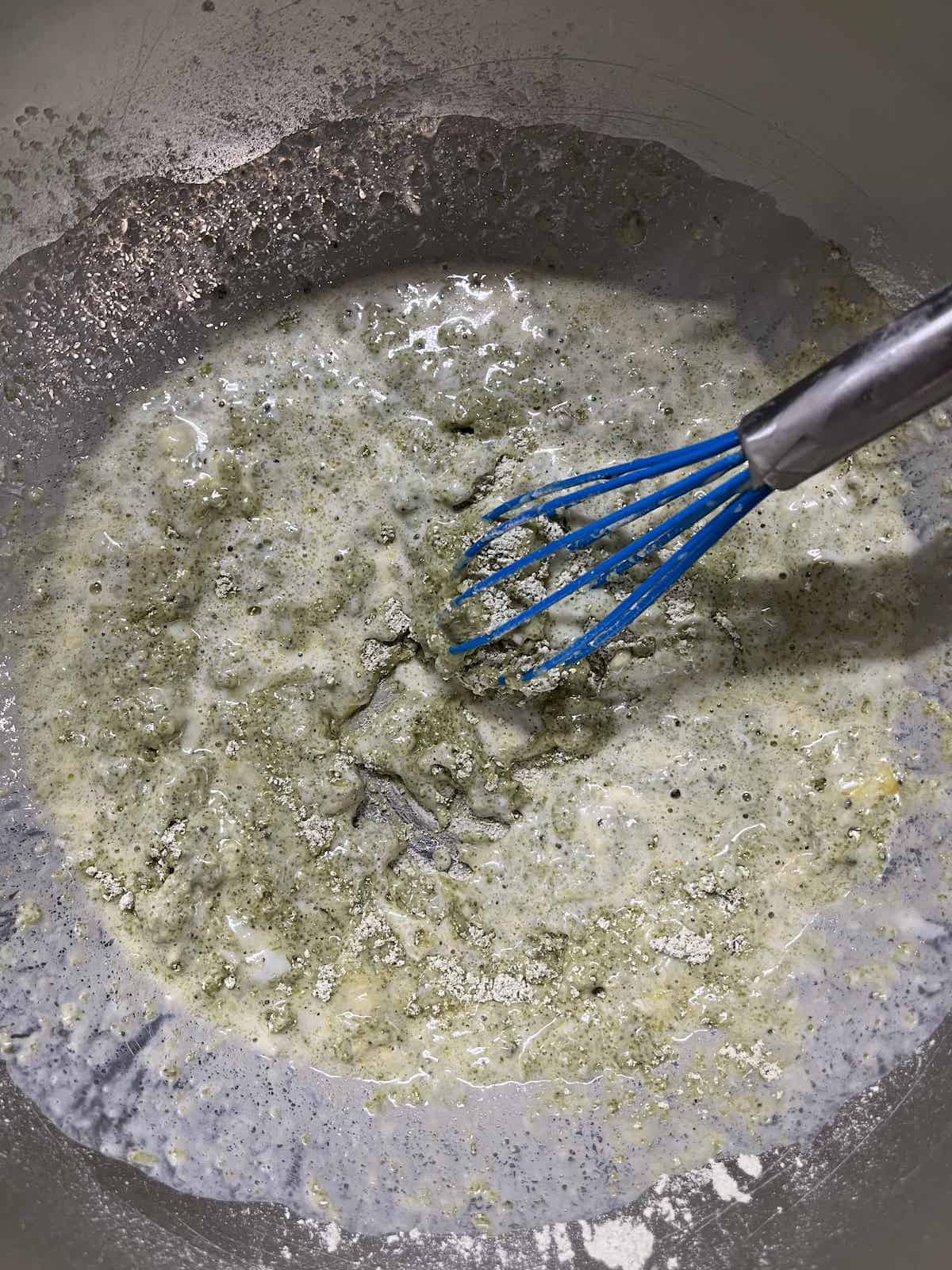 5. Once the butter from Step 1 has melted, pour it into the mixed dry ingredients and whisk well.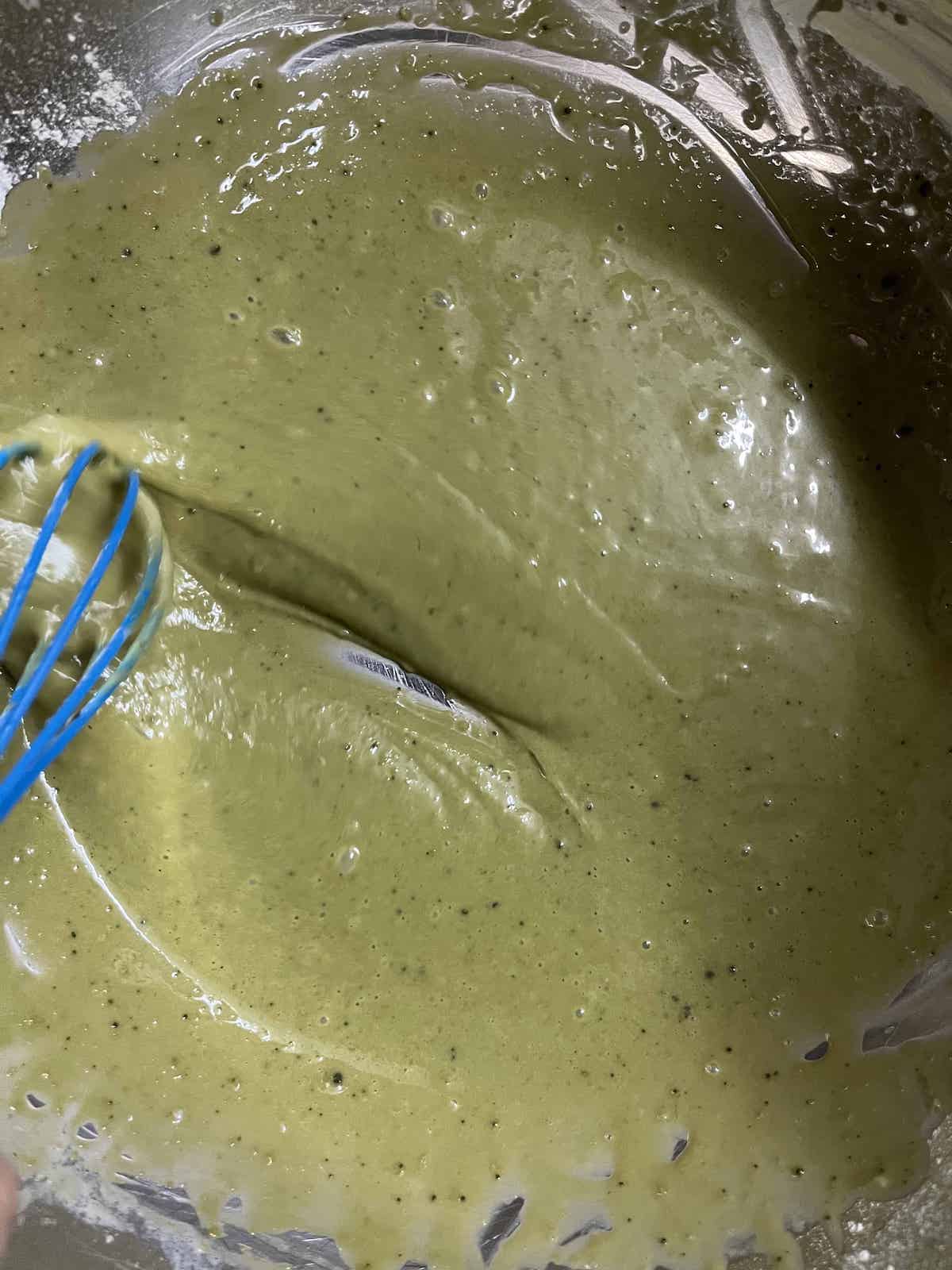 6. Glutinous rice flour has no gluten, so you don't have to worry about overworking the batter. Keep whisking till no lumps remain (my batter is not quite mixed enough yet!)
Once the batter is smooth, pour into a buttered muffin tray and bake at 350F/ 157C fan/ 177C for 45-55 minutes, or till the exterior is crisp and golden.
How to serve
Enjoy this glutinous rice treat fresh from the oven, with a hot drink such as:
A popular Japanese food pairing is green tea and red bean. Why not insert a ball of red bean paste into the centre of each matcha muffin, then serve hot right out of the oven with a scoop of vanilla ice-cream on the side!
How to store
Room temperature
These mini matcha cakes taste best right after baking. However, they can be kept in an airtight container at room temperature for 2-4 days. Remember to reheat before serving, if possible!
In the fridge
They last longer in the fridge but the dough will harden into a solid, not very appetising lump. Hence, you will need to reheat them before serving.
In the freezer
You can also freeze them for up to a month. Freeze them spaced out on a tray first. Once frozen, they can be jumbled in a ziplock bag. (This is to prevent the cakes from sticking to each other.)
How to reheat
Microwave: Blitz on low-medium in 10 second intervals.
Toaster oven: If you don't have 1, pop the matcha muffins into the toaster oven.
Expert Tips
Tip #1: As glutinous rice flour has NO gluten, you don't have to worry about overmixing (it won't become tough.) Go for a smooth, well-mixed mochi muffin batter to ensure there are no pockets of flour. In other words, mix till there are no lumps or air bubbles!
Tip #2: Unlike regular Japanese mochi, which are soft through and through, matcha mochi muffins are slightly crisp on the outside but with a gooey and chewy center. The inside will look slightly translucent and "wet" even when fully baked (almost like what underbaked regular muffins (which use wheat flour) would look like.)
Tip #3: Butter generously so that the muffins don't stick. To get the outside even crisper, dust each muffin compartment with semolina, regular wheat flour or rice flour (after buttering them to ensure they don't stick!)
Recipe FAQs
Does mochi have dairy?
Traditional mochi is dairy-free, however, there are tons of modern mochi-inspired foods these days, many of which contain dairy (such as these mochi muffins.) Hence, always check the ingredients list if you have allergies or are on a plant-based diet.
Is mochi gluten-free?
Real mochi is always made with mochiko flour- a type of glutinous rice flour that, contrary to its name, does NOT have gluten in it. Hence, true mochi or mochi related products, such as the mochi muffins in my post, are naturally gluten-free. However, there are many recipes out there that claim to be related to mochi, but use other types of flours, so always read through the ingredients list carefully!
Who invented mochi muffins?
Chef Sam Butarbutar of Third Culture Bakery in Berkeley, California, USA created the original mochi muffins in 2014. He was inspired by an Indonesian dessert that he ate growing up and uses the South East Asian flavours of pandan and coconut milk.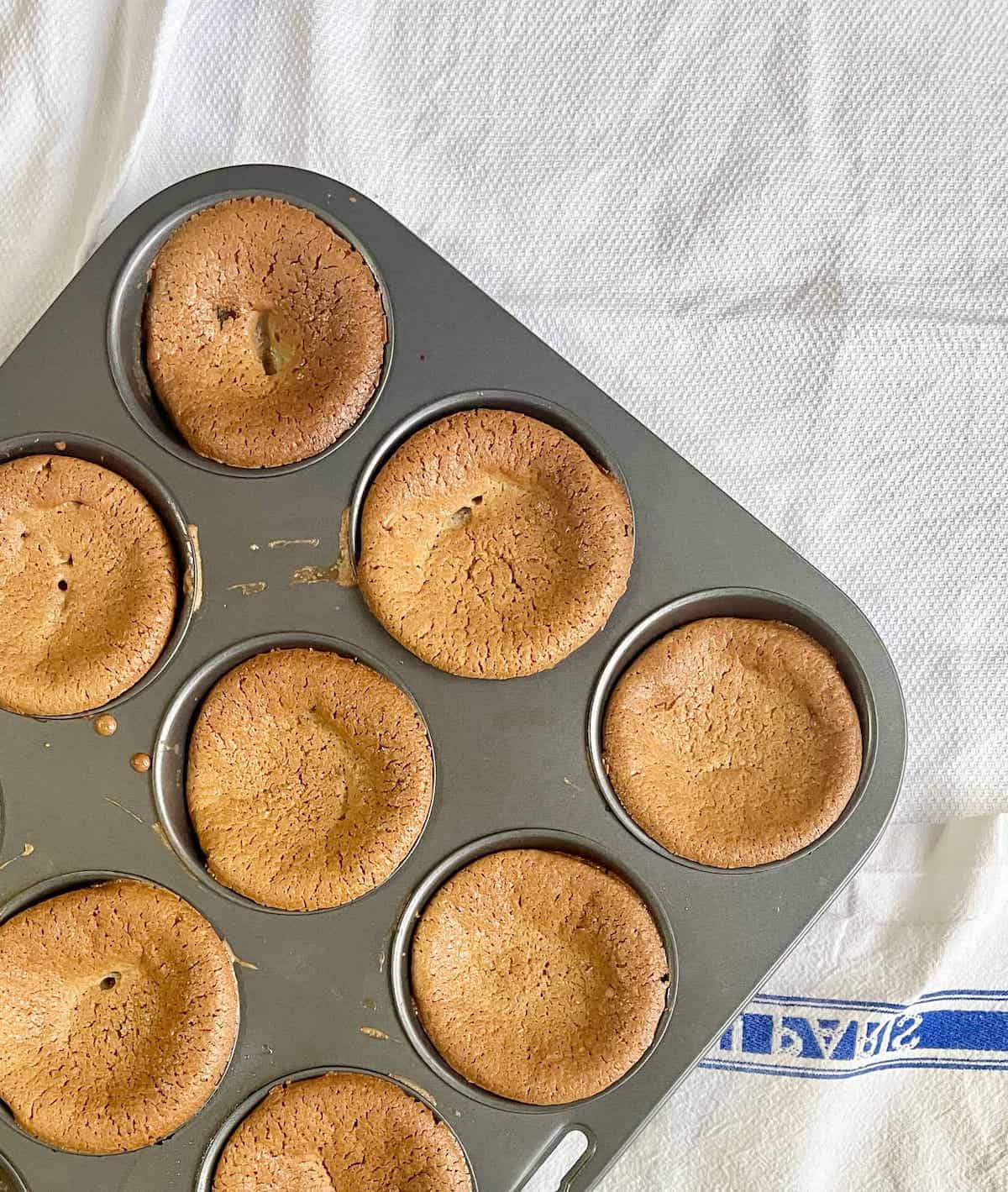 Other matcha recipes
Enjoyed this matcha mochi muffin recipe? Please leave a 5-star 🌟🌟🌟🌟🌟rating in the recipe card below & if you REALLY like it, I'd love a comment. Thank you and have a great day!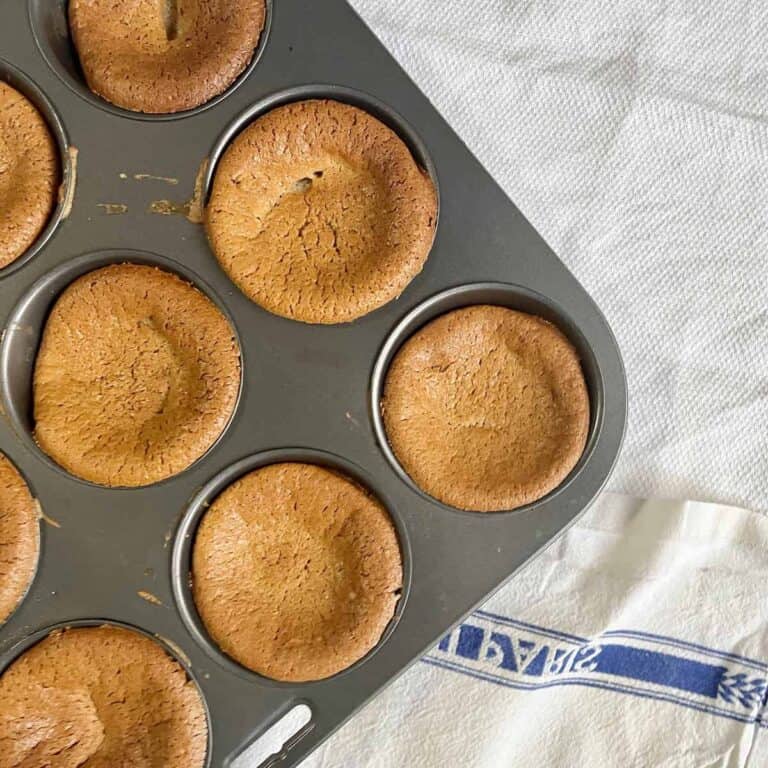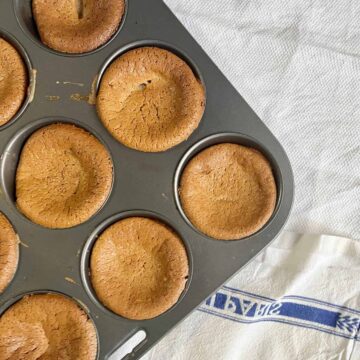 Easy Matcha Mochi Muffin recipe
An easy matcha mochi muffin recipe that is naturally gluten-free. It's a perfect no mixer mini cake recipe for those who have celiac disease or who don't overly sweet desserts!
Equipment
Muffin tin

Dust each muffin compartment with semolina, regular wheat flour or rice flour (after buttering them to ensure they don't stick!)

Pot (if you're melting the butter on the stove)

Substitute: microwaveable bowl (if using the microwave to melt the butter.)
Ingredients
Wet ingredients
2

T

unsalted butter, melted

I do this on the stove, but you can melt it in a microwave if you prefer

⅓

Cup

+ 1 tablespoon of whole milk

(120g/ 4.23oz) Do not used skimmed milk! UHT milk is OK.

⅜

Cup

coconut milk (75g/ 2.65 oz) Substitute: 1 part/ 15g/ 0.53 oz coconut cream to 4 parts/ 60g/ 2.12 oz water

1

egg

beat till well-mixed
Instructions
Preheat the oven to 350F/ 177C (157 fan.)

Melt the butter over low fire, with the whole milk and coconut milk.

Whilst the butter is melting, beat the egg well in a separate bowl.

Once the butter has melted, switch off the fire and whisk the egg into the pot of milks and butter.

Combine the dry ingredients in a large bowl- if possible, sieve the powders before mixing till well-combined.

Pour the wet ingredients into the dry ingredients. Mix your batter till there are no lumps, bits of flour, or air pockets- don't worry about overmixing as the glutinous rice flour has no gluten and can't be overworked.

Ladle the batter into the muffin tray. Tap the filled muffin tin to remove air bubbles in the dough before placing it in the oven.

Bake for 45-55 minutes or till the edges have turned crisp and golden.

The finished matcha mochi muffin will still have a slightly translucent interior and a crisp golden outside- the inside will look like it's not fully baked even when it's done!
Notes
There are several types of glutinous rice flours, which I've summarised in this article. Whether Japanese, Thai or Korean glutinous rice flour, they can all be used in this mochi recipe.
Although a muffin pan usually has 12 compartments, my recipe is for 6- that way you can bake 2 flavours in 1 tray if you want! (See recipe post for alternative flavors.)
You can bake this as 1 large slab of cake instead of mini cakes/ muffins but I prefer the latter as there is more crisp exterior to contrast with the soft chewy inside.
Note: the nutritional information is an estimate automatically calculated using the WPRM recipe maker and I am not responsible for its veracity.
Nutrition
Calories:
224
kcal
Carbohydrates:
35
g
Protein:
3
g
Fat:
8
g
Saturated Fat:
5
g
Polyunsaturated Fat:
0.3
g
Monounsaturated Fat:
1
g
Trans Fat:
0.2
g
Cholesterol:
12
mg
Sodium:
933
mg
Potassium:
71
mg
Fiber:
1
g
Sugar:
1
g
Vitamin A:
264
IU
Vitamin C:
0.1
mg
Calcium:
43
mg
Iron:
1
mg
If you've liked this matcha mochi muffin recipe, please do share it on social media. I'd love to see what new flavors you guys experiment with so don't forget to tag me on Instagram @greedygirlgourmet !